The dice tray acts as a protective barrier for your die and table surfaces. It also prevents them from rolling in any possible direction, and we're thankful for that. It works for any RPGs and comes in multiple variations. Your options are endless, so give your gameplay a cool makeover with these die trays.
What to look for in a DnD dice tray?
Not every D&D dice tray is top-notch, so you must understand what makes them superior.
A velvet felt, or similar material lining is better to control the impact and to have a clean roll.
The tabletop dice tray should be spacious enough to adjust your dies since some games require numerous rolls.
Another essential thing is for them to be attractive.
Durability is also a requirement to ensure their lasting utility.
Depending on your die, the rolling surface would change. For instance, a metal die would need a cushioned surface to reduce the noise and damage. But if you want the sound to enhance your immersion, then choose accordingly.
Some products offer extra features such as built-in trays for safe transportation or a pen/pencil holder for your other gaming stuff. So you can look for these add-ons as well.
The brand matters because if you buy from a big company, you will get them at a lesser price with high-quality. In the case of independent artisans, the items are attractive but lack quality.
The price varies between expensive and cheap, so it's up to your budget to what kind of tray you buy.
Best dice rolling trays
If you're looking for the best dice tray, here are a few options at your disposal.
Forged dice co. tray
It's quite unique from the rest of the TT dice trays like the wooden tray.
Neoprene lining with durable plastic
The mat is removable and reversible. It reduces the noise of the dice rolling.
Outer measurements: 14.75" long x 8.25" wide x 1.5" tall. Interior measurements: 14.25" long x 7.75" wide x 1.25" tall.
Enough storage space.
Dice aren't included.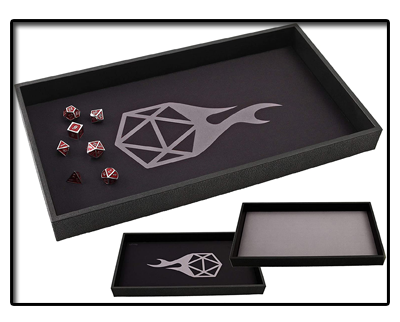 DA Vinci dice tray
A lot of people aren't interested in how the dice tray looks as long as it does its job. This tabletop tray is for such people.
Budget-friendly
Available in three sizes: 10" round, 12" octagon, 12" round.
Rolled Dimensions: 10 inches long x 1.75 inches wide. Open dimensions: 13.5 inches long x 10 inches wide.
Dice aren't a part of it.
The zip section can adjust 14 polyhedral dies.
Flaming D20 logo on the PU leather back cover.
It comes in 8 different colors.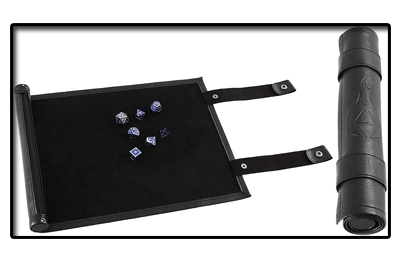 Magnetic dice tray
One of the most quickly assembling D&D trays there is. You surely need to get your hands on one of them.
Strong magnetic snaps
Material used: handmade PU leather with velvet inner lining.
You can use it as an accessory tray as well.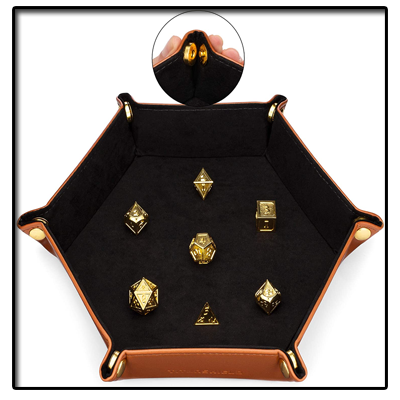 Castle foldable dice tray and tower
This one has a pretty unique structure as compared to other products.
It's travel-friendly as it folds flat into a square of 9.5 x 11 x 0.75 inches
You can either roll the dice down through the tower or roll it simply.
Tower measurements: 8 inch tall with 3 levels.
Materials used: PU leather and soft felt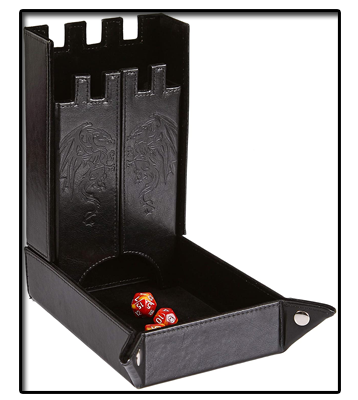 Cthulhu Tome
It's a D&D tray that has space to store your dies and for rolling them as well.
This large octagon shaped tray with a lid and a staging area.
Easy to transport.
It can accommodate 5 regular size dice at once.
The lining reduces noise and is damage resistant.
100% money-back guarantee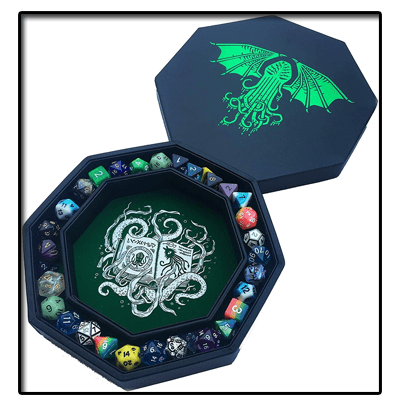 Cat dice tray
A really cute die tray which is one of my favorites.
Single-sided cat print with magnetic snaps.
Unfolded dimensions: 8 x 8 inches. Folded dimensions: 5.7 x 5.7 x 1.2 inches.
Material used: microfiber leather and 300Dpvc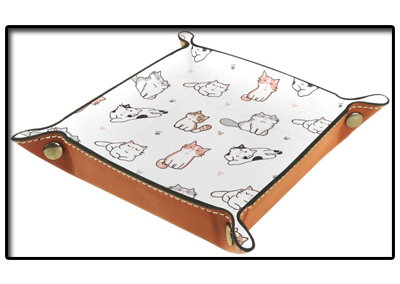 Protective Padded Die Case and Integrated Felt Die Tray
This product makes it easier for you to travel with your dies securely in this compact case.
A padded case and nesting tray with a heavy-duty zipper and sleek look
The waffle foam die case protect your dies during transportation
Includes a built-in tray that is easily detachable
Buy for Dungeons & Dragons, Pathfinder, Star Wars, Pandemic: The Cure, etc.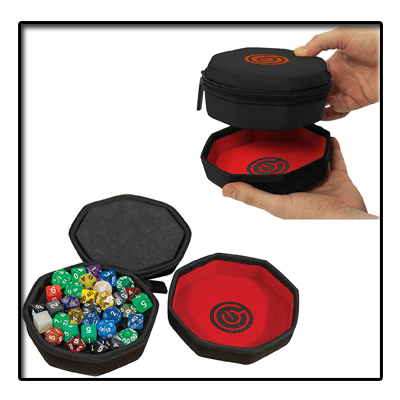 Heavy Duty tray
Who doesn't want a superior quality dice rolling tray? Its features are as follows –
It has an 11.5 inch leatherette with blue velvet rolling surface.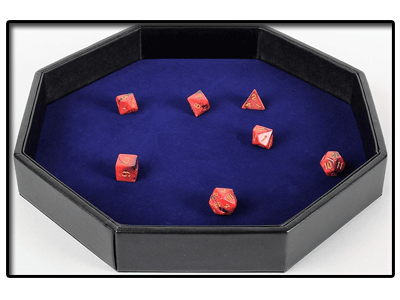 K.T Fancy dice trays
This two-in-one combo of a dice tray and storage makes it the perfect buy for every gamer out there.
4 pieces of trays in 4 different colors
It can store your dies and other things such as watches, keys, etc.
The outer surface of this DnD tray has a wearable thick PU leather and soft velvet lining inside.
Fold size: Diagonal 7.9 inches, Diameter 7.1 inches, Height 1.6 inches. Expanded Size: 10.6"X10.6"
Easy to carry
30-day money-back guarantee and 6 months warranty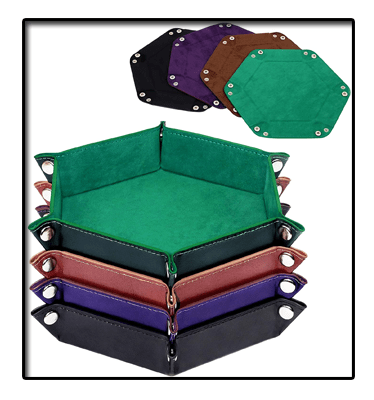 Wooden dice tray
For those of you who enjoy the sound of the die rolling, this wooden shaker is for you.
High walls prevent damage to the surfaces
Long-lasting
Padded bottom to reduce noise
Includes a lid making it an excellent carrier for dies, other parts, and minis
One year warranty
Travel bags for die trays and other items
If you have various items to carry around, why not buy a travel case to fit it all in one place? Here are a few suggestions –
Essentials Bag
A messenger bag is the perfect travel partner as it's pleasing to the eye and accommodates numerous things.
Space for 4 of your RPG books
A padded divider to keep everything organized
Adjustable travel straps for your battle maps rolled into 3 inches in diameter.
Padded compartment with elastic security strap can hold a 17-inch laptop.
Front zip pocket for dies, token, markers, etc.
Durable metal clips and zippers
3-year warranty
Vintage messenger bag
To play the part of a gamer whenever you travel, take this bag to enhance your style quotient.
Available in 2 colors
Dimensions: 13 X 18 X 5
The outer pocket can hold an iPad, laptop, etc.
Three compartments with adjustable shoulder padded straps for convenience.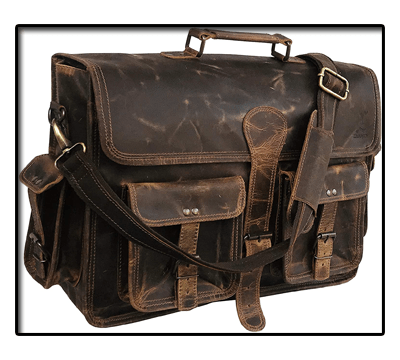 Hexagon dice tray
Here's what is distinct about this product.
It includes two dice trays; an outer and inner ring.
Velvet covering to protect your dice.
It can accommodate 100 dies.
Measurements: lid – 9.4" long, dice tray – 8.75" wide, 1" preparation area and 5.75" rolling space.
Are dice trays worth it?
There's no right answer to this question as it depends on the following things –
Do you have a vast collection of dies, which you frequently use, or do you usually play at crowded tables even with a few die?
Are you into other RPGs such as Warhammer 40K or Paranoia apart from D&D?
If your reply to the above questions is yes, then dice trays are a good investment for you. However, if you only use a single dice, rarely call for die rolls, and play at home, it wouldn't be worth it.
Essential things to remember
Whenever you're purchasing die trays, you must buy one of the right size, material, and shape. Read more about it to make an informed decision.
How big should a dice tray be
There isn't a standard size for these products as it ranges from 5.5 inches to 12 inches in width. Some of them comprise an inner and outer tray wherein the latter is for storing the dies, whereas the former is for die rolling.
These trays come in 4 shapes: square, rectangle, hexagon, or octagon.
Leather, wood, and plastic are the most commonly used materials for them.
Budget issues?
If you are still doubtful that the die trays are an essential part of the game, and are afraid of investing too much money, don't worry. You can find a product within your budget range easily. Here's how –
Economical – There are die trays in the market ranging between $5 -$10. Such items use polyurethane-coated leather material and are usually foldable/collapsible. There is a bleak chance of coming across a wooden tray, and if you're lucky, you might also receive a free set of die.
Premium – The products range from $80 to approximately $300 in this range. It consists of superior quality wooden trays, which are specially harvested for this purpose.
Sweet spot – This option lies in the middle of the other two. The price range is from $15-$50. You'd be able to afford good quality, decent items with numerous variations as well.
Testing your die:
If your die is biased towards particular numbers and lacks randomness, then even a die tray wouldn't be of any use. Therefore, you should always test your dies to check their accuracy. Follow the steps below –
Saltwater test
Fill a cup partially with water.
Put the die in it and mix salt until the die floats.
Push and spin the die around with your finger. If it lands on the same number frequently, it's unbalanced.
A few dies are heavy and not applicable for this test because no matter how much salt you dissolve in the water, it wouldn't float.
Conclusion
We hope this article successfully made you realize the value of a dice tray in your collection. If you're a hardcore D&D gamer or any other RPGs, you should definitely purchase or make one yourself.