If you have just started to play the Sims 4 or have been playing for a long time and are getting bored of the same features that the game offers, the Sims 4 save files might help make your game more interesting. With the help of saved files, you can play the game from the point of view of other players. Everything that you play in your game, for however long, can be saved in the form of a file and shared with other players.
You can save your saved files in the saved folder or be part of your Sims 4 custom saves. There are various kinds of custom saves files available in the game. Some files help add more features to your game, while some fix certain bugs and conflicts. Other people's games merging with your competition can help add many unique aspects of gameplay to your game, making it so much more fun.
Sims 4 Save Files Location
When you get your save files downloaded from the internet, make sure to keep them in your saves folder. After saving your files, you need to know where are the Sims 4 save files. If you wish to make any changes, you can do so by accessing your Sims 4 save file location. We have given the location of where your custom save files automatically get stored below:
Windows: In the window, they have located the saved files in "UserProfile\Documents\Electronic Arts\The Sims 4\saves". If you wish to access it more easily, you can just paste the above-given address in the "file explorer."
Mac: In mac, the save files will be located in "~/Documents/Electronic Arts/The Sims 4/saves". To get to these files, click on the document option in the file application.
Sims 4 best save files Mods
Sims 4 has introduced many different save file Mods over the past few years. If you are having trouble choosing between all these save files, we have listed some of the best save files down below:
RandomChick32 – Fresh Start Save File
This Fresh start save file just makes the original save file a lot better than it was. It helps automatically update community lots without having the users do it manually. Whenever a sim character needs a makeover, this save files does that for you, automatically making things easier.
This Mod helps remove many problems and inconvenient settings of the original game and makes it more fun to play. It also offers a few new sets of features such as removing default seasonal outfits, pets being allowed in households and new community lots.
Peach – Little Boxes Project
This Peach save file mostly focuses on recreational activities. Its main aim is to remake all the boring original features of the default game into something more fun and unique. It concentrates mainly on converting lots and changing town civilisations. The creators have included Oasis Springs, Willow Creek, Newcrest, Magnolia Promenade, and Granite Falls in the first version of this save. The initial offerings of this save file include a minimum of 1 park and three houses.
Teknikah – World of WIPS
These saves are part of the world saves. This one, in particular, does not provide any updates or remakes. However, the great thing about this reserve is that it will allow you to start your game and layout from scratch completely. It will wipe out everything from your world and will let us have a whole world makeover!
This WIP save file is also very functional and convenient. As a result, you will not have to worry about the destruction taking time. This Mod will wipe out everything in just a few minutes. Furthermore, it will also help you create your very own save file.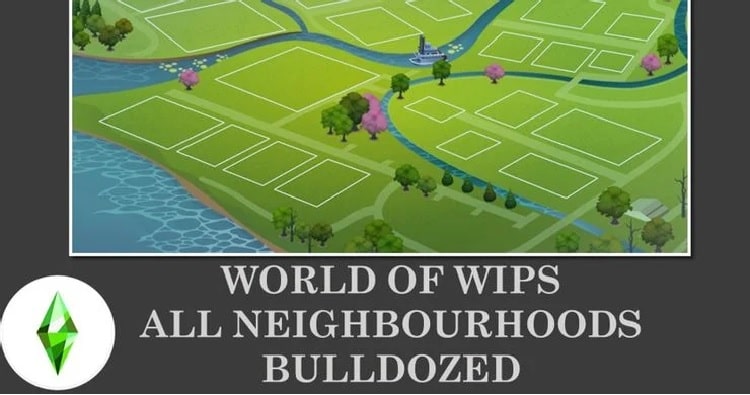 Plumbella – Base-Game Friendly Save
This Plumbella save file will help to improve your base game. There are very few files that work smoothly with base games, but this one is great. They mainly created it for Willow Creek, Oasis Springs, and Newcrest. The creators of this save file have completely revamped the game and have re-made everything from the houses to the other amenities of the city.
They also made sure to create this file in a way that would be child-friendly. You won't need any Mods for this save file as it uses the features provided from the base game.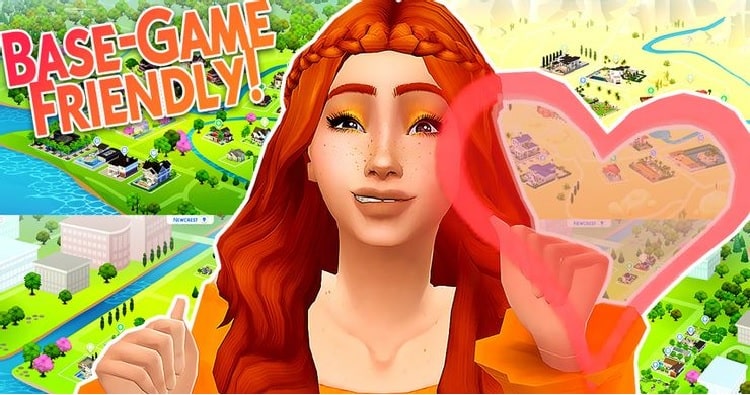 Isleroux – Isleroux's World
This world save file is quite a unique one. The creators have focused on making the game more emotional and have added a mystery factor to it. Most of the characters in this save file have backstories and different personalities. They have also added new skills to the game and new functions for relationships.
This world saves file will also offer you Sims with a new starter house. A few other things that this file has to offer are references to previous Sims, a lot of screenshot varieties and also 93 clubs!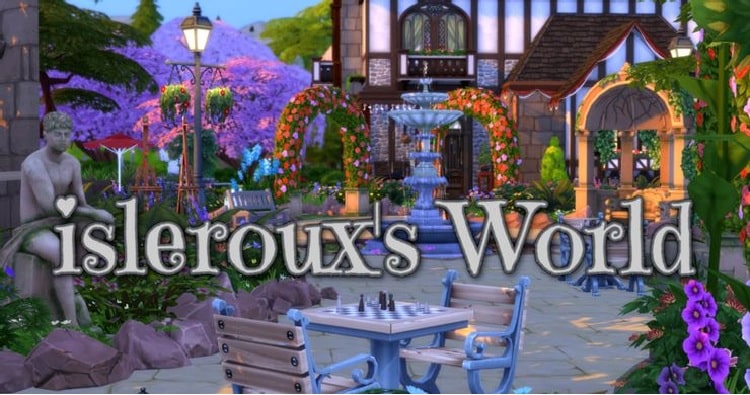 Sweetie Wright_84 – Populated And Non-Populated Save Files
This Populated and no-populated save file took a lot of time to make, but it is also one of the best ones you can find. It has two versions: populated and nom-populated. This save file will get you addicted to the game. It will make you more invested and attached due to the large amounts of creative storylines with complex relationship webs. It includes almost all the worlds in the game!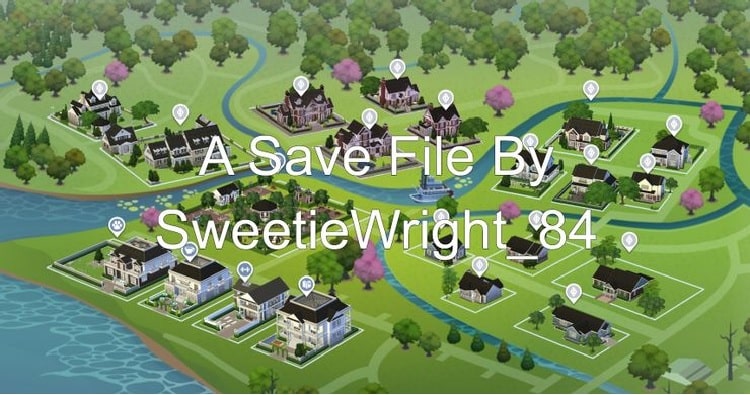 LilSimsie – Simsie Save
This Simsie save file is very detailed and intricate and has a lot of depth. The creator of this save file made sure to fill in all the gaps and obstacles in the game and added a feature that introduces you to 65 new townie families!
Not just that, but they have developed all the families very well with their skills, personalities, storylines, emotions and relationships. They also regularly update and improve the file to keep users interested.
Various – Super Save
This file is for Sulani, Del Sol Valley, and Brindleton Bay. In brief, this file is visibly quite a unique one. Everything from the three worlds above has been turned into a remade world, updated and polished. This file has one of the best builders in the game, which is improving day by day.
Jenba- Sims – Newlyn Hills
This Newlyn hills save file is for Newcrest, Willow Creek, and Magnolia Promenade. They have added new town families and new venues for the families to roam around and hang out. They have also completely revoked and evolved the three above mentioned worlds in the style of Jenba, which is different from other styles.
Aveline – Almost Save
This almost save file is one that every simmer needs to have. It will offer one of the best built and most unique houses that you will not be able to find anywhere else. A talented YouTuber named Aveline ironically created this Mod, who also happens to be a gamer. All the houses in this save file are very well designed, detailed, and have deep stories.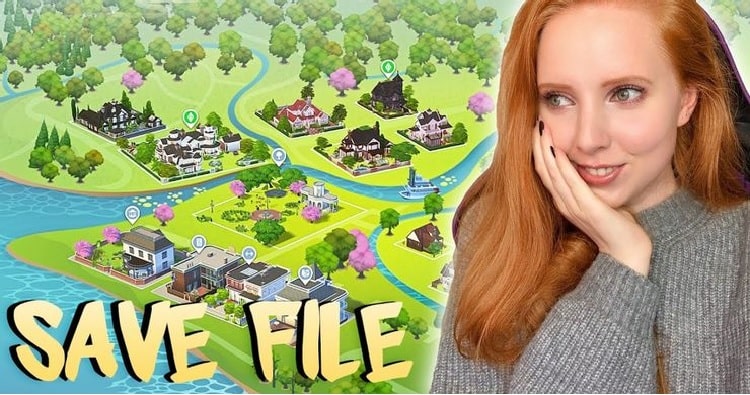 Illogical Sims – Seasons Save
This season's save file is great if you are a fan of seasonal fashion or just a funky person in general. These seasons hold files will give your Sims different outfits depending on seasons like winter, summer, fall, monsoon, etc.
They designed all the clothes keeping the seasons in mind and have made them perfect for your Sims to wear with the changing environment. They have made sure to complete these outfits very fashionable and perfectly fitted on the condition that despite the weather, your Sim can always look great!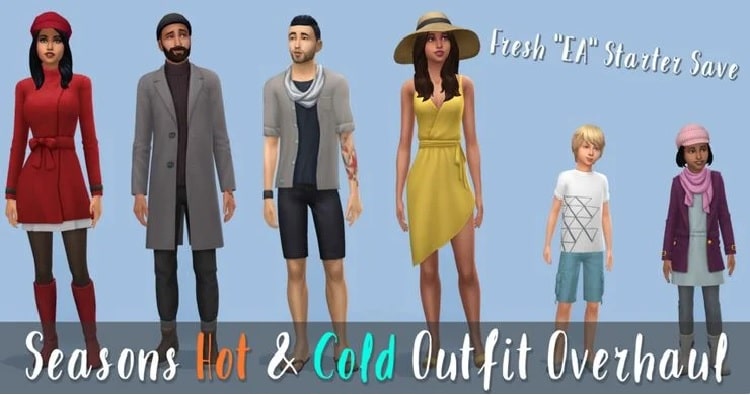 Sims 4 Mods Folder
Several files require some compulsory Mods to them. Since these files usually have a storyline, you must have all the Mods needed to get through the storylines easily. We have given the location of these Mods below:
Windows: They have located the Mods in "%UserProfile%\Documents\Electronic Arts\The Sims 4\Mods". If you wish to get to this file easily, you can paste the above address in the file explorer.
Mac: In mac, they have located the Mods in "~/Documents/Electronic Arts/The Sims 4/Mods". You can easily get to this via the finder application.
Sims 4 Save files update – 2022
The creators of the Sims 4 save files are always trying new things to update this Mod. They have made various improvements in the game and have introduced a save file that helps fix multiple conflicts and bugs in the game, making it smoother. Some will replace everything visible, while others will clean up old lots, and a few will also bring back memories. There are many other updates too from which you can choose.
How to Restore a Previous Saved Game in Sims 4?
If your game ever gets corrupted, it is very easy for all your saved files to get lost. The good thing about this game is that it always has a backup, even in such situations. Sims 4 has provided a few ways to restore your previously saved files every after they get lost. Follow the steps below to do so:
Identify the required savepoints
In the first case, you need to know which save game download file you want to bring back. You need to know when you had the file and how many days you had it. After doing this, go to the savegames folder in your operating system. Once you are in this folder, it will show you four types of files, and each of them will have a time stamp. Click on the file with the time stamp that indicates the period when you had your desired save file.
Close the Game
Once you click on the file you want to bring back, make sure to close the game to avoid any crashes or conflicts with other ongoing operators. If you don't do this, there may be a chance of losing your game data. After this, they should restore your file.
Choose the primary to save file
Choose the game file supported by the game to restore your save file. Open the game and then refresh it. After a while, it will show you an option called "save" click on it to save your file. After this, just to ensure that your files stay safe, move them to another more secure folder.
Load the save file
You need to just click on the file you have saved and let it load. Once the loading is complete, the game should successfully restore your file!
The Sims 4 save files Mod has been a lifesaver for many simmers, and you should try it too. If you ever get bored of the game or want some unique twists to it, this Mod is going to be the best for you!