The Sims 4 burglar mod will give you the proper experience of being a thief for the day. With the help of this mod, you can rob other Sims. Sims 4 is all about getting to experience events that you would not get to in real life. You can live your dream of being a criminal through this game. The burglar mod is a part of the life tragedies mod. In this mod, you can murder people and also kidnap them. You can also get guns and weapons. This mod will make your game so much more thrilling and exciting. It adds a few twists to the game and gives you a great experience.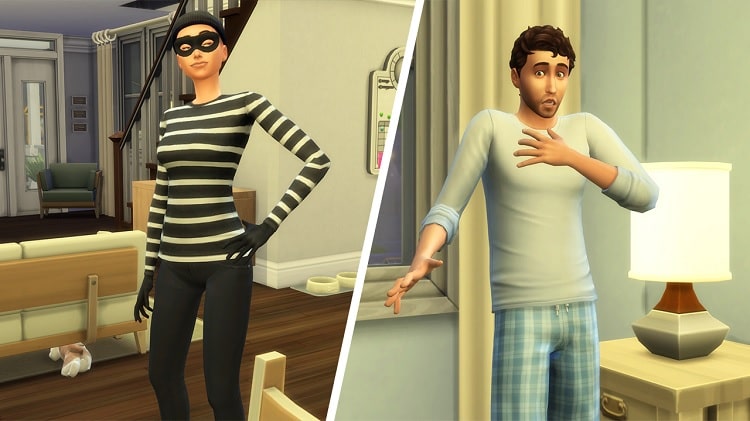 Working of this burglar mod
This model includes various things that criminals do. You will end up having to deal with violence like bullying, car accidents, fights, murders, weapons, and many more. This cc is a complete thriller mod that will keep you excited throughout your game. The working of this mod is very simple. All you need to do is break into Sims houses and steal anything that you can. You will gain points if you steal money and furniture.
You can use anything you want to get all your tasks completed. You can also shoot Sims and fight them. If you get in trouble, then you might also go to jail. You can also switch roles, and instead of being the burglar, you can also become a victim. When you are a victim, if you see a burglar robbing you, you need to immediately call the police and use various means to protect yourself.
With this thief mod, you will get a great storyline and a very strong plot in your game. This story will keep you invested and will give you a purpose. The victims of the robberies can also share their experiences with the other people of the town. They can tell them everything that happened and share their traumas with them. They can also raise awareness about a burglar in the city. In this way, the town members can protect themselves from any tragedy.
How to download the burglar mod Sims 4
Follow the steps below if you want to download the Sims 4 robbery mod:
download the mod from.
Once you have downloaded the mod save all of your files in a zip file.
Unzip these files by clicking on them.
After you unzip the files, extract all of the content from the files.
You can then save this content in your mods folder.
Your mod should now be downloaded.
You can easily access it through your mods folder whenever you want to use this model.
Features of the Sims 4 burglar mod
We have listed some of the features of this robber mod below:
You can sneak into a Sim's family apartment at any time of the day, especially at night.
To warn people about your presence, you can play any alarm or musical instrument to warn people about your presence. This event adds more drama to the plot.
You can steal many valuable items from houses.
You can also have supernatural traits. These include werewolves, zombies, mermaids, vampires, etc.
You can scare people and force them into the burglary.
If someone sees you robbing them, you can also kidnap them and even shoot them.
The victims will be allowed to use various ways to defend themselves. These ways include calling the police, fighting the robber, using supernatural creatures to scare the burglar off, and fighting the burglar.
This was all about the Sims 4 burglar mod. The creators are constantly updating this mod and are adding new features to it. If you want to spice up your game and enjoy some twists and drama, this is a great mod. It is also very thrilling and exciting to play with this mod.