In The Sims 4 game, having a beautiful house is sometimes the ultimate goal. The creators work hard on creating the most amazing Sims 4 mansions and homes. However, garage doors are one of the most underrated features of houses. The Sims 4 garage door has a significant impact on the exterior looks of the home. Nevertheless, EA has not given the players too many options to choose from. So to have some really good-looking exteriors for your doors, explore some of the Sims 4 garage door cc created by various creators.
Some of the best Sims 4 garage door cc are:
Sims 4 garage door mod CC
1. Grouch Garage Doors Recolor 1
This garage door Sims 4 has a very simple design. Nevertheless, this simple classic design still significantly impacts the looks of the house. There are 12 different color swatches available. They feature light or dark trim. However, this will depend on your preferences. This simple garage door cc is perfect if you do not want something very fancy or big. It also provides a lot of choices to choose from in terms of variety. The classic Vanilla Sims 4 garage door suits the best. If you match the house door with all the other aesthetics of the house, nothing can stop you from having the most beautiful home.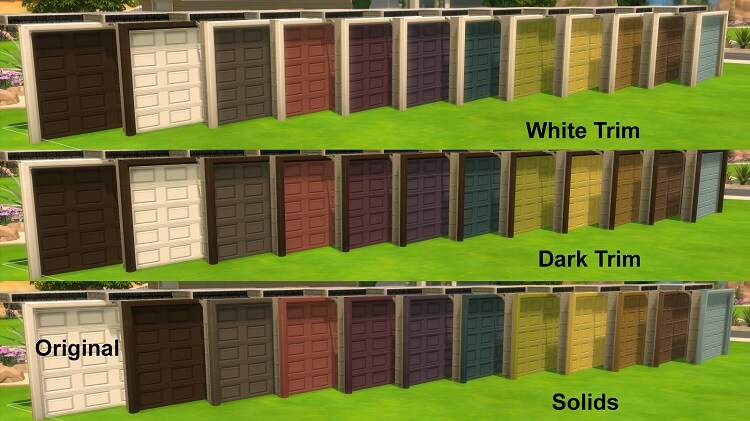 2. Garage Wall – V3
This Sims 4 garage door cc provides a more modern-looking vibe. It also features a paintable pattern on the walls. There are a few colors available for you to choose from in this garage door cc. It has only one color, dark brown. Along with this, it features a rectangular pattern present at the bottom. Four narrow windows are also present at the top. It may give an old-fashioned vibe. However, this design is very versatile. For a modern and minimalistic look, this is perfect. However, it is more of wallpaper than an actual door. So do not drive your car through it.
3. Garage Door Wall Set
This Sims 4 garage door cc brings you another faux garage door. This cc features an outdoor wall, which has been designed to look exactly like a Sims 4 garage food. It has a very suburban look and will look amazing on your home's exterior. This cc is available in three pieces. The left piece, the middle, and the right. Altogether they make up an entire door. With the help of the left and right sections, you can make the garage door look smaller if needed. Hence, it's up to you what size you prefer. Arrange everything according to your preferences to fit your house's exteriors. This wall compliments a red brick facade wall.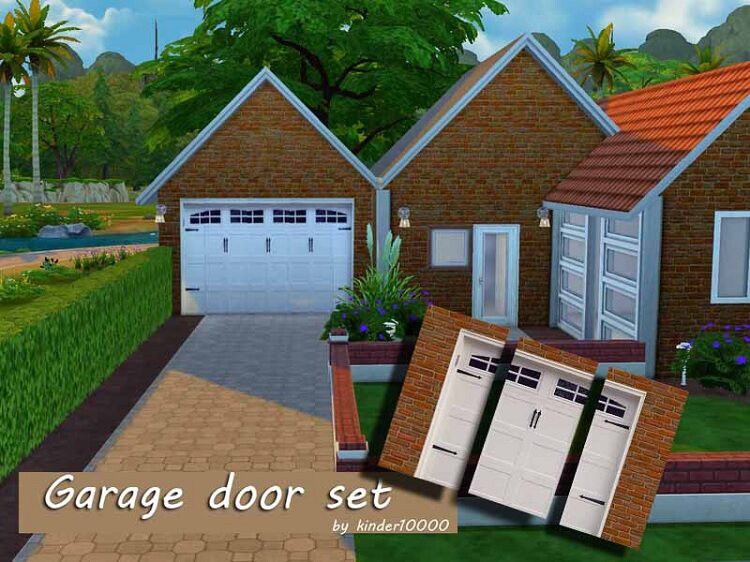 4. AP Patio Garage Door
This modern Sims 4 garage door looks fantastic. It is very glass-heavy but fits in perfectly with the contemporary minimalistic mansion vibe. This door is available to you in two variations. Each of these is available in six different colors.
The two variations of the glass-heavy garage door feature a striped pattern and a checkered pattern. The best part is that you don't have to settle for one. You can use both in the game. However, they are slightly costly. Each door will cost your Sims around 1000 Simoleons.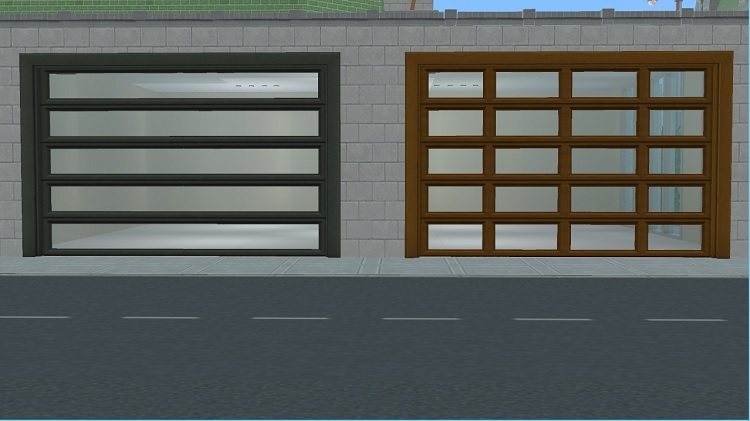 5. Garage Doors D
Some Sims 4 garage doors don't always have to fit a car. Sometimes they can be big enough to fit a bike or just people. This Sims 4 garage door cc features a courtyard-type door, which includes windows at the top. It also has a few decor items, such as plants, available. This will add a natural look to it, with the windows allowing natural light to flow in. This Sims 4 garage door cc is perfect if you are looking for something modern European or just something as a decor item in your courtyard. The wooden doors shining during the summer heat look exquisite and welcome guests to your Sim's home.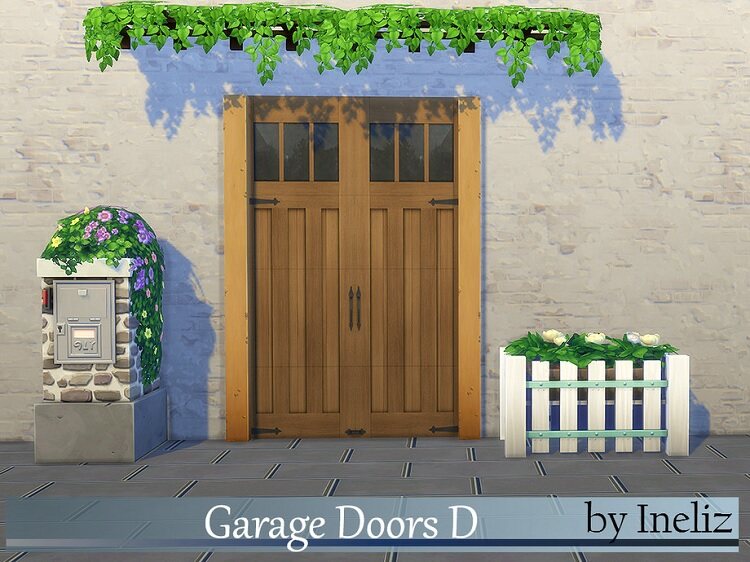 6. Open Garage Door
Since its launch, the City Life expansion in the Sims 4 game has given way to many new mods and custom content items. The in-the-city look inspires this garage door. There are two versions of this cc available. One features a closed door, and the other features an open door. Another exciting part of this cc is that it allows you to paint inside the garage. Hence the garage door acts like an actual doorway or an arch into the inside or outside. Another feature is that it allows your Sims to face the front or the back of the Sims 4 garage door. Although it is a simple garage door, it is perfect for a city house.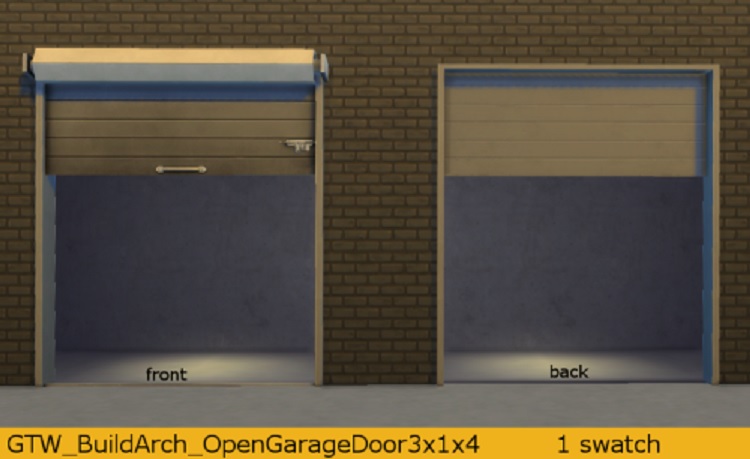 7. Garage Doors A
Another Sims 4 garage door cc that has a countryside look is the Garage Doors A. The doors featured in this c are smaller than other and is entirely made of wood. Since the size is comparatively smaller, this can be used as an exterior door. Probably for you to enter your countryside barn or home. It comes in two different pieces. You can then place the left and the right pieces according to your preferences. It can be used for and on various kinds of occasions. The only limit is your imagination. However, you need to note that your doors should match the exterior of your home. With the perfect house, this Sims 4 garage door will be fascinating.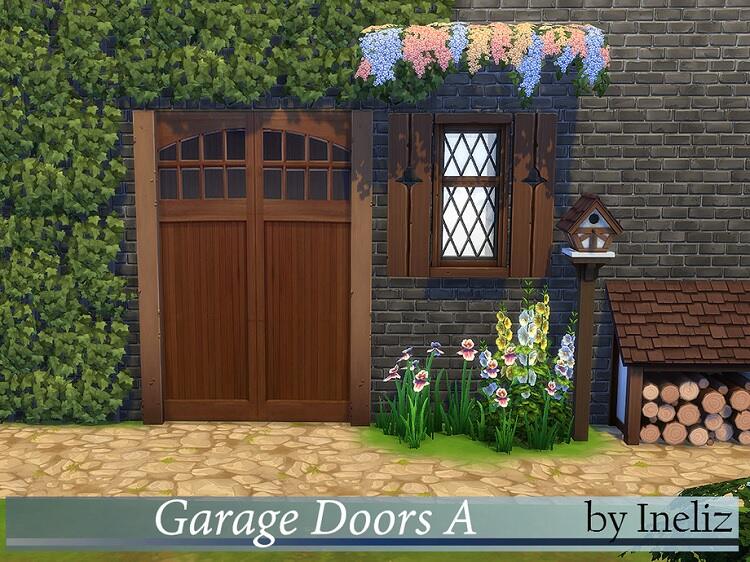 8. Garage Patterns 4
This unique Sims 4 garage door set has around four garage doors to choose from for your homes. All the designs feature a windowed section. Another good part is that they start from the torso level. This will allow your Sims to take a peek inside, if necessary, with ease.
All the doors in this cc are constructed out of wood and have varied colors. The patterns of the glasses also vary a lot. One of the garage doors is available in two sections. This is further divided into smaller wooden parts. This will allow you to adjust the doors' size and height. All the doors, however, are similar in their vibe. They are suburban in nature and would go with nearly any kind of house. Choose the design that goes best with your home's exteriors.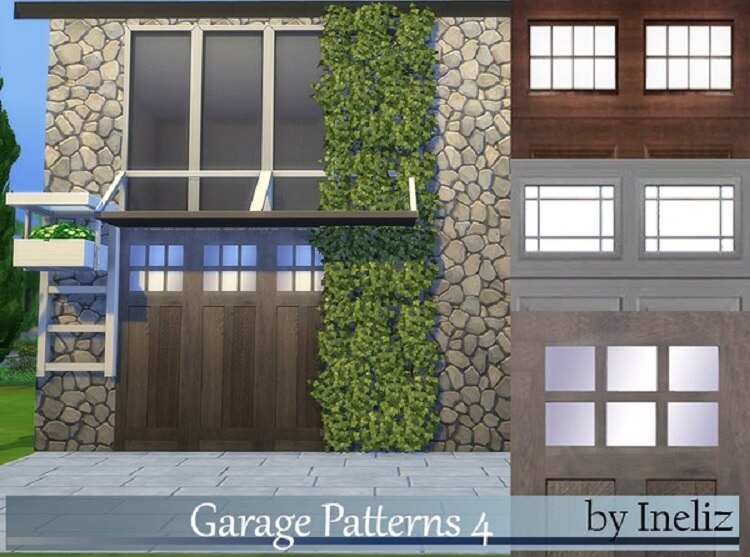 9. Functional City Garage Door
There is finally a functional garage door in Sims 4. This is just like any other city garage door cc. You will have two options. To use it as a functional door or use it as an open garage is what you need to decide. If you use the functional kind, you will further have two options. To use it manually or while in automatic. The door will automatically open itself, and you can let yourself into the garage. The lazy Sims might enjoy this feature. However, ensure that you close the door when using it manually.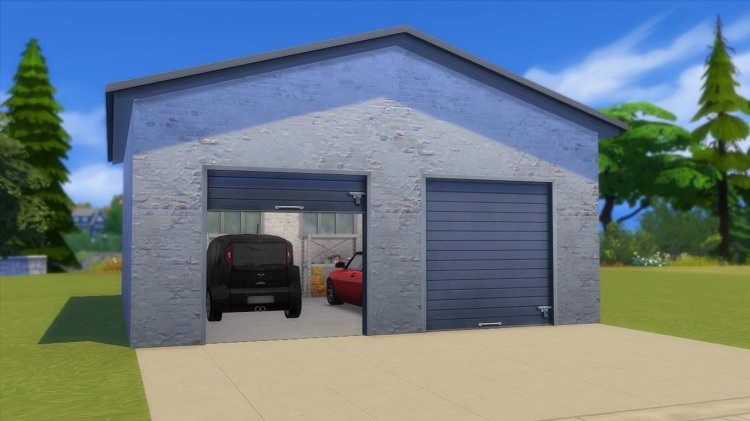 10. Garage Doors Set
This Sims 4 garage door cc features many kinds of doors. They cover every style of architecture: modern, suburban, and even old school. The variety sure makes up for its non-functionality. There are four types of doors. With two modern Sims 4 garage doors and two old-school style garage doors.
The modern Sims 4 garage doors have a very minimalist wooden look. They feature a patterned glass with checkers on them. The old-school style garage doors have one garage door with small holes at the top. The other one is completely covered, similar to the countryside barn doors.
Since they are not functional, they don't have a purpose. However, to elevate your home's exterior looks, these are perfect.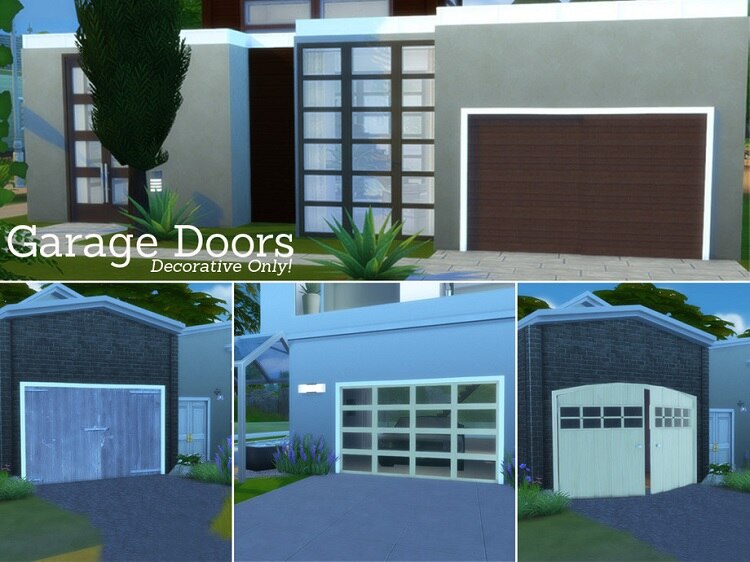 11. Garage Door Wallpaper by DearDaisySims
This Sims 4 garage door cc by DearDairySims is quite interesting. It features straightforward designs. Nevertheless, these designs will look amazing on your home's exterior walls. This is a garage door wallpaper. Hence it is not functional. It features 3-4 different types. Some garage doors contain glass, whereas others have simple wooden doors with very simple designs.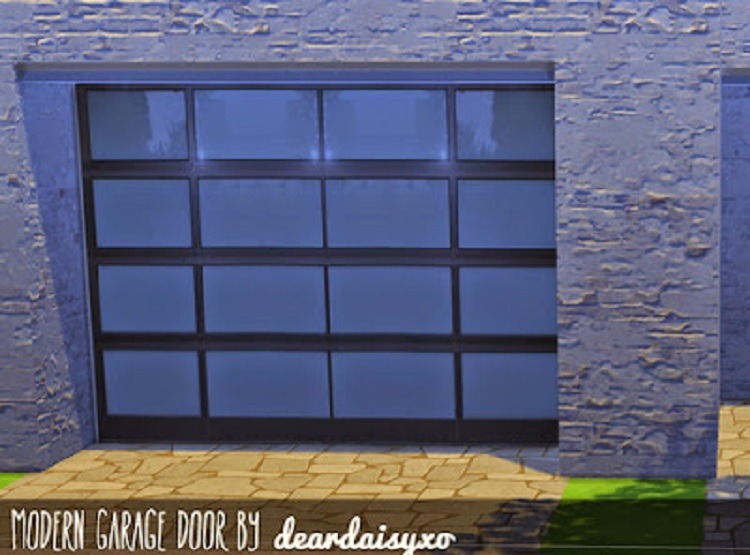 12. Garage Door by sg5150
This Sims 4 garage door cc is also quite simple. It is made of wood and does not have any glass on it. It comes in standard classic colors such as white, brown, black, and various others. You can view this garage door from the outside as well as the inside. Hence, the garage door Sims 4 may be functional as well. You can easily fit one car through this garage door.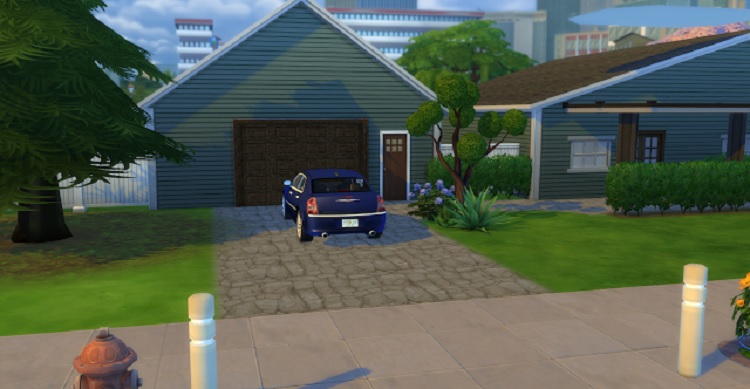 13. Garages
This Sims 4 garage door cc features garages and garage doors inspired by those in the Sims 3. Garages are not available in The Sims 4 yet. Hence, players and creators have made various wallpapers and doors to satisfy the urge to have a proper garage door. This Sims 4 cc includes three kinds of garage doors. One is entirely made of glass which is Semi-transparent. The second one is slightly more opaque and features black borders and rectangles. The third kind is made of wood and has glass only at the top. The color choices are pretty simple and minimalistic. Each garage door is available in four different color swatches. Choose the one which best fits your home's exterior. Each door costs around 1000 Simoleons. Hence, it isn't exactly too cheap or free.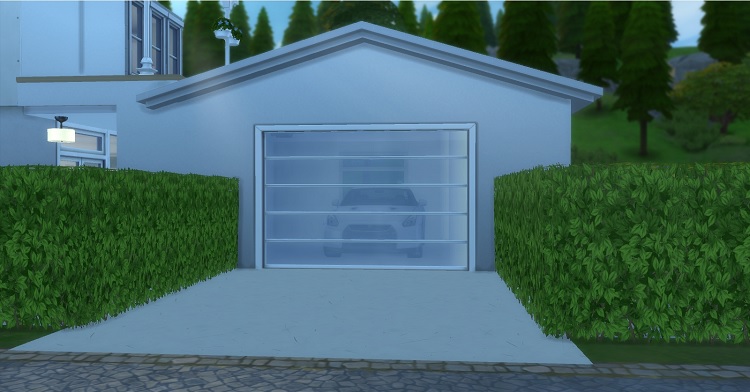 14. Nome Garage Door
This Sims 4 garage door is part of an extensive overall set. This garage door is not functional at all. It features a very simple design. A wooden door with big squares embedded in it. That's it. It is available in a simp;e dark gray color for now. This fits with a lot of different kinds of homes. This garage door is not functional. This is to be just a decor item for your home's exterior.
15. Modern Garage Door [v.2]
This Sims 4 garage door also belongs to a set. It features a very modern design and is made entirely out of wood. The design is very simplistic and perfect for suburban or countryside homes. As of now, it is available only in its natural color, brown. The modern touch to this simple wood garage food is interesting and a must-have for your home.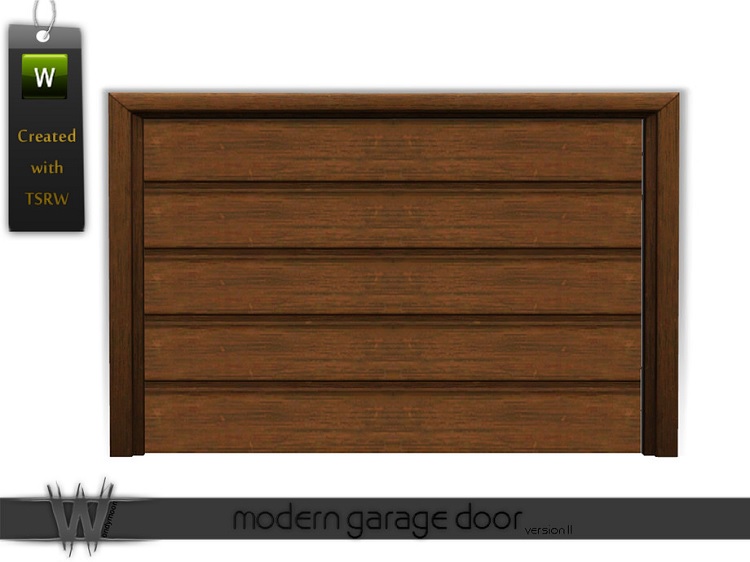 16. Garage Door (1 Glass)
This Sim 4 garage door is also a part of an extensive set. This has a very simplistic design and is part of the modern theme. This garage door has glass panes on the top and will allow your Sims to peak into the garage easily when required. The wooden garage door is perfectly fitted and looks excellent on your suburban homes. Although this is not functional, this adds to the aesthetics of your home.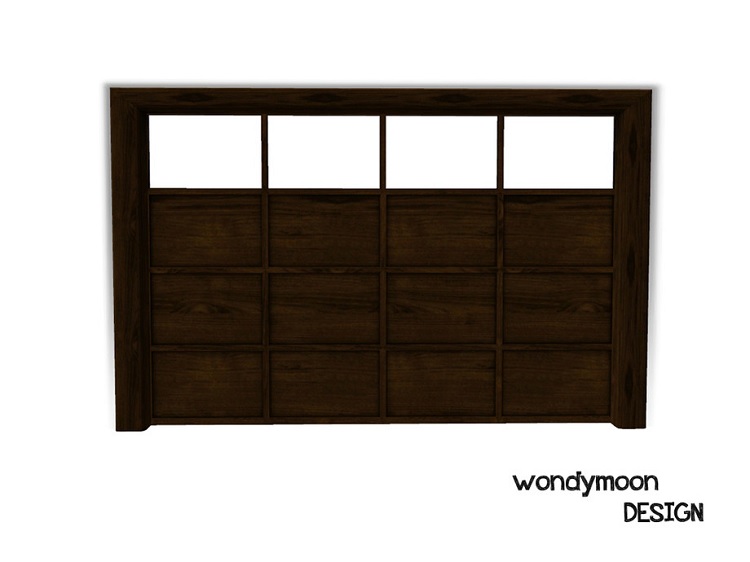 17. The Sims 4. Door "Garage entrance"
This Sims 4 garage door cc has five different types of garage doors. These doors can be functional if you want them to be useful. There are four colors available in this. The classic white, sandy, gray, and brown. These all are very simplistic and perfect for suburban homes. Against a brick wall, these doors will look amazing on the exterior of your home.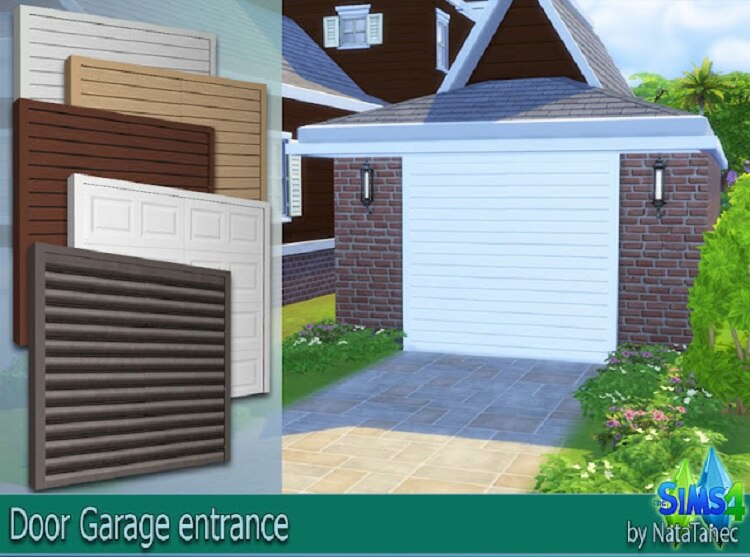 18. NL Garage Door Recolours
To make this garage door cc work, Nightlife is required. This is because this cc is not base game compatible. It consists of five styles of garage doors. Closed, open, four and round, and sun. There are four bohemian, eighteen colorbond, and five MALM colors. These garage doors are perfect for every kind of home. The color palette is quite quirky yet appealing.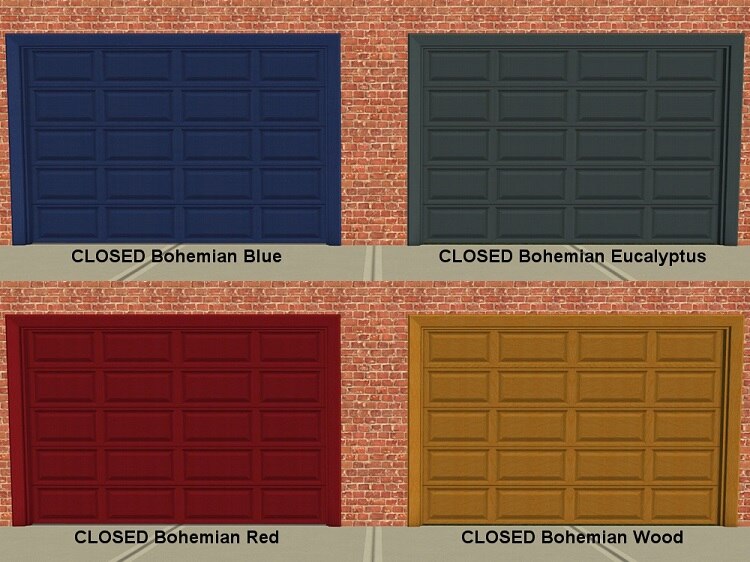 19. Garage Door Set
This Sims 4 garage door is also just a decorative piece. This garage door set contains three different garage doors. Two closed and one with glass panels on top. All three are white and look pretty modern. These are perfect for suburban homes. These doors compliment every kind of house exterior. Surround this with the perfect pretty bushes, and your house will definitely be one that features in the real-estate magazine.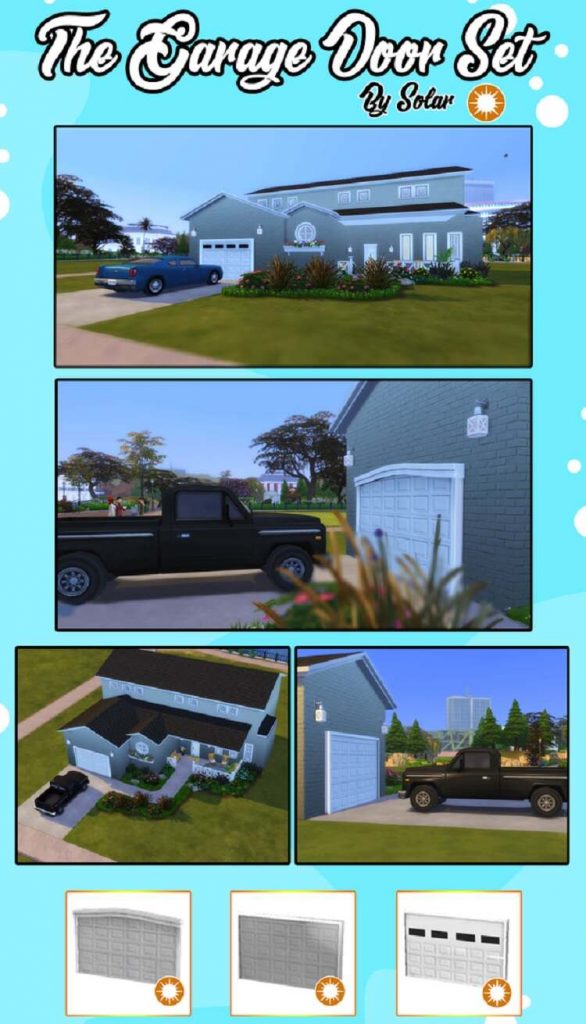 20. The real garage door. Set 4. White Ranch style
This simple Sims 4 garage doors set is perfect for countryside barn homes. These have a very countryside aesthetic and are perfect for your tractors and other farm vehicles. With glass panels on the top of the doors, these give you easy access to the vire inside if needed. These are primarily available in white, the classic Sims 4 garage door. This Sims 4 garage door is more of a decor item and is not functional.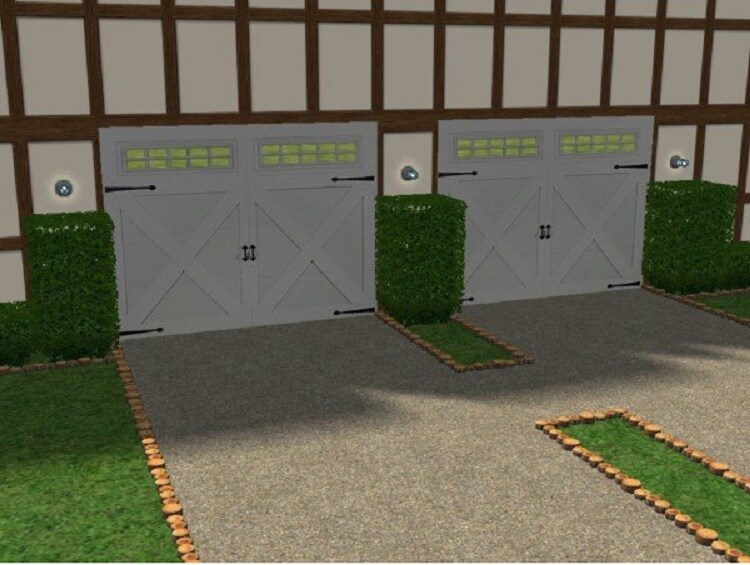 Conclusion
Most of these Sims 4 garage doors are not functional. They are mainly used for decorations only. Most of the garage door cc are wallpapers for walls. However, these are still important for your home's exterior looks. They add a level of sophistication you never knew your house needed. These custom contents become important as EA does not give you many options in The Sims 4.
Choose the best garage door Sims 4 for your home. Ensure that they complement the exterior designs. All garage doors are very simplistic and have a very minimalistic nature. Hence, all doors should fit perfectly in with the environment.