Are you a Sims fanatic? Chances are high that you like them so much that you are here looking for sims 4 kids cc. Children must be kept happy and for that you need to dress them well. This will not only add to their personality but also groom them in the meantime.
You will get everything from sweaters, jackets, tops, shirts, pants, to skirts and more in this post. All we ask is to give it a read and see how you can customize your Sim kid for the better.
More About Sims 4 Kids CC
The Sims 4 is a life simulation game that allows players to create and control virtual people called Sims. This article will explore the children custom content available for Sims 4.
The Sims 4 is designed to appeal to young players. This content includes clothes and accessories that can be used to customize the appearance of your child Sim. These items are made by talented artists that are safe to download.
Maia Fleur De Coton
This sims 4 child cc, which is abohemian dress that comes with 8 swatches. This makes your Sim child look fashionable and adds to their persona. We know you love your Sims so much that you are here to take care of them.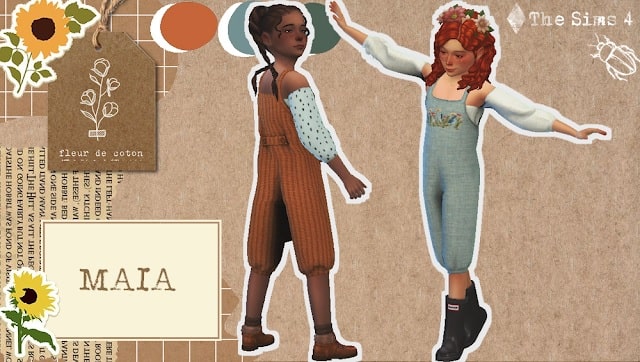 Dressing sharp must be made a mandate at least in your Sim world. Seems like the creator Anna & Bibi understand that quite well. Why not prep the kids from now about how the world sees you, is the way it acts with you?
Burberry Kids Clothing Collection
Burberry, do we even need to go beyond that name? Look at the pretty dainty things from this collection. Everyone looks good in a Burberry and we cannot deny it. Now, this child cc has 2 tops for children, 1 outfit for a toddler, and 1 for a child. These 4 meshes create an assortment that is hard to resist. This is stylish and classy at the same time. Don't miss out on this for your kid Sim. The designer K's Kustoms has done a marvelous job for sure.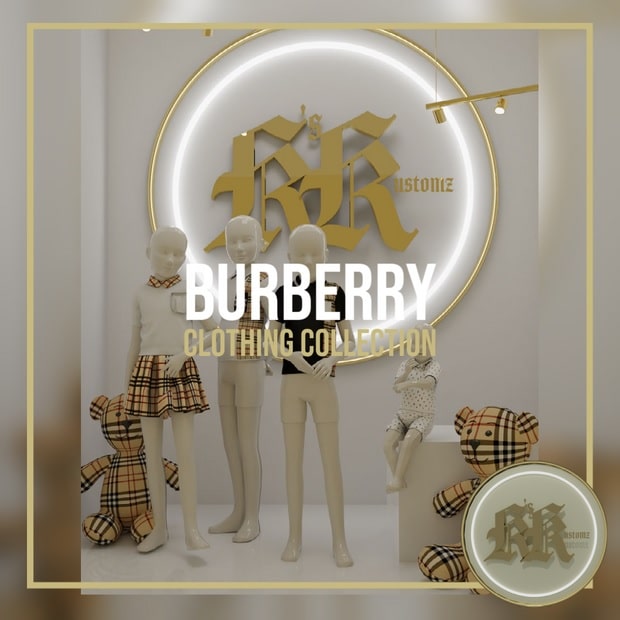 Honey Overalls
The designer of this child clothes cc goes the name Clumsy Alien on Tumblr. This comes in 12 different colors and overalls lend that rustic guise to your Sim child that makes them look cute.
Overalls represent the hardworking life on a ranch. This kind of clothing makes the Sim child that extra protection while playing. It does not let the knees and hands chaff that easily. Hence, these are an essential part of your growing years.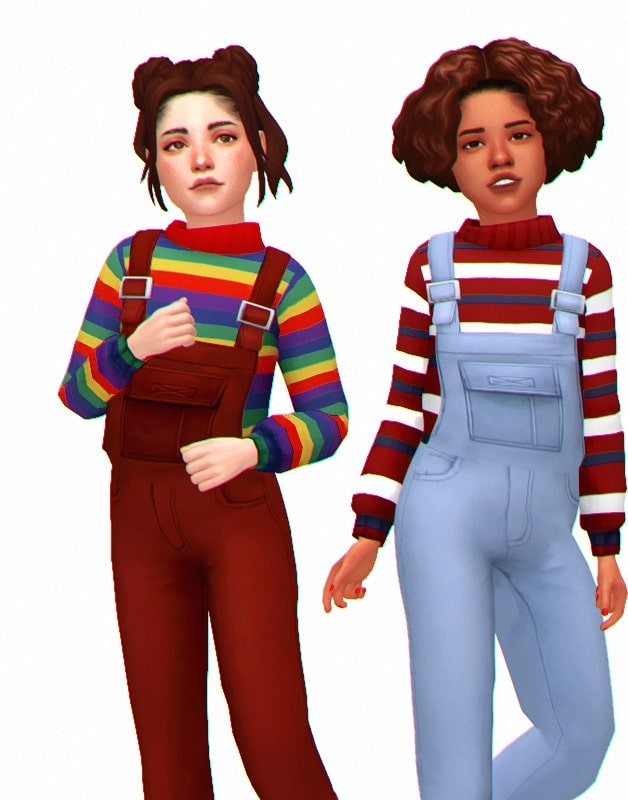 Jersey Tee
Created by Simiracle from Tumblr this Jersey Tee is a cute addition to the wardrobe of your Sim kid. This kids cc is available in 12 swatches that give you the leverage to choose a color that best suits your Sim.
Sims could be electronically generated characters, but we treat them like real people. So, why not make the children look cool in these outfits.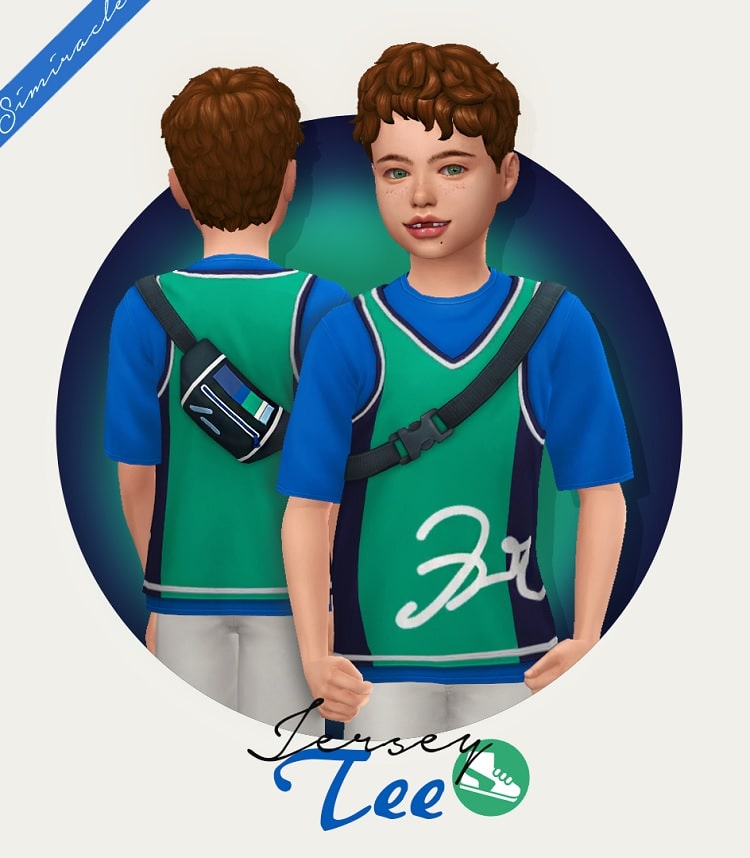 Kids Matching Outfits
When it comes to clothes the adult Sims get a lot more options but what about the kids? Hence, the creator SSdesigns ensures that the kid Sims also gets some choice of clothing.
This is a combination of clothes of girls and boys. The girls can wear a matching dress (a matching bow) with their sister's onesie. On the other hand, boys can wear polo t-shirts matching their brother's onesie. Doesn't that give you a lot of options?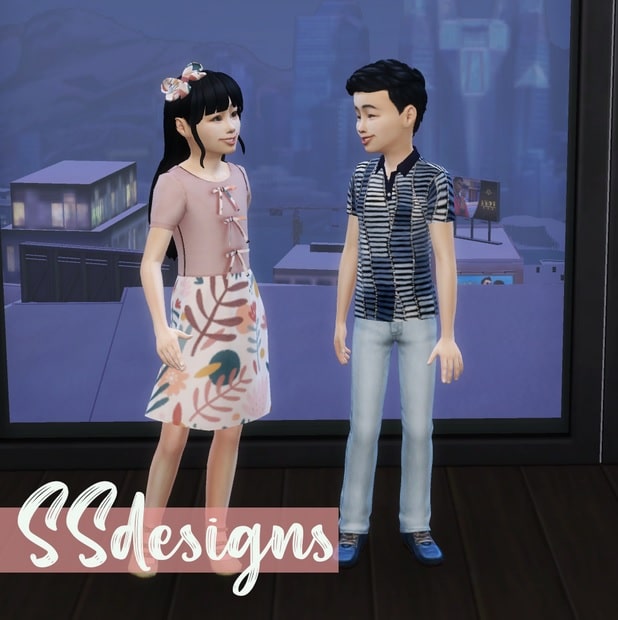 Cafe Sweatsuit for Kids
This is a line of super stylish children cc by Nucrests from Patreon. This is one of a kind line that features streetwear for kids. Isn't that cute? These are obtainable in 19 different colors which really makes them more appealing. Don't worry as this is compatible with your base game. It comes in a pair of oversized joggers and pullovers. You are free to select the colors of your choice while dressing your kid.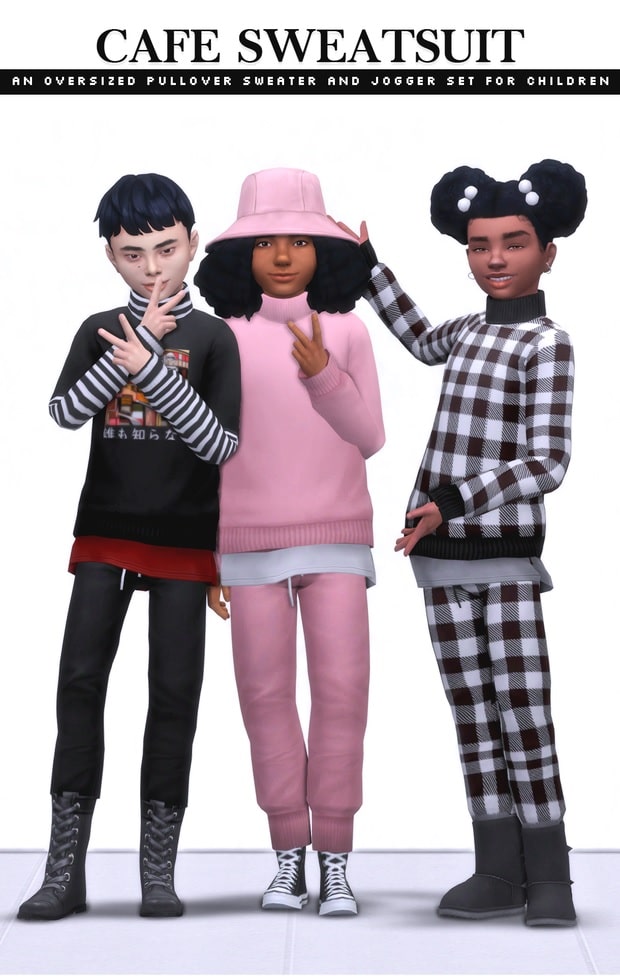 Kids Levis Shirt
One word that pops up in your mind is "Branded!" The artist RedCardsCC uses Levi's name for this and it works with us. Truly, we are all crazy for brands and why shouldn't we pass it on to our kids? Fine, they may be Sim kids, but they are ours! This comes in 20 swatches, which are suitable for boys as well as girls. Now, it is totally up to you to make that choice.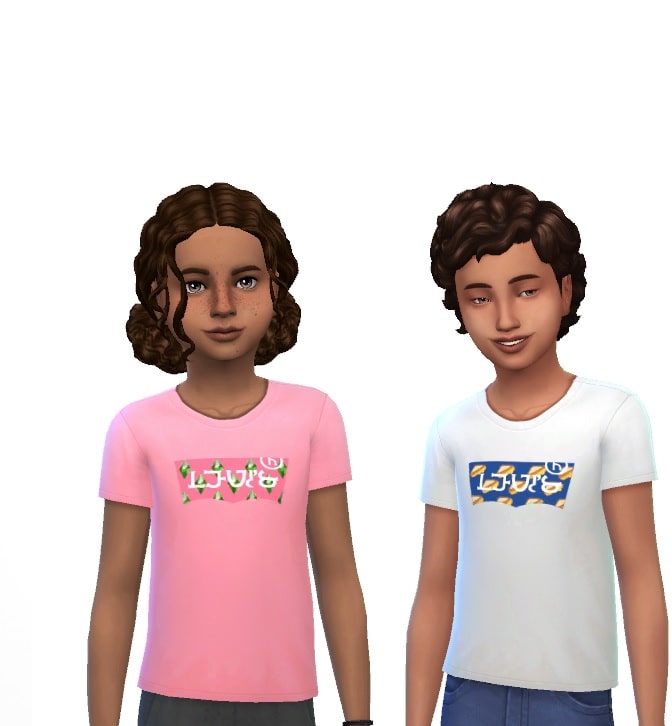 Alighieri Dress
This adorable dress makes your little one look so nice that you will not be able to take your eyes off them. You can match these with your Sim's mood while dressing them up. You get 28 beautiful swatches of these which makes it worth it.
Are you still thinking? This is a simple CC for kids that is fabricated by KaTPurpura. It is readily available on Tumblr. You can at least have a look.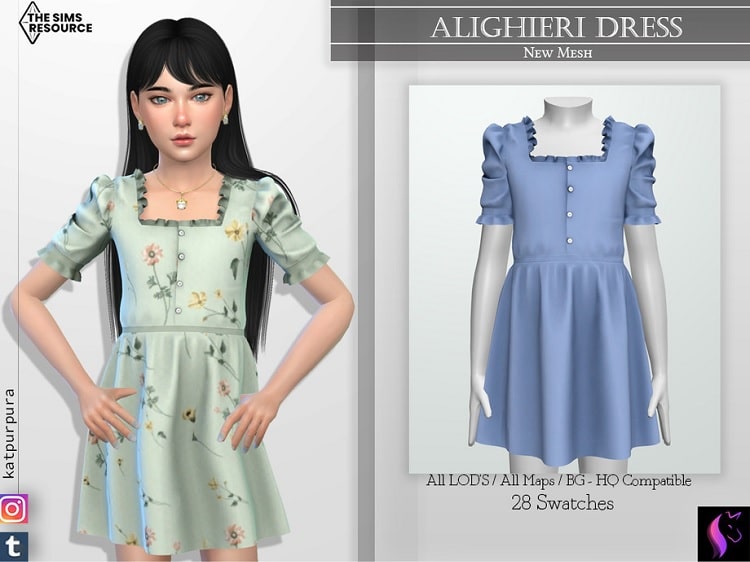 Bubblegum – Set for Girls
This kids clothes mod is a set of jeans and a top. These are very casual, you know something that does not need too much thinking. Obviously, you dress your kids in jeans and top more often than you may think.
This is why we say the Bubblegum set is the best way to dress them fast. You get 10 swatches of Bibi Top and 8 swatches of the Nina Jeans. The creator Lillka should get a pat on the back for making it this interesting.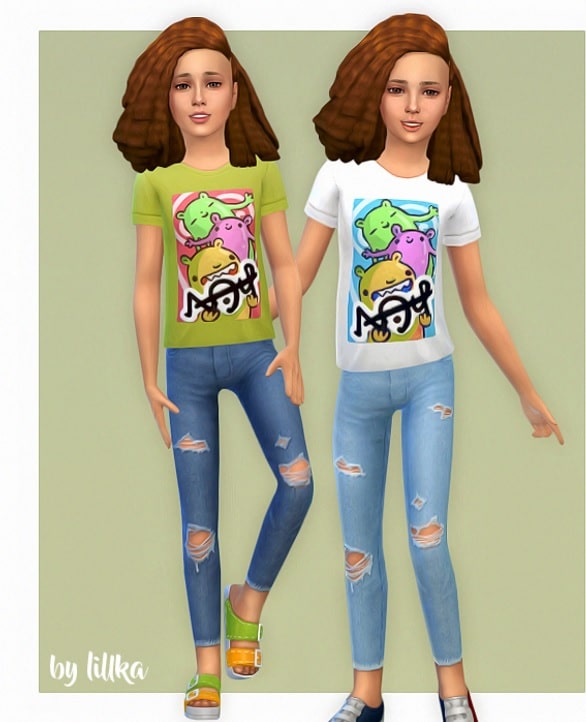 Tie-Dye Dress
The designer Cozy_yeons Sims, truly knows about the comfort of a child. This tie dress is accessible in 3 different colors. The dress even has a slit for convenience for kids. You know they can run, ride a bike, and enjoy the freedom while playing.
Dress your Sim child in a tie dress and see how happy they will be. Why not try it and know it?

Just Kiddin'
This is an amazing pack for your Sim kids as it contains a lot of mods. The artist Simkoos has posted this on their Patreon site and you get a lot to choose from while dressing your Simkins.
You know this is a bundle that you can avail for both boys and girls. It comprises of jeans, hoodies, tops, sweaters, t-shirts, and dresses. You are free to use your imagination and use it for your child Sims.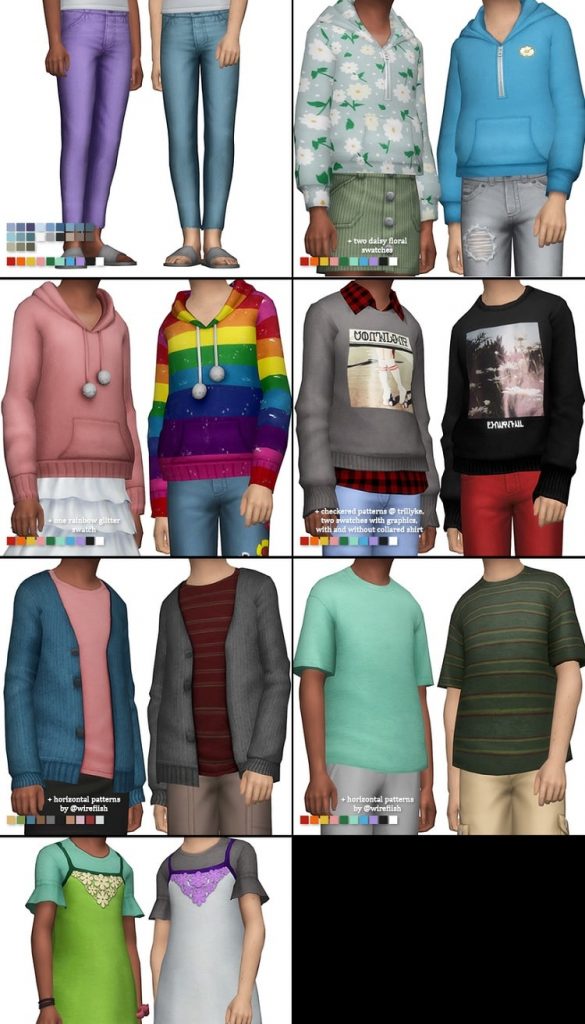 Your Heart Jeans
This sims 4 kids cc is a trendy pair of jeans that has the favorite heart design on the back pockets. Now, how can a girl ever say no to this? The jeans are accessible in 13 colors and come with a belt. It is compatible with the base game, so you have nothing to worry about.
The creator of the product goes by the name Naevys-Sims on Tumblr. You can download this mod for free and enjoy it right away.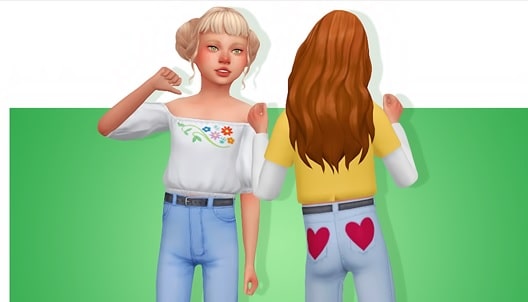 Brooke Sweater
Another one by Simiracle and this one is equally flattering. This is a funky multicolored sweater that keeps your Sim kid warm. There are self-colored sweaters also mixed in the batch although. That means you do not have to worry about polychromatic sweaters only if you are a little traditional.
It is stylish and looks quite cheerful at the same time. What more? There are 35 swatches that you can handpick which makes it all the more alluring. Doesn't it?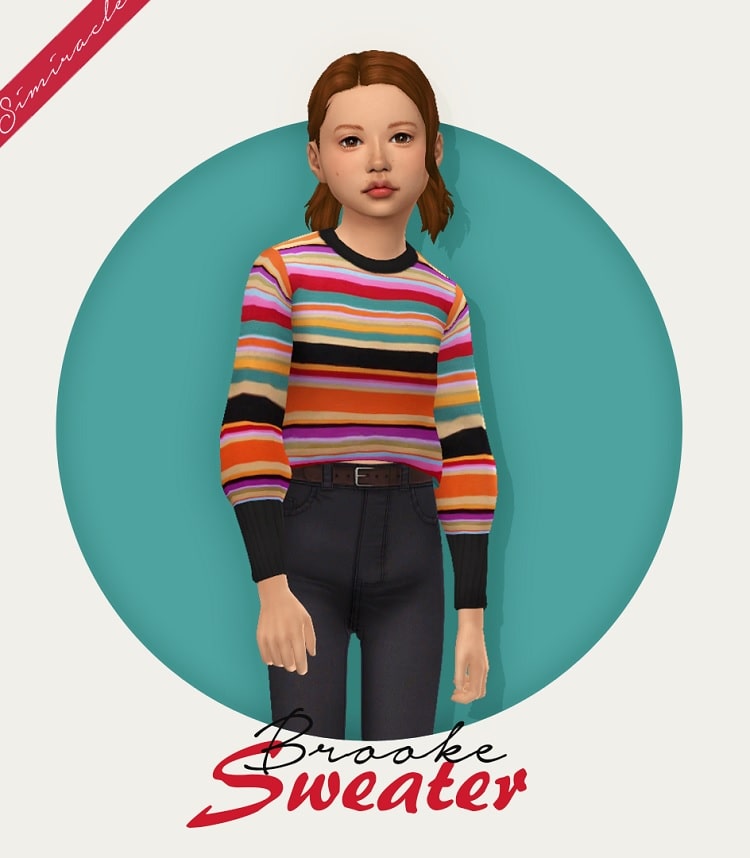 Froggy Hat
The design team is called Feral Poodles. They have their own site that you can visit to download this CC. This is a loose-fitting groovy hat that you can wear with anything. It comes in 7 distinctive shades that make it more tempting.
It is suitable for both girls and boys of all ages. That is correct, it is good for toddlers, children, and even older kids, like teens. It is compatible with hair of all kinds which means you have nothing to worry.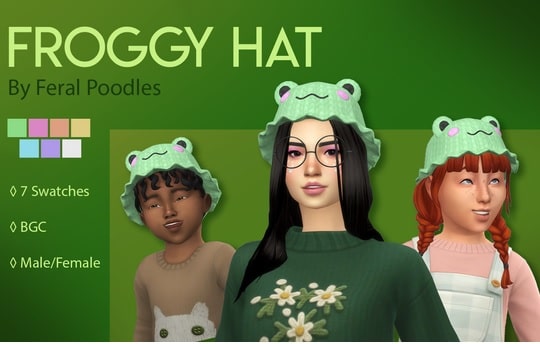 Madlen Korinna Jacket (Toddler, Child)
This sims 4 kids cc has been created by Madlen. This is readily available for download on their Patreon page. You can dress your Sim kid in a fashionable jacket that lends them a smart look. Why not dress the kids better? It is a changed world after all and we believe kids also have the right to look trendy.
This gilet jacket is presented to you in various colors like yellow, red, pink, white, brown, and more. This gives you the liberty to dress your kid the way you want.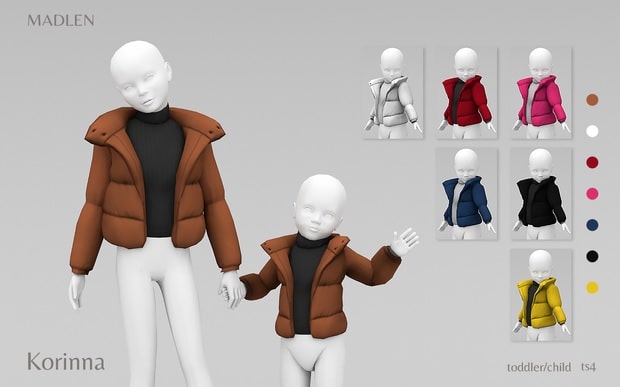 SS 2016 Collection II for Kids
Classy and that is the way we can define this line. Rusty's is the name behind this collection. The artist has designed this long dress flawlessly for your little girl. You can further accessorize with bows, clips, hairbands, shoes, and more.
This dress is glamorous, yet comfortable, which allows the little ones free to run and play. All you need is a style of your own to dress her like the princess you think her to be.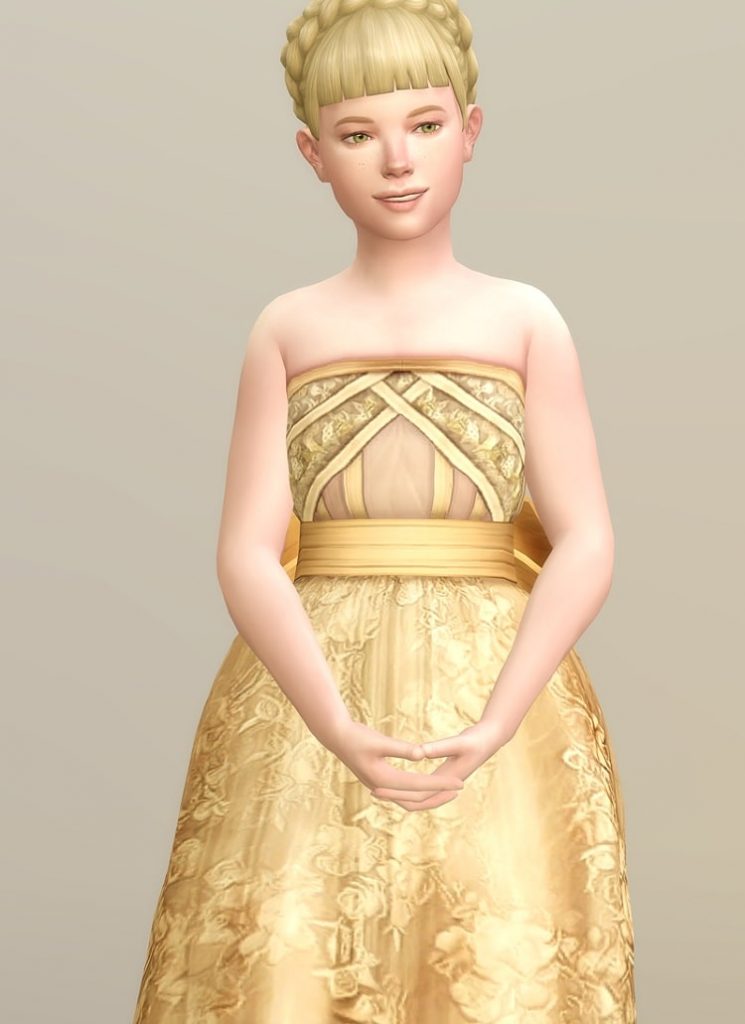 Utility Sweater
Simiracle again at it and this time the sweater makes more sense. This adds versatility to your Sim child's wardrobe. The designer offers you 24 swatches that you can pick from. Not to mention that these colors kids of all races.
They are vibrant and functional which is what a parent looks into while procuring clothes. Seems like the artist knows it from real-life experience, which is why they have been able to produce convenient clothing one after the other.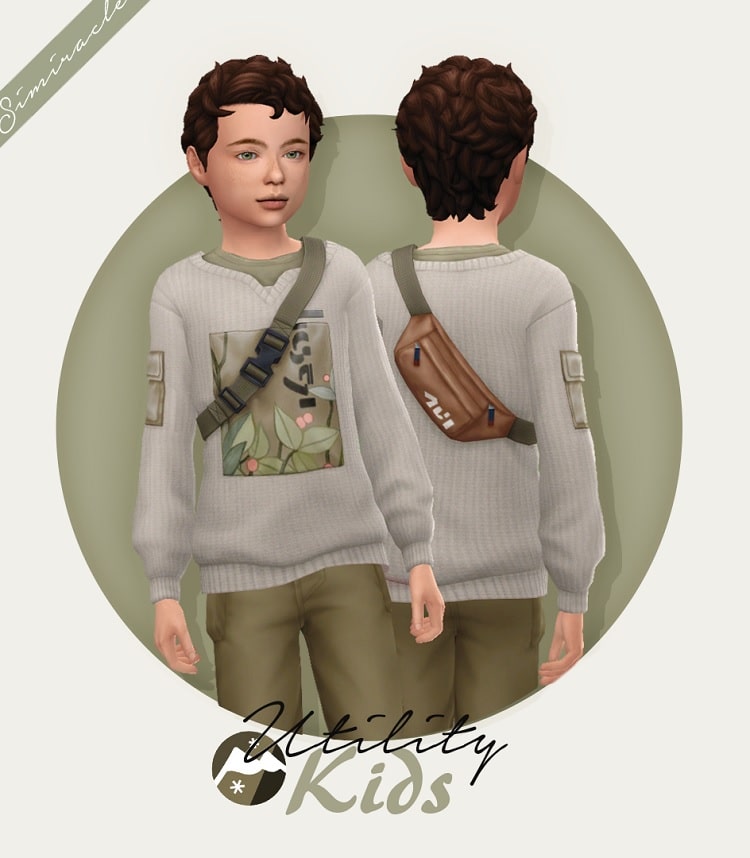 Shiny Puffer
Another gilet jacket but just more colorful. You know how kids like colors, especially rainbow colors, this seems to have been inspired by it. Simiracle has nailed it again and we have found our Sim children like it very much. You can cherry-pick from 26 swatches and a few of them are single-colored. So, no worries if you don't like multicolored garments.
This jacket keeps your child warm during the winter months and permits them to play outside while protecting them. This way they are not deprived of their playtime as well.
Patterned Tank Tops
Give your Sim child's wardrobe a makeover with these flattering tops. Its creator, The Silly Simmer seems to have stepped up their game with this line. The product has 21 versions and you can opt for a top of any color or pattern for your child.
You can find bottoms of your choice, then mix and match them with the tops. All the patterns compliment your child, so rest assured you will be fine selecting this collection.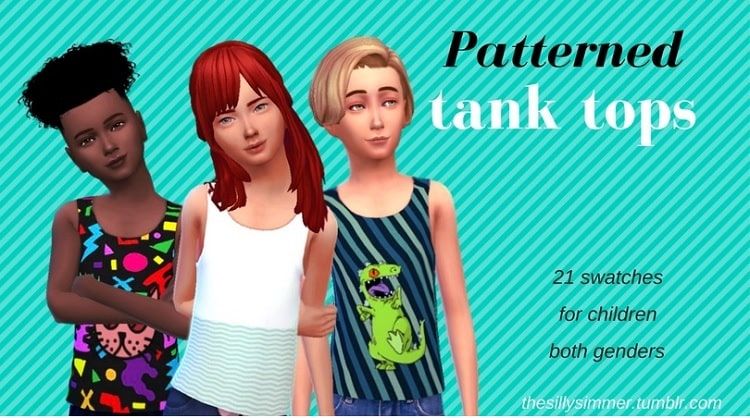 PowerPuff Girls Dress (Children Version)
The artist Sandersfan22 from Mod The Sims has rekindled the old flame in us. Who on earth would not have liked the Power Puff Girls? This is a sleepwear range and is made only for girls. Even teenage girls can wear this as they find it very pretty.
It is a fun way of saying girls like superpower heroines as well. Yes, wear this and feel the power of a super girl!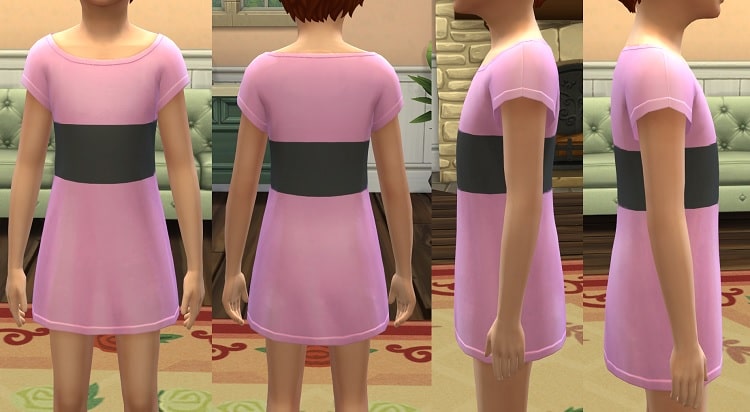 Lucia Suspender Dress
This has been made by none other than Vintagesimmer and this really looks like an old-fashioned dress. You get a range of 20 swatches to select from and that makes it rather thought-provoking.
Yes, this dress has that old touch but the colors are very contemporary. You have no worries in that section. Overall, this is a beautiful dress that will lend your little princess a timeless look.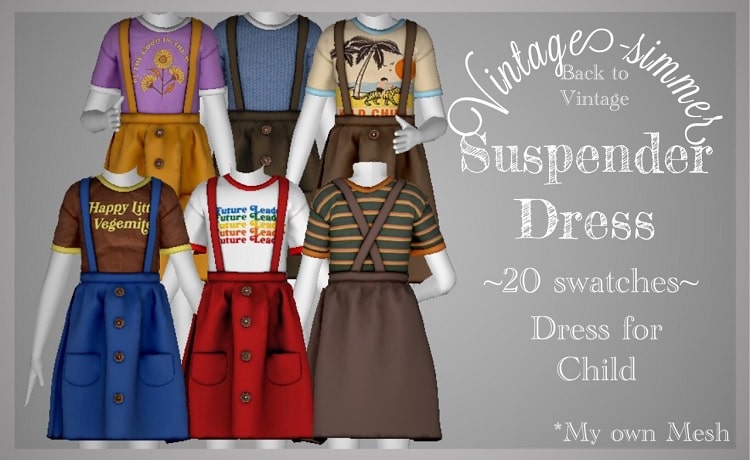 Camo Outfit
Madlen has come up with an excellent outfit, which is inspired by the camo design. It has always been in fashion, regardless of the decade, so why should your characters be devoid of that fashion trend? Try out these 8 swatches available and match them with every outfit your avatar wears because it'd go with every clothing item.
Sims 4 is a popular game and it appeals to youngsters and adults both. Sims franchise has been smart enough to keep the game interesting by adding extras to their game. This is why it has survived since 2000.
Likewise, the sims 4 kids cc is custom content for children and is intended to make the game enjoyable and safe. All these mods add new clothing that is suitable for children.