With the Sims 4 Mermaid Mods, explore an aquatic world filled with magic and adventures! These tweaks will impact your Sims 4 gameplay if you've ever fantasised about exploring the ocean's depths, releasing supernatural powers, or building your aquatic paradise.
The Sims 4 Mermaid Mods offer an entirely new level of immersive gameplay for enthusiasts, with gorgeous tails and accessories and thrilling new gameplay features and interactions.
This blog will walk you through the most excellent modifications available, offering many possibilities to improve your Sims 4 experience, whether you want to turn your Sim into a magnificent mermaid or add a touch of aquatic enchantment to your virtual environment.
Top 31 Mermaid Mods
Various fascinating options are available in the Sims 4 Mermaid Mods universe to improve your gameplay and bring the enchanted world of mermaids to life. Here are some notable additions to take into account:
1. Mermaid Tail from a Tropical Island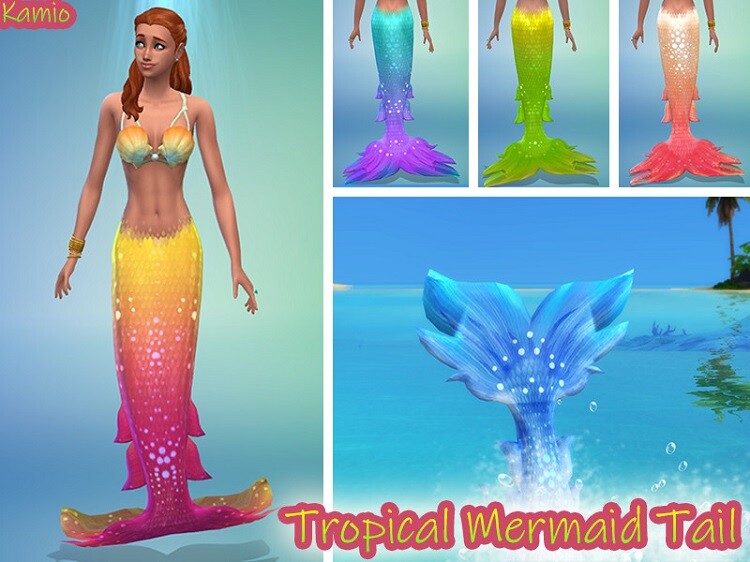 The invention of Radea extends the original tail in a lovely way, presenting various hues inspired by tropical beaches. It's the ideal option for people looking for a subtly alluring touch to the aquatic aspect of their Sims.
2. The Mermaid Haircut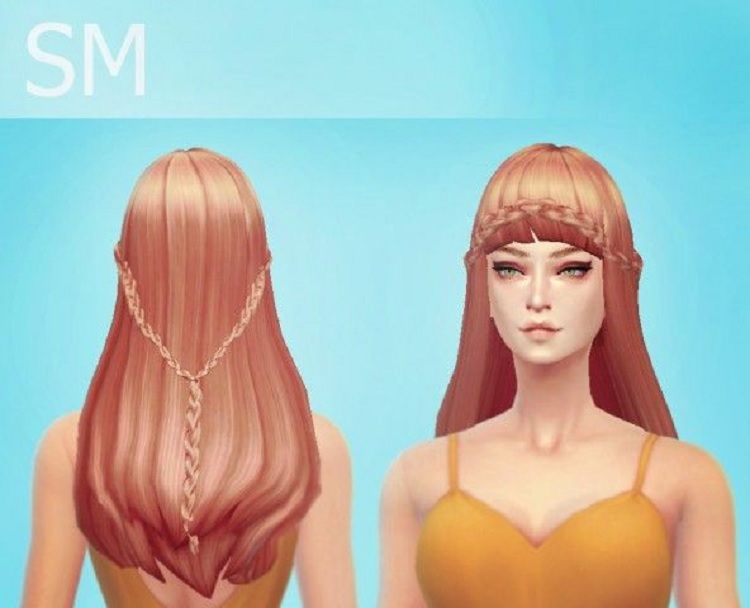 The mermaid haircut worn by KiaraZurk can be further customized with different textures and hues. This adaptable CC option, which comes in 18 vivid colors, may be worn with hats and will give your Sim the ideal beach hairstyle.
3. Mermaid tiles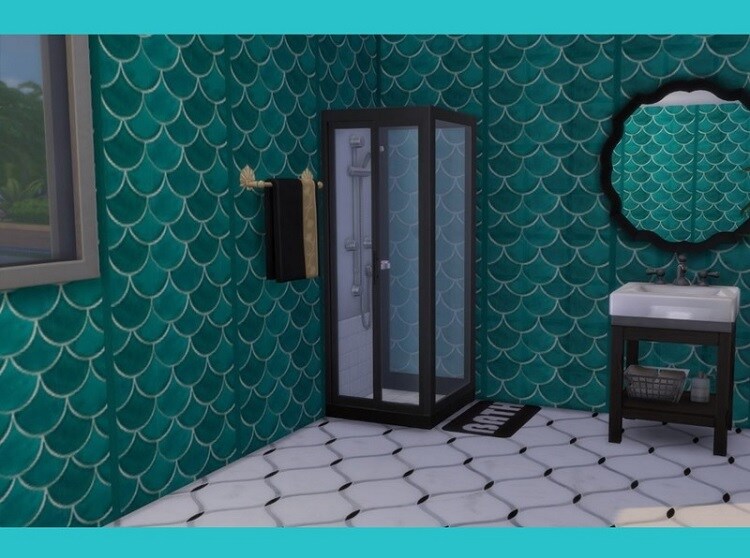 Mermaid Tiles by Brandyzomb is a great option for beach house decor. These mermaid-inspired custom wallpaper designs add a bit of magic to your Sim's bathroom or any other room you choose.
4. Mermaid Bassinet Mod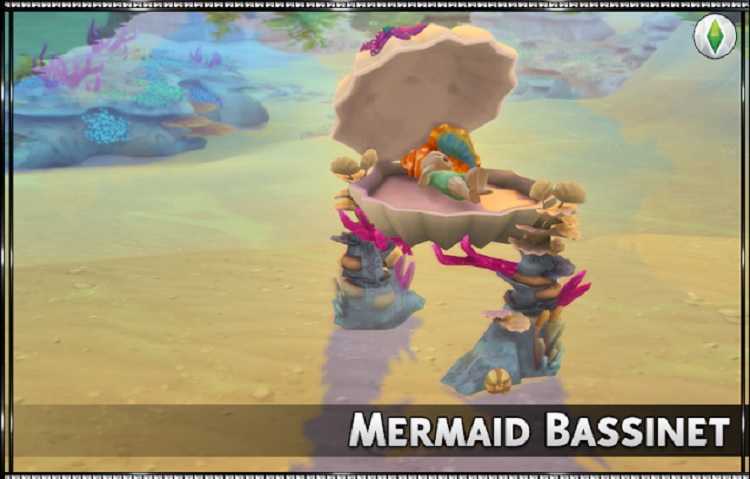 SrslySims has made a mod exclusively for mer-babies for gamers who want to appreciate the joys of parenthood. Your mermaid Sims may now provide a proper bassinet for their young children, giving their family life a more realistic feel.
5. Female Mythos Skin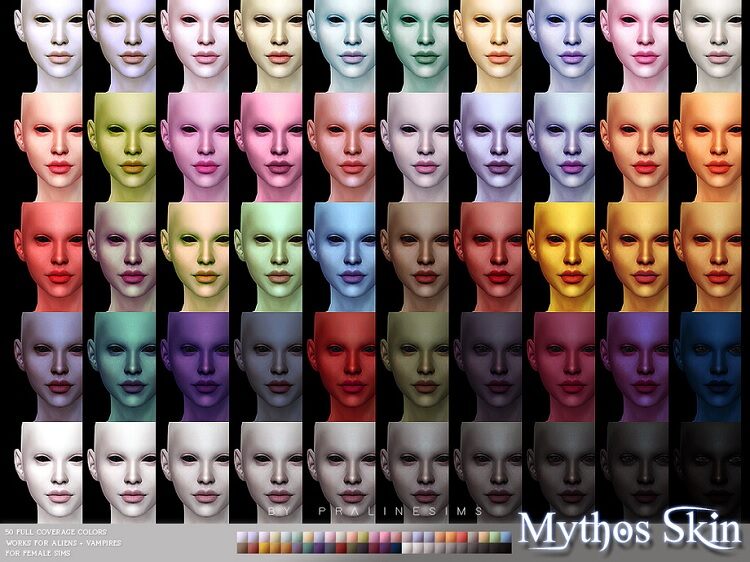 Use Pralinesims' ultimate skin tone kit to finish off your mermaid look. You may give their Sims a unique and fanciful look with the vast range of 50 colors available, realizing their fantasies.
6. Mermaid Lifestate
Being a Mermaid was not available in the main game before the release of Island Living. But thanks to a fantastic creator's mod, it was possible. Your Sim can change into a mermaid by using the moonpool and researching mythology.
Even though the mod is no longer maintained, it still provides an enjoyable and immersive experience despite a few minor flaws.
7. Mermaid Children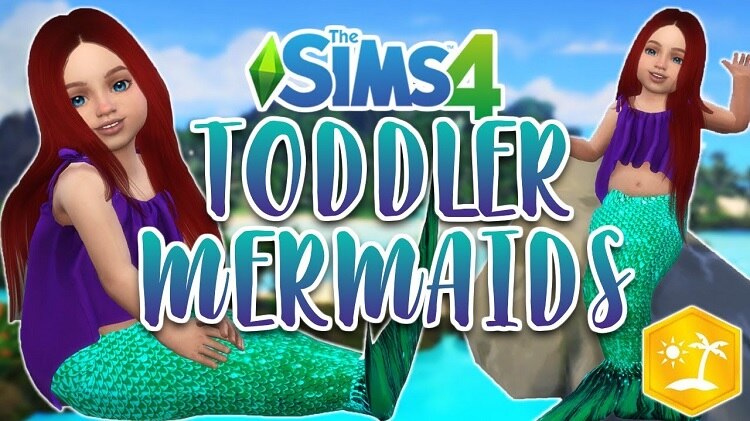 Mcrudd's Mermaid Babies mod is ideal for giving your Sim's child some personality. For your Sim babies, this mod provides a vibrant scale onesie. Your little mermaid's scales will shine and add a hint of magic to their appearance, with options for alien babies, boys, and girls.
8. The Gills and Siren Ears Mod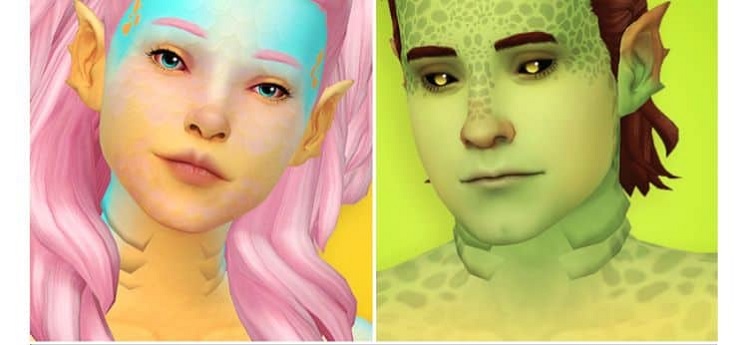 This mod, which gives your mermaid fish-like ears and gills, will improve her appearance. These characteristics give your mermaid an authentic image, whether you picture her as a seductive beauty or a more ominous monster. The mod includes gills for older and more mature Sims and ears for Sims of all ages and genders.
9. A Tattoo of Fish Scales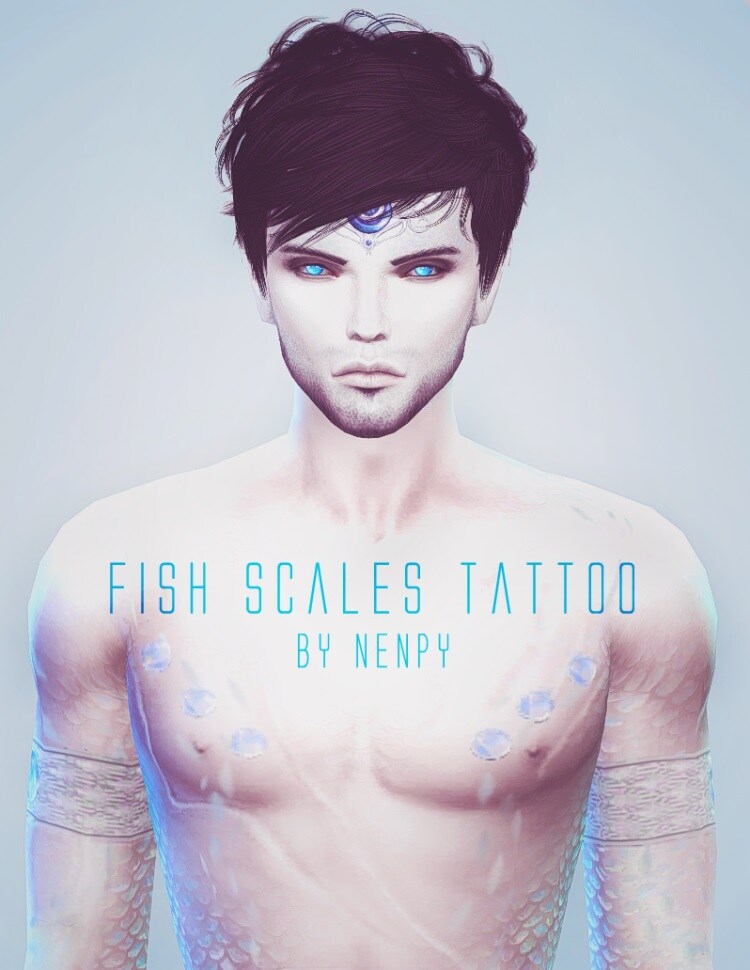 The Fish Scales Tattoo mod will give your mermaid a captivating aesthetic. With the help of this mod, you may cover their entire body in fish scales to give them a distinctive appearance. Compared to darker skin tones, the scales contrast brightly while blending discreetly with lighter skin tones. Try out various skin tones to achieve a gorgeous appearance.
10. Mermaid Ancestry
With the Mermaid Bloodlines mod by Bandiduhaine, you can now include bloodlines in your family. Bloodlines can give your Sims' stories more complexity. This mod provides weak, strong, ancient bloodline possibilities using MAL22's Trait Tracker Injector and the City Living extension pack.
Each level modifies singing, fitness, hydration decay, and hydration drop, resulting in a more complex gameplay experience and a genetic legacy.
11. Mermaids' Standard Eyes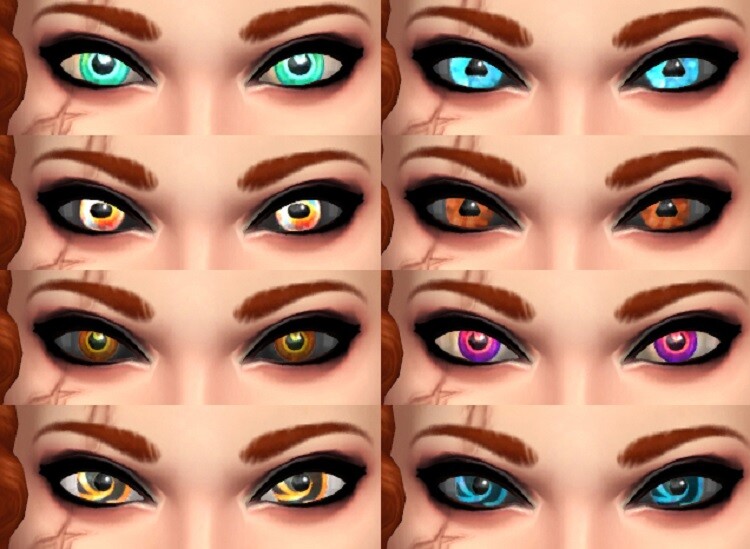 Everyone in the area will be mesmerized by those alluring glassy eyes. This eye set is the default for mermaids but may also be a non-default option for any Sims. It comes in nine gorgeous hues. With these captivating eyes, your mermaids will be much more alluring.
12. A Mermaid-Themed Bedroom Set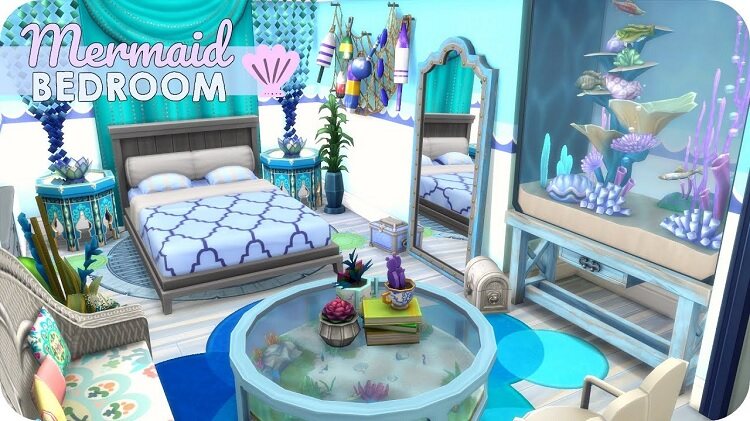 When she's not beguiling sailors or lounging on rocks, where does a mermaid hideout? Without a doubt, their bedroom! With this enchanting Sims 4 Mermaid Bedroom Set, you can furnish the ideal home for your Sim.
This comprehensive CC collection contains 15 amazing things in various swatch possibilities. With this exquisitely crafted bedroom set, enter a world of comfort and tranquility.
13. Overlay Skin with Mermaid Gill
These gills are the ideal answer for your watery Sim's desire to breathe underwater. This skin overlay gives your mermaids the illusion of realistic gills and is offered in three colors. Select a skin detail or a tattoo version for even more personalization choices.
14. Mermaid Top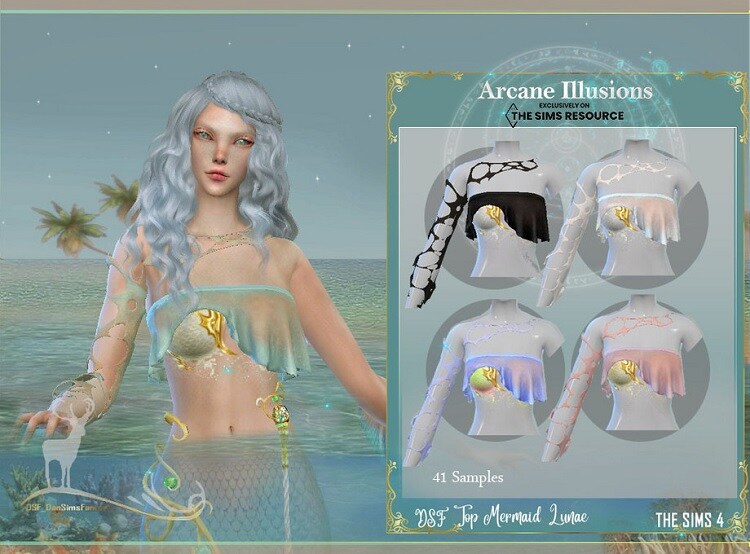 This gorgeous shirt is a must-have addition to your mods folder and will complete your style. With light reflecting off your mermaid body, the top perfectly conveys the feeling of being underwater. This top may be worn with or without a tail and comes in 12 gorgeous color swatches, allowing you to put together the ideal aquatic look.
15. Phalaenopsis DSF Mermaid Tail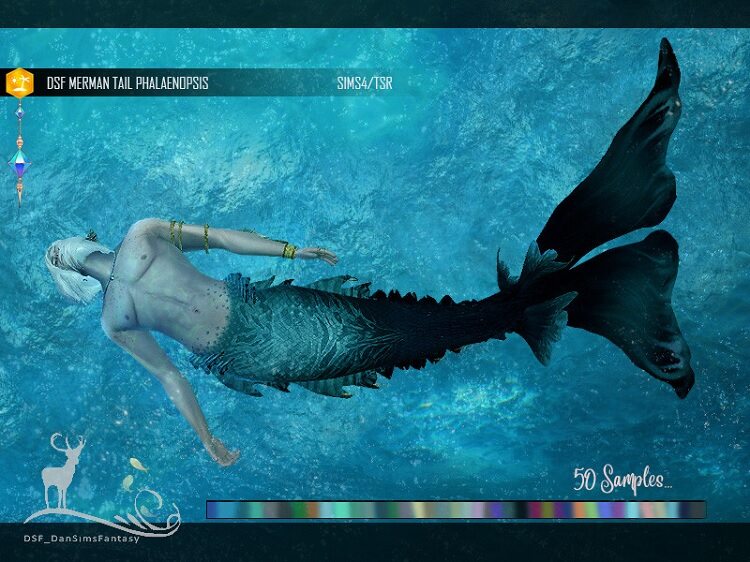 The fantastic design of this CC tail will wow you. This bespoke tail offered a mind-boggling 50 color samples and eight color design schemes and was inspired by the hypnotic beauty of the Phalaenopsis orchid. DanSimsFantasy has outdone itself with this magnificent design, with many customizing options.
16. Set of Mermaids 5
One of the most appealing sets on the market has been created by Jaru Sims. This top and tail set, which features 14 pastel colors, is stunning in its simplicity and grace.
The seamless merge of the top and tail creates the illusion of a seamless water-based form, making it ideal for your fictional mermaid. With this stunning set, embrace the attraction of the almost-there appearance.
17. Mermaid Tail With Glowing Water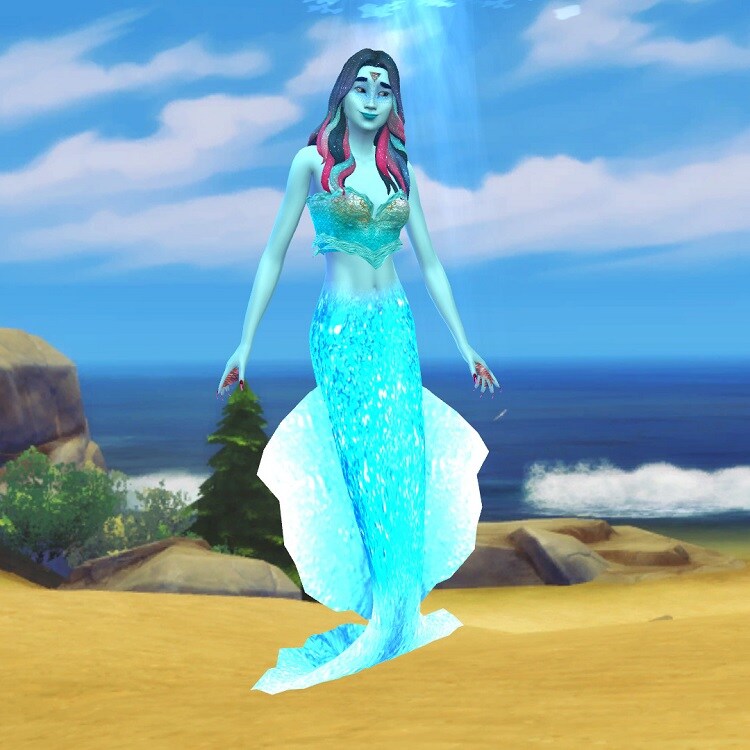 Make a splash with this brilliant mermaid tail from CC by Zaneida. This essential accessory lights up the water at night while your swim. Your mermaid will shimmer with a mesmerizing radiance, giving a touch of magic to your underwater explorations, with four various tail designs and five color swatches.
18. Mermaid Opalo DSF Accessories
With this accessory bundle from DansimsFantasy, you may live out your fantasies. With the help of this CC pack's Arm Scales, Forearm Fins, and Crown Opalo, you may make your Sim into the enchanted mermaid of your dreams.
These captivating accessories let you modify your mermaid's underwater look and complete its transformation. They come in a variety of hues.
19. NO1 Mermaid Shells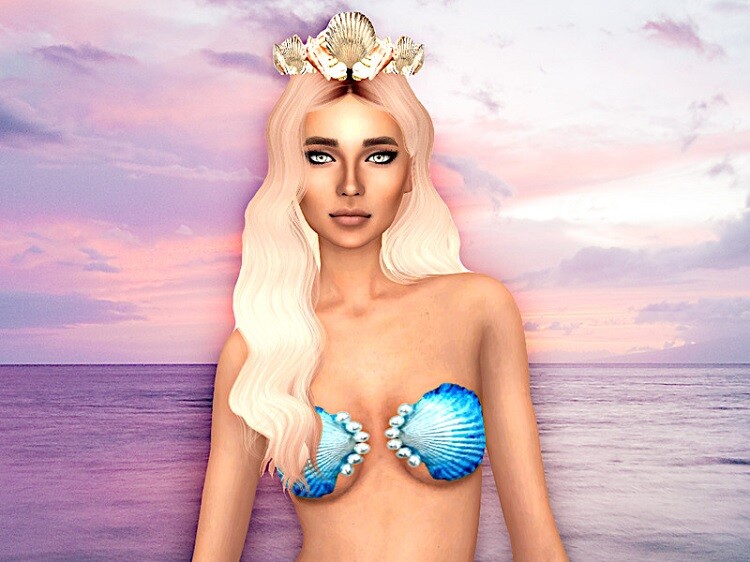 The beauty of these mermaid shells is fantastic! The gorgeous shell pattern, which includes pearl inlays, is a stunning example of the talented artist Tigerlillyyyy's work. These shell bras come in 12 colors and go wonderfully with whichever tail style you select, giving your look a touch of elegance. They are the perfect final detail to polish off your costume.
20. Britney Spears' Rainbow Pastel Hair
Prepare for the ultimate hair with this recolored version of SweetCranberry's Sintiklia Britney hairstyle. This hairdo perfectly embodies the essence of beauty: pastel rainbow colors.
Any tail and the top set look fantastic when worn with the buoyant beach wave appearance, which makes your mermaid radiate a lively and playful atmosphere.
21. Mermaid Posture Collection
With this Mermay posture collection, you can capture mermaids' carefree and laid-back spirit. These positions will allow your Sim to capture these mythical creatures' charming and whimsical characters in their upcoming Simstagram post. Prepare to display your Sim's beauty elegantly!
22. Eyelashes for Mermaids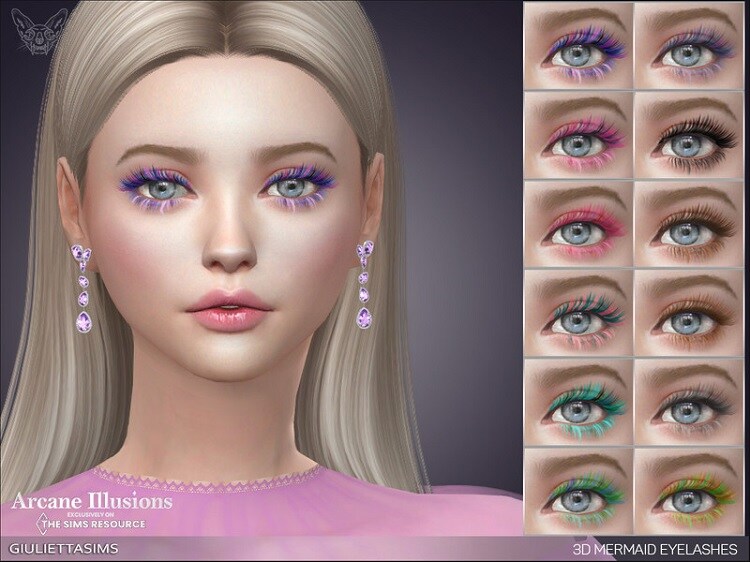 The creativity displayed in the creation of these eyelashes is fantastic. They capture the spirit of mermaids with their vivid hues. Due to their excellent quality, these eyelashes have earned a place on the list of the most excellent Sims 4 eyelashes.
They provide 12 different swatches and give your Sim's eyes some magic. Use them with high graphic settings for the best outcomes.
23. Mermaid Clothes Pack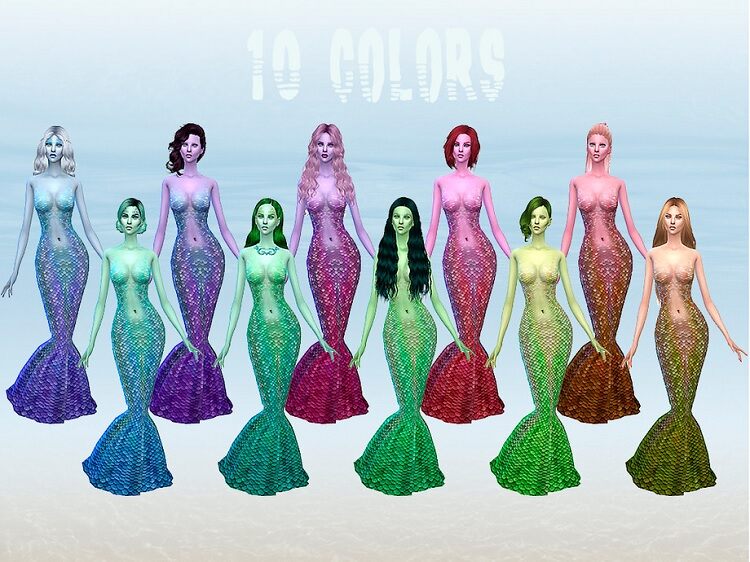 With this extraordinary clothes pack, immerse yourself in a sea-inspired fashion adventure. These costumes have a "mermaid's night out" vibe and are stuffed with various chic and current accessories. With these fashionable things in their wardrobe, your Sim will feel like an actual sea enchantress whether or not they are wearing a tail.
24. Mermaid Gloves
These gorgeous mermaid gloves will finish off your outfit. These maxis match gloves are available in 21 EA colors and are made to fit their tail and scaly top. They complete the look well by linking everything together. Please be aware that the Island Living bundle is required to utilize this unique Sims 4 CC. You can choose from three lengths to alter the fishy appearance of your Sim's arms.
25. Mermaid Starfish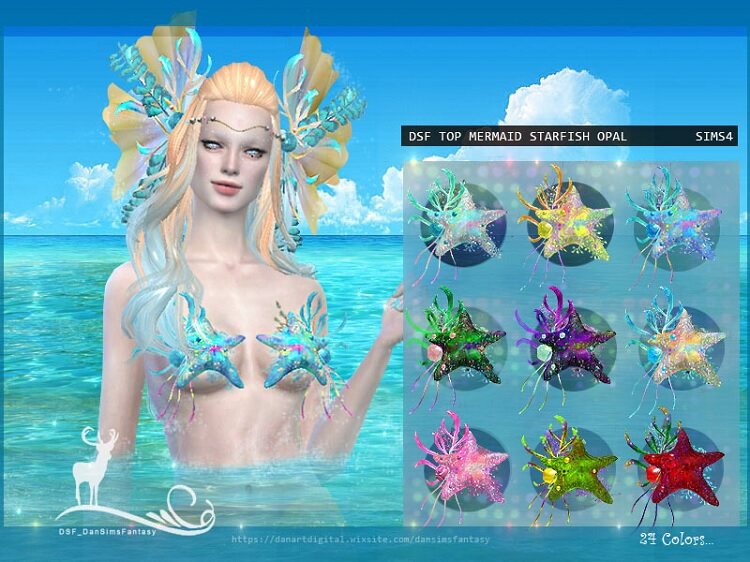 Get ready to fall in awe of these starfish bras' incredible artistry. Wearing one of these allows your mermaid to merge with the sea. You can select the ideal starfish bra to go with your Sim's style and heighten its attractiveness from 24 various color possibilities.
26. Mermaids' Bright Blush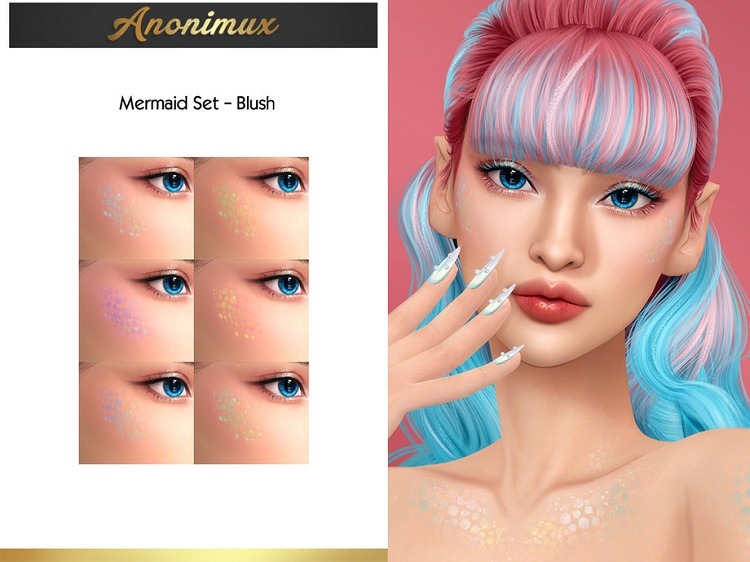 Discover the dazzling charm and brilliance of this blush. When used, it emits a mystical and regal sheen that takes you to a fantastical world. Entering a fanciful world is how the variety of colors makes you feel.
Any occult Sim can wear this blush; mermaids are not the only ones who can. The three distinctive designs and 20 different color tones give you countless alternatives to create alluring looks.
27. Mermaid Hangout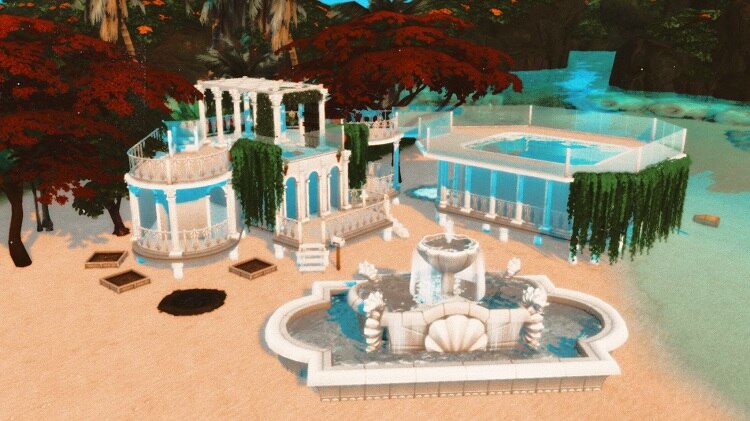 This is the ideal hangout place for your sims who are mermaids, as the developer so eloquently puts it. Enjoy peace and tranquillity with your mermaids at this lovely coastal resort. Ensure that everything is aligned and that you follow the creator's instructions for a flawless positioning experience to produce the ultimate mermaid.
28. Mermaid Couples Pose Pack
Whether it is between humans or a hybrid of the two, true love has no bounds. This posture pack provides a lovely assortment of couple poses, especially for mermaids and their friends. You can express the essence of love and connection in your underwater travels with the help of 16 positions suitable for both mermaids and mermen.
29. Residential Lot in Mermaid Cave
With the help of this exceptional residential lot, you can provide your mermaids with a beautiful and enchanting home. It can appear unassuming from the outside, but you'll find a magical world waiting for you once you enter. It should be noted that some required custom content must be gathered to enjoy the enchantment properly.
30. Recoloring Of Mermaid Scales And Tails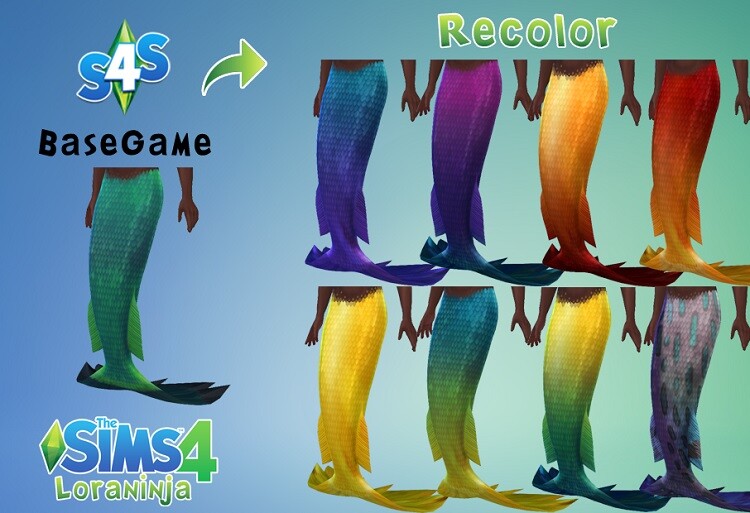 These fun recolors for scales and tails, courtesy of the fantastic MsFrankenstein, are a must-have for anyone looking for pastel hues. The six solid and five patterned swatches in the download give your mermaid a unique look full of charm and fun.
31. Mermaid Magic Poses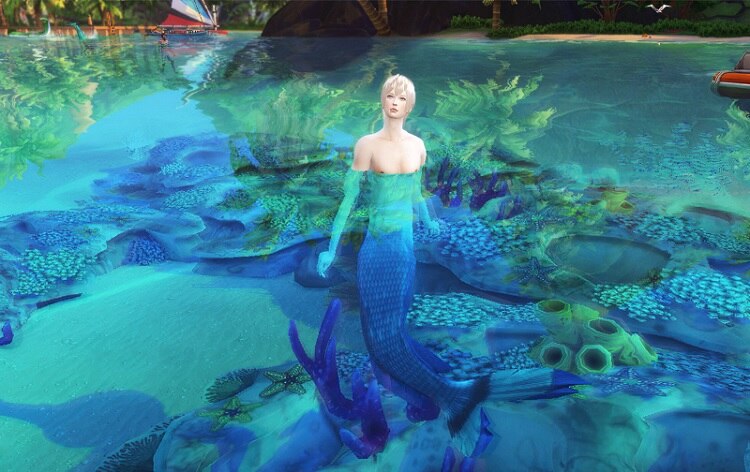 This pose bundle is essential for mermaids ready to have fun and frolic. With nine solo positions and two duo stances, you may take stunningly stunning pictures of your favorite mermaid, Sims. These positions will bring a magical element to your gaming, whether your mermaids swim about alone or play with their other pals.
Conclusion
The Sims 4 Mermaid Mods let you experience the captivating mermaid world and go on adventurous aquatic excursions, opening a whole new world of possibilities within the game.
These mods give your Sims' virtual existence new life with various gorgeous tails, accessories, and gameplay features, offering hours of amusement and limitless creative potential. These mods contain something for every mermaid enthusiast, whether they want to build an underwater refuge, create Sims, or explore the ocean's depths.
So don't be afraid to dive in and experience the enchantment of the Sims 4 Mermaid Mods. Prepare yourself to cause a stir, unearth secret treasures, and have a gaming experience like no other.
Faqs
Is there a mermaid mod for sims?
Yes, The Sims 4 does indeed have mermaid mods. With numerous mods that add characters, qualities, skills, and customization choices, players can improve their gaming experience.
Can mermaids give birth to Sims 4?
Yes, In The Sims 4, mermaids can give birth. The mechanics for pregnancy and labor are the same as for standard Sims.
What extraordinary things can mermaids do in Sims 4?
The Sims 4's mermaids have unique skills and personality qualities. They can change into their form at command, swim faster, dive more profoundly, and sing songs that affect the emotions of other Sims. They also interact uniquely with water; when swimming or near water, they hydrate and become more energetic.
What are mermaids kiss sims 4?
In The Sims 4, a love exchange between mermaid Sims is called "Mermaid's Kiss." It is a special kiss animation made just for characters, giving their relationships a dash of undersea romance.