Enter a universe where imagination has no boundaries and virtual worlds are blank canvases. The Sims 4 has completely changed how simulation games are played, and including waterfalls among its features adds a magical quality.
Join us as we explore the calming world of Sims 4 waterfalls, where the beauty of nature meets digital craftsmanship, providing a tranquil haven for both architects and dreamers.
The Sims 4 Vanilla's Waterfalls
The Sims 4's virtual world features a variety of captivating waterfalls that adorn different landscapes, each with its unique charm and interactive features.
The tranquil island of Mua Pel'am offers a lovely treat for those who have explored the tropical world of the Island Living expansion pack. A little yet intriguing waterfall is hidden within this paradise, where Sims can playfully partake in activities like frolicking, cleansing, frog-catching, and even sharing private moments.
Through the Jungle Adventure expansion pack, exploring Selvadorada's wild terrain exposes a magnificent spectacle. A gorgeous waterfall concealed inside the thick forests gives Sims a "Feeling the Falls" Flirty +2 bonus, enhancing their encounters with a magical quality.
Exploring the Journey to Batuu expansion pack, Star Wars fans will find an impressive waterfall at the Resistance Encampment. Even though it is primarily aesthetic, this waterfall display adds to the area's atmosphere. However, a hack is available to make this visually stunning feature usable for people who crave interactivity.
Although there aren't any specific tools in The Sims 4 for creating unique waterfalls, creative players have created creative solutions. There are several instructions available that show innovative methods that fans can use. Here are a few illustrations to inspire your imagination:
1. Start with "Elevate with Smart Water Emitters":
By cleverly incorporating water emitters into swimming pools, one can create a fantastic waterfall effect that creates a dynamic and exciting atmosphere. Using water emitters, a base game item, enables builders to duplicate this effect across different expansion packs, as seen in Selvadorada.
2. Utilize the Influence of Hidden Effects:
Discover hidden animated water effects with the Island Living addon. Multi-level water features can be turned into a work of art by deftly incorporating these effects into your design with creative embellishments and thorough construction.
3. Assets Recycled in a Novel Way:
The Tropical Spa construct exemplifies inventiveness by reusing components from the Get Together expansion. The builder cleverly uses the "Mr. Jumpy Jump" pool object to create a distinctive waterfall wall that is enhanced by the appearance of splashes upon contact with the pool's surface.
This development emphasizes the flexibility for experimentation and change while creating water-based aesthetics.
Waterfalls appeal with their aesthetic attraction and interaction potential in the vast universe of The Sims 4. Players can create these marvels using creativity, adaptability, and a passion for exploring, creating unique and engaging experiences for its virtual inhabitants.
Enhancing The Sims 4 with Waterfall Creations by BakieGaming
BakieGaming's vast selection of CC is your entryway to obtaining unmatched vibrancy if you strive to give life to your lots and buildings.
1. Animated Dynamic Waterfalls
The CC Collection from BakieGaming now includes animated waterfalls that aren't restricted to just two expansion packs: Island Living and Journey to Batuu. This collection has two variants; one made explicitly for terrain integration.
The latter version avoids encounters and accomplishes its goals across vast bodies of water or places where Sims cannot travel. In contrast, the "terrain only" variations replicate the interactive features found in the game's vanilla setting (if the player has the necessary expansion packs).
These interactive waterfalls offer opportunities to indulge in activities like showering, having fun, and even collecting water. In a brilliant move, BakieGaming has combined all of its water-related updates into one post, including new items that give watery structures and landscapes dynamic energy.
Each item comes with a brief video instruction that provides a thorough overview of using the CC enhancements to their fullest potential.
2. Wonderful Wall Light Waterfall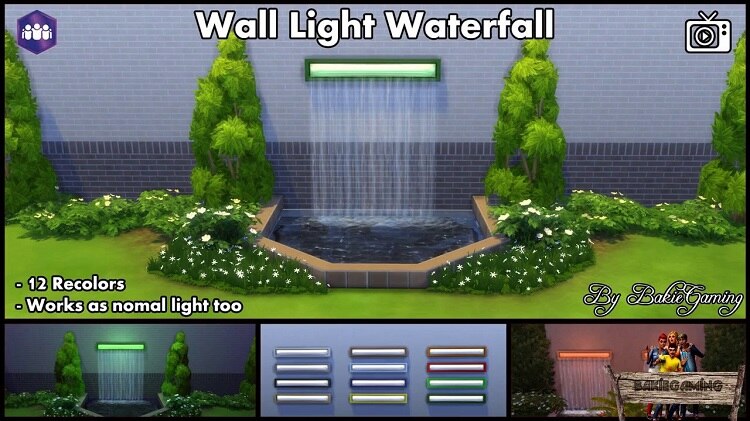 The Wall Light Waterfall is the first of BakieGaming's CC offers. It is a deceptively simple but highly adaptable object. This object, derived from an essential item in the Get Together extension (needed), defies convention by acting as both a light source and a channel for falling water.
This innovative design has a wide range of uses. For example, it can provide a touch of elegance to outdoor settings as a beautiful yard ornament, transform bathrooms or expensive restaurants with waterfall embellishments, or even create the illusion of a submerged cellar when attached to basement walls.
Conclusion
Our voyage ends at the nexus of the fantastic and the virtual, where Sims 4 waterfalls charm the online world. The game embraces waterfalls as nature's creative bridge and redefines simulation. Architects and dreamers find solace in the middle of these cascading wonders, where boundless imagination thrives.
Waterfalls are a seamless part of The Sims 4's landscape, transcending aesthetics from the tranquil shores of Mua Pel'am to the secret realms of Selvadorada. They encourage communication, strengthen ties, and plant priceless memories. Journey to Batuu's cosmos reverberate with their serene music, sparking invention.
The Sims 4 doesn't include custom waterfall tools, but users' creativity soars. The community's inventiveness is demonstrated by elevating water emitters into dynamic falls, creating multi-level masterpieces with hidden effects, and repurposing parts for distinctive aesthetics.
faqs
Where can I find waterfalls in The Sims 4?
The Sims 4's "Island Living" expansion pack contains waterfalls. In particular, the realm of the Sulani has magnificent waterfalls that enhance the splendor of the surroundings.
Is it possible to create waterfalls in The Sims 4?
Although you can't make waterfalls from scratch, you may put and tinker with the ones already in the game. These can be positioned over your property to improve aesthetic appeal.
Sulani Sims 4 has yet to have any waterfalls. Where are they?
World-famous waterfalls may be found in Sulani, the tropical paradise featured in the "Island Living" expansion. The lovely island scenery depends on these waterfalls.
Where are the Sims 4 debug waterfalls?
The Sims 4 cheats allow access to debug things, such as waterfalls. When the cheat console is active (Ctrl + Shift + C), enter "bb.showhiddenobjects" to reveal debug items to find debug waterfalls. Debug waterfalls can be located and installed using the build/buy catalog.