The Fallout 4 Mod Configuration Menu (MCM) is a comprehensive modding tool for the popular open-world action role-playing game Fallout 4. It allows players to easily manage and customize various mods for their game, offering a user-friendly interface for configuring mod options and tweaking game settings.
The modding community created the MCM to respond to the limited modding options in Fallout 4, and it has become a staple of the Fallout 4 modding scene. With the MCM, players can control the behavior of individual mods, adjust their settings, and even access new functionality that was not present in the base game.
This tool makes it easy for players to switch between mods and find the perfect configuration for their gaming experience. The MCM is a must-have for any Fallout 4 player who wants to enhance their game, and it is highly recommended for players new to modding, as it offers a simple and intuitive way to get started.
Features of Fallout 4 MCM
Easy-to-use interface
The Fallout 4 Mod Configuration Menu (MCM) provides a user-friendly interface that allows you to manage and configure your mods easily.
Customizable settings
The MCM allows you to customize the settings of your mods, including the options to enable or disable certain features, adjust the difficulty levels, and change the graphics settings.
Compatibility
The Fallout 4 MCM is compatible with most mods, making it an ideal choice for managing your mod collection.
Real-time updates
The MCM provides real-time updates on the status of your mods, including the installed versions and the latest available updates.
Load order management
The MCM allows you to manage the load order of your mods, ensuring that your mods work together seamlessly.
In-game configuration
The MCM enables you to change the settings of your mods in-game, allowing you to adjust your mods on the fly.
Mod conflict resolution
The MCM helps you resolve mod conflicts, providing the tools you need to ensure that your mods work together smoothly.
Save game compatibility
The Fallout 4 MCM is designed to save game compatibility, so you can continue your game without losing any progress.
Advanced customization
The MCM provides advanced customization options, including creating custom menus and using custom scripts, allowing you to fine-tune your mod experience.
How to install Fallout 4 MCM?
Download the MCM mod
The first step is downloading the MCM mod from a trusted source such as NexusMods or Fallout 4 Nexus.
Install Nexus Mod Manager (NMM)
Suppose you need to install Nexus Mod Manager. Download and install it. It makes the installation process of mods much more manageable.
Import the mod into NMM
Once NMM is installed, import the MCM mod file into NMM by clicking "File" and "Add mod from the file." Select the mod file and click "Open."
Activate the mod
After importing the mod, activate it by selecting it in the NMM list and clicking the "Activate" button.
Start Fallout 4
Start Fallout 4 and make sure that the MCM mod is activated. You should see the MCM option in the game's main menu.
Configure the MCM
Once you've started Fallout 4, open the MCM and configure it to your liking. The MCM allows you to control and customize various aspects of your game, such as difficulty levels, weather, etc.
Why Should I Try The Mod Configuration Menu For Fallout 4?
The mod configuration menu in Fallout 4 gives players more control over the mods they have installed in their game. This menu allows players to easily change various settings for their mods, such as adjusting the strength of a mod or changing the key bindings for specific actions.
Additionally, this menu also provides an overview of all the mods that are currently installed, so players can easily see what mods they have active and make changes to them.
With the mod configuration menu, players can have a much more personalized gaming experience by customizing their mods to their preferences.
Overall, the mod configuration menu is an essential tool for players who enjoy using mods in Fallout 4, as it provides them with greater control and customization options for their gaming experience.
Best Fallout 4 MCM Mods
Mod Configuration Menu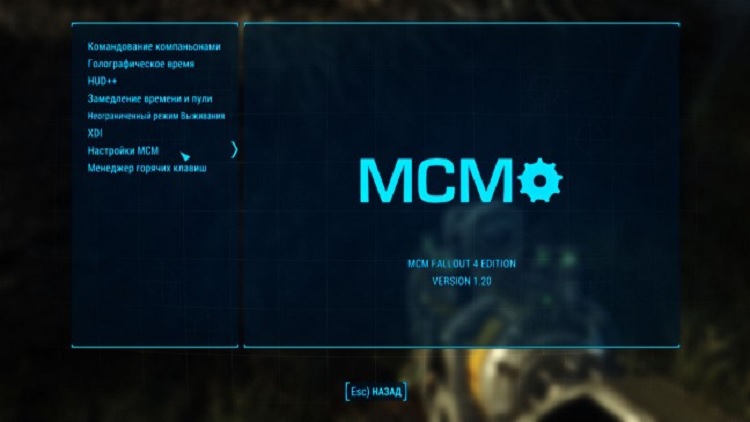 The Mod Configuration Menu (MCM) is a widespread Fallout 4 mod that provides a user-friendly interface to adjust various mod settings. It allows players to customize gameplay options, locations, and features quickly without navigating complex in-game menus or editing config files.
MCM integrates with other mods, displaying options from multiple mods in a single menu, making it easier for players to manage various mods.
The mod is widely considered essential for modders, as it offers a centralized location for all settings, making it easier for players to configure their game.
With MCM, players can also create profiles for different playthroughs, switching between them quickly and easily.
How Do I Manually Install MCM in Fallout 4?
To manually install MCM in Fallout 4, follow these steps:
Download the mod files and extract them.
Locate the Fallout 4 game folder.
Create a new " Mods " folder inside the game folder.
Move the extracted files into the "Mods" folder.
Start the game and activate the mod in the mod menu.
Enjoy the modded experience. Note: It's essential to ensure the mod is compatible with your game version.
Faqs
How do I get MCM to work in Fallout 4?
To get MCM (Mod Configuration Menu) to work in Fallout 4, you must have the Fallout 4 game and the Fallout 4 Script Extender (F4SE) installed. Then, install a mod that requires MCM and activate it via the game's main menu.

The MCM option should now appear in-game, allowing you to adjust the mod's settings. Always use compatible mods and keep your game and F4SE up to date.
How do you get MCM?
You can get MCM by purchasing magic sets or books specializing in coin magic techniques. Online tutorials and workshops are also available for those who want to learn the art of MCM. It is important to practice regularly and have the right tools and props to master the techniques. With patience and dedication, anyone can learn how to perform MCM.
Conclusion
In conclusion, the Fallout 4 Mod Configuration Menu (MCM) is a must-have tool for any Fallout 4 modder. It provides a centralized interface for mod settings and options, making it easy to customize and tweak mods to your liking.
The MCM is highly flexible, with many features, such as custom tabs, checkboxes, and dropdown menus. It also integrates with the in-game Pip-Boy menu, providing a seamless experience for players.
Overall, the Fallout 4 MCM is a well-designed, user-friendly tool that significantly improves the Fallout 4 modding experience. With its many features and ease of use, it is no surprise that it is one of the most popular mods for Fallout 4.
Whether you're a seasoned modder or just getting started, the Fallout 4 MCM is a must-have tool to enhance your modding experience.