Welcome to our thorough guide, which lists the top 17 Sims 4 hoop earrings that every stylish Sim must have in their accessory arsenal! These range in style from traditional and beautiful to adventurous and bold, and they will undoubtedly bring a touch of glitz to your Sim's clothing. This list has been thoughtfully chosen to cover various products that appeal to multiple tastes and aesthetic preferences.
There is something for everyone, regardless of whether your Sim appreciates modest elegance or loves to stand out with distinctive and artistic designs.
Join us as we examine each pair's fine craftsmanship, adaptability, and beautiful features, which enable your Sim to express their personality and make a fashion statement. With our picks for the top 17 Sims 4 hoop earrings, get ready to refine your Sim's appearance and add that extra glitter to their ensemble!
Top 17 Sims 4 Hoop Earrings
The top 17 Sims 4 hoop earrings are described in full below:
1. The Raya Hoop Earrings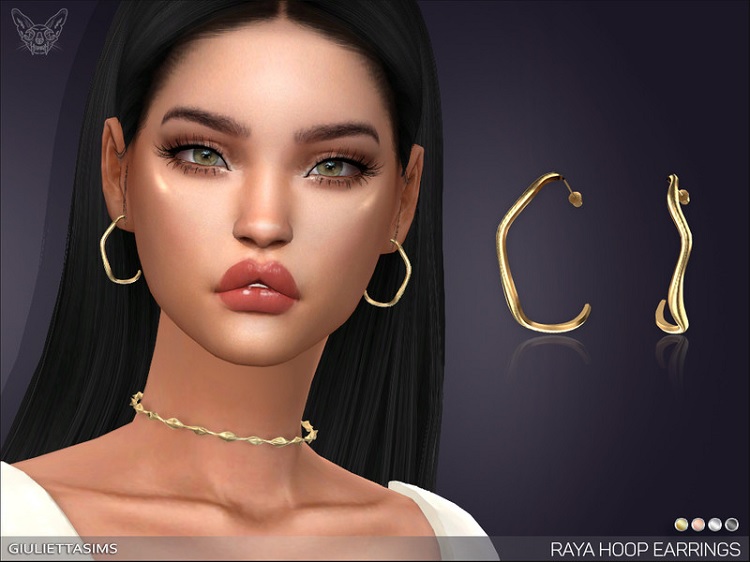 These are essential pieces of jewelry that any stylish Sim should own. The medium size of these hoops provides the ideal blend between assertiveness and subtly. Thanks to their sleek and beautiful style, they are appropriate for informal and formal settings, which goes well with many different outfits.
The Raya Hoop was meticulously made and came in silver, gold, and rose gold metallic finishes so that your Sim can pair them with any outfit in their closet.
2. Virtus Large Hoop Earrings:
The Virtus Large Hoop Earrings is a new Sims 4 accessory universe addition. These huge earrings quickly draw attention to your Sim's face and offer a glamorous touch. These were made with a brand-new mesh and had exceptional quality and background compatibility, making them seem beautiful in any setting.
These unisex earrings are appropriate for Sims in their adolescent years and older. They come in three stylish colors: traditional silver, modern black, and trendy rose gold.
3. Amina Muaddi Begum Mini Embellished Earrings:
These earrings are a Sims' dream come true if they want a hint of luxury. These earrings are decorated with exquisite, sparkling decorations modeled after designer items.
Your Sim can match these earrings to any dress or occasion thanks to the excellent selection of 30 available swatches, including diverse jewel colors and metallic tones. The superb compatibility guarantees that these earrings will keep their gorgeous appearance.
4. Classic Hoops: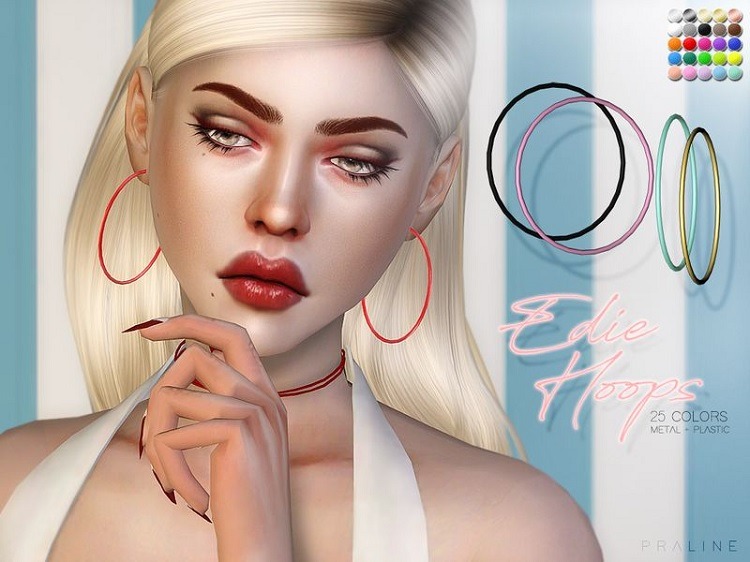 According to the adage, "You can never go wrong with the classics," and Pralinesims' Classic Hoops are a prime example of this idea. These round hoops were created with simplicity and elegance in mind, and they are the pinnacle of classic style.
Your Sim will have a limitless selection of accessories to complement their clothing thanks to the wide variety of 25 available hues, including eye-catching metallic finishes like platinum and copper. These adaptable earrings are a dependable option for any event, whether going to a formal gala or hanging out with friends.
5. Bare & Simple Hoops: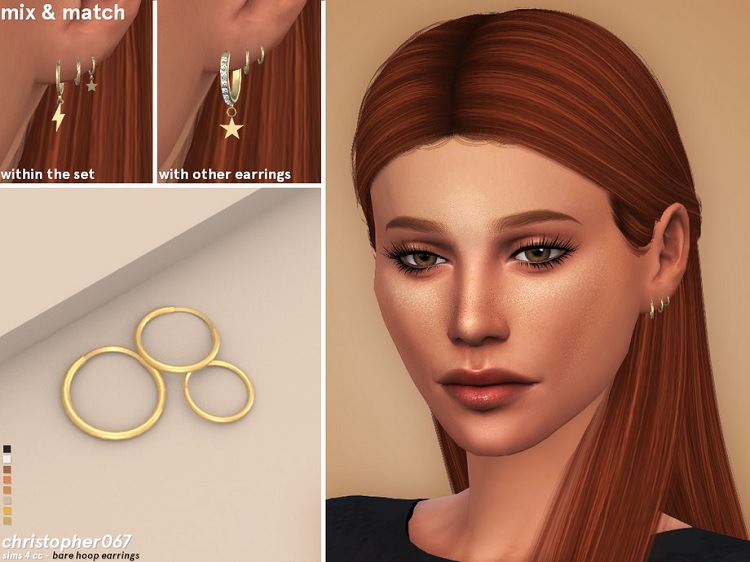 These earrings are a picture of an understated style. These hoops, created for Sims that favor simple accessories, add a polished and stylish touch to any ensemble. These earrings look good on both female as well as male sims.
Your Sim can mix and match from several colors, including timeless black, silver, and gold, and colorful options like red, blue, and green, to create the ideal outfit for their style.
6. Naomi Hoops TS4: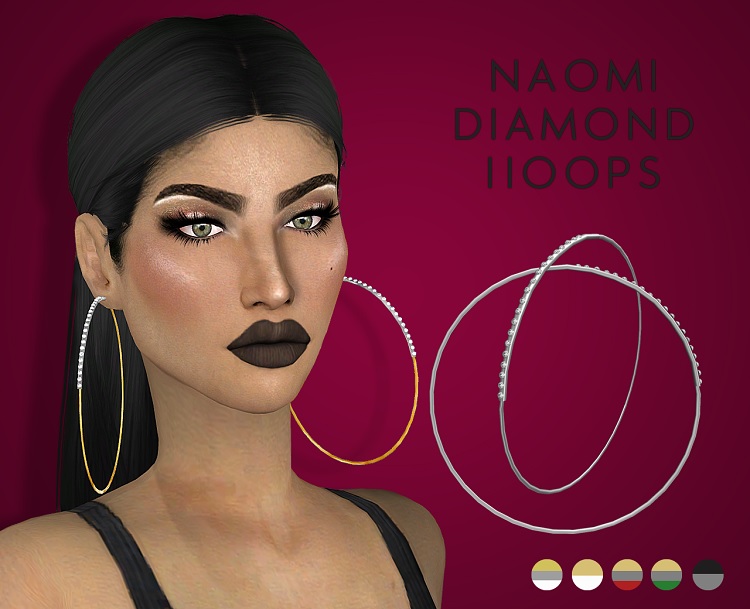 The Naomi Hoops TS4 is a modern take on classic hoops. These earrings are a stunning addition to any Sim's accessory wardrobe because of their five appealing color designs and premium textures.
Thanks to the configurable thumbnails and compatibility with all load stages, your Sim can easily find and display their chosen pair in Create-A-Sim and during gaming.
7. NataliS_Multi Balls Hoops: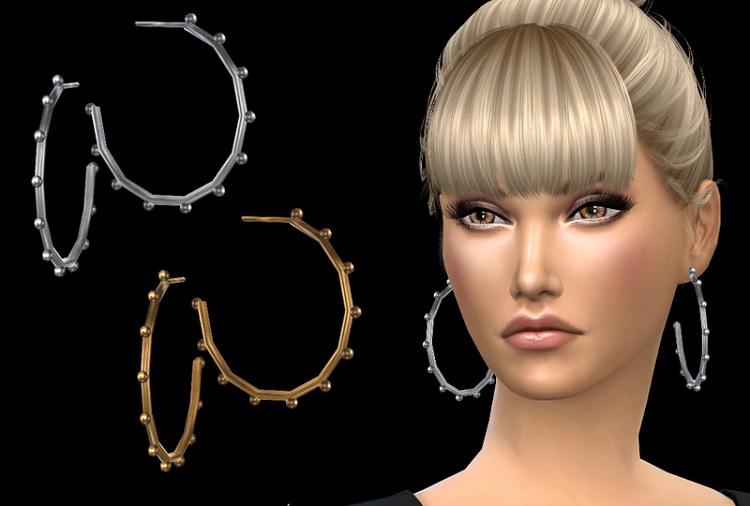 These charming and distinctive earrings are ideal for Sims that wish to show off their daring and fun side. The NataliS_Multi balls hoop has numerous ornamental balls arranged in a pleasing pattern along the hoop.
These hoops provide a whimsical touch to any ensemble thanks to their unique colors and materials, making them perfect for social gatherings and informal get-togethers.
8. Peach Earrings: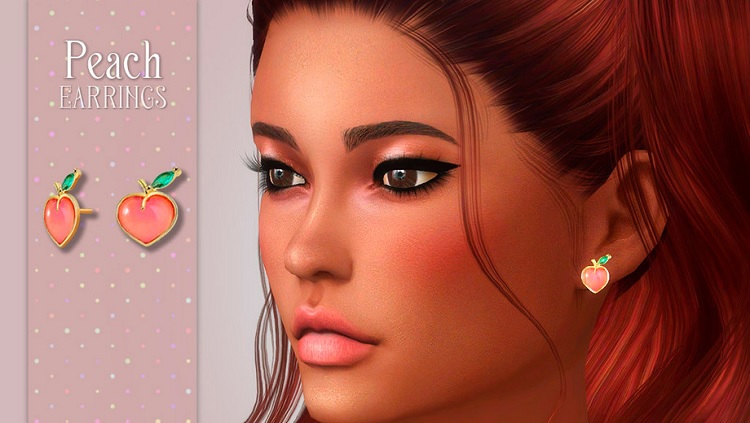 Crafted by the gifted designer christopher067, the Peach Earrings radiate beauty and elegance. These earrings are ideal for your Sim if they favor a more subtle and delicate appearance. These give your Sim's appearance a refined and understated touch.
They are offered in eight stunning metallic tones, including soft rose gold, delicate champagne, and warm bronze. The Peach Earrings are an excellent option for Sims who want to stand out on a date or a chic event.
9. The Bobur Earrings: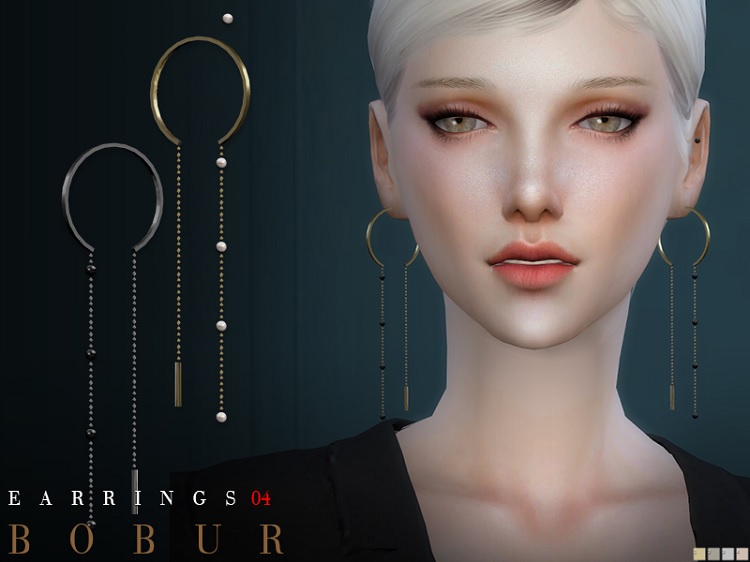 These earrings are an excellent example of imaginative design and aesthetic expression. These lovely earrings are available in various colors, displaying their adaptability and capacity to match any female Sim's fashion sense.
The Bobur Earrings have something unique to offer every Sim, whether they are bold and daring fashionistas or enjoy a hint of bohemian flare. These are a fantastic addition to any accessory collection because of their fine craftsmanship and complex embellishments.
10. Simple Hoop Earrings: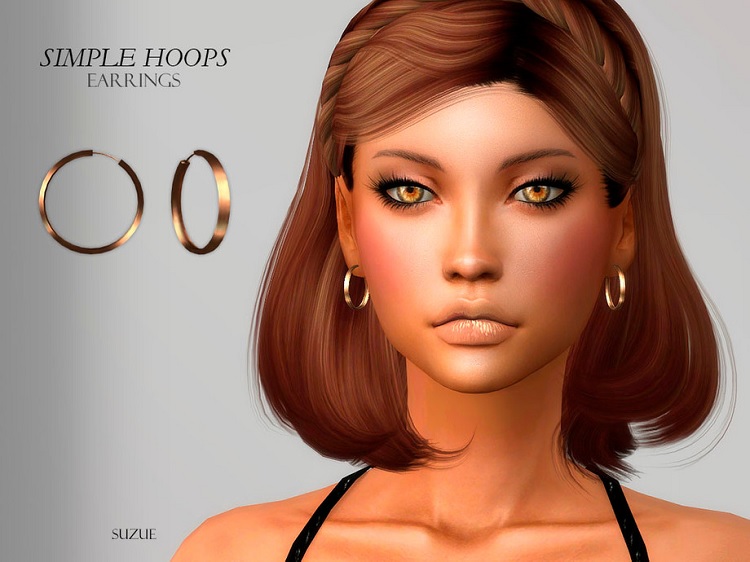 The Simple Hoop Earrings, as their name suggests, provide a simple yet stylish accessory for your Sim. Four hoops in this set each have a traditional round shape. Your Sim may effortlessly mix and match 12 different color options to get their ideal match, including timeless silver, gold, black, colorful blue, red, and pink.
11. Geometrical Hoops: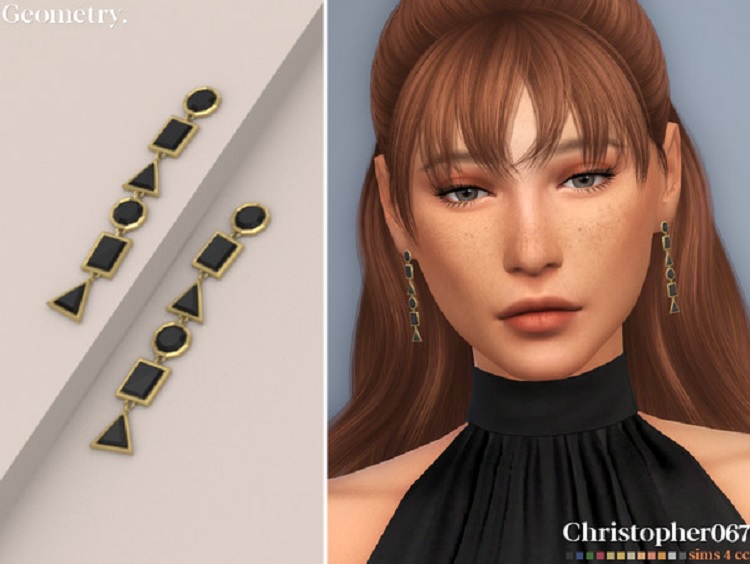 The Geometrical Hoops is a daring and original take on classic hoop earrings for Sims, who love to exhibit their originality and edge. The eye-catching star-shaped pattern of Giulietta's Star hoops earrings sparkles wonderfully in various metallic hues.
On the other hand, NataliS's Square crystal earrings add a dash of modernism and sophistication with their angular design. Both alternatives offer a striking and distinctive accessory for any outfit, making them ideal for Sims, who want to make a statement and stand out.
12. Snake Drop Earrings: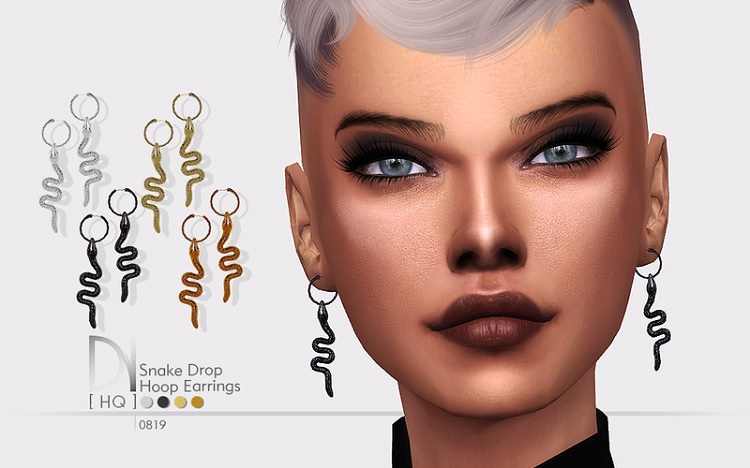 For Sims looking to branch out, the Snake Drop Earrings are an exciting and imaginative option. These earrings, modeled after a snake, add intrigue and originality to your Sim's wardrobe. These earrings come in various hues and are ideal for leaving a bold and unique impression at parties and special occasions.
13. UMOX Hoop Set (Large):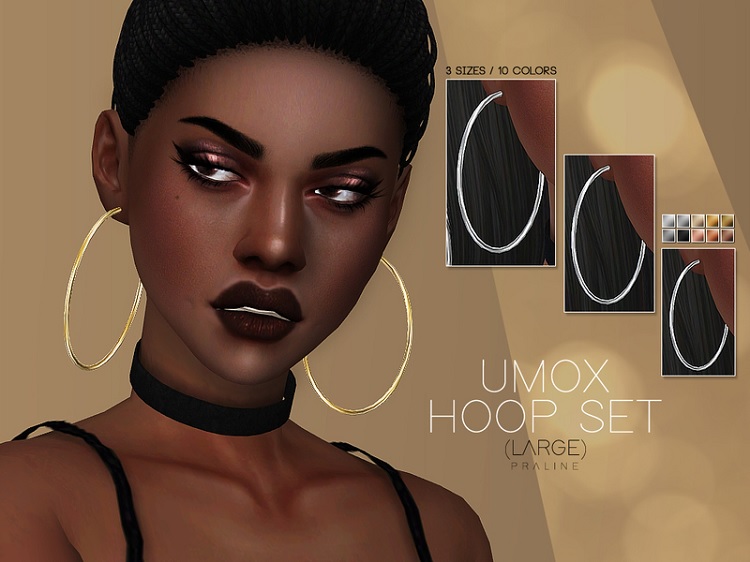 The UMOX Hoop Set is a practical collection of many fashionable hoop earrings. Each of the three hoop styles in this set comes in ten different colors, giving your Sim a wide range of options to match their dress and mood. These hoops are adaptable and suited for Sims, mixing metallic finishes and colorful hues.
14. Layerable Hoops: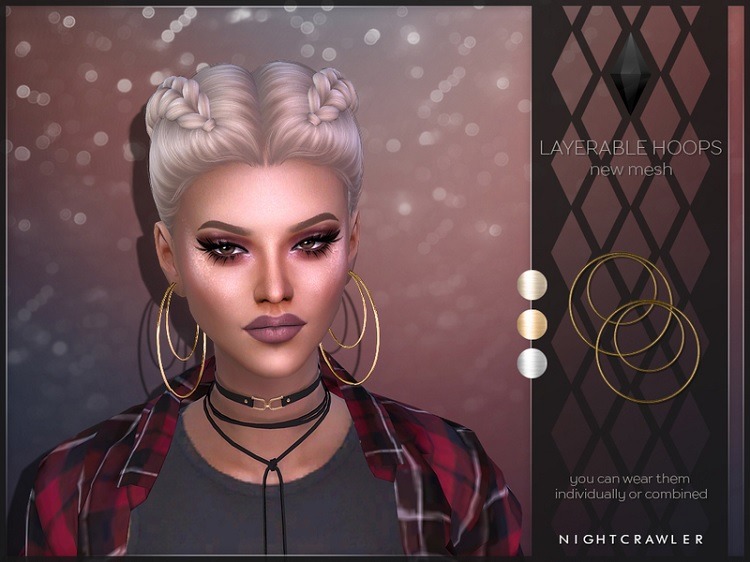 Created by the brilliant artist NightcrawlerSims, Layerable Hoops are a gorgeous and eye-catching accessory. Despite their substantial size, these earrings expertly highlight your Sim's attractive features by framing their face. Your Sim can wear these earrings with a chic updo or a current bun to complete a beautiful and refined look.
Your Sim can sport these with braided hairstyles that are the ideal match to the boldness of the hoops for a flirtatious and self-assured look. Keeping the rest of the accessories simple is crucial to balance the entire style.
15. Designer Hoop Earrings:
For Sims that wish to experiment with high-fashion accessories, the Designer Hoop Earrings are a great option. These classy earrings are ideal for formal occasions and premium gatherings because they give elegance and refinement to any attire.
The Designer Hoop comes in various metallic tones, enabling your Sim to match them with their clothing perfectly. Whether wearing them to a high-profile event or just to spruce up their regular outfit, these earrings are a mark of refined taste and elegance.
16. The Small Heart Hoop Earrings: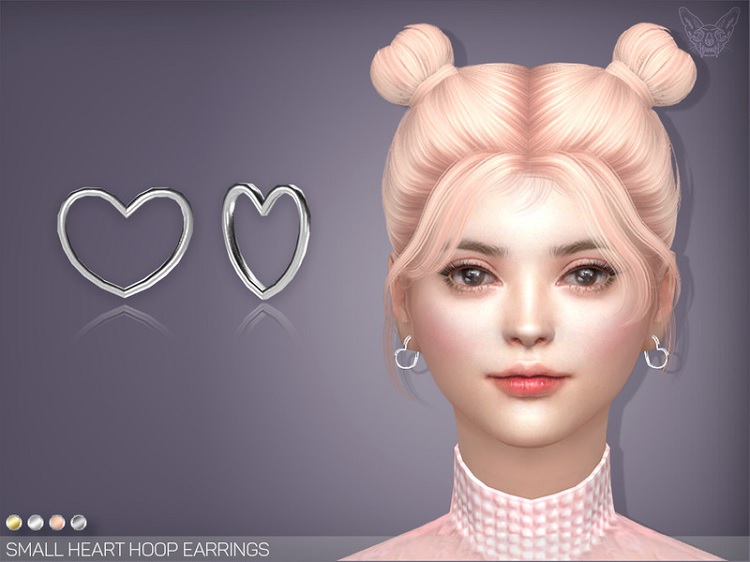 Giulietta's creation, the Small Heart Hoop Earrings, is ideal for Sims who want to channel their inner charm and cuteness. These lovely heart-shaped hoops exude warmth and fun and give your Sim's look a hint of naïve allure. Your Sim can easily match these with various clothing and events thanks to their four metallic color options: rose pink, gold, silver, and black.
These heart hoops are ideal for affectionate dates, social trips, or family gatherings and are sure to win over everyone.
17. Wavy Hoops: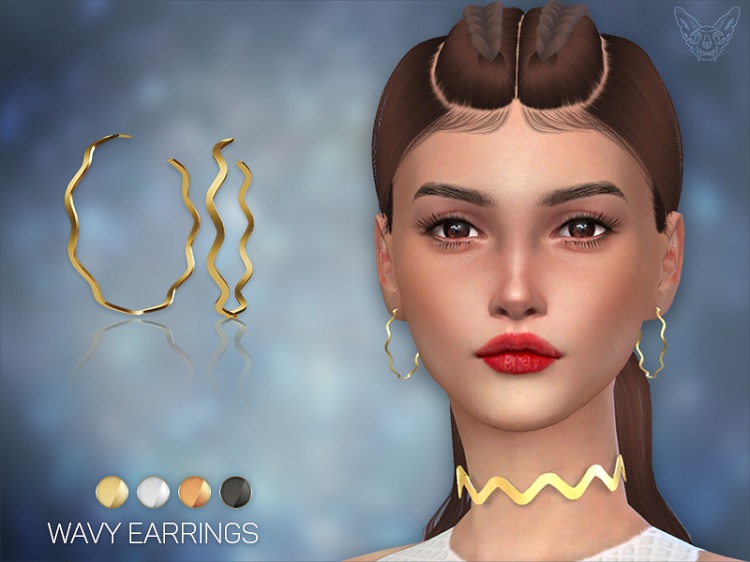 For Sims looking for a distinctive and artistic item, the Wavy Hoops are a chic and modern option. These give your Sim's appearance a touch of elegance and grace with their wavy and fluid form. These hoops come in several colors and can subtly improve any outfit, making them a valuable addition to your Sim's accessory collection.
The Wavy Hoops are ideal for Sims that enjoy experimenting with fashion because they can be worn for informal and formal situations.
Conclusion
The top 17 Sims 4 hoop earrings include various styles, colors, and designs to complement each Sim's personality and sense of style. These earrings range from timeless classics to daring modern designs, making them crucial jewelry pieces for Sims that wish to express themselves and make a statement with their clothing.
These hoops are the ideal final touch to improve any wardrobe and make your Sim look and feel fantastic, whether attending a casual get-together or a formal function.