The Sims 4 explore mod will allow you to escape from a rabbit hole. You can jump through this hole and roam around anywhere and explore places like shopping malls, casinos, hospitals, etc. and have fun. Once your character finishes wandering around and returns, the game will give it extra rewards like buffs, better relationships, improved skills, better motives, etc. The members who have subscribed to the explore mod packs will also get some special features.
How to use The Sims 4 explore mod
This mod is one of the easiest mods to use in The Sims 4. All you have to do is install the mod and then click on your Sim. When you click on your Sim, a pie menu will appear. Go to the menu and select "explore". After you click on explore, it will take your members to any place that you choose from the menu. You Sim can now roam around the city and look at different locations. Wherever you send your Sim, make sure to leave them over there for a while and then wait for them to come back on their own accord. There are many features that this mod will provide you. Some of them are for free, and some cost money.
How to download the Sims 4 explore mod
Follow the steps below to download the Sims 4 explore mod:
After downloading the mod, extract all the files of the mod.
Now, save the files in your mods folder.
Check your mods and cc option in your settings.
You should have successfully downloaded the mod by now.
Sims 4 travel mod
If you don't want to explore and roam around alone, you can also take another Sim along to make the experience more fun. This is possible with the Sims 4 travel mod. You click on "explore with" in the pie menu. Once you click on this, you can choose the Sim that you wish to travel with and then explore with them. Make sure to send your Sim to the transportation centre before you use this feature as they will need a medium to travel. In addition, to use this feature, you will need a bus licence which you will only get from the transportation centre or the DMV. There is also a feature wherein you can choose the outfits of your Sims. You can even give them names.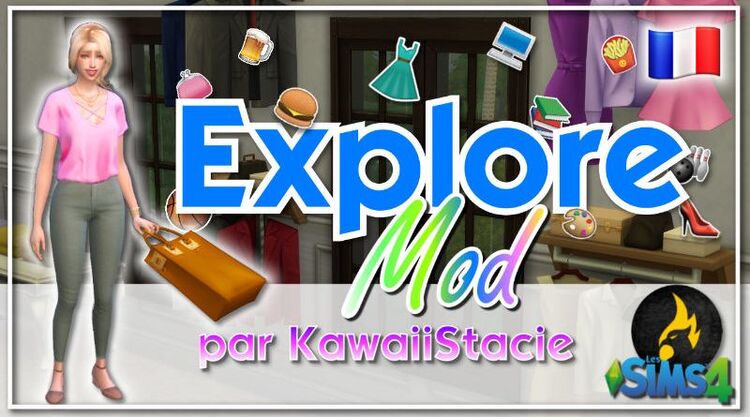 Types of Sims 4 explore mods
We have listed a few of the best-explored mods in Sims 4 and their features below:
Gambling
Your Sim can go gambling.
There is also a new interaction for playing cards at the table.
There are two types of gamblings which are:
Gambling at home
You can select which Sim you want to go gambling.
It will allow you to play a practice game.
You will earn money if you win a game.
It will help you in improving your skills.
Gambling off the lot (Rabbit holes)
You can choose which Sim you want to go gambling.
If you lose the game, you will lose a lot of money.
However, if you win the game, you will earn a fortune of money.
Skills to improve
The skills that your Sim will improve at with the help of this mod are given below:
Cooking
Dancing
Photography
Yoga
Guitar
Gardening
Services
The services that this mod will provide are:
Hospital visiting
Get massages
Surgeries of all types.
Grooming services.
Therapy for couples.
One day vacation
The mod will allow your Sim to go for a one day vacation to the following places:
Jurassic Park
Disney World
Cruise
Beach
Entertainment
Your Sim will get various types of entertainment, such as:
Arcade
Comedy club
Fishing
Gym
Karaoke
Movie
Zoo
Playground
Kawaiistacie Explore Mods
There are a few explore mods created by the modder KAWAIISTACIE. We have listed the ks mods below:
Drinkable pouches for humans: Since your Sims will be roaming around a lot, they will eventually get thirsty. For such situations, you can have a drinkable pouch mod. You Sim can carry this pouch around wherever they go. When dehydrated, they can remove this pouch and drink from it. One bag will be able to hold 20 calories. You can store these pouches in the inventory.
Tea lover: This mod will provide your Sims with tea. When you give them tea, they will be happy, and their mood buffs will increase!
Acne-prone trait: This mod will give your Sim visible acne to make the game more realistic. This will increase your buffs too.
Baller trait: This mod will also boost the mood of your Sim. If your Sim plays sports, they will play a lot better with this mod.
Singing trait: This mod will give your Sims an amazing voice, increasing their moods. They will also be able to visit karaokes.
Appearance trait: The appearance trait will give your Sims a whole new appearance. It has three different types of formations.
Handsome and Beautiful attributes: This mod will make your Sims appearance more pretty. It will increase their mood and also will help them maintain better relationships.
Hideous trait: This mod will make your Sims look more ugly, making it harder for them to survive in society. Your Sims will also get to do and explore mod plastic surgery done.
Faqs
Are mods allowed in Sims 4?
Mods are permitted in Sims 4 because the developers recognise their importance in the game. As a result, you won't have any problems installing them. The only thing that you cannot do is pre screen recordings.
How does explore mod work Sims 4?
After installing the module, you'll see a changed pie menu with options for locations to visit. When you click on a sim, the "exploring" option appears, allowing you to explore the areas listed in the menu.
What is explore mod?
The Explore mod is a module that allows you to go to the DMV with the driver's licence mod, gamble, or get your nails done. As you participate in these activities, your talents will improve. We have come to the end of this article about the Sims 4 explore mod. We hope that it was of help to you and made your game more fun and exciting to play.