In the Sims 4 universe, personalization is essential for producing one-of-a-kind, individualized experiences. Players have long sought ways to stretch the limits of creativity within games, whether by designing their ideal homes or creating detailed plots.
Custom content (CC), which offers their virtual worlds a wide range of fresh options, is one way they can show their uniqueness. The Sims 4 Tattoo CC stands out as a popular option for gamers wishing to improve their looks and give them a personal style among the many exciting additions available.
Top Tattoos For Male And Female Sims
1. Wicked Simlish Tattoos
The Sims 4 Tattoo CC provides a unique jewel in the shape of a tattoo set that can be used on both male and female Sims.
This CC is an excellent find with an astounding assortment of 31 swatches, including 28 individual tattoos and 4 whole-body or sleeve possibilities. Players can radically alter how their look thanks to the variety and high caliber of designs, giving them a unique and individualized look.
Including two alternative fonts adds further customization and guarantees that each Sim's body art tells a distinct tale, making this tattoo set even more alluring. This collection includes something for everyone, regardless of whether your Sim enjoys subtle and complex art or bold and edgy designs.
2. Spring Baby Tattoos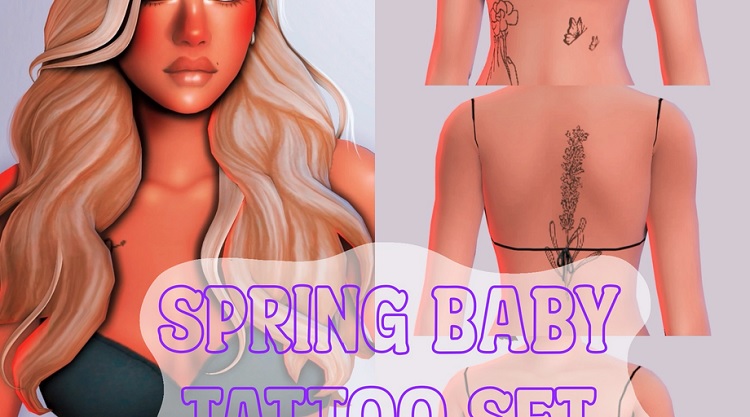 For those looking for a dash of whimsy and tenderness, The Sims 4's spring-themed tattoo collection offers a charming choice of delicate female tattoos. This collection captures the spirit of the season.
It incorporates it into the Sim customization world with patterns ranging from lovely butterflies to a huge alluring wildflower displayed on the back.
The ease it makes the Create-a-Sim (CAS) process for players distinguishes this tattoo set. Choosing and mixing your favorite tattoos is simple with two specific CAS places. This makes creating the perfect look for your Sim seamless and fun.
The addition of these strategically positioned options improves accessibility and customization overall.
3. Fatal Angel Tattoo Set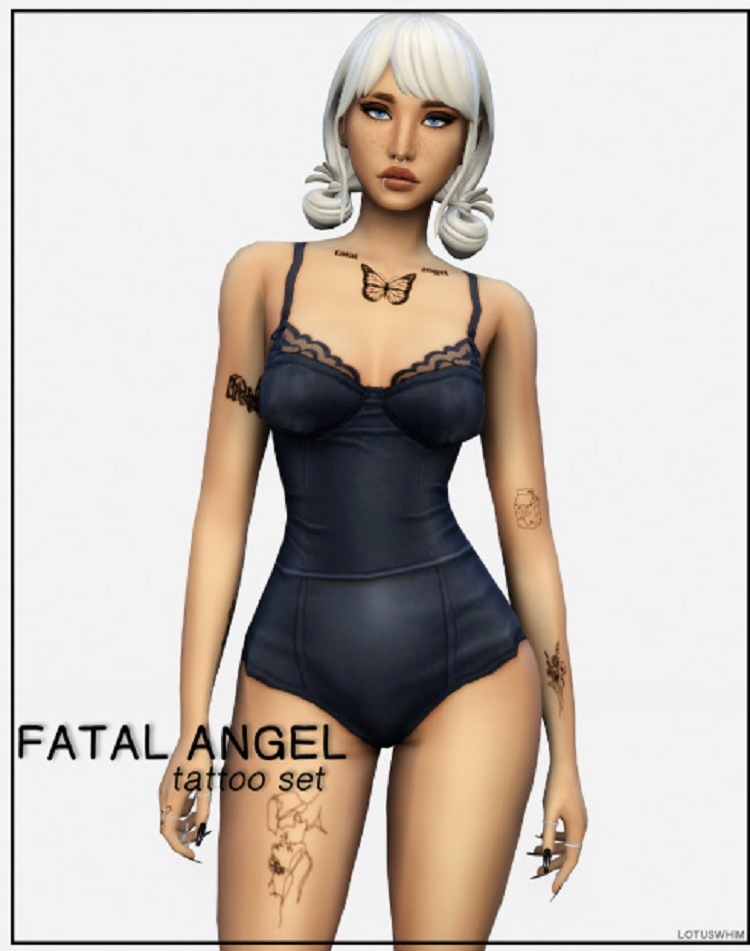 Teens looking to add a little early 2000s flair will love The Sims 4 Tattoo Set since it transports players to the exciting time of Y2K. The addition of iconic designs from that era, like the butterfly on the chest and the heart & moon finger tattoos, helps this collection perfectly portray the mood of the time.
This tattoo pack has a clear appeal for gamers looking to reproduce the vivid trends of the early 2000s, thanks to its bold and contemporary designs. The choosing procedure is made more accessible by adding one swatch, resulting in a smooth and efficient experience.
Additionally, the pack's adaptability is demonstrated by the possibility to download particular versions for the left arm, left leg, right arm, or even a combined combination, giving players freedom and ease during the customization process.
4. Nocturne Tattoos
Although the vast Sims 4 tattoo collection is adaptable for both males and females, it was primarily created focusing on male characters' tattoo preferences. This collection offers a wide range of alternatives to fit diverse styles and tastes, offering 56 different swatches, including 47 individual tattoos and a mixture of 9 full-body, arm, and leg tattoos.
This incredible tattoo collection is inspired by the fascinating world of nocturnal life, creating a fusion of unusual motifs. These tattoos provide a sense of mystery and seduction to your Sims' appearances.
They include tattoos of snakes, which stand for transformation and wisdom—skulls, which symbolize rebellion and mortality; and butterflies, which represent beauty and metamorphosis.
5. Galactic Garden Tattoos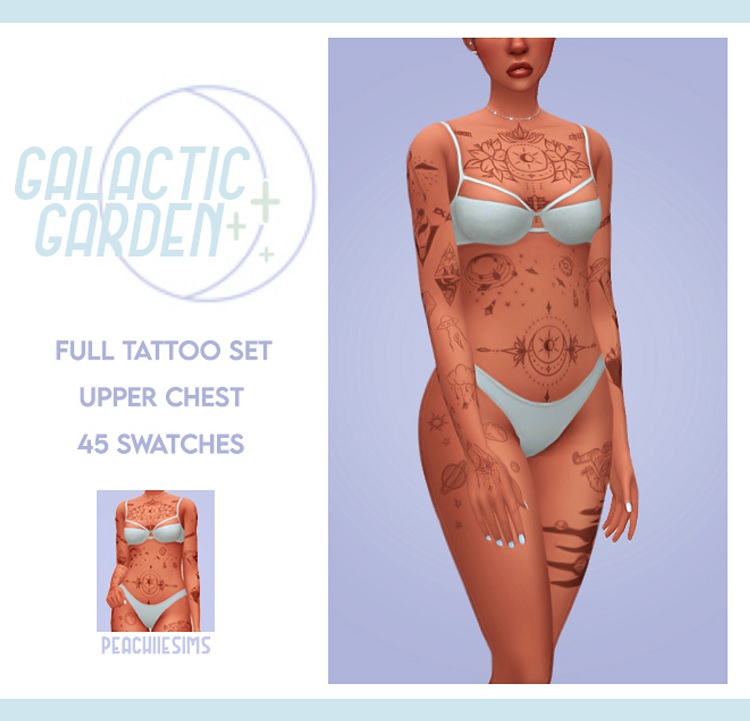 PeachiiieSims continuously dazzles with their superb designs, and my particular favorites are their Sims 4 tattoos. They truly excel in the game with their meticulousness and general enjoyment.
The intriguing space motif of their most recent tattoo set is consistent with their high standards. This collection offers a vast range of options for players to modify their looks of theirs, with a staggering 45 swatches to pick from.
Forty-one of these stunning swatches are separate tattoos, each with a distinctive design. The set also comes with four full-body or sleeve tattoos, opening even more artistic possibilities and allowing for bold Sim customization.
6. Mixed Tattoos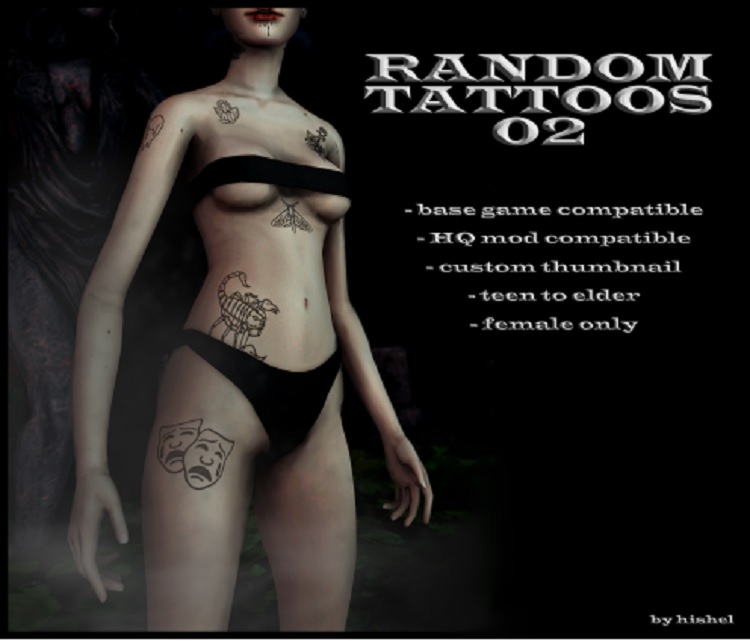 The "Random Tattoos" set offers a variety of unique decorations for your Sims, living up to its name. All tattoos will be worn using the one available swatch, giving them a distinctive look.
A striking spider tattoo and a giant skeleton wielding a Grim Reaper scythe blade, both intended to be tattooed on the neck and upper back, are remarkable additions to the collection. These alluring tattoos give your Sims' overall appearance a hint of mystery and intrigue.
7. Teen Spirit Tattoos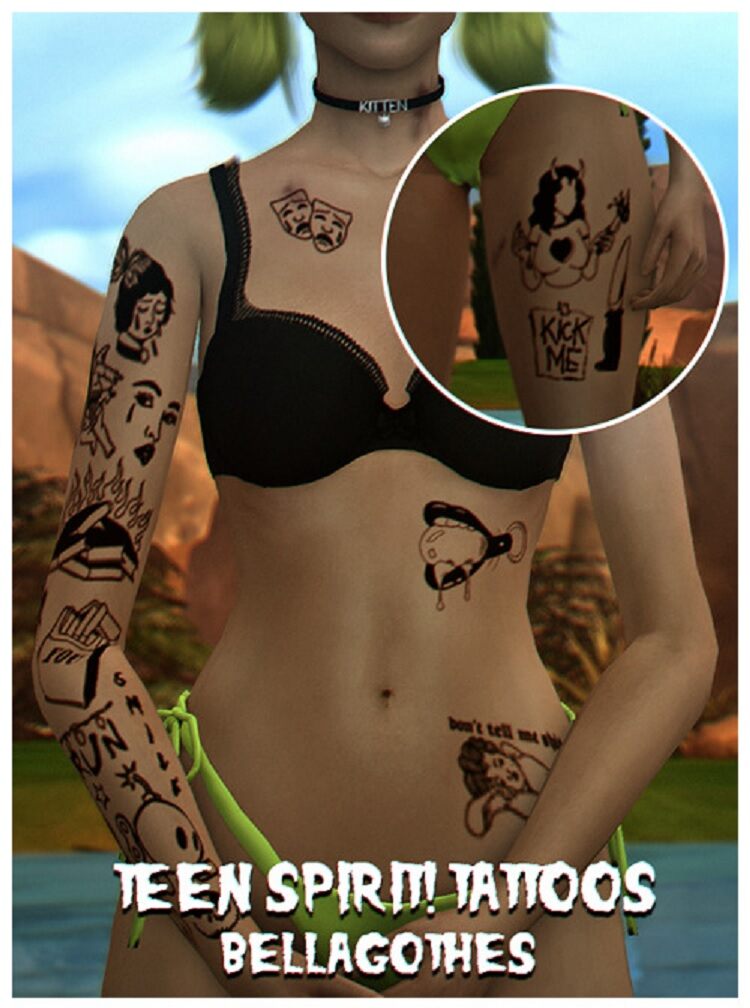 Once more, we have an outstanding collection of tattoo custom content (CC). This collection lives up to its name, which focuses on teen Sims.
The girl with the devil horns on her thigh is one of the set's most striking designs. It instantly became a player favorite due to its stylish and edgy attitude. With this superb tattoo CC set, explore the limitless customization options for your teen Sims.
8. Simlish Tattoos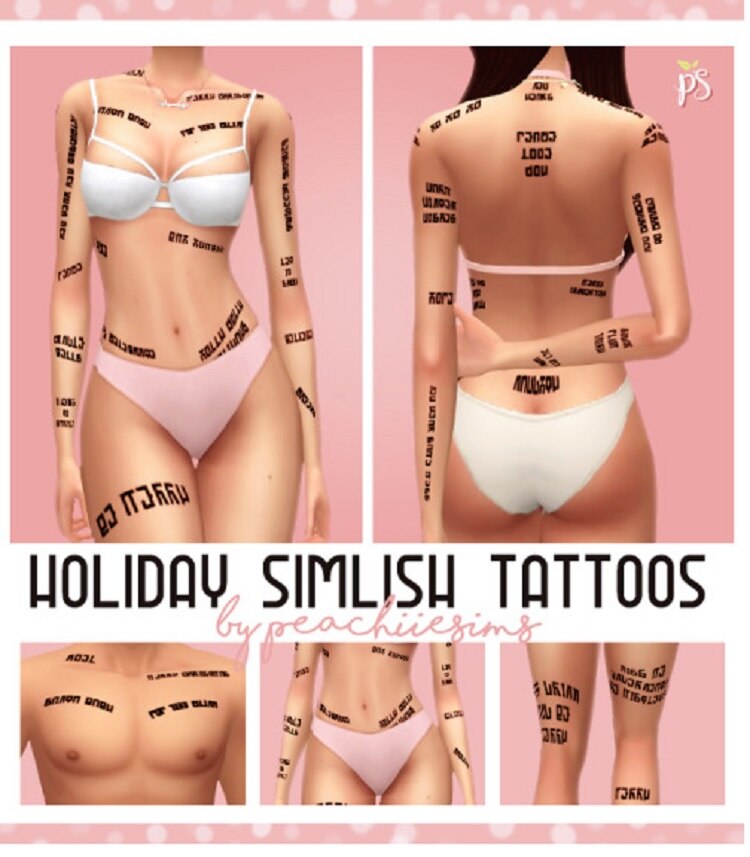 For Sims looking for a hint of seasonal flair, the Halloween-themed Simlish tattoo words set offers a cute and uncomplicated selection of designs. Players have many opportunities to personalize their looks, including 28 unique tattoos and four full-body and arm variations.
Introducing two distinctive font styles—spooky Simlish and Simlish Lengiza—makes this set even more delightful. The merged file, which incorporates both options and lets players choose their chosen font, offers flexibility and convenience during customization.
9. Flower Fairy: A Tattoo Set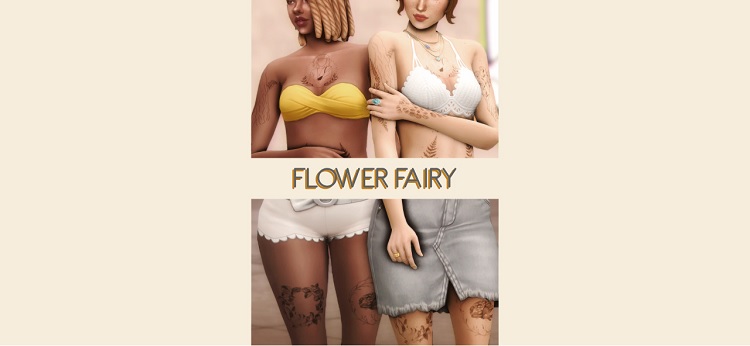 With a lovely selection of floral themes, foliage, and delicate line drawings, the "Flower Fairy" Sims 4 tattoo set lives up to its enchanting name. This collection is a must-have for enthusiasts looking to adorn their Sims with nature-inspired body art.
The set includes two full-body tattoos that were carefully created with various opacities to complement a variety of skin tones. Even more personalization options are possible thanks to the ability to mix and match the designs of the eight distinct tattoos.
10. Full Sleeve Tattoos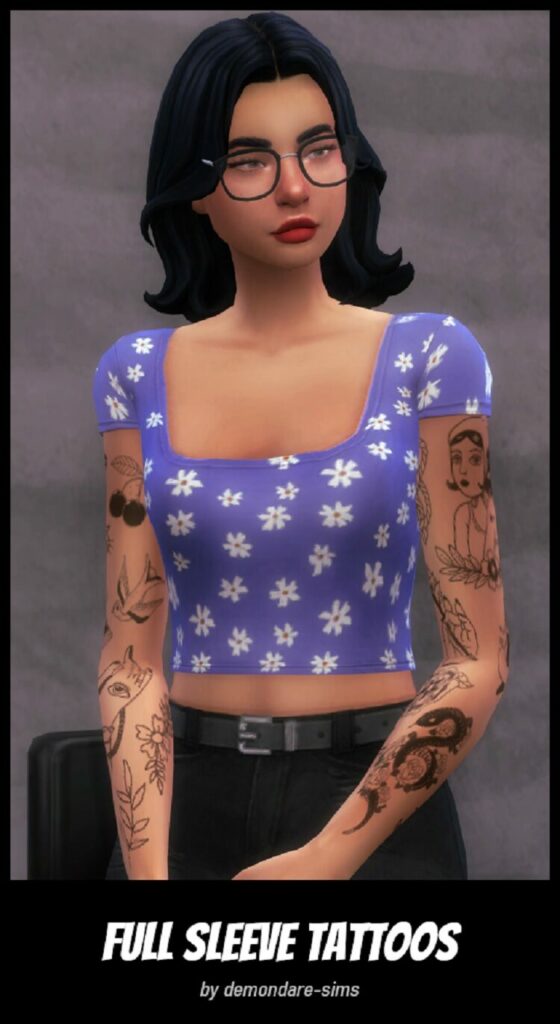 The adaptable 3-swatch tattoo set has various designs to suit your Sims' preferences. Full sleeves on either arm can be chosen, or you can select the side you like, giving you a variety of personalized and distinctive styles.
This set's fantastic variety of objects includes cherries, birds, flowers, snakes, hands, and more. Combining these designs gives your Sims' body art a compelling and eclectic touch.
With this colorful and varied tattoo set, you may unleash your creativity and let them express themselves. Each Sim may embody their distinctive style thanks to the alternatives supplied by this collection, whether they choose a loud and colorful statement or a quiet and symbolic touch.
11. Life Hurts Tattoo Set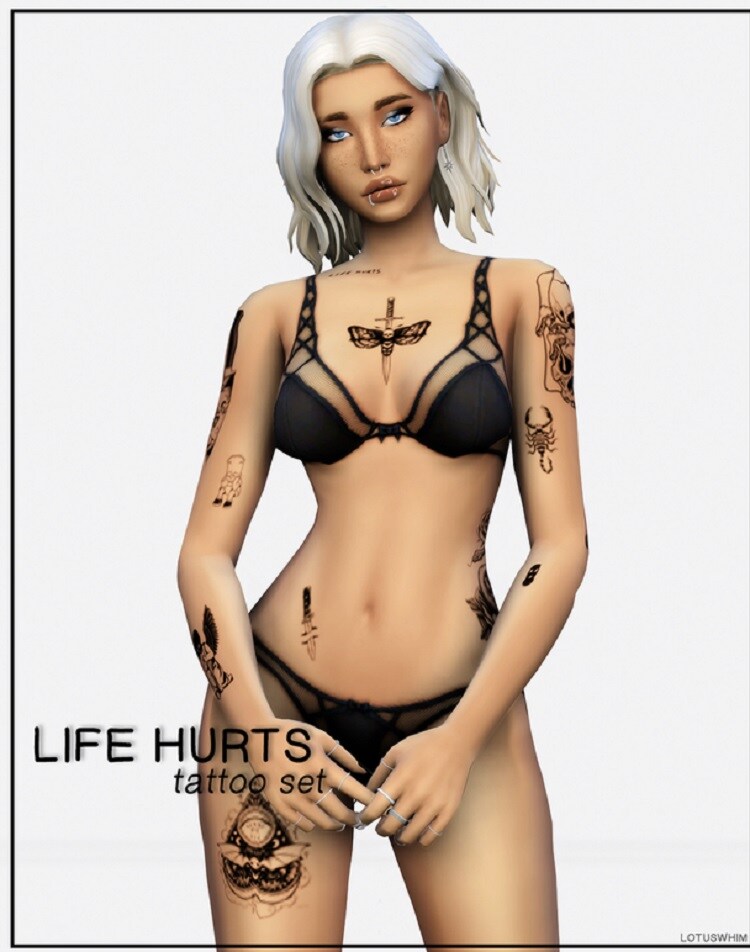 The trendy Sims 4 tattoo set features an alluring medley of styles, making it a must-have for stylish female Sims. This collection emanates a bold and edgy aesthetic with famous elements like the Playboy bunny, an Ouija-inspired tattoo, and magnificent skull artwork.
This tattoo set, intended only for female Sims, provides a single swatch covering various fashionable styles. Each tattoo is painstakingly created with attention to every last detail, guaranteeing a flawless and visually arresting appearance.
12. Demons Tattoo Set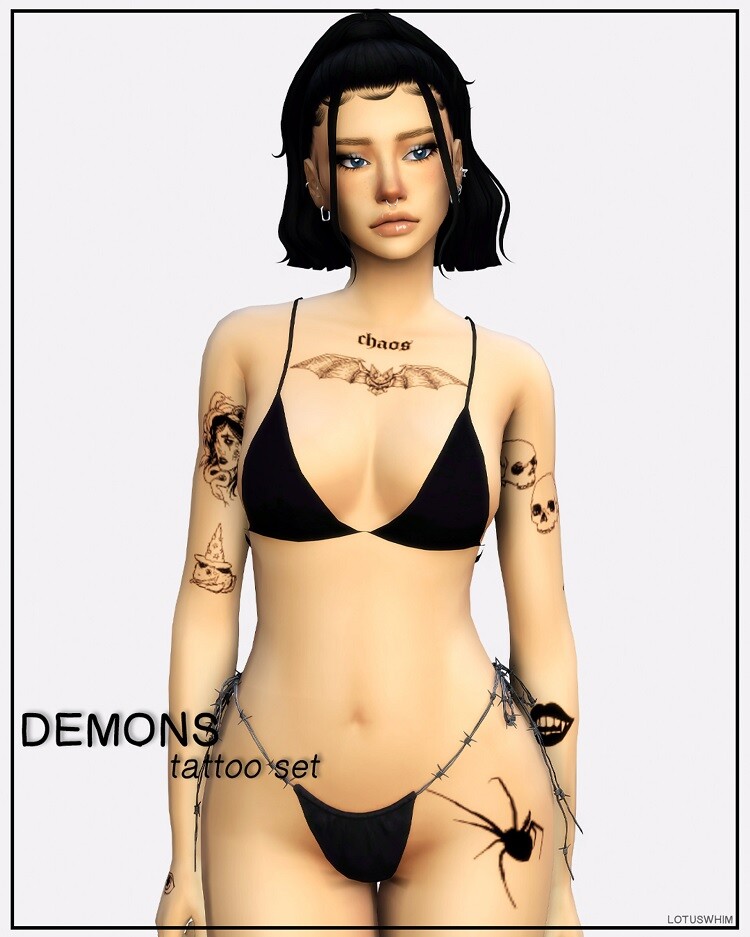 The party skull tattoo in this Sims 4 set gives a charming and playful twist on a traditionally ominous symbol for individuals who are fascinated with skulls. It provides a body art collection with a lively and surprising touch.
The giant spider tattoo that extends up from the pelvic-hip region is another eye-catching motif from this collection. Its stunning appearance gives your Sims' overall look a fascinating touch. This collection offers versatility and personalization possibilities, regardless of whether you like a full-body tattooed aesthetic or want to mix and match from the available swatches.
13. Moonlight Princess: a Tattoo Set
The Moonlight Princess Sims 4 tattoo set includes six gorgeous upper arm tattoos. Even though just one design is shown, each tattoo in the collection nevertheless emits its extraordinary beauty and charm.
Adorn with these alluring upper arm tattoos to embody the magic of the Moonlight Princess set. Each tattoo will accentuate the elegance and uniqueness of your Sims, whether you select the featured design or consider all of your options.
14. Male Tattoo Pack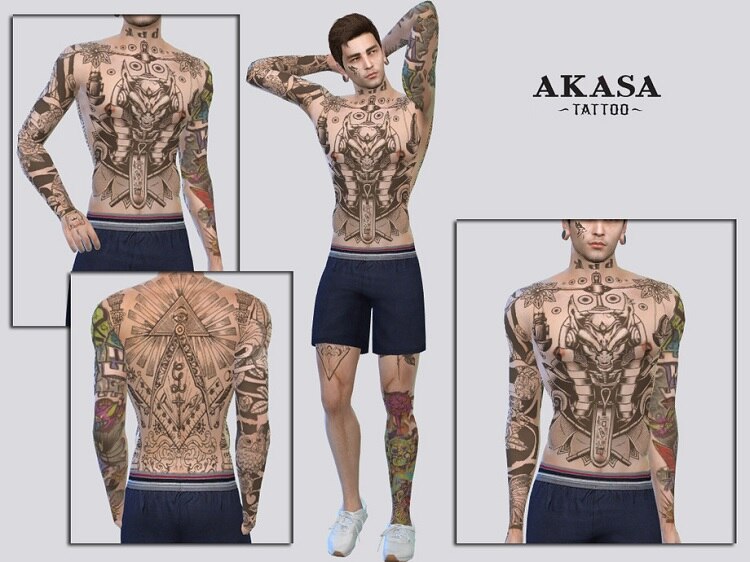 This stunning mega collection of 25 tattoo sets is the only option for individuals looking for tattoos geared toward men. Every gamer will find something they like in this collection, which features many tattoo styles and designs.
Each set in the pack is distinctive, having a unique style and selection of tattoos. This considerable bundle offers designs for solid, elaborate patterns and more subdued and meaningful ones.
15. Doodle on Me Tattoo Set
This collection is a beautiful addition because few male Sims 4 tattoos are available. Last, there are other choices to consider while looking for top-notch custom content (CC) for male Sims.
With its youthful and fashionable attitude, this pack suits teens. The set's tattoos include well-known cartoon characters like Mickey Mouse and other cartoon classics, giving appearances a fun retro feel.
With this ideal tattoo pack for teen Sims, celebrate the presence of CC, which is geared toward men. Your Sims may easily display their distinctive identities and embrace a youthful aesthetic thanks to its excellent and vivid designs.
16. Pride Hearts Tattoo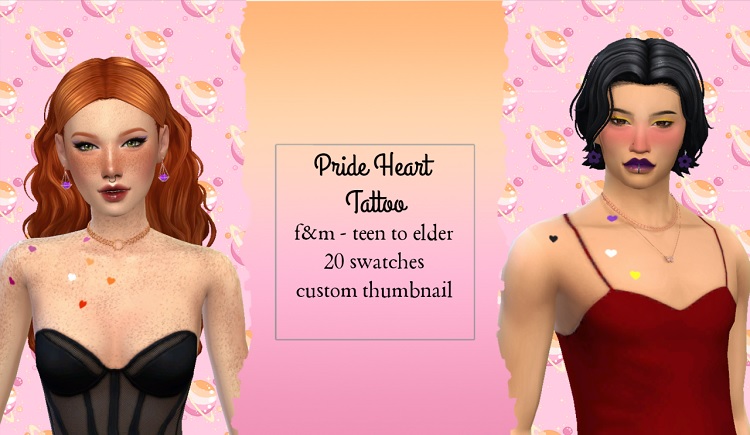 A colorful and welcoming Sims 4 tattoo custom content (CC) that honors diversity is the Pride's Heart tattoo. This tattoo provides a wide range of customizing choices with various color swatches that showcase intriguing mixtures of two to three colors.
The last swatch makes a powerful and striking visual effect by extending onto both shoulders. This distinctive design feature gives your Sims' overall appearance an extra touch of originality.
Additionally, this tattoo CC is accessible for both male and female Sims. Thus, it is not exclusive to one gender. With the inclusive and striking Pride's Heart tattoo, celebrate the strength of individuality and let them proudly show off their uniqueness.
17. Hellegrund Tattoo Set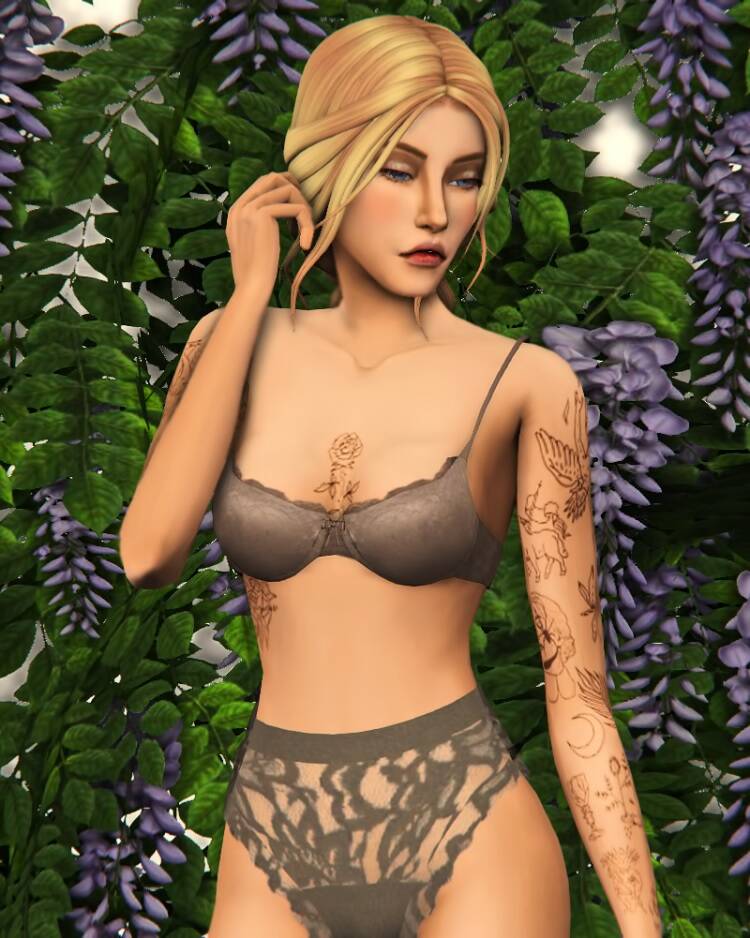 Gorgeous linework can be seen in this Sims 4 tattoo set. This collection perfectly embodies understated beauty with its straightforward yet elegant patterns.
Players have a wide range of alternatives thanks to the vast selection of 20 swatches. Each swatch features a distinct and alluring design that may be tailored and personalized to fit particular tastes.
18. Flora Tattoos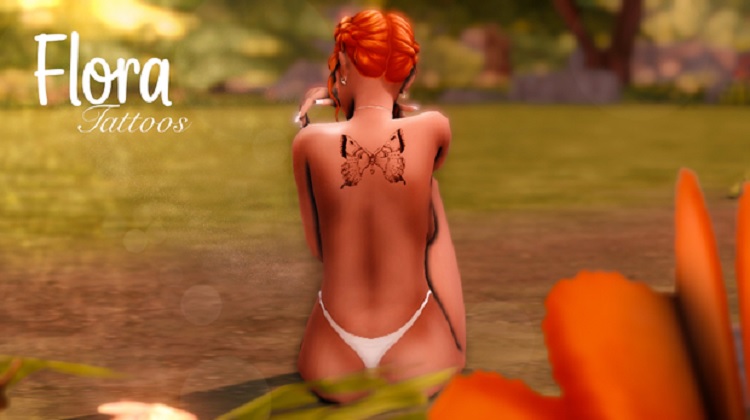 This small Sims 4 tattoo set comes with two gorgeous designs that may be used together or separately, giving you various options.
The first tattoo in the set is a sizable upper back butterfly design that gives your Sims' appearance a touch of grace and charm. The butterfly's delicate embellishments produce an arresting focal point.
The second tattoo is an attractive floral underboob design that offers a more seductive and sensual alternative. Its placement allows to exhibit their unique style while lending a touch of elegance and charm.
Whether you choose the delicate floral underboob tattoo or the spectacular upper back butterfly tattoo, this set offers the ideal chance to improve your Sims' looks and inject some unique personality.
19. Nadia's Ocean Life Tattoos
This Sims 4 set's ocean-themed tattoos have a lovely appeal that perfectly fits Sims, who are more innocent and whimsical. They perfectly encapsulate the spirit of an island getaway, giving them the perfect option for looking for a hint of seaside flair.
Thanks to their adorable and whimsical patterns, these tattoos make your Sims' appearance distinctive. Each pattern, whether a seashell, a starfish, or a wave pattern, captures the beauty and peace of the ocean.
This collection allows you to select between individual tattoos or an all-in-one swatch, giving you flexibility. Whether you favor a unified appearance or want to combine various motifs, these tattoos satisfy your creative needs.
20. Tattoo Fingers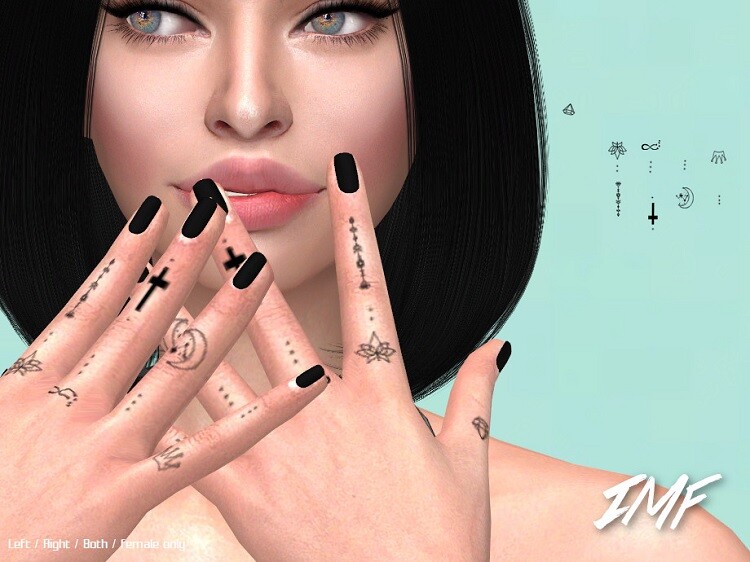 These Sims 4 tattoos have a celebrity-inspired vibe that makes them think of many well-known people's small hand tattoos. These tattoos provide the ideal edge and personality with crosses, diamonds, half moons, and other adorable small designs.
This selection of tiny hand tattoos offers the ideal opportunity for your Sims to do so, whether they wish to emulate the style of their idols or add a little edge to their appearance.
21. Moonlight Tattoos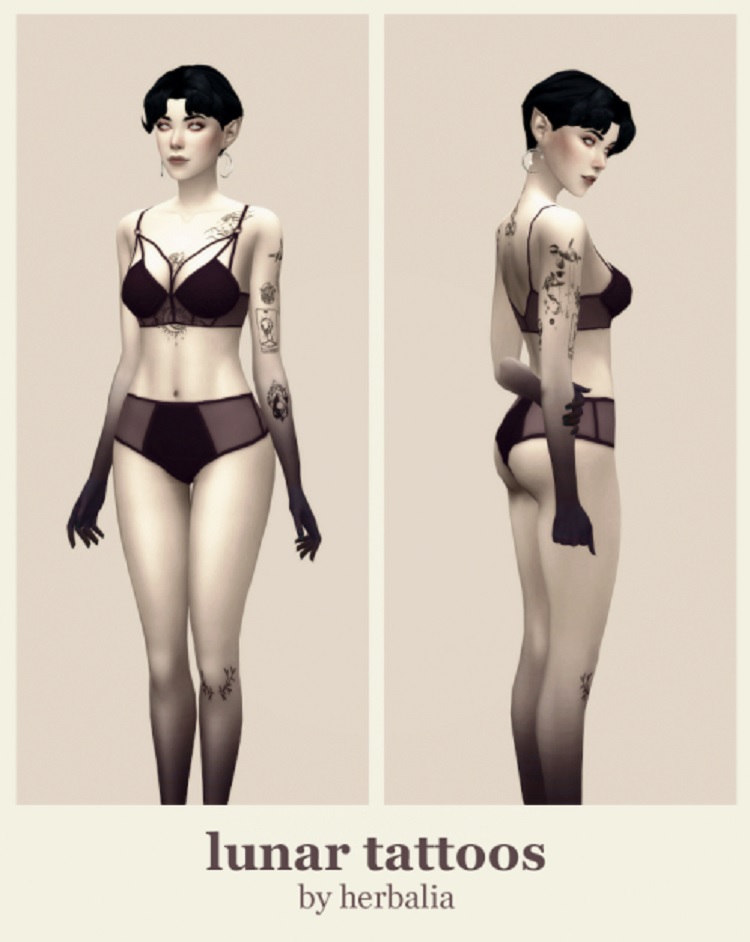 With the help of this alluring tattoo set, submerge your Sims in a world of magic and mysticism. Its elaborate decorations, which depict mushrooms, moons, and tarot cards, are inspired by the magical worlds.
These tattoos' ethereal aura gives your Sims' appearance a dash of fascination and curiosity. Thanks to their exquisite and intricate designs, they are the ideal option for living a free-spirited, hippy lifestyle or expressing the spirit of witchcraft.
22. Spook Tattoo Set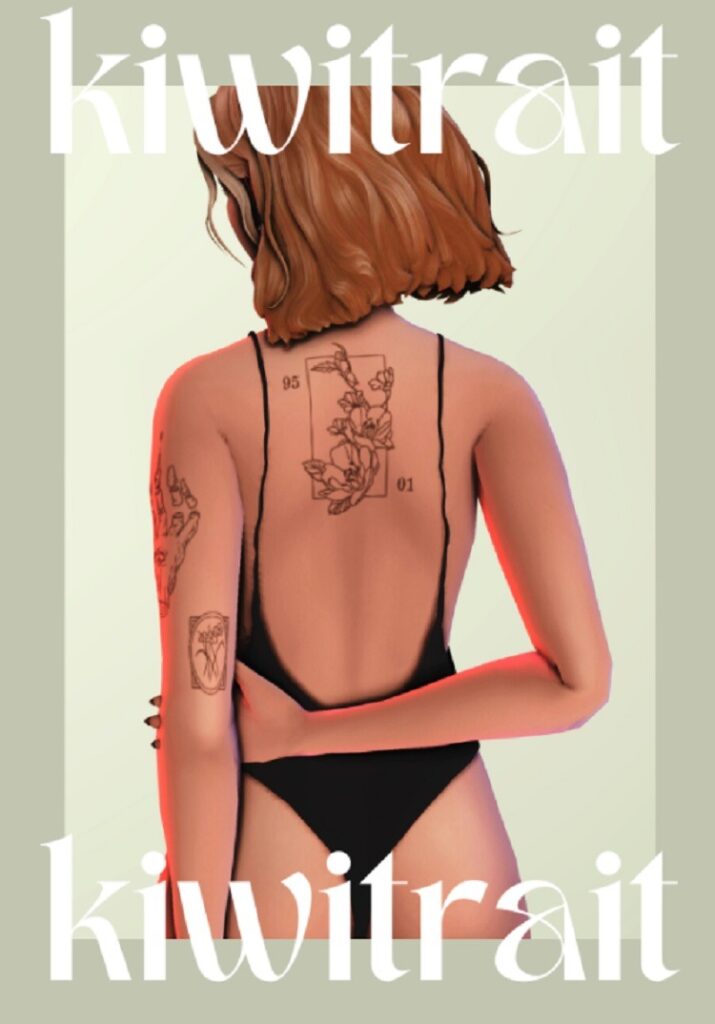 This Spooky tattoo set will appeal to those wanting a darker style. It offers a variety of styles that embrace the eerie side and focuses on the macabre.
One tattoo in particular from this collection depicts a rotting hand and inspires a sensation of gripping curiosity. On the other hand, the mysterious headless cadaver tattoo grabs attention with its unsettling and ambiguous connotation.
23. Gina Tattoo Pack
This Sims 4 tattoo set, which concentrates on underboob tattoos, blends simplicity and sensuality. While only one tattoo is seen here, the set's swatches allow various exciting options.
The underboob tattoos add a discrete yet seductive touch to the appearance of your Sims. This set gives a range of alternatives to convey their unique style, whether they choose a delicate floral pattern, a profound symbol, or a fun pattern.
24. Caffeine Mini Tattoo Set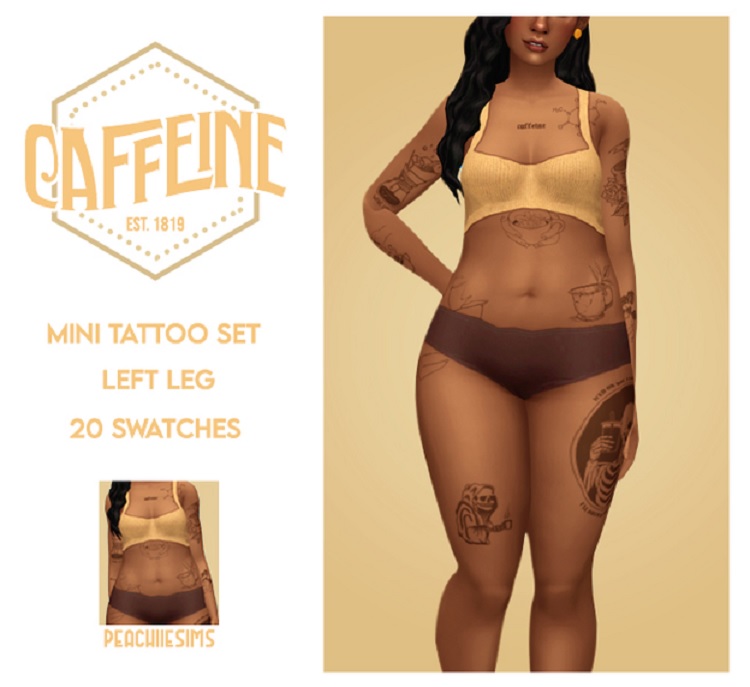 This caffeine-themed Sims 4 tattoo set is a must-have for all the coffee lovers out there. It respects the cherished beverage that begins our days off with its outstanding designs.
The skeleton holding an iced coffee is a favorite among the set.
This tattoo perfectly expresses the universal experience of wanting that first cup to wake up and reinvigorate. Its fanciful representation gives the design a dash of comedy and makes it stand out.
25. Thigh Tattoos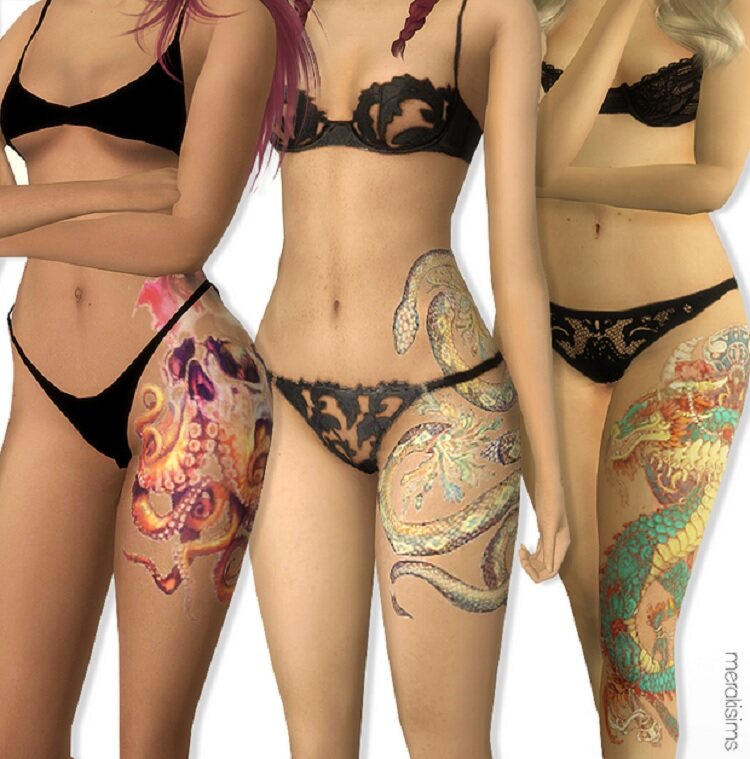 With this bright hip tattoo set, you can give a sense of style, a splash of color, and personality. Each of the three diverse designs, which include a snake, a dragon, and an octopus, is exquisitely carved and makes a striking statement.
The vividness of these tattoos gives your Sims' appearance a dash of life and individuality. Your Sims can express their uniqueness daringly and artistically with these hip tattoos, whether they like the enigmatic appeal of the snake, the mythological fascination of the dragon, or the marine allure of the octopus.
With this colorful hip tattoo set, change things up and allow them to express their vibrant individuality. These finely executed patterns are sure to make an impact.
26. Lyria Tattoo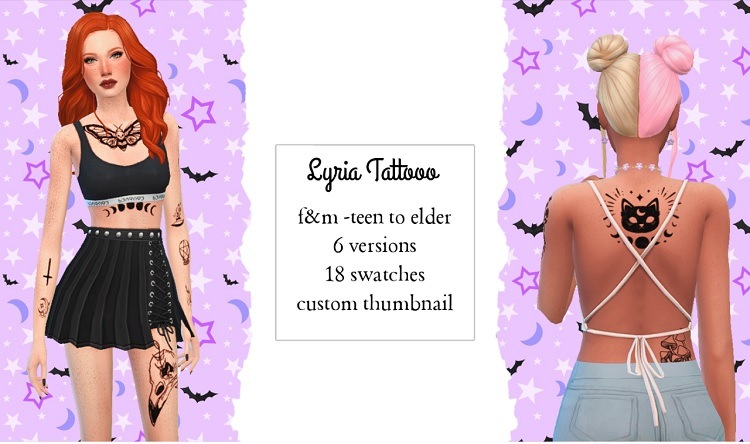 Various options are available to improve the appearance of your Sims with the Lyria Sims 4 tattoo set. You have the opportunity to mix and combine different tattoos to create a one-of-a-kind combo, thanks to the 18 swatches and six convenient spots.
Your Sims can make a statement with a full-body tattooed appearance by selecting the swatch with all 18 tattoos for a unified appearance.
One of its most notable qualities is this set's inclusivity, which makes it suitable for all ages, from teens to elders. This guarantees that can appreciate the beauty and adaptability of the Lyria tattoos regardless of their age or stage of life.
27. Marianna Finger Tattoo
These adorable small finger tattoos offer a charming and understated touch to your Sims' look. These delicate tattoos are made to beautify the fingers and look stunning when matched with rings that have personalized content.
The finger tattoos themselves have a lovely appearance. However, it's essential to remember that some custom content rings might not be compatible. It is necessary to ensure a smooth visual experience free from glitches or interference with other game features, including eyelashes.
28. Cyborg Tattoos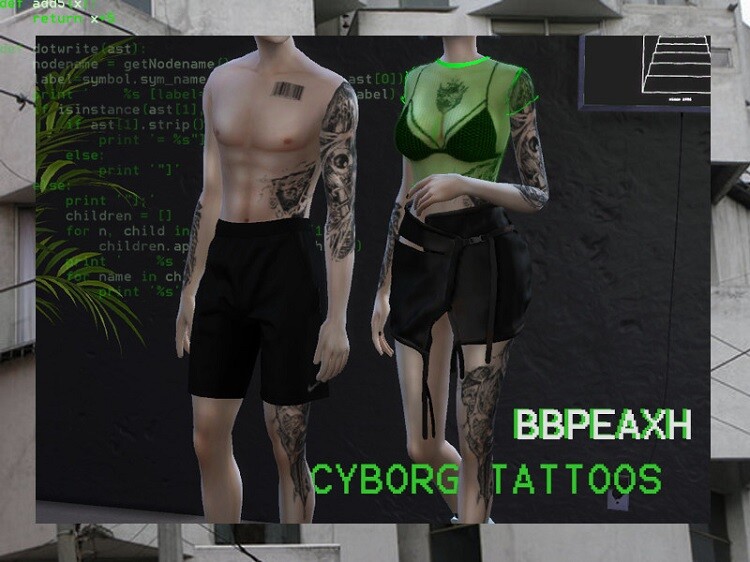 The sophisticated mechanical elements of the Borg's exterior shell might still awe you even if you're not a die-hard Star Trek fan. This collection of intricate body tattoos pays respect to the well-known cybernetic race.
These cybernetic tattoos, which come in six swatches and one full-body design, let your Sims adopt a futuristic and technologically advanced appearance. Each tattoo displays the detailed and intriguing elements drawn from the Borg, giving the appearance a dash of sci-fi intrigue.
29. Cosmic Candy Tattoos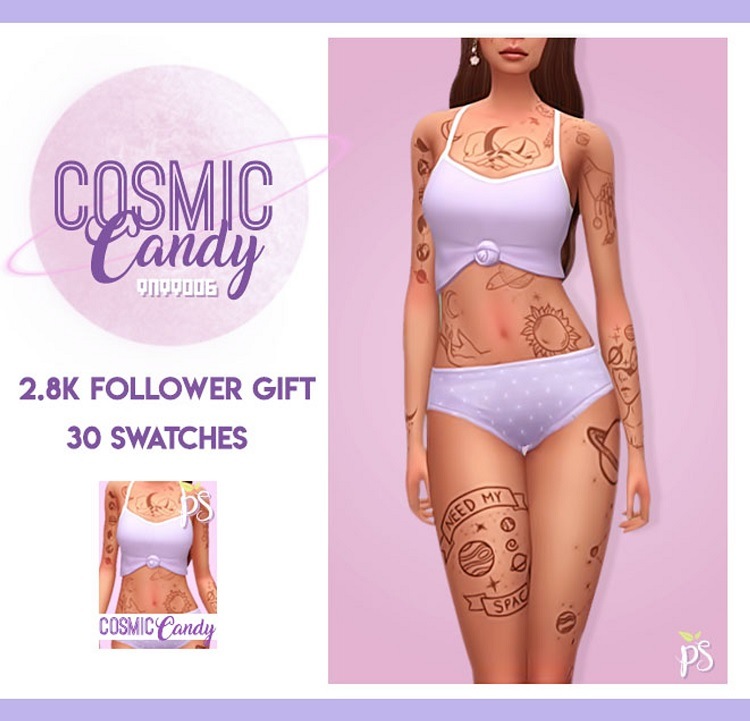 With this another outstanding tattoo set, Peachiiesims again transports us to another world with its celestial-themed patterns. This set provides many options for the tattooed expressions, with a staggering 30 swatches to select from, including 29 individual tattoos and a magnificent full-body option.
One of the most stunning designs is the gorgeous sun tattoo on the hip, which exudes beauty and perfectly captures the stars' fascination. It makes sense that, among the wide variety of Sims 4 tattoos accessible, it has become one of your favorites.
30. Mirabelle CC Tattoos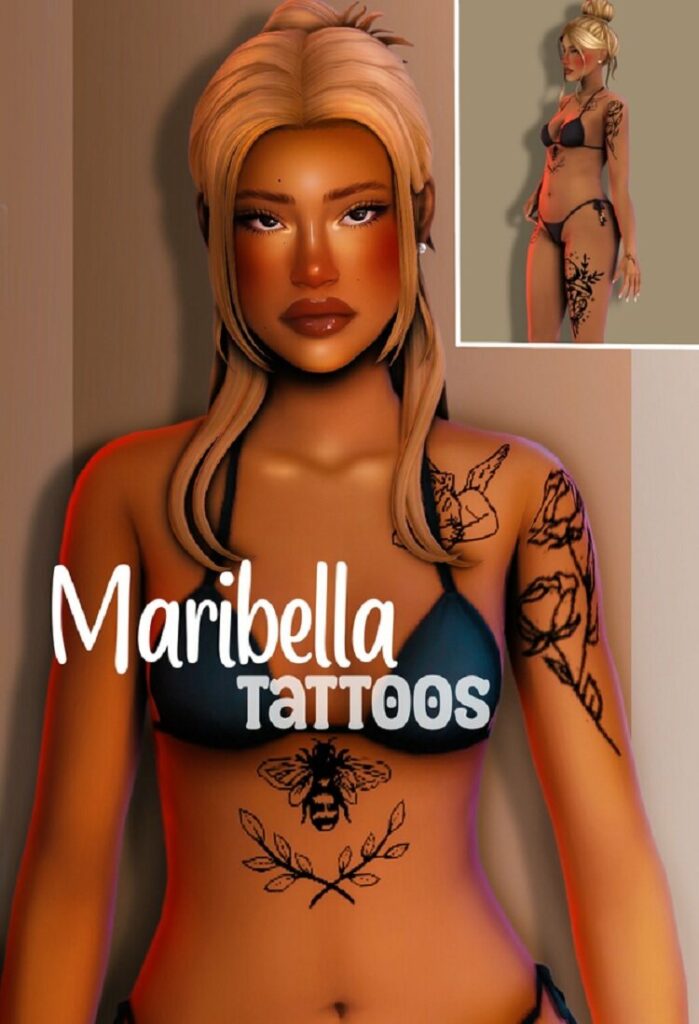 Looking for both gender-neutral and aesthetically pleasing tattoos for your Sims? Look nowhere else! This collection includes eight gorgeous tattoos that are appropriate for all genders.
You can combine and match these lovely designs in any way you choose because three distinct locations are accessible in the tattoo category. This collection gives various options to create distinctive and personalized designs, whether you like to adorn your Sim's arms, legs, or any other favored spot.
31. Mediocre Tats Collection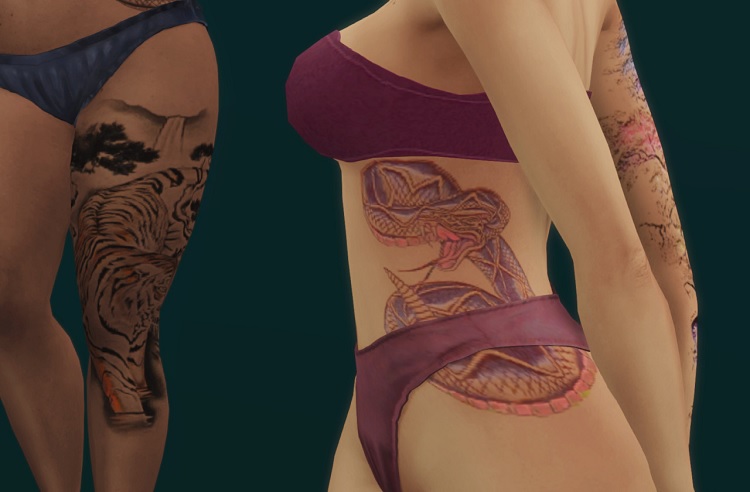 With the help of this fantastic unisex tattoo CC pack, let your Sims' rebellious side shine. With a staggering 40 swatches, this set offers countless possibilities for combining unique tattoos.
The creator's meticulous attention to detail in recreating the genuine essence of amateur tattoo artwork is one of the pack's noteworthy qualities. The tattoos' purposeful imperfection lends them a feeling of authenticity and individuality, allowing them to exhibit their rebellious attitude with a dash of unpolished craftsmanship.
Conclusion
Players looking to enhance their virtual worlds with more creativity and customization will find The Sims 4 Tattoo CC a priceless resource. Players can explore various tattoo designs and express their uniqueness in ways that weren't before possible, thanks to this particular type of personalized content.
The option for players to decorate their Sims with elaborate decorations and significant symbols improves the game's visual appeal and enables more in-depth character and plot development. The possibilities range from vivid wrist tattoos to colorful sleeves.
The ever-expanding Tattoo CC library ensures that users can always discover new ways to express themselves as the community thrives and develops. Therefore, The Sims 4 Tattoo CC opens up a world of limitless creativity, making each Sim's journey a unique and unforgettable experience, whether you're looking to create a fashion statement, remember a significant event, or add a bit of personal flare.
FAQs
How do you get tattoos on Sims 4?
Custom content (CC) tattoos made by the Sims 4 community can be used to receive tattoos in Sims 4. You can download and install these CC tattoos in your game so that you can use the Create-a-Sim (CAS) option to apply them.
What Sims 4 packs have tattoos?
There are no approved tattoo packs in The Sims 4 basic game. Tattoos, however, might be included in some expansion packs, game packs, and goods packs. For instance, the expansion packs "Get Famous" and "Island Living" offers new tattoo possibilities.
Can you be a tattoo artist in Sims 4?
Players can construct their tales and roleplay as tattoo artists using modifications or original material, even though the Sims 4 standard game does not include a specific professional path for tattoo artists. Some mods or additional content let users open tattoo parlors, tattoo Sims as a service, or even have the opportunity to play as a tattoo artist. These mods or unique content can improve the gaming experience and let them work as a tattoo artist.