The Sims 4 has some fantastic mansions for your Sims to live in. You can buy either of these and live your dream luxury lifestyle. Many creators have come up with some great house plans so that you can find a mansion that matches your choice and needs the best. These can also give you some fantastic mansion ideas if you want to design one of your own. Here is a best of some of the best Sims 4 mansions:
Best Sims 4 mansions
Elouise
This house is excellent as it is massive and spacious. It comes with two bathrooms and bedrooms, a kitchen, a dining area, and a living room. Basically, this lot is for Sims, millionaires who have enough money to spend on a lavish mansion. It is also very well designed and impressive. The size of this house is 40×30, so you can even grow trees in it. In brief, this house almost looks like a 5-star hotel and, similarly, comes with a fountain and swimming pool.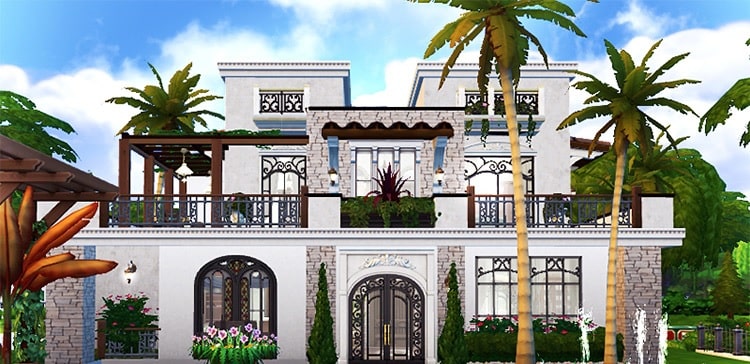 Kaylyn
This house is all about comfort and will make you feel at home. It has a cottage-core vibe and is yet elegantly designed. Altogether, it looks like a Disney princess's house and has a magical vibe. In addition, its size is a 30×20 lot and is fully furnished.
Mid-Century 3
This is a very modern mansion and a well-built house. It has ceilings which are very high and windows which go from floor to the top. These windows make the home very airy and bright. In addition, it also has a fantastic interior design, a pool, and decks.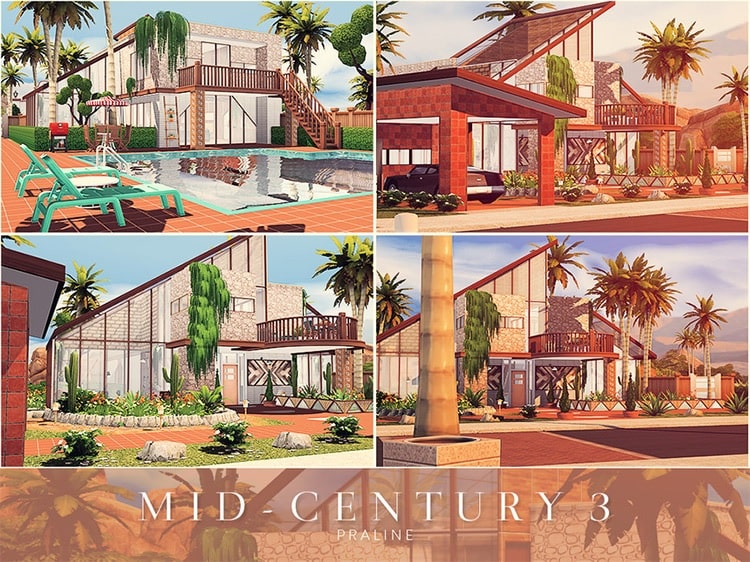 Shuang
This house has an ancient and vintage vibe to it. It is mainly made out of wood and is a Chinese-inspired house. It has some fountains and lanterns which make the house look beautiful. It also comes with a living room, a kitchen, dining room, an office, library, two bedrooms, and one bathroom. If you need a functional and practical house to live in, this one is perfect.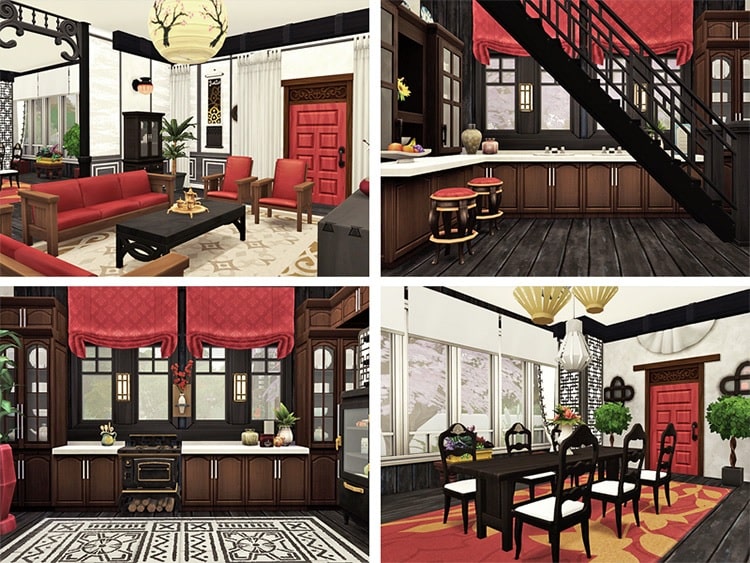 Family mansion
As the name suggests, this mansion is perfect if you have a big family. It has five bedrooms, two bathrooms along four floors. This house is consequently enormous and has a size of 64×64. At the same time, this size makes the place very fun and lavish to live in. It also has a fantastic interior design and is primarily white with some accent colors. A modern-themed design is what inspired this house.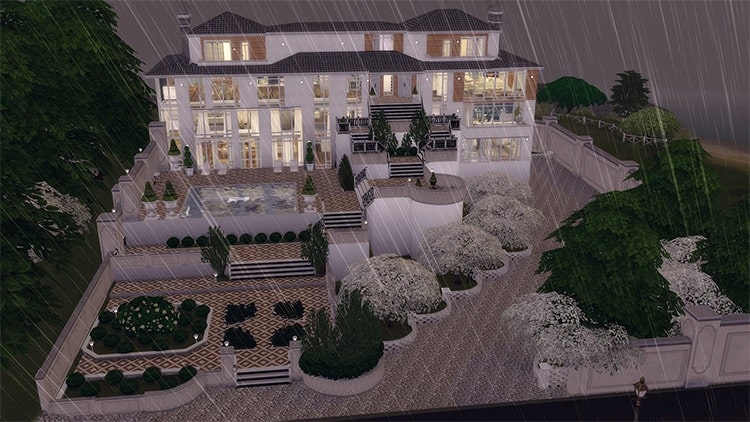 Moroccan mansion
Moroccan houses inspire this mansion's layout. In brief, it has a fantastic interior design and is mainly made up of vibrant furniture. Furthermore, it also has traditional Moroccan furniture, indoor plants, and fabulous house decor. Furthermore, it also has three bedrooms, two bathrooms, one living room, kitchen, dining room, Facio and even a pool.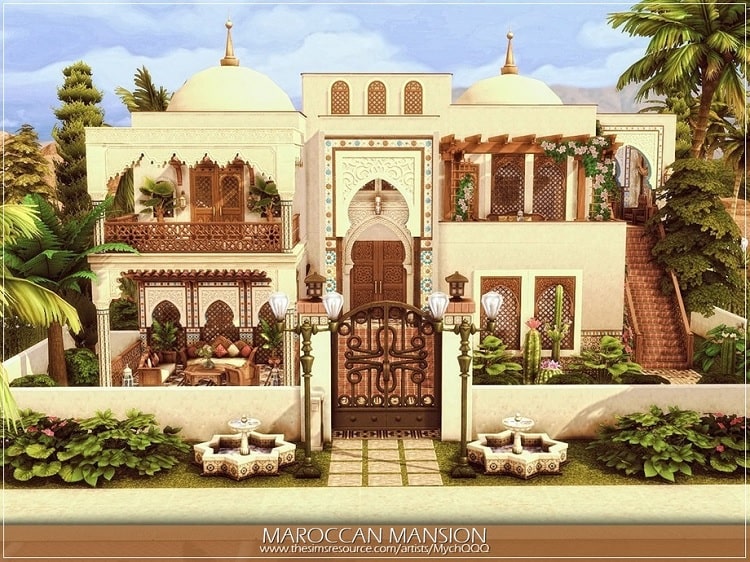 Japanese beauty villa
Japanese houses inspire this house. Similarly, mainly wood and semi-modern architectural design make up this house. Furthermore, it is very well-balanced and has some fantastic natural accents. It also has a pond along with a bridge outside. In brief, this house almost looks like it is out of a fantasy.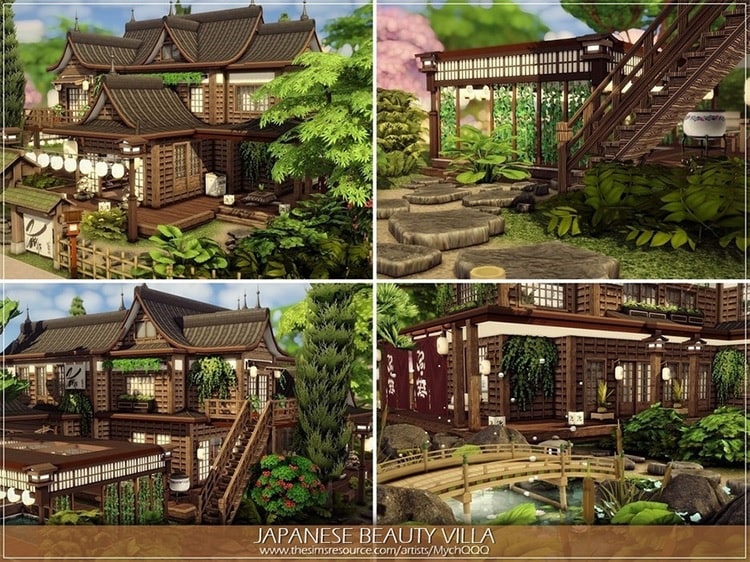 Nova
If you want to feel like you're living a lavish life, then this house is the one for you. It has huge glass windows all around the house. Moreover, it looks gorgeous as it has a very minimalistic design. It has some fantastic furniture along with a pool outside.
Royal palm mansion
Palm trees cover this mansion. It has a very majestic and annoying vibe to it. Generally, this is a vast house and takes up an area of 64×64. It has three bedrooms, five bathrooms, an expansive front yard, and many trees that almost look like a forest.
Christmas in the mountains
This house is perfect if you live at a higher altitude. During snows, it almost looks like it is out of a movie. It is very cozy and also very functional to live in. It is in the woods, so you can also use it a get away from your daily chaotic life.
Athletes luxury home
The houses of athletes are what inspired this house. This house has seven bathrooms coupled with four bedrooms. It is built on the hills of a valley and has a very majestic look to it. If you have dreams of living in a luxury house that is also very functional, then this mansion is perfect for you.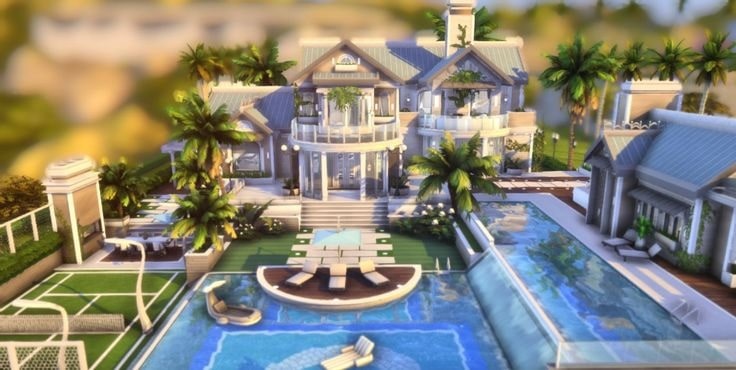 Gingerbread dream
This lot is a very unique and fun mansion. It is identical to the gingerbread houses that we make during Christmas. Therefore, this mansion is also perfect for Christm s. In brief, it is very magical and fun to live in. It is built primarily out of wood and is red and brown, just like gingerbread houses. Due to this, you will feel like you live in a Disney movie with this house. It also has some great interior design details which will blow your mind.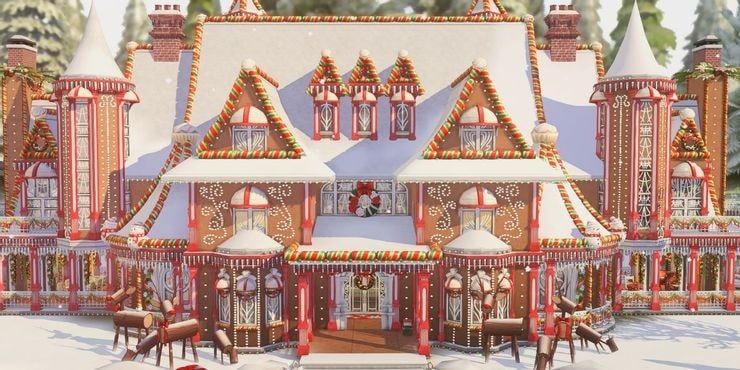 What a lovely mansion
This house is light blue and is in the middle of a fantastic place filled with nature. It is designed elegantly and feels very Royal and fan-y. Many plants and flowers decorate this house, and it's perfect to live in permanently.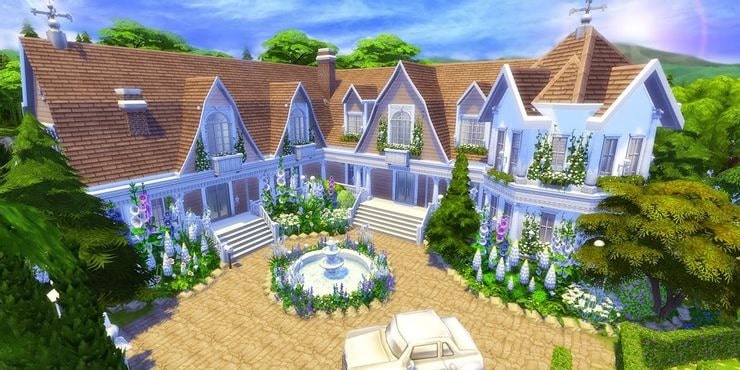 Lake house
This house is fantastic as it is built around the lake. Furthermore, it also has a few lotuses in the lake, making it look majestic. It has a massive terrace. Therefore, you can hold your barbeque parties over there. This house has a great pond around it filled with water. The view of this house is fantastic, and it is made in a rustic-inspired interior design. In addition, it also has a very open space, so it is very airy and light.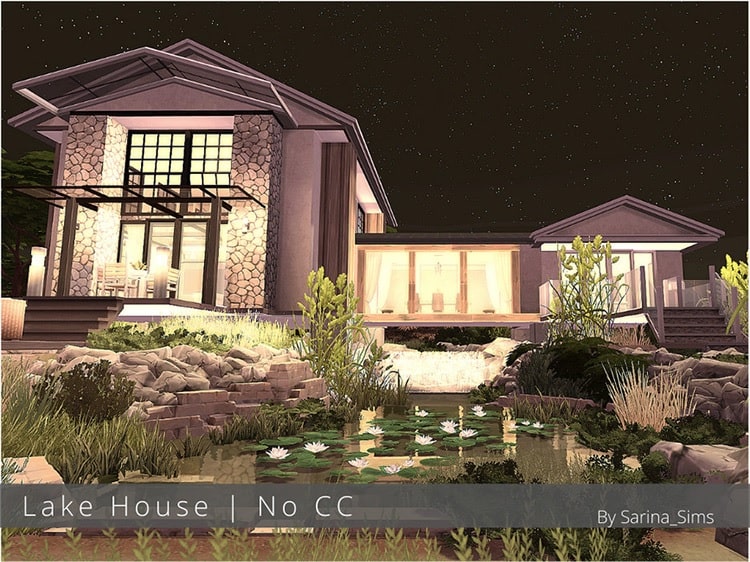 Larmo
This house is very dark and modern. It has some fantastic interior design and also beautiful furniture. It is very classy and luxurious. Therefore, if you are a millionaire, this house will suit you. It also has some jungle-like designs outside the home, which helps you stay connected with nature. This house is also very open and reflects a lot of sunlight.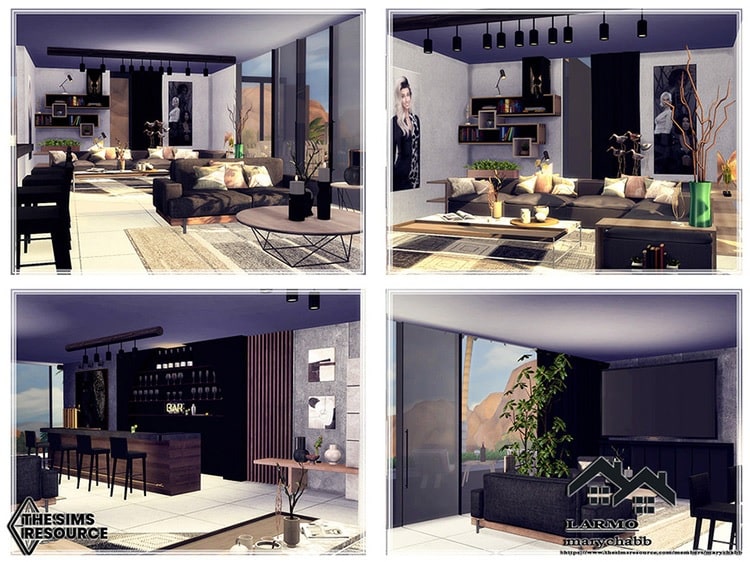 We can come to the end of this list about the best Sims 4 mansions. We hope that this list helps you find some fantastic mansions for your Sims to live in.