Sims 4 allows its users to be as autonomous as possible. Therefore, there is even a function in the game where you can design your own house. However, people faced some trouble as the houses did not turn out as expected. Since this is a game, we cannot make precisely the type of house that we have in our head into the game. Therefore, you can use Sims 4 house layouts to solve this problem. These layouts will give you a few templates, making it easier to build your dream house. These templates take away all the hard work from you and make it easier for you to craft your home.
More about the Sims 4 house layouts
Not everyone knows how to build a house from scratch. You have to consider various things and a lot of time that you have to spend to draft a design. Therefore, if you do not want to, using a template is the best. A template will make the start of your house building process a lot easier. It will give you some more layout ideas. There are also various pre-built houses that you can get and stay in. This layout takes away a lot of hard work and helps you get to your home quickly.
You will get almost everything you may need for your house in one template. It will provide you with various house ranges in square footage, blueprint sizes, floor plans, different stories and floors, Multiple rooms, home decor, and layout designs. The house templates take no time to prepare. Therefore, you can use them right after you buy them.
The number of rooms you get in your template will not get added to the original number of rooms you had. For example, if you originally had three rooms and the template that you get has four rooms. Then only one room will get added to your house. In brief, the total number of rooms will be a combination of the default rooms and the rooms in the template.
If you are moving into an apartment already occupied with a house, you will consequently have to empty the house. However, if you empty the house, you might lose all of your old items. For this, you can click on the 'bulldoze' button. This button will save all your old house items into your storage in build/buy. You can now empty the house on the land and take your stuff back from the storage.
If you place this house on land you have already bought, you will have to repay the exact amount you initially paid. In brief, you will have to repurchase the land when you build a house.
You can also get layouts of different themes, for example, cottage floor plan. You can also get various mansion layouts and house layouts. These will also come with a few house blueprints. These easy Sims 4 house blueprints will make it very easy for you to browse around your house and understand its layout easily. The Sims 4 floorplans will give you a visual explanation of the structure of your home and where the location of everything in your place is. This floorplan will make your house look a lot more organised and clear.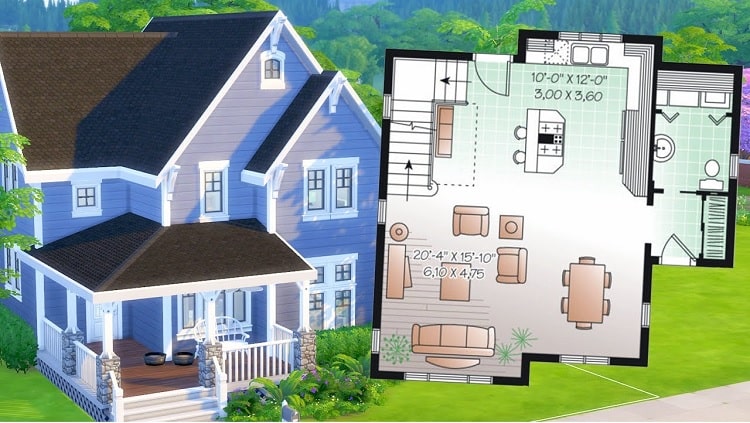 Where to find the Sims 4 house layouts
You can find these house layouts after completing player level two if you wish to get them. All you need to do is Switch to build mode. After this, you will see an icon at the bottom right of your screen. This icon will look like a house on a scroll of paper. Once you click on this icon, it will take you to a catalogue. This catalogue will consist of a few sample designer homes. Here you can go through all available house plans and even take a tour inside them before buying them.
Once you have decided on the house you want to buy; you need to click on the purchase and apply button. This button will clear your current apartment or house and replace it with the new home you just got. The size of the house also matters. For example, if the size of your land is smaller than the size of the house template, you will not be able to place your house on that land.
This article was all about the Sims 4 house layouts. We hope this article helps you understand more about these templates and makes building your dream Sims 4 house easier.