No one can stop their sims from aging up unless you use cheats, but where's the fun in that? Aging up your sim is quite a natural process, and it lets you in on all the phases of their life. However, there's a proper way for your sim to grow up, and even though they might physically look the same, their age would increase.
So when it comes to your characters aging up, that's when the Sims 4 birthday cake comes into play. In this article, we'll discuss how and why a birthday cake is essential for this aspect of the game.
How to Get Birthday Cake Sims 4?
A birthday cake Sims 4 is an essential part of the process of your sims aging up, and if you're wondering where do I get birthday cake Sims 4? then I have some bad news for you. Earlier it was easy to purchase the cake from the "buy mode," but in Sims 4, things are slightly different. Your sim must bake a cake themselves by choosing one from the options available, which depends on their cooking skills. Even though it's not an easy thing to do, it still adds a realistic touch to the game and also brings forth an emotional bond that you and your sims share.
Sims who have the Dine Out pack installed can buy a birthday cake by ordering it from a restaurant, and once they click on the restaurant table they are seated at, it will be instantly delivered to them.
To make a birthday cake, navigate to your avatar's fridge and click on "cook." Several options would appear for your sim to cook based on their cooking level. Once you choose a cake from those options, your persona will start preparing it. Those with gourmet cooking skills can even go ahead and bake a gourmet cake. Once it is baked, you must place it on a countertop or a flat surface; otherwise, it won't work.
Here's a list of the types of birthday cakes that the game offers you –
Chocolate
White
Hamburger (for those who have the Digital Deluxe game)
Blue Confetti
Strawberry
Honey (if you're into beekeeping)
SimCity Cheesecake
Now, if you're baking a cake, it's important to have a proper birthday celebration for your sim. So invite other sims as well to your house and throw birthday party. Some sims go out of their way and wish to celebrate their birthday in a grand way by hiring a venue and caterers to manage everything; however, there's no guarantee that the caterers will bake a cake for your character.
In some cases, they do offer one, and you'll only get the option to add candles to it, but the chances of this happening are really sim. Also, the caterers aren't going to let you boss them around and would do things the way they want, so it's not the best option to go for.
How to Blow Out Candles Sims 4?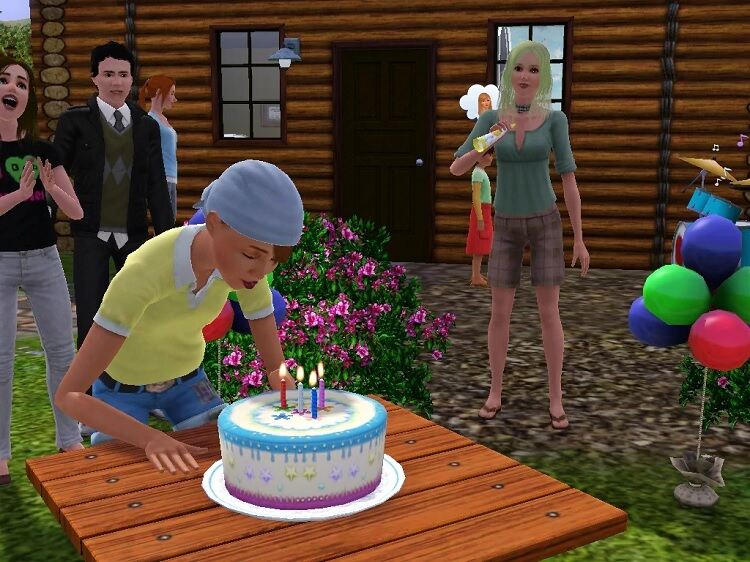 A birthday cake is incomplete without candles; therefore, click on the cake you've baked and select "add birthday candles." Your avatar would now be able to add candles that cost $10 to it, but toddlers and baby sims can't do this on their own. You can also pack the cake after adding the candles to use it later by clicking on the "Put in Inventory" option.
Once the candles have been added, click on the sim whose birthday it is, if they are a teen, young adult, or adult, to blow out the candles. You'll see three options appear before you: Make a Wish, Blow Out Candles, or Taste a Frosting, which means only one thing that your sims would blow out the candles, so you can choose any of these options. After they blow out the candles and take the first slice of the cake, others can follow suit and get a piece of cake for themselves.
In the case of toddlers, click on the cake and choose the option "ask for help to blow out candles," and you can now select any other sim to help out your child sim. You could also click on a sim and select the "help blow out candles" option and choose the child sim you want to age up. Now that sim would carry your toddler to the cake, and then they'll blow out the candles.
Babies don't age up by blowing out candles; all you have to do is click on their bassinet and select the "age up" option.
When it comes to elder sims, they can't be aged up through a cake or celebration.
You can celebrate your character's birthday for only 2 in-game hours because, after that, the candles wouldn't be lit, so neither can the sim blow out the candles or host birthday parties. Once the candles are blown out, the cake would become a regular one, which would stay fresh but eventually spoil if it's left out for quite some time, like any other food item in the game.
Sims were earlier facing an issue at times when it came to adding the candles part because of some bug. It was because either the cake was baked by a group of sims or mods were used for baking it. In any case, Patch 1.82.99/1.50 fixed this issue.
More About Birthday Cake Cheat
You can celebrate birthday of your sim any day, but their official birthday is marked on the calendar. So if you age up your sim on some other day, they'll also age up on the day their actual birthday falls, according to the game. Basically, you'll be increasing the rate at which they grow up if you celebrate their birthday before the date marked on the calendar.
In addition, if you forget your sim's birthday, they'll receive a "Forgotten Birthday" moodlet, and it's not a good feeling for them, so make sure you remember their birthday and plan a party for them.
However, baking a cake and throwing a party aren't prerequisites for your sim to age up because they'll do so regardless of these things. To stop your sim from aging on its own, go to the Gameplay Settings and disable the "Auto Age" option or change your sim's lifespan to 'long.'
Faqs
Why can't bake a birthday cake in The Sims 4?
Weirdly enough, the baking skill in the game doesn't offer cakes, but you can find them in the gourmet or cooking category. If you're at level 1 in cooking skills, you can only make chocolate or vanilla cakes; however, as you get more skilled, other options would open up as well.
Conclusion
Since sim is a virtual reality simulation, aging up is a part of that aspect because, like in real life, even your characters in the game would also grow up from a child to an elder, and that's the beauty of this game.
You can emotionally connect with your characters and share special moments with them, such as celebrating their birthday with a Sims 4 birthday cake that your sim made on their own. So instead of using cheats to stop your sim from aging, let the natural process take its course and enjoy your time with your sim.