Sims 4 is an online social simulation game that allows users to make their mods to make the game more fun and interesting to play. The Sims 4 apartment mod will enable you to live in an apartment complex and have neighbours. Usually, you will have six neighbours. You can buy apartments, sell them or even rent them with the help of the rent mod.
More about the Sims 4 apartment mod
Here are a few of the features of the Sims 4 apartments cc:
This mod allows you to choose your old apartment from anywhere in the city.
Once you select the apartment building you want to live in; you will see an up/down arrow sign.
If you click on the sign, you will browse through the entire building.
You can look through all the building floors and then decide which one you want.
If you get an apartment on a higher level of the building, then the price of the apartment will be more, and if you get an apartment on a lower floor of the building, then the price will be lesser.
How to use The Sims 4 apartment building mod
We have given the steps to use this Sims 4 apartment mod below:
Download the "all cheats" mod created by a modder named "twisted Mexican".
Once you have installed this mod, Register your account on the Sims 4 studio website.
Install the "city living" custom content.
Go to the "apartment building cheats" window and enable the "teatstingheats".
Stand in the centre of an empty apartment if you want better results.
Do not log out of the game and open the program.
Click on the Option that says 'object'.
Next to the 'game pack', there will be a drop-down menu; click on it.
After you click on a downward-facing arrow, You will see the "city living" option. Click on that option.
Browse all of the buildings and when you like one, drag your mouse on it. Once you do that, you will notice alphanumeric characters.
In the cheat window type ''objects.gsi_create_obj 0x(enter Object ID)'' and click on 'enter'.
Once you have done this, they will place the apartment building on your lot.
If you wish to make any changes to this apartment building, You can use the build apartments in Sims 4 mod.
Once you finish decorating the building, You can save it by clicking on the floor.
If you want to bring your Sim to that floor, you can do so by clicking on the 'teleport' option.
Best free apartment mods that you can download
There are many free apartment mods available in the game. However, choosing between them can be difficult; therefore, here is a list of the 11 Best Sims 4 apartments mods that you should install:
Twilight Dusk Apartment
This lot is the best and most functional apartment mod you could get in Sims 4. This apartment looks beautiful and is also very easy to access. Above all, it has a very luxurious look and is one of the most expensive lots in the game. In detail, the apartment is also blessed with great glass walls, making it look very big and spacious. In addition, it also has a pool, a terrace, a garden and a lot of space.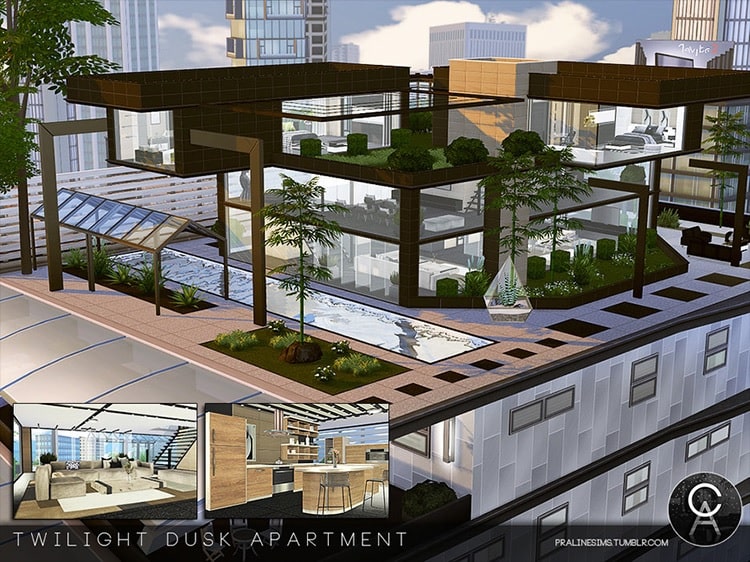 More FRIENDS Apartments (Better Central Perk)
The inspiration for this apartment lot was the tv series "friends". This lot is a very rare apartment lot located in one of the city's most expensive areas. These apartments have some fun details, making them so great and fun. One of the most amazing features of this apartment is a weird dog statue. This apartment consists of three empty floors, which is great because you can style it however you want to without any trouble.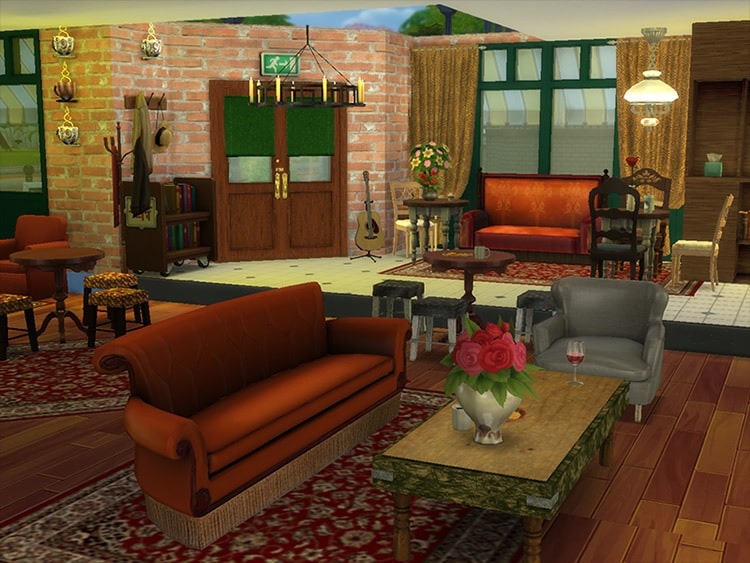 Modern Contemporary Apartment
This lot is one of the most architecturally Pleasing apartments in the game. It has a great modern aesthetic to it. Its design is very striking and attractive, and it also has great height. The apartment is very elegantly decorated and has a very light feeling. This feeling comes to you because they have decorated it with light colours like white, grey, green and Beige.
However, this apartment also has darker colours that complement the light colours perfectly. The amenities in this apartment are like no other. They have fully equipped this apartment with a pool, gym, tennis and basketball court, a cafe, a library, and a courtyard area where you can sit and hang out with your neighbours.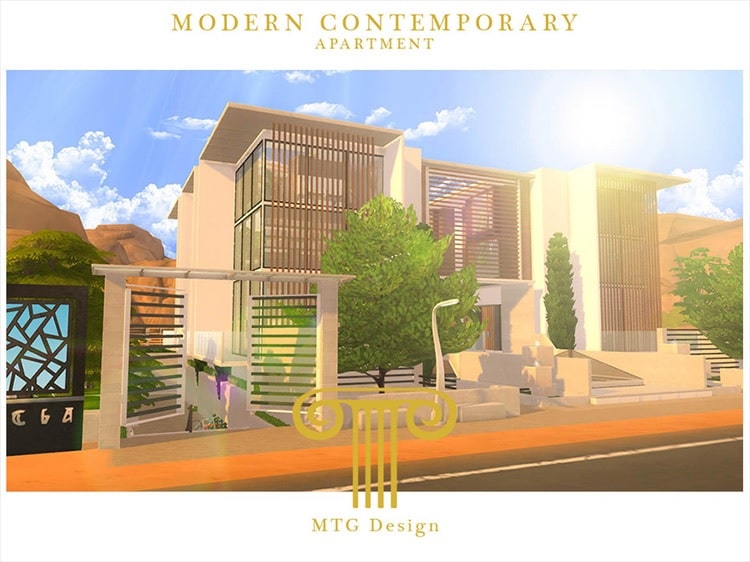 Luxury Apartment
Just like its name, this is an extremely luxurious apartment. It is a penthouse built in the city's heart with an overwhelming view. It has two floors with a beautiful terrace and a pool on the balcony. To emphasize, the interior design of this apartment is very classy and elegant and is designed in a very minimalistic manner using the best quality material. This apartment will spoil you. It has a huge television, glass panel walls and a lot of space.
Marvellous Maisel Apartment
The inspiration for this apartment was the upper west side of New York City. It consists of a beautiful living room with a great TV in the centre, five bedrooms, a large living room, a lovely dining area and three bathrooms. This apartment is perfect if you are a person who has a lot of members in your family.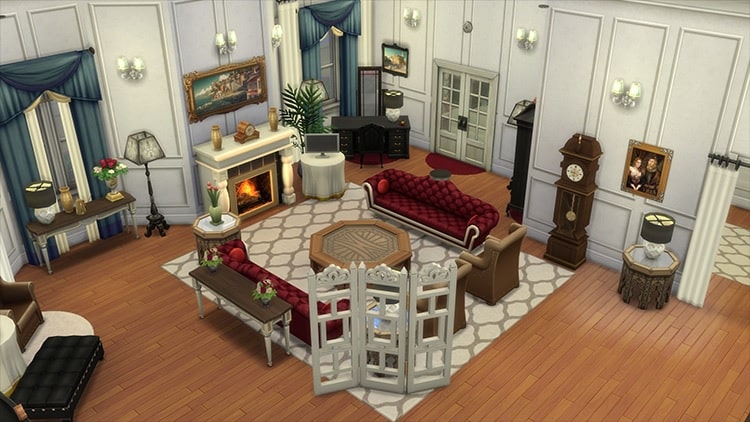 The Colour Castle from Rainbow Brite
If you love colours, then this apartment lot is perfect for you. This apartment is beautifully decorated with many colours and is one of the best apartments in the city. This apartment is truly a work of art. It is almost like a castle for kids to live in; however, it also looks mature. This apartment has two huge entrances, making you feel like living in a magical castle. This apartment is also great for parties.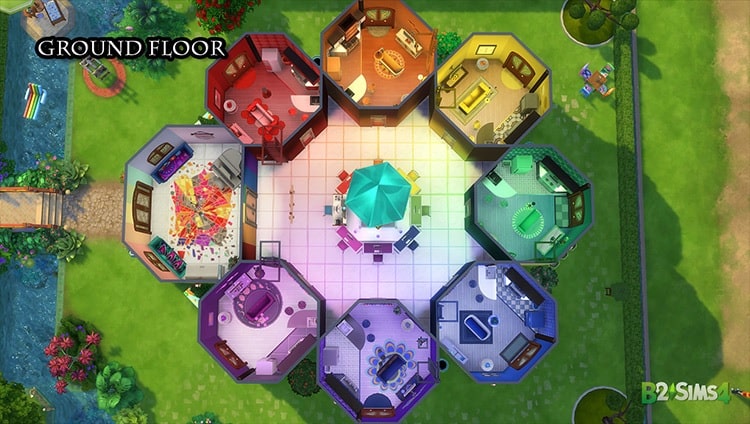 Community Alley Cafe
When you are living in an apartment, it can often get lonely. However, this apartment is the best choice if you like to be surrounded by people. This apartment consists of a cafe. It has two apartment unit blocks, with a restaurant in the middle of them. It is covered by benches and lambs all over and is great for people just to walk around, hang out and socialise with each other.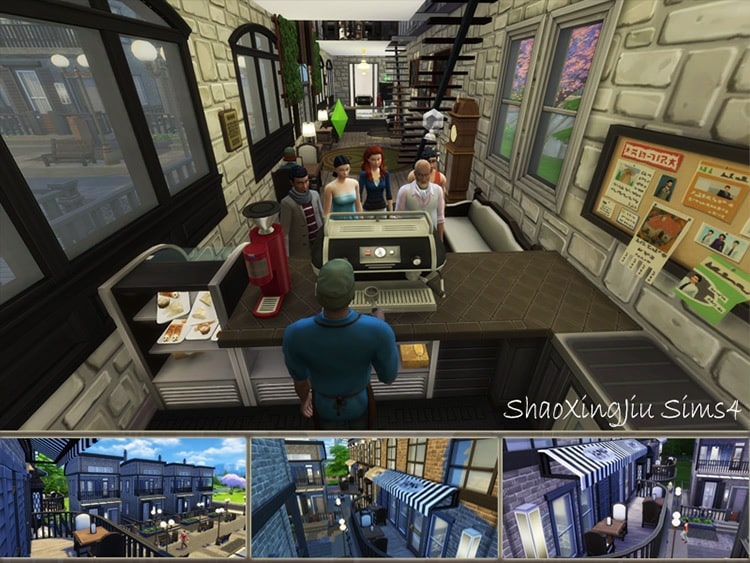 Nocturne + restaurant
If you are a person that loves food and loves to go out with your family and friends to eat, then this lot is perfect for you. If you get this apartment, you will be blessed with an elegant restaurant under your apartment. This lot will make it so much easier for you to go down and eat in the restaurant whenever you want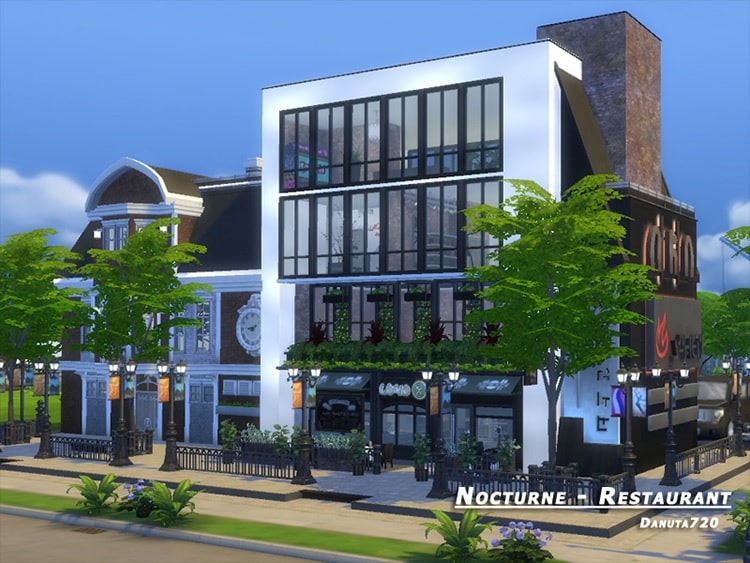 Apartamentos Gran Via
This apartment is very comfortable. It is very luxurious and almost looks like a villa. They have adorned this apartment with beautiful decorations like rugs, walk-in closets, great furniture and textured walls. These building houses have four total flats in them. The bathrooms of this apartment are also great and have tiles with beautiful colours.
SLRN Apartment Complex
If you want to experience the feeling of living in an apartment, you should get this lot. This lot has three floors with elevators, 11 building units, a studio size two-bedroom penthouse, and many more. This apartment is greatly furnished and has beautiful decor which will catch your eye. There are amazing amenities in the apartment like a pool, hot tub, gym, garden, play area, and a place to walk around and hang out with your friends.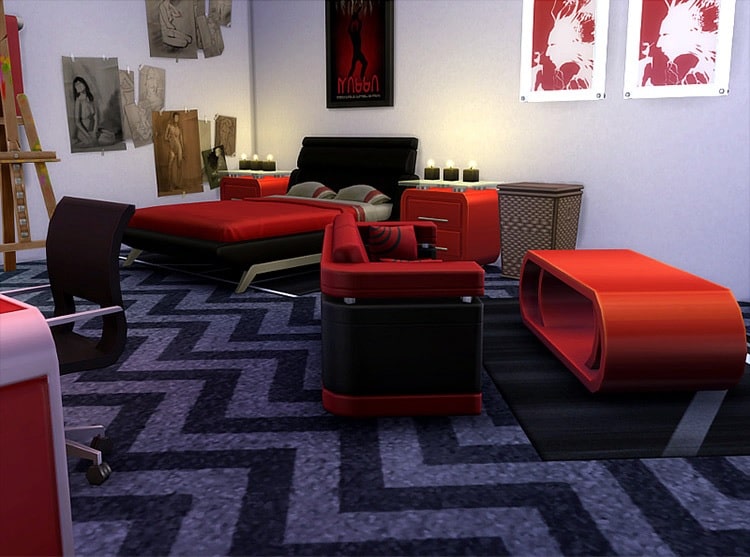 Sky Tower
This house makes you feel like you live in the city's suburbs while still living in it. This lot is a penthouse that is beautiful and luxurious. It is also very spacious and comfortable and has three huge floors and very high ceilings. The lot has various amenities like a basketball court, a gym, a pool, a beautiful and calming rooftop area, and a courtyard. A few other things that this apartment has are three big bedrooms, two lounges and a computer room.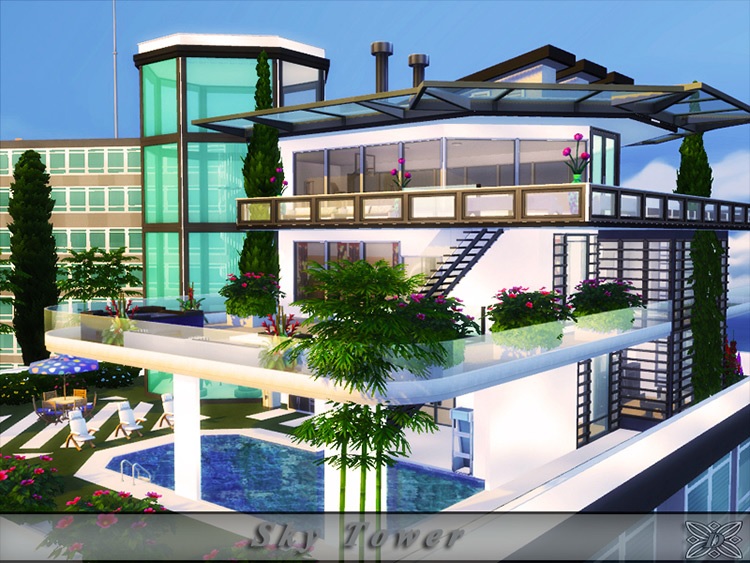 Sims 4 Apartment Building: T.O.O.L
T.O.O.L is a short form for "takes objects off the lot". This mod simply allows you to access everything you wish to do or change in your apartment. You can completely change all the objects and furniture in the apartment and make it how you would want it to be. Some of the features of this mod are listed below:
10×10 Grid Visualizer: When you move the objects in your apartment, you will come across a grid visualiser, making it easier to make changes. If you don't want the great visualiser's advanced version, you can choose the normal one from the settings.
Snap to Terrain: This feature will help you retain your height from the ground.
Point and Click Move: With the help of this feature, you can click on any object that you wish to more than the apartment and drag it to your desired place.
Snap Camera to Object: You can position the camera at whatever angle you want to with the help of this feature.
Things to consider while using the Sims 4 apartment mod
When you wish to use this mod, you can access it easily by using the cheat code ''testingcheats true'.
To access the 'Redo/Undo' choices and the settings menu, hold down 'shift' and click on the 'ground'.
If you want to see the visualised version of the objects, you can see them in the settings.
To move objects, use coordinates in the form (x, y).
To make it easier to track the items, move the camera along with them.
How to install the Sims 4 apartment mod
If you want to install this mod, follow the steps below:
First, install the 'ts4script" and the T.O.O.L package.
Save these files in your mod folder as usual.
Turn on your mods from the gameplay option.
Sims 4 landlord mod
This landlord mod has various types to it. They are listed below:
Sims 4 Apartments & Roommates Fix Mod
If you want to install this mod, follow the steps below:
To get money to buy rentals, install "NSaas SP."
Click on the "real estate" menu.
Click on "Purchase rental lot."
Choose a property.
Once you choose the apartment you want to rent, you will see a receipt containing the rent and the pet fees from each of the NPC roommates.
You will also be allowed to collect rent from a very big complex with many people living in it—the more roommates you have, the more money you will earn.
Once you get this mod, they will deduct the rental fees automatically from your overall expenses.
Tenant and landlord mod: 2022
A few features of this mod are listed below:
View: This feature will help you get information about everything in the apartment, such as its price, landlord name, etc.
Buy this lot: With the help of this feature, you can click on the apartment that you want to buy and purchase.
Sell this lot: You can sell your apartment with this feature.
Set me the owner: You will become a landlord yourself with this feature.
Rental fee: With the help of this feature, you can make any kind of change in the apartment prices.
Transfer ownership: This feature will allow you to transfer your apartment to any other Sim in your household.
Term of payment: The landlords can adjust the duration of the costs according to themselves with the help of this feature.
Instructions to play the game with this mod
Buy a residential deed.
Select the "set me the owner" option.
Select the "set this lot" option.
Choose a buyer for your property, and you will get the payment.
If you are the landlord, you can also set conditions for the amount.
How to uninstall the Sims 4 landlord mod
Remove the ownership of your apartment from your apartments download folder.
You can also play as a tenant in the apartment.
Once you have done the above two steps, you can now uninstall the mod.
The Sims 4 apartment mod truly makes it feel like you live in a city. This cc is one of the most realistic mods in the game and makes you feel like you live in your dream house. The best thing about this mod is that it gives you all the freedom to do whatever you want with your apartment!
Faqs
Can you build apartments in sims 4 city living?
Yes, you can build apartments in sims 4 city living!
How to make apartments in sims 4?
You can make apartments and live in them in Sims 4 by downloading the "Sims 4 apartment mod."