One of the integral parts of the Sims 4 gameplay is the advancement of the characters' skills.
There are many approaches to quicken the process of leveling up your character.
Leveling up quickly has various benefits, such as being able to avoid the arduous task of time-consuming slow level-ups and less progress.
This article will take you through numerous ways to quickly achieve your desired skill level!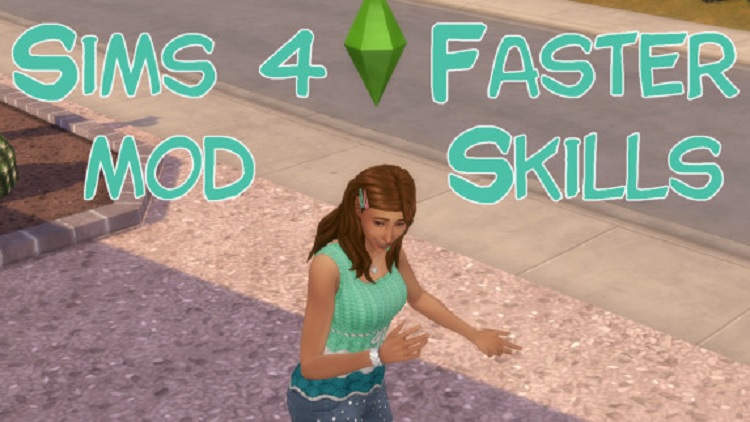 How To Use Skills Faster Mod!
The quickest way to max out all your skills is to use the cheats, allowing you to instantly reach the highest possible levels.
But for those who wish to use something other than cheats, the best approach is to install mods.
The best mod we recommend/recommended is the "Faster Skills" mod found here:
Known issue With The Mod
If we remove the mod, the Sims' skills will revert to their original state and will not be affected by it.
It is due to how the mod is designed, and there is no way to restore the changes made by the mod.
How to download and install this mod
Click on the link to the website and download it.
Copy and paste its contents to the mod folder, which we can find in the Sims 4 game files.
Created by "AmkiTakk," it is the most straightforward mod out there on the internet, and all it does is quicken the learning rate of your sim character.
It also offers different learning rates from x2 to x64.
Further instruction on how to choose the learning rate is given on the mod website.
For the Base Pack of the game
1. Bonus Traits from Aspirations:
They use the traits available from aspirations. Knowledge aspirations provide the "Quick Learner" trait, and Creativity aspirations offer the "Muser" trait.
We recommend the latter for most cases.
2. Likes (and Dislikes):
Likes and dislikes can determine the learning rate of your character.
3. Attributes from Reward Stores:
These can increase the learning rate depending on time or even increase the rate for all skills.
4. Lot Traits:
Certain lot traits can increase gain for specific skills.
Hence depending on your skill of choice, find, try, and acquire the appropriate lot trait.
5. Appropriate Mood:
Similarly, certain moods favor skill gains. Having your Sim in the proper air will boost your skill gain.
6. Reward Traits from child Aspirations:
Certain reward traits are present if your Sim has completed its childhood aspirations and gets a boost in skill gain for its target categories.
7. Vicarious and Matriarch/Patriarch Aspiration Reward Traits:
Two aspirations can provide skill boosts for Sims with kids. "Big Happy Family" gives the reward trait "Matriarch," and "Successful Lineage" rewards you with the "Vicarious" trait.
For the Extension Packs of the game
Owning a home that is Tier 1 or 2, i.e., Micro or Tiny, increases your skill gain by 100%.
1. Club Perks:
Club gatherings allow you to buy skill bonuses.
2. Master of Darkness Vampire Perks:
For the Vampire extension pack, the "Master of Darkness" perk will enable you to increase your skill gain.
3. Potion of the Nimble Mind:
If your Sim happens to be a Spellcaster, brewing the "Potion of the Nimble Mind" increases skill whenever consumed.
4. Lifestyles:
Certain lifestyles, such as "Coffee Fanatic," "Frequent Traveller," "Single and Lovin It," and "Techie," offer skill gain with different conditions.
5. CelebuSerums (Celebrity Perk):
After attaining the Level 2 Celebrity (Rising Star) status, you can use the CelebSerums to boost skill gains, although the skills increased will be random.
6. Higher Education Aspiration Reward Trait:
Using the "Academic" aspiration offers you the "Higher Education" reward trait that can increase skill gain using the research machine.
Pro Tips For Learning Skills Faster
1. Get A Mentor:
Using the perk "Mentor" from the reward store, you can increase your Sim's learning rate by four times.
2. Use Special Interactions:
Interacting with other sims can increase your skill boost. It is very evident for occult creatures with the ability to have unique interactions with their fellow Sims.
3. Go To School Or Work With The Sims:
For those who own the "Get to Work" expansion pack, one can choose to send their Sim to work in their active careers alone or accompany them.
The latter increases the chances of increasing the Sim's skill while working. The same applies to Sims, who are high school students.
4. Make The Sims Happy, Inspired, Or Confident:
If you ensure your spirit is feeling positive emotions, their progress in learning increases.
5. Don't Be Afraid To Multitask:
A great way to increase the skills of your Sim is to work on leveling up while fulfilling the Sim's needs.
A rule of thumb would be to use Sim's needs to increase agility whenever possible.
6. Give The Sims The Right Trait:
Choosing the best set of traits when you create your Sim helps them learn skills quickly.
Buying these traits at the reward store is always an option, but choosing the best attributes at the beginning is advisable.
7. Go To Classes:
An effective way for the Sims to learn is to attend classes. The skill of choice can be selected on their phone.
8. Use Cheats:
It lets you instantly max out the skill of your choice or even all of them.
To use cheats, first, you would have to enable cheats for the game and use the code "stats.set_skill_level Major_NAMEOFTHESKILL 10" for different skills.
How to Max All Your Skills at Once in Sims 4
1. Earn Money (But Don't Get a Job Right Away) With Painting and Writing Skills:
Allowing your Sim to work on more non-traditional ways to earn money gives them more time to work on developing their skills.
For example, you can make from painting or writing novels.
Leveling up in these skills allows the Sim to enjoy these creative activities while earning.
Next, you can use this money to buy a computer, a desk, a desk chair, an easel, a bookshelf, and skill books.
These are investments that allow the Sim to acquire new skills, and it is preferred to have the "bookworm" trait to make learning skills easy simply from reading.
Make sure to make your Sim paint when they feel inspired.
Additionally, you can make your Sim write a book or paint when they feel confident. You make them feel optimistic by simply making them brush their teeth.
Also, remember that you have two options to sell your books, "Self-Publish" or "Sell to Publisher." The latter usually has higher returns.
2. Leveling up Cooking and Gourmet Cooking Skills:
Reading a level 1 Cooking skill book increases the Sim's cooking skills several times.
The cooking skill can also be achieved by watching the cooking channel on television.
The cooking skill increases slightly every time we prepare a dish.
The Sim can also work on their Gourmet Cooking skills down the line. Make sure to invest in better cooking equipment too.
3. Additional Tips for Maxing Skills:
After maxing out their painting and writing skills, they pick up skills such as Gardening, Logic, Guitar, Piano, and others.
It is also advisable to buy books, instruments, and other high-skill items. In your pursuits, remember to balance work with fun to avoid making your Sim feel tensed or bored.
Skills and Items Needed
| | |
| --- | --- |
| Skill | Item |
| Charisma | Mirror |
| Cooking | Fridge and stove |
| Fishing | A small pond or body of water |
| Fitness | Pool, treadmill, or weights machine |
| Gardening | Bushes or flowers |
| Gourmet Cooking | Fridge and stove |
| Guitar | Guitar |
| Handiness | Broken or upgradable items (electronics, shower, or toilet) |
| Logic | Chess board or observatory |
| Mischief | Computer (select and choose "Troll the Forums") |
| Mixology | Bar |
| Painting | Easel |
| Photography | n/a (used with Sim's cellphone by clicking "Take Photo") |
| Piano | Piano |
| Programming | Computer (select and choose "Practice Programming") |
| Rocket Science | Rocket (or reach Level 10 of the Astronaut Career) |
| Video Gaming | Computer (choose and select "play game") |
| Violin | Violin |
What are the best skills to have in Sims 4?
Programming
Baking
Guitar
Video Gaming
Fishing
Writing
Handiness
Gardening
Painting
Cooking
FAQs
Can a Sim master all skills?
YES, a Sim can master all skills. All skills have a maximum level of 10; once the Sim achieves it, you cannot further work on the same skill. So work on all skills individually and increase their level to the max!
Conclusion
Just like in real life, skills in the game are a crucial aspect of the game that enriches the experience. Sims can use the skills learned in almost every situation, which only emphasizes their importance. It might seem like a daunting task to master as many skills as possible, but with the help of this article, you can level up the skill of your choice or even all skills to the maximum!