D&D dice are available in various colors, shapes, and sizes. You can find a die pertaining to your budget because of its vast range. It might seem easy to buy dice sets, but that's not the case. There are numerous things you must keep in mind when you're looking for the ideal one. Read further to know more.
D&D Dice Set
There are 4 aspects you should be aware of while choosing dice sets. For instance, a die should start wearing out only after a thousand rolls. Since there are numerous variations of the same, here is how to differentiate them.
Quality – A die made from high-quality material such as high-impact plastics, resins, and hard metals along with great workmanship doesn't degrade over time. They are resistant to breaking, chipping, or cracking. Die-cast dice are another option because of their proper size, as it'll lead to more accuracy. The hand-finishing and removal of excess material around the injection area would ensure that there is no unbalance.
Readability – Dies with big numbers and high contrast in color would avoid confusion during the game. You and the other players would have no difficulty in reading the number it lands on.
Appearance – The looks of a die matter as much as the other aspects. It's better to go for transparent, translucent, or solid-colored sets instead of multi-colored opaque ones as they affect the die's accuracy. Since there isn't any limit to the available color options, you can easily choose your favorite one. Translucent, painted, or solid metal collections are flashy and accurate as well. However, the painted shaker wouldn't be as durable as the others.
Budget – Money would never be a problem while buying a die because their price ranges from $5 to over $100. There's a high probability of discovering a good die set or multi-set packs for under $20.
Types of Dungeons and Dragons Dice
You'd come across some of the best Dungeons and Dragons dice set in the following list.
Dwarven best metal dice set
This collection of metal gaming dice is from Q Workshops. It's heavy-weighted; thus, it throws solid rolls. It's better to use them on a rolling mat or surface to avoid damages. Here are some of its features –
7 pieces in a set ((d4, d6, d8, d10, d12, d20, d100)
High quality with evident numbers
16mm
Excellent appearance and sound
Beneficial in roleplaying and tabletop games along with every RPG game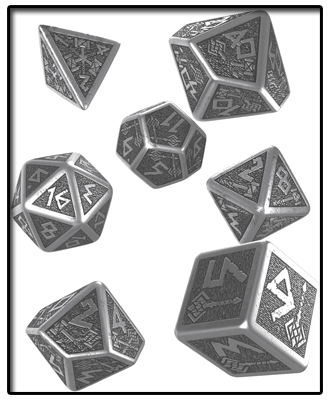 Paladin Roleplaying Silver Metal Die
Similar to the one mentioned above, this metal dice set has a silver finish, so they might be prone to chipping. Its properties are –
Contains 7 pieces of D4, D6, D8, D10, D12, D20
It comes in a display box with foam padding
Easy to read, underscoring on 6 and 9
High accuracy
Exemplary for Dungeons and Dragons, pathfinder, and all role-playing games and wargames
1-year warranty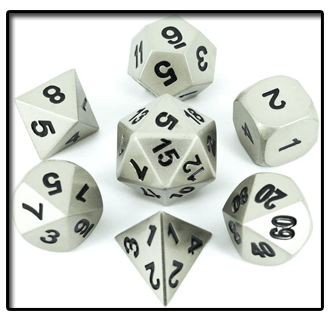 Haxtec Metal
These come under the zinc alloy metal polyhedral dice, but they are quite different from the other similar options.
This sky blue silver set includes D4, D6, D8, D10, D12, D20, D100 sizes.
Easy to read and durable.
It works best for RPGs like D&D, Shadowrun, Savage World, etc.
30-day money back guarantee and replacement option.
Wiz dice series II
If you aren't focused on finding a particular dice, then this option would suit your needs.
It contains 100 random dies in 20 varied colors.
15 dice sets of 7 dice are available in this version.
The material ranges from solid, translucent, glitter, and so on.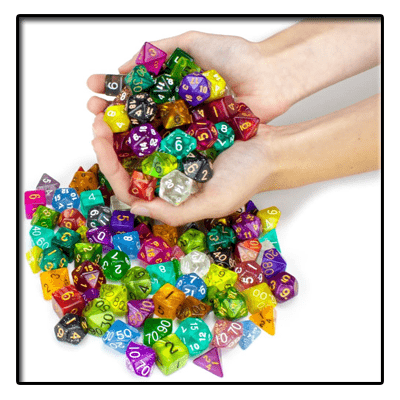 Gemini shaker set
You should turn to Chessex dice if you're looking for the best RPG dice like this one. They also give fierce competition to other die collections in terms of accuracy. However, multi-colored ones might face a balance issue. Some more of its attributes are –
Mixed resin die
Easy to read and straight precision edges
Numerous color choices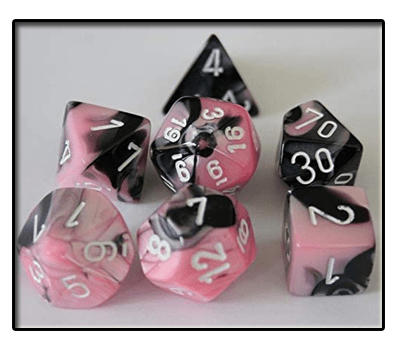 Call of Cthulhu
This one is also from Q Workshops with great quality and is one of the coolest DnD dice. Their weight is lighter as compared to other dies. Other features are as follows –
It constitutes 1 d20, 1 d12, two d10 (00-90 and 0-9), 1 d8, 1 d6, and 1 d4
Small visibility of numbers
Smaller size
No issues regarding wearing off of the numbers.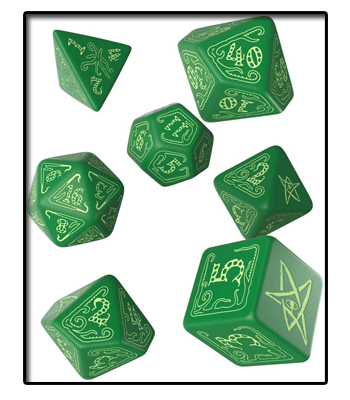 Yellow Mountain Imports
This collection includes most of the dies you'd wish to have. Here is more about it –
126 polyhedral dice
18 different colors
Variety of d4 d6 d8 d10 d12 d20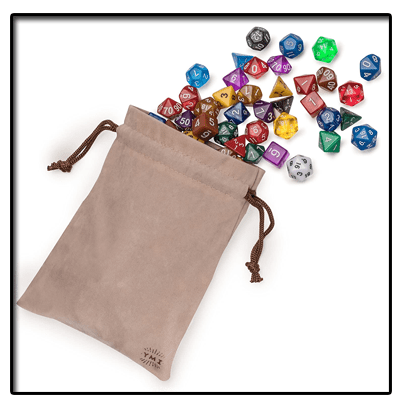 Pound-O selection
If you're looking for a cheap D&D dice, take a look at this one. Check for factory seconds/defects such as air bubbles, minor surface imperfections, etc., while buying it; however, it doesn't affect the precision.
Variety of styles including 6, 8, 10, 12, 20, and 30 sided die.
The distinction in weight is in favor of d6's, d10's, and d20s
speckled, marble, rainbow, opaque and translucent colors
A complete set of 7 in a random color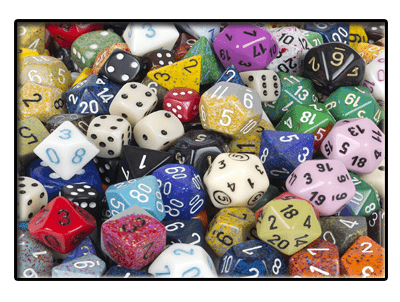 140 dice array: best gaming dice
The die collection by Wiz Dice is considered one of the best D&D dice out there. It's better in every way, be it the appearance, balance, or rolling.
20 sets of high-quality dies
Better color varieties
Guarantee of flawless groups and exchange in case of a defective piece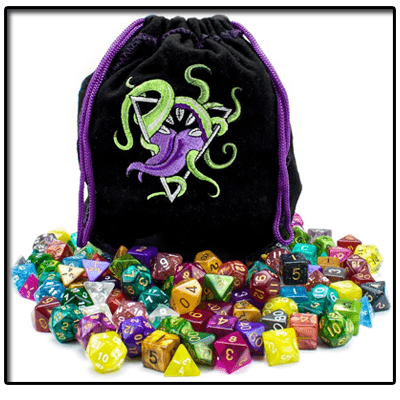 Gold solid metal polyhedral dice
This set is specifically for tabletop, role-playing games, DnD, and Pathfinder RPG. Some other properties of it are –
It consists of D4, D6, D8, D10 (with numbers 0-9), another D10 (marked in tens for percentages), D12, and a D20.
Outstanding readability
A case with a pirate flag on top, small enough to carry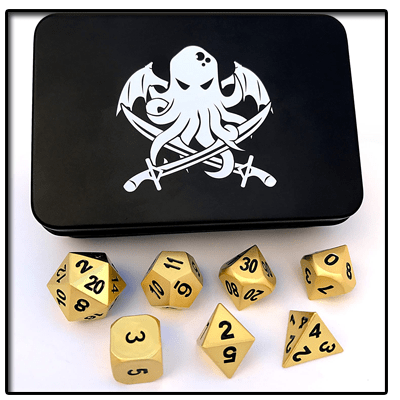 Paxcoo
Packages are always better and, so is this one. Almost every variety of dice is inside this pouch, and it's waiting for you to open it.
7 dice sets with 7 pieces of die in each one: 1 * d20, 1 * d12, 2 * d10, 1 * d8, 1 *d6, 1 * d4 making it a total of 49 dies.
A free drawstring for every pack
7 distinct colors
It's made of acrylic, long-lasting
The shapes of the dies are hexahedron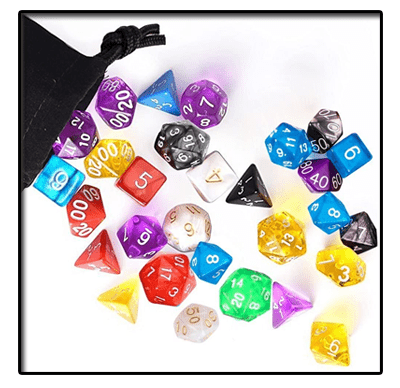 Chessex D6 pack
These are ordinary D6 dice but with a polyhedral shape. Its other features are –
Vortex bright green color with black
12mm
High quality, resists chips, cracks, and scratches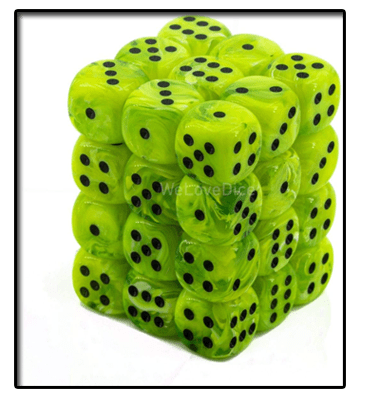 Sixty-sided D60 metal die
This extraordinary dice should definitely be in your collection. Here are the reasons why
36mm
1 piece in a velvet pouch
Best for role-playing Games, math games, or any other
Red color numbers
Metal Polyhedral dice
It's considered one of the superior qualities of metal dies available to players.
Complete dice sets of 7 metal polyhedral dice comes in a tin box padded with EVA foam.
Free RPG-themed stickers
Material used: aluminum/zinc alloy
It's proportionate and balanced irrespective of the rolling surface.
Sizes D4, D6, D8, D10, D12 and D20 are available.
It's suitable for DnD, Pathfinder, Warhammer and other RPGs.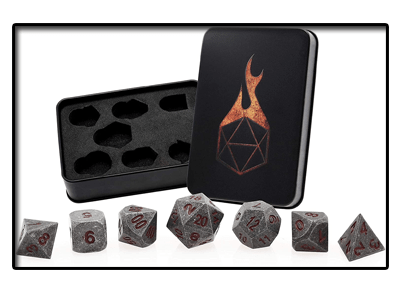 Where to buy DnD dice?
The question that might be tingling your brain is, "where to go to buy dice?" Well, Amazon is the one-stop-shop you need to find every kind of dice variety catering to your specific needs. A few links for the same are mentioned above as well.
Best Polyhedral dice
In this case, the only way to confirm if the die is accurate is through its randomness. There is hardly any point in playing if the die is biased towards some particular numbers. It's essential to have a sense of suspense and cluelessness when the die is rolling. This is how you can ensure it –
Fairness – The first thing you should focus on is that each die's face is equal and similar number of vertices. According to mathematicians, there are only five polyhedrons that are fair: cube, tetrahedron, octahedron, dodecahedron and icosahedron. Therefore, the five polyhedrons mentioned above and those beyond D20 are the shakers you should look for.
Accuracy – The accuracy of the die solely depends on its manufacturing. An accurate shaker has an equal distribution of weight on each side, and its face, edge, and angle would have the same measurements as well. Therefore, in addition to fairness, accuracy is also essential. For instance, if you have a dice that has more weight towards a particular side. In that case, the gravity would pull that side down, and the number opposite it would keep coming up.
After a thousand rolls or so, the die's accuracy isn't reliable as it wears down, affecting its shape. Try this experiment to check the precision of your die. Take a pair of vernier calipers to determine the size and a glass of water mixed with a couple of tablespoons of salt. Roll it a few times and note where it lands at every spin.
How to evaluate the best DnD dice?
The thing that is vital to remember at this point is that the quality, durability, and other aspects that make it the best DnD dice depend on the company you purchase it from. If you get it from a well-known company, then the chances of acquiring a more balanced dice increase manifolds.
Dice for beginners
If you're new to the game and apprehensive of investing too much in it, then you can go for an inexpensive die to relish the experience of playing. The 'Bag of Holding' is your best bet with 140 random dice for $40, and it'd be more than enough for you and other players. However, go for translucent ones as they are more accurate. It's easier to look for inconsistencies such as air bubbles or cheap materials compared to opaque ones.
Avoid Spindown dice
It's better not to use Magic: The Gathering "spindown" as your main die because you can't consider it the best D20 dice. Their primary purpose is to count life points instead of rolling. Therefore, their probability of being unbalanced is high. As the name suggests, the numbering on it is in descending order, so you have the option of using trickery while rolling the die. Thus, it's better to avoid using it yourself or allowing others to do so.
Precision die
The difference between a precision shaker and an ordinary one is that the latter becomes round during the manufacturing process leading to issues regarding die's shape and weight. A precision dice, on the other hand, has sharp edges and more accuracy. They also come to a stop quickly as compared to other shakers that tumble around for a while. Therefore, save yourself the trouble and make the right choice.
Metal dice
Since it's a metal gaming dice, its balance is greater, making its results more random, and its durability is also high because of its material. However, you'd need a little more force than other dies because of their heavyweight. They tend to damage surfaces if you don't take precautions. So it's advised to use a shaker tray for the same.
Dice usage
The table given below would give you an idea of where you're supposed to use particular shaker.
| D4 | Roll a D4 whenever you use a dagger, great club, and scythe to estimate the damage. |
| --- | --- |
| D6 | Use it to know the extent of damage when you employ club, javelin, sickle, handaxe, short sword, throwing hammer, maul, hand crossbow, and sling. |
| D8 | If you use a mace, spear, quarterstaff, long sword, rapier, scimitar, crossbow, and short bow, go for this die. |
| D10 | Roll a D10 for the weapons battle ax, war hammer, great sword, long spear, and longbow. |
| D12 | Its utility is in the case of a great ax, excluding magical or unique weapons. |
| D20 | The purpose of it is to check skills like stealth, acrobatics, dungeoneering, etc. You also use it to confirm if you hit the opponent. |
Conclusion
I hope this article gave you a detailed understanding of the importance of D&D dice in the game because it's truly an indispensable part of it. Moreover, it's vital to possess the best DnD dice to increase your chances of winning against your opponent.