This game is one of the most intriguing games out there, and you might want your children or your younger siblings to try it out. D&D for kids and adults is entirely different in every aspect. Therefore, it's better to learn and understand as much about it as possible and then go ahead.
Is D&D kid-friendly?
Dungeons and Dragons for kids are friendly and beneficial for their social and emotional development. It teaches your children –
Empathy
Problem-solving
Tolerance
Teamwork
Leadership
Critical thinking
Sharing
Communication
Creativity
Moreover, as they play the game with diverse people of different age groups, backgrounds, and education, they learn to be more accepting. If your child is inclined to be a DM, it'd be an excellent opportunity for them to understand how to manage people, schedule sessions, be flexible and create a storyline.
Books on DnD for kids
If you're uncertain as to where to begin, then the first thing you should do is read a manual or handbook regarding kids D&D and acquaint yourself with the know-how. Here is a book you can refer to.
Young Adventurer's Guide
The writer and co-writer of this book, Jim Zub, Stacy King, and Andrew Wheeler, made it easier for the beginners to understand how the game works. They didn't want the players to get intimidated by this kids DnD.
You can create your own characters, stories and adventures.
Details about storytelling, world-building, and character development.
The series comprises 4 books about monsters, heroes, magic, and dungeons.
A plethora of stories in every genre.
The first two books focus on enhancing your skills as a player, but the other two can also help you if you're aspiring to be a DM.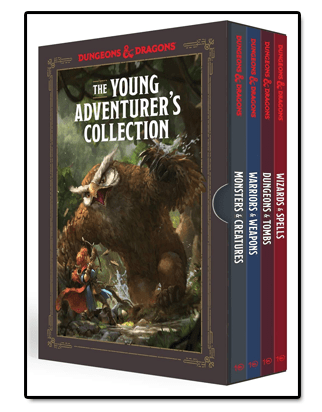 Adventures in Dungeons and Dragons for kids
There are numerous kid-friendly Dungeons and Dragons escapades that the children would love to play under supervision. The adults can act as DM, or if you're a teenager, you can run these adventures by yourself.
Adventure begins
This board game is perfect for beginners to explore the world of kids playing DnD.
2-4 players can play it who, are above the age of 10.
It's a fantasy game filled with monsters, magic, and heroes, etc. wherein the characters travel to Neverwinter.
Customization is available
Decide your path and your enemy from Felbris (Beholder), Deathsleep (Green Dragon), The Kraken and Orn (Fire Giant).
It also includes 4 plastic miniatures of the heroes.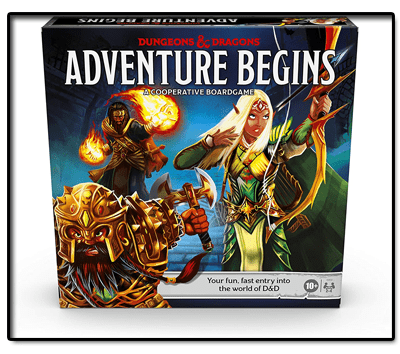 Starport
Delve into the Starport realm where there's no limit to the imagination of your DnD children. You can be Blaze who has a talent of freezing things or Orion who has the ability to hide, so that no one can find him, or Angel who is everybody's friend because of her charm. There's magic, adventure, fantasy elements, and whatnot! The best part is that there's no violence of any sort in the game, which makes it an ideal option for kids.
It's an educational, non-violent journey, which would teach your children problem-solving, reading, writing, oral communication, etc. Children from 5 to 12 years of age can play this game in their own way and learn new things.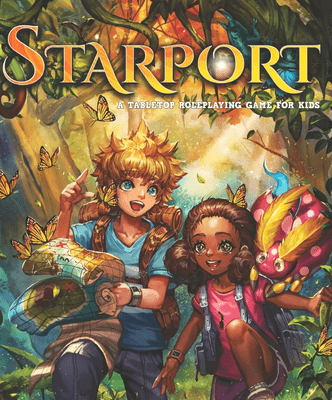 No Thank You, Evil
This fictional, fantasy world is perfect for kids, especially chocolate lovers. A dragon has stolen all the chocolate coins from your best friend, so Olivia and Rowan begin an adventure to enter Storia and retrieve all the chocolates. Your persona's skills, equipment, and companions would help them overcome the obstacles.
Children above the age of 5 can play it along with 3-5 players. The game takes 30 minutes to end.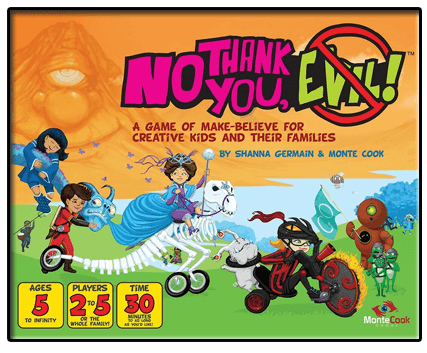 Golden Sky Stories
A Japanese, non-violent RPG wherein your character plays a magical animal who can temporarily transform into a human form. You can choose to be any animal, fox, raccoon, rabbit, bird, and so on. You'd have to solve the problems that come your way with harmony and friendship.
These characters don't save the world or do any such heroic task like , though. 3-5 players can play it along with a narrator. It take 1-2 hours to complete.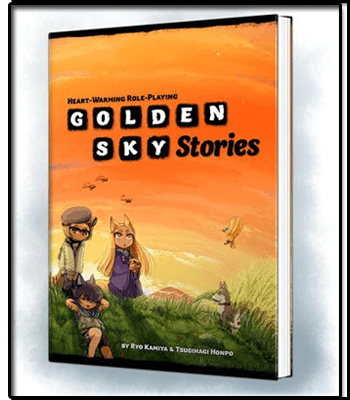 Mouse Guard
This storyline derives inspiration from a comic book and graphic novel series. It revolves around cloaked, sword-wielding mice who act as the protectors of the ordinary mouse from various dangers. The job of these guards is to patrol borders, locate secure pathways and observe weather patterns apart from protecting the mice.
The plot focuses on three guard mice: Saxon, Kenzie and Lieam who are tasked to find a merchant mouse that didn't reach its destination. As the story unravels, they'd come across shocking discoveries.
Dungeon Mayhem
It's an intriguing card game, which is easy to learn.
2-4 players above 8 years of age can play it.
Each game lasts 5-10 minutes only.
Players can choose from four DnD characters: Paladin, Wizard, Barbarian, or Rogue.
Whoever survives till the end, wins.
Replacement policy is available.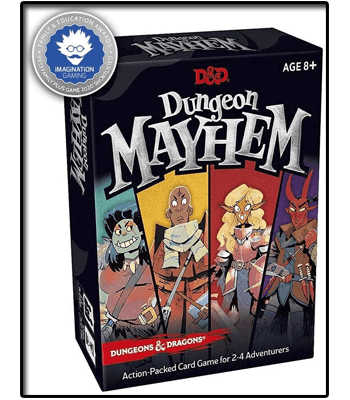 How to run the best DnD for kids?
After learning about these various adventures, you must prepare yourself well before delving into the game. There are a few prerequisites to make your escapade successful.
Strategies
Firstly, you should remember these strategies while prepping –
It's essential to choose a storyline that aligns with the kid's interest, so ask them their preference.
Instead of launching into a whole campaign, start with a simple D&D one-shot story.
Use already existing characters to begin playing immediately.
Create a list of basic rules for them to refer to during combat or any other instance.
Begin by explaining the basics and then move onto complex things as/when they come.
Ground rules
Rules are vital for a game like this to avoid chaos. If everyone follows a basic set of instructions, they'd all have a gala time. Some of the ground rules you can use are –
Avoid talking or distracting other players while the DM or player is communicating.
Choose a hand signal for "Be Quiet" to silence everyone at the table.
Allow everyone an opportunity to be in the limelight, even outside of combat.
Dice should stay at the table or in the dice tray at all times, if not rolling.
Treat everyone on the table respectfully, in and out of character.
Your language and content should remain G-rated.
Making it fun
The attention span of D&D boys and girls is short. Therefore, try to make the storyline as exciting and engaging as possible to avoid any distractions. Here's how you can do it –
Avoid referring to the rules every time and choose on a whim whatever feels more fun.
Try to add magic in the mundane things like bizarre items on the restaurant menu, exotic flower species, etc.
Engage players by asking them to solve the problems using their creative imagination.
It might come as a shock, but it's more interactive if the situation is silly and crazy.
FAQs
What age is appropriate for Dungeons and Dragons?
Age appropriate for DnD is 12, which is advised by all. Since the rules aren't easy to understand and requires abstract thinking.
Can you play a child in DnD?
Yes, it's possible to play the character of a child; however, it'd come with its own set of restrictions as the game requires realism. They shouldn't be annoying to avoid being removed from the group.
Can I play D&D by myself?
If you're a teenager or an adult, you can play the game or even be a DM without supervision. However, if you're a kid, your parent must act as the DM. 
Why was Dungeons and Dragons banned?
D&D was banned by Wisconsin's Waupun Prison because it spread "gang-related activity." It was also banned in Idaho State Correctional Institution since they applied a ban on all RPGs.
How do you DM kids?
To DM kids, follow these instructions –
● You should prepare things beforehand and prefer using pre-generated characters because kids get distracted quickly, so start the game as soon as possible.
● Prioritize the things you want to focus on. For instance, don't waste time explaining the nitty-gritty analytical details because the children would lose interest.
● Make the game as fun and exciting for them as possible. Introduce an adventure soon after the game begins to keep everyone hooked to it.
● Keep the adventures short and interesting, instead of dragging it on for hours.
Conclusion
The children would immensely enjoy the escapades mentioned above as D&D for kids ensures that it benefits them. The storylines are exciting and would keep the kids engaged in it. You shouldn't deprive your kids or younger siblings of the world of Dungeons and Dragons.