DnD minis add a level of depth to your gaming experience by making your characters and their opponents 3 dimensional. It's more useful to those who use a physical battle map during combat; therefore, they are in such high demand. The virtual version of this game has become even more popular as gamers can now play it from their homes' comfort without missing out on anything. Read further to know more about it.
What are DnD minis?
Dungeons and Dragons miniatures in a tabletop setting refer to scale models that indicate player characters (PCs) and non-player characters (NPCs) on a battle map. Their primary use since 1974 is during a feud and expedition. Moreover, their variations are in terms of size, material, and painted/unpainted, which we'd discuss after awhile.
Best D&D miniatures to buy
Here are a few products that would incline you to buy D&D minis. So take a look.
Monster Adventure Terrain (95pc) 3-D
This Cavern expansion set is compatible with DnD, Pathfinder Savage Worlds, and Frostgrave systems. Its features are as follows –
95 piece, fully modular and stackable
3D tabletop
Easy to build and disassemble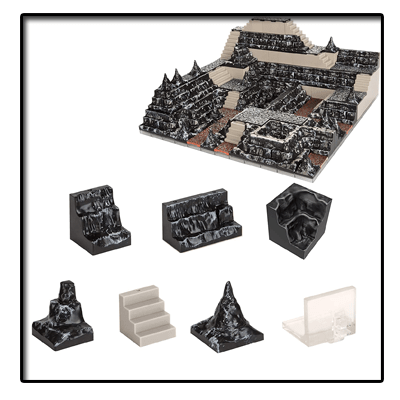 Origin Miniatures Enemy Minions Battle Pack (Pack, 36)
DnD miniatures are more effective for role-playing and transform the game into a realistic and detailed one. It includes
36 Unpainted Miniatures with foam-padded deluxe carry protective case
6 races – Orcs, Dark Elves, Zombies, Skeletons, Bandits, Goblins
12 Unique Characters
Recyclable plastic
The option of hand painting them according to your preference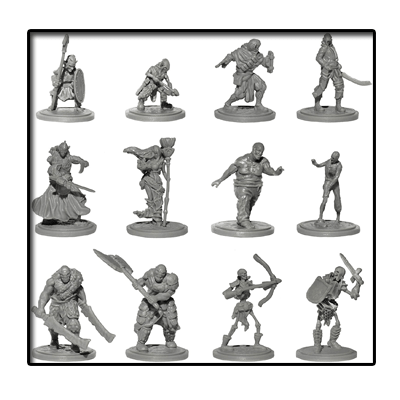 Fantasy Mini Figures (56 Pc)
Like the other products, they are also suitable for D&D Pathfinder and other tabletop games. Besides, these miniatures are hex-sized.
56 painted figures
It includes 2 of each 28 character designs like Goblins, Orcs, Bandits, Gnolls, Kobolds, Skeletons, and Zombies.
Total of 56 creatures.
28 distinctive RPG composition
Created for tabletop battles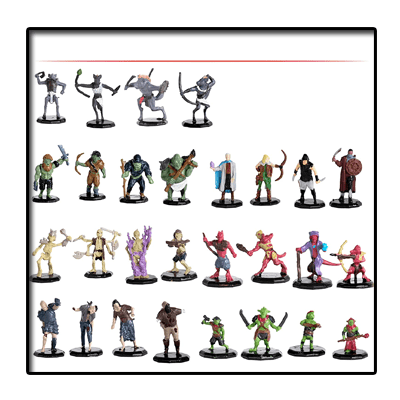 Character & NPC Miniatures (15 Character)
This set is a collection of both characters and NPCs congruent to Dungeons and Dragons and other tabletop RPGs. Its attributes are –
15 characters of 28mm
It incorporates a digital campaign setting with game-ready adventures, custom illustrations.
Unpainted, easy to hand paint
Exchange policy is in place
One of the best Dungeons and Dragons gifts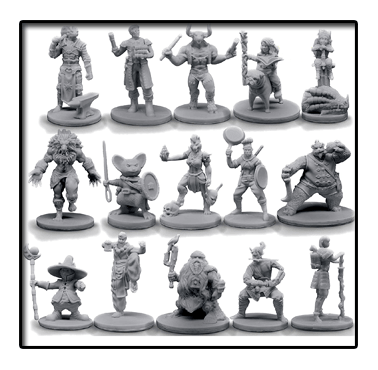 Icons of The Realms ( 8 Ct. Booster Brick )
This collection solely focuses on D&D character miniatures of Icewind Dale: Rime of The Frostmaiden. In addition, it's part of the Icons of the Realms series. Here are its properties –
45 figurines of randomly categorized monsters
Each 8cm booster brick contains 1 large figure and 3 medium or small figures.
Includes various forms of the Frostmaiden
Tidyboss Condition Rings (96 PCS)
In contrast, the cheap miniatures in this set are merely for accessorizing your RPG tabletop gaming in D&D along with a storage box. It includes –
96 pieces in 24 categories and colors
long-lasting crystalline acrylic
Colored to make them easy to read
Black transparent plastic case
30-day refund policy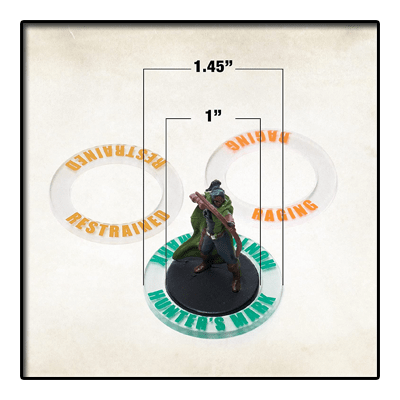 Animal Minis (26 Animal Minis)
These animal minis are primarily for D&D miniatures and minis fantasy RPG along with DnD figures & tabletop minis. So here are all the details regarding it –
26 figures of 28mm in hard plastic
Paintable creatures
A gift for D&D players
Replaceable if broken or damaged
Game-ready campaign setting (Digital PDF) with time-saving story-building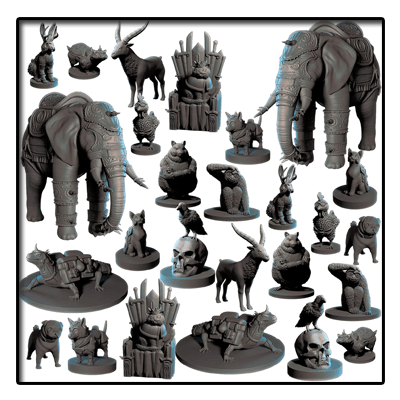 Fangs and Talons Minis
This Icons of the Realm miniatures also give a tough competition to the other products.
Two players can play it at once.
Package measurements: 17.907 L x 56.134 H x 38.633 W in cm.
Waterdeep Dragon Heist
Here's another pack of unique DnD minatures for you to check out.
They are painted figures.
It includes 1 large or huge mini and 3 medium or small ones.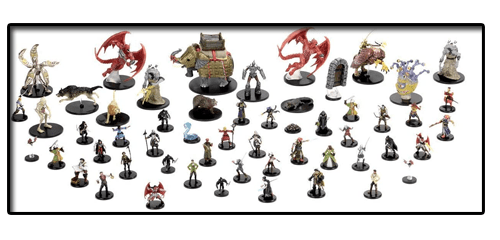 Best place to buy D&D minis
If you're wondering, "Where to buy D&D miniatures?" we have the answer right here. They are available on Amazon with a large variety of characters and other accessories. For buying D&D miniatures, the products mentioned above and many more are in stock on Amazon.
How to obtain cheap minis?
Reaper Miniatures "Bones" Kickstarters and the D&D board games are the most inexpensive minis available. The former contains generic, unpainted minis, whereas the latter includes D&D specific, unpainted miniatures.
Nolzur's Unpainted Miniatures
These D&D figurines are magnificent to look at.
You can color them according to your preference.
Highly detailed and are pre-primed with Acrylicos Vallejo primer.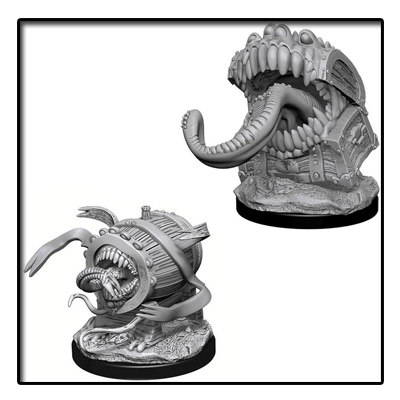 Dire wolf figure
It's one of the most beautiful piece of figurine.
This includes a creatures, characters and scenery.
Ready to paint and pre-primed
Some of them contain translucent parts.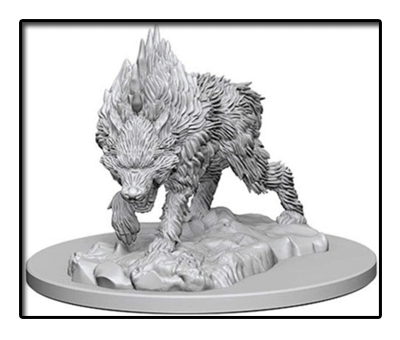 Are miniatures necessary to play DnD?
No, it's not mandatory to buy D&D figurines as they don't contribute anything substantial to the game. You can go for online play, theatre of the mind or in-person battle map play with tokens. There are substitute tokens of minis like washers, chess pieces, coins, etc. Dungeons and Dragons miniatures' only benefit is that it adds depth and more immersion to the gameplay. The use of 3D figures makes it easier to visualize the environment.
Properties of minis
Since DnD miniatures vary in various categories, learn all about them from the description below.
Size – The standard size ranges between 25mm-30mm, since the game mats have 1-inch squares (1 inch= 25mm). Therefore, you can get the exact scale of 1:60 for a 1.68-meter person if you buy a 28mm figure. Every medium-sized creature takes up one square as it represents 5 feet. However, if your creature is a large one, for instance, a dragon, you'd need to ensure a 1-inch increase for every 5 feet.
Materials – While playing, you'd require more detailed and durable products. The list below provides you information regarding the materials used for making the D&D figurines.
Flexible plastic: If you aren't willing to spend a lot on these figures, you should go for the ones made from flexible plastic. Reaper Miniature's Bones line is one of the most famous characters made from this material.
They are durable but lack detailing due to their less rigid form. Also, you shouldn't paint them because their flexibility renders the paint flaky.
Rigid plastic: This one is flexible like plastic and firm like a metal. Collectors and painters who are into refined and highly detailed figurines choose this material for their gaming collection.
Even though it's rigid, they can break easily. Painting them is more comfortable as compared to flexible plastic.
Metal: If you've no issues with spending a little more to obtain durability and quality, go for metal. Their appearance is similar to rigid plastic with high detailing; however, they are more durable and last longer. It's worth spending more money on them.
Paper: The introduction of this version was recent, but its semblance is like no other. You can find their printables from u/PrintableHeroes' Reddit post. Since they are paper materials, you can't trust their resilience. The characters would be fragile, but these minis are the cheapest version out there.
Painted/unpainted: You have two types of miniatures at your disposal. If you wish to invest time and paint the figurines yourself, buy unpainted ones. However, there are plenty of painted creatures; they are more expensive though and limited in numbers.
Conclusion
DnD minis aren't an integral part of the game, but they add a level of depth and intrigue to it. I'd advise everyone to try it out once, even if you're using a cheap miniature because you can't miss out on it.