The Sims 4 is an online social Simulation game that allows users to make their Mods to make the game more fun and interesting to play. The Extreme violence Mod Sims 4 is based completely on violence.
With this Mod, you can do various things, such as murdering people and becoming a serial killer. It makes the users completely invested in the game. This Mod allows you to stab people, strangle them, or shoot them.
The new version of this Mod also includes more detailed ways of murdering, such as hitting them with a car, tearing their hearts out of their chests, and Simply slapping them or smacking them! In addition, you can also become a robber and live the perfect criminal life while also defending yourself.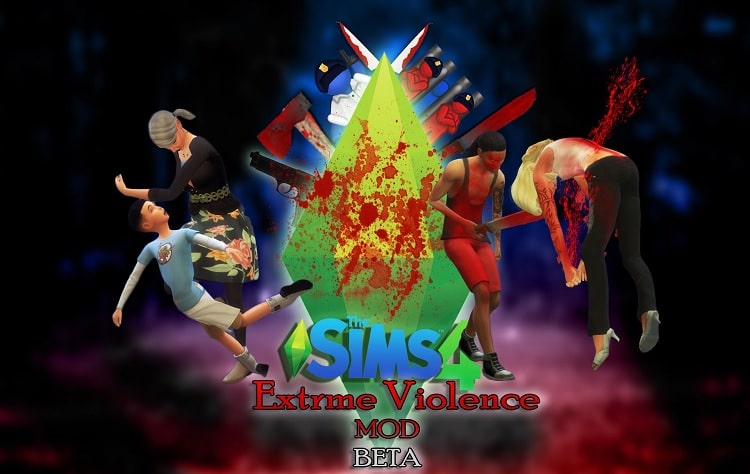 Some additional exciting features of the Extreme violence Mod Sims 4
You can stir up a war by joining a hood gang such as "The hardwood gang" or "The thotties".
Murder Sims without any limits or consequences.
They have also added the feature of police officers.
Just like a real serial killer, you are allowed to clear up and destroy all pieces of evidence of the murder, such as blood, fingerprints, footprints, people who can testify, etc.
Once you finish murdering Sims, you can wash their blood off by clicking on the 'washing the blood off' option.
You can also pay people to help you from getting caught.
You can start something similar to the purge by clicking on the 'murderous holiday' option. Use the Sims 4 murder Mod to make it even more fun.
For the most part, you can also throw any object from scissors to a whole helicopter at a Sim who you wish to attack.
You can also do various other things to attack: throwing a UZI out of a car, manipulating a friend and then stabbing them, Superkick at a Sim, running them over with a vehicle, ripping their heart out, plunging at them and many others.
Improvements and changes in the extreme violence Mod (Version 2.3)
The creator of the ts4 extreme violence Mod made some changes to fix some bugs and problems in the game. The extreme violence Mod updates are listed below:
If there is no murder, Sims can cancel the "chat option".
The creator reduced a player's chances of attacking a Sim and dying to 10% from 100%.
If you have a higher violent reputation, you will be in the "Psychopathic Tendencies Aspiration".
Witnesses will not be able to kill a Sim with "Psychopathic Tendencies Aspiration" if they have a "murder reputation."
If a Sim has the "Disabled Grim Reaper's Negative Reactions" option enabled, then the grim reaper will not be able to attack the Sim.
They fixed the "Give (Sim Name) Money To Clear Up Bad Reputation" bug
They also set the "interaction" bug.
The game will now only display the Sim's name selected by the player.
Moreover, the creator removed the "blank animation clip packs" from the Andrew and posed player clip packs.
How to install the Extreme violence Mod in Sims 4?
We have listed the steps to the Sims 4 violence Mod download below:
Go to the official website (sacrificial Mods)
In the second place, click on the "Extreme violence Mod" on the website.
After you finish this, download the file to your Mods folder. Follow the given pathway: Electronic Arts>Sims 4> Mods> Mod.
Thereupon, go to the game and use the Mod from the custom options.
This Mod is a script Mod, so if your extreme violence Mod is not working, make sure that you enable the "allow script Mods" option.
Interactions provided by Sims 4 Murder Mod
They added new buffs.
They also added personalised animations.
Furthermore, the creators included different types of updated graphics.
Sims 4 serial killer Mod by Studio of Drama
The creators have tried to make this murdering Mod as realistic as possible. This Mod is a script mod, so it does not clash or interfere with any other game functions, making the game run smoothly and sufficiently. It hardly ever has a problem with conflicts or overriding as the users control all the game functions. In the same fashion, it does not perform any process without the guidance of the player. Serial killer Mod download link
This Mod is very well focused on the details and pays great attention to the small features, given that it looks as realistic as possible. When you attack a character, shoot, or stab them, blood will flow from their wounds. You can kill anyone you want in the game besides the grim reaper. This Mod is different from other Mods related to murders and serial killing as there is no emotional aspect. Your Sim can Simply go around and have fun with its murders and crimes!
Sims 4 Gang Mod
This Mod can help make the original Sims 4 extreme violent Mod a little more fun. Instead of just killing people along with this Mod, you can do so by becoming part of a gang. This function means having more players and a team, making the game more thrilling. This Mod is also a little more violent, so the crimes you can perform with it are a little more intense.
You can kill people in more unique and different ways, such as beating them, strangling them, stabbing them, torturing them, etc. You can merge and use this Mod along with The Sims 4 extreme violence Mod and the woohoo Mod to make it even better.
The Extreme violence Mod Sims 4 is great if you want a thrilling, exciting and nerve-wracking twist to your game. It will truly help you see the game in a new light and leave you stunned and addicted!