Sims 4 is a social simulation online game. They have filled this game with many exciting challenges for users to make the game more fun to play. The Sims 4 rags to riches challenge is quite fun. The whole concept of this challenge is pretty obvious from its name. In this challenge, your character can get an experience of going from a struggler to being highly successful. Read this article to get more information about this challenge.
Sims 4 rags to riches challenge, 2022
The rags to riches challenge Sims 4 is all about evolving your character from nothing to something. The way in which you can win this challenge is by completing all the rules mentioned. There are compulsory rules and goals that you have to fulfill in order to win this challenge. Skipping any goals is not allowed.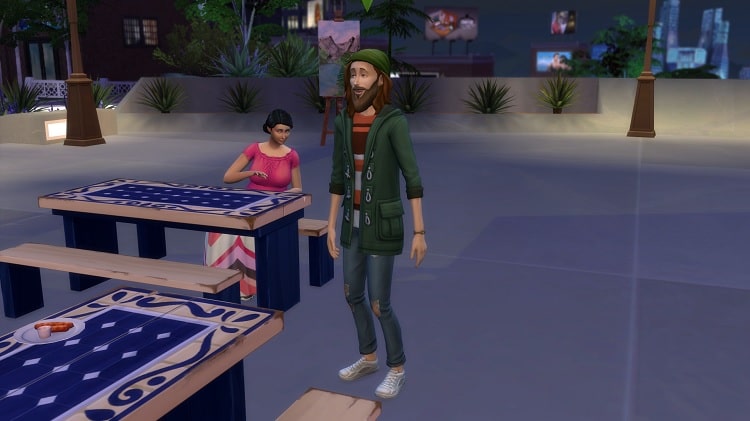 The ultimate survival challenge's extreme rules
Before moving on to the main goals, there are a few mandatory rules that every user has to follow. Here is a list of the rags to riches rules:
Extreme rules for building a home
You should have a few levels of each quality, such as three levels of reasoning and five degrees of handiness.
You must pay $500 in advance for the noise disturbance you will cause.
Extreme rules for building a garden
Before moving on, make sure you've followed all of the building guidelines listed above.
Second, you must have specific levels of various attributes, such as gardening up to level five and handiness up to level seven.
Before you begin building the garden, make sure you have a single bed in your bedroom, a living room, a kitchen, a bathroom with a toilet and shower, a sink, stove, refrigerator, a chair, a sofa, and a fire alarm. Additionally, you may just have one room, to begin with, but you must have all of these objects.
Obtaining the blueprint would cost $500.
Job-seeking regulations that aren't for the faint of heart
To begin, you must follow all building guidelines because you may require your address proof for your new employment.
Following that, you'll need a toilet, a bed, a shower, a skin, a stove, a chair, a counter, and a refrigerator. We require all of these compinents.
For a job, you must have a college diploma, for which you must spend $1000.
You can find the official regulations for this assignment in Deaderpool's MC Command Centre.
Extreme rules for getting a family
Make sure you have a place to reside before you have to marry a sim.
Then, for your born children, your abilities and attributes should be at a high level. Make certain you do it before they reach adulthood.
If you want your children to mature, they must have at least two abilities at level 5 and high grades. It could also work with anyone with a skill level of up to ten.
In addition, you may only age up your children to young adults provided they have two talents of at least five levels and a part-time job. They could also get by with anyone's talent up to level ten.
Also, keep in mind that if two sims marry, they must host and pay for the wedding.
Sims 4 Rags to Riches rules
Once you have completed the Sims 4 rags to riches rule, move on to achieving the game's main goals. We have given the main goals below:
You must have a fully equipped home
Your home must consist of the following:
A living area/room
A kitchen area
Three medium-sized bedroom
A dining space
Two bathrooms, with a shower and toilet
You could use a computer table as a study table.
A garden in the city living and to attain the same, and you must have a penthouse
A pool.
You must have a family
You must either marry another sim or make one yourself to start a family. Also, keep in mind that you must get rid of all of their property and possessions before marrying them.
Have children and grandchildren. Become a grandfather or grandmother.
You must opt for a career
You have the option of choosing any job or enlisting the assistance of the Get To Work programme. You also have the option of running a store or a restaurant.
You must earn a lifetime entrepreneurship award.
Ensure that you reach level 10 in your job or business and earn a salary of $100,000 or more. You must also train your personnel.
You must have aspirations or goals
You must fulfill one aim or desire for both you and your partner.
Second, you must realize whatever aspirations you have for your child sim. You could do it at any time, whether they are children or adults. However, it may be difficult for you to get them after they are adults.
You must have money goals
You must be the owner of a $100,000 home.
You must also keep $200,000 in your bank account, which you can debit at any time.
Optional Rules
Along with the rules mentioned above, there are also a few optional rules that you may or may not follow according to your own will. These rules are as follows:
Family And Relationships
You require at least three more children and three more grandkids.
At least one kid and their offspring should reside with your beginning Sim.
After you have children, get a divorce and remarry. After the divorce, keep the children.
Have a wonderful relationship with your children.
Woohoo in every feasible location.
You must realize one of your children's mature ambitions.
Fulfill one of your grandchildren's childhood dreams.
You should realize one of your grandchildren's grown-up ambitions .
Have triplets or twins.
Skills And Career
Make it reach Level 10 in your Sim's career, as well as its spouse's.
Maintain a part-time pastime while working.
You should write a book in every style.
You should read every book.
Attain Level 5 in all of your talents.
House
Display at least five (5) of your paintings on the walls of your home.
Using the most expensive stuff in the game, turn your house into a mansion.
Social And Parties
Complete each style of celebration with ease.
At least three (3) visitors should swim at each of the ten home parties.
Organize at least five (5) weddings.
Others
For one Sim, purchase every lifetime prize. You are not allowed to use potions.
At least three (3) times, visit each public parking lot.
Raise the value of your family to one million Simoleons.
Rags to riches Sims 4 guidelines
First and foremost, fulfill the final objectives.
You should only use the cheats if you need to change things, remove your money, or reset your current Sim.
Move to the most expensive and vacant land you can find and sell everything you own.
Your spouse or wife will not be able to make a livelihood unless they follow all of the required regulations and major objectives. They must finish them.
You couldn't put anything on your Sim's vacant lot until they finished the required regulations for building a house.
You won't be able to sleep on your property unless you have a bed. Instead, you may spend a week at a friend's house, in a tent, or in public locations. You could cook and dine at their house, but you couldn't bring anything back to your property.
You either cook outside barbeques until you can afford to build your own home, or you could sell some of your gathered stuff.
You could introduce other sims, but they will be of no use. Only their hobbies, such as painting, could help them live.
You wouldn't be able to keep the money from your pastimes.
You may also level up to get a penthouse if you're playing the challenge from a city perspective.
You might set your age limit to a specified number to finish the challenge.
This was the rags to riches challenge, but there's more. Due to so many people liking it, the problem has been expanded. Now you face a legacy challenge: you must produce offspring who will help you achieve your ultimate objective.
The following are some of the legacy challenge's long-term objectives:
Objective 1: This is a short-term task that you can complete if you have $50,000 Simoleons in your bank account. In addition, a completely furnished house with a kid who has earned an income of up to $200,000 might help you achieve the maximum amount.
Objective 2: This is a long-term task that requires $1,000,000 Simoleons and growing kid growth to achieve the final goal.
Instructions
Create a young adult male/female sim, then relocate to an expensive vacant lot as normal, deducting the money in your bank to zero. Then change the desire of the player to Fortune-Fabulously Wealthy. You would also lose the automatic $10,000 would also be gone in this manner.
Traits: You can pick and choose the ones you want.
Guidelines for this legacy challenge
Cheats are only available if you need to reset the game due to problems.
It is necessary to return to a regular age.
You may select any lot and then make your reserve zero by using the hack "testingcheats on" and then typing "money 0."
You may now earn money in a variety of ways. Even your pastimes might earn you money.
You wouldn't be able to purchase clothing unless you had a home and a wardrobe.
Only if you have purchased the food yourself, then you are permitted to use the grills.. You might consume the meals prepared by others.
You can't have partners until you've got a house and your sims have grown up. Your spouse must be a resident of "The World," as they will not be bringing any money with them.
Before your Sim reaches the objective, you must have a kid. You must adopt a kid if you do not have a partner with whom to have a child.
You can play with any of the game's packs.
You might also use your earning benefits solely to play any part of the game.
With this, we have come to the end of this article about the Sims 4 rags to riches challenge. We hope that it was useful to you.