Sims 4 is an online social simulation game that allows you to make your own mods to make the game more fun and interesting. The Sims 4 first love mod is one of the most famous mods in the game. This mod allows kids to have crushes, date, and fall in love. These features previously only existed for teenagers and adults, but now with the help of this mod, even kids can play with these features.
How To Initiate The Child Crush Mod?
It is important that your Sim is friends with the Sim who he or she has a crush on.
The mind value of your Sim should be at 75 at a minimum.
Make either of these two sims operational before moving on to the other.
A new menu labeled 'first love' will appear on your screen.
'Confess to have a Crush' is an interaction you'll notice.
If the crush of your Sim replies with a 'yes,' then your Sim will be able to start dating them and get into a relationship with them. This is how you can start a relationship with the help of this Sims 4 child romance mod. You can also kiss the Sim you are now dating by using the child kiss mod.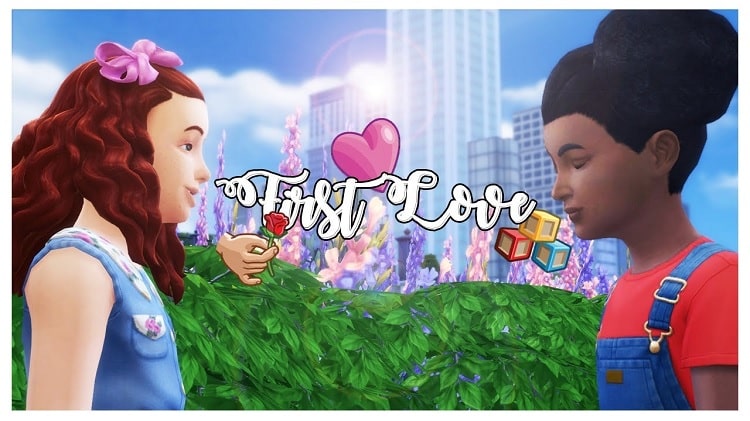 How to make your sims fall in love?
If you want your sims to fall in love and start a relationship with another sim, follow these steps:
Make sure that your Sim sticks close to his/her crush
The "first love menu" consists of two interactions, they are:
You can visit your crush.
You can hug your crush.
Exchange phone numbers with your crush
Having the phone number of your crush is very important as it will give you easier access to them and will help you contact them. You can find this mod in the pie menu. This mod gives you the following features:
You can text your crush.
You can call your crush.
These features will help the bond between you and your crush increase and will help to bring you closer to each other.
Monkey around with your crush
Once you have gotten closer to your crush and have a stable relationship with them, you can use this mod called the "monkey around" mod which allows you to just hang out and have fun with your crush. With this mod, you can just fool around and do silly, goofy, fun things with your crush and just have a good time with this.
This mod is also one that will help strengthen your relationship and help you get closer to each other. This is a great mod that helps kids to maintain their childish behaviors and stay true to their age.
Go stargazing with your crush
After you have a close bond with your crush, you can then click on the "stargazing" option and go stargazing with them. This is a very romantic thing to do and also very cute and innocent, and the sims are still kids.
Working of the Little Ms.sam First Love mod
Age will be a huge deciding factor for sims and their crushes in this child romance mod. The sims might have the age difference of a year, a few years, or even just a few months. In any of these situations, one of the two sims in love will be older. As they are still kids, your sims will most probably grow up together, and one of them will turn into a teenager before the other.
In this case, things might get a little weird and awkward as it will seem that a teenager is dating a child. So to fix this, before the other Sim turns into a teenager too, they can choose the option to be "just friends" for some time.
Level Of Aspirations in the sims 4 child love mod
This mod gives you three love aspirations, they are given below:
The crush level
They are able to swap phone numbers.
Your sim is allowed to pay a visit to their crush.
The Lovesick Level
Your sim can call their crush.
Your sim is also allowed to text their crush eight times.
Your sim can have a sleepover with their crush.
The Steady Level
Your sim is allowed to hug their crush.
Your Sim will be given access to play around and have fun with their crush.
Your Sim can confess to their crush and date them.
Prerequisites for Sims 4 aspirations
You need to fulfill certain conditions so that this mod works smoothly. You need to complete any one of these:
LittleMsSam's Sims 4 first love mod.
Invite to Stay the Night for children mod by Deaderpool.
Deaderpool's MC Command Centre.
With this, we have come to the end of this article about the Sims 4 first love mod. We hope that it was helpful and helped to enhance your gaming experience with Sims 4.
Faqs
How does the Sims 4 first love mod work?
Staying close to your crush, exchanging numbers, meeting them, monkeying around with them, stargazing with them, and finally asking them to be your girlfriend or boyfriend or simply remain friends are all stages of the Sims 4 first love mod.
Can child Sims have crushes?
Yes, child Sims can have crushes on other children their age, but only on other children their age. They are not allowed to have crushes on youngsters or the elderly. Furthermore, they are limited to having a crush and are unable to go to the girlfriend/boyfriend stage. Their plot would be amusing and adorable.