Sims 4 is an online social simulation game that allows you to create your mods to make the game more fun and interesting to play. There have been mods created for all types of situations that could take place in Sims 4. However, have you ever thought to yourself, "Is there a funeral mod in Sims 4"? The answer to that is yes! The Sims 4 funeral mod is a mod that allows you to hold a funeral for the death of a sim.
How to have a funeral in Sims 4
How do you use the funeral mod in Sims 4? If there has been a sim's death in your house, you can organize a funeral event for it. When the time comes to plan a funeral, you have to click on the "throw party option. Usually, they add a "funeral" option manually in the drop-down box on the left-hand side after death.
Once you click on this option, you will organize your funeral. This function gives you the liberty to completely customize your entire event. You can pick your theme, venue, dress code, and even the guest list.
More about the Sims 4 funeral mod
Like every other mod, this mod has some distinctive features that make it unique. Some of them are listed below:
You can organize a funeral.
After witnessing a sim's death, they are given personalized whims to organize a party.
You also can hire a minister to come and attend your funeral.
If your Sim lives in a city, the Minister can give a memorial speech and bid goodbye to the Sim who has passed away. If your Sim doesn't reside in a city, the Minister can just attend the event like every guest.
Arguments concerning the will, requests for Minister's advice, complaints about the unfair death, speculation that it was fake, sharing good memories, and discussions about life after death would all occur at this time.
You will cross paths with some personalized goals to complete.
For the occasion, custom/available caskets (open and closed) must be used, as well as a floral wreath.
If the funeral event is taking place in a city, then the Minister will be able to stand on a podium to give his speech.
You might be able to earn special gifts through the deceased's will (conversions from TS3 store).
If you plan a Gold level party, they will honor you with a monetary reward.
You will gain access to many custom buffs/moodlets that are used in custom interactions, objects, and events.
Whether Gold, Silver, or Bronze, every ceremony would include a tombstone on which to commemorate the dead and write a eulogy.
After the wake, players will receive a +2 sorrow moodlet, which will give them a genuine sense of despair and mourning.
The new church and cemetery lot would include everything needed for a special event.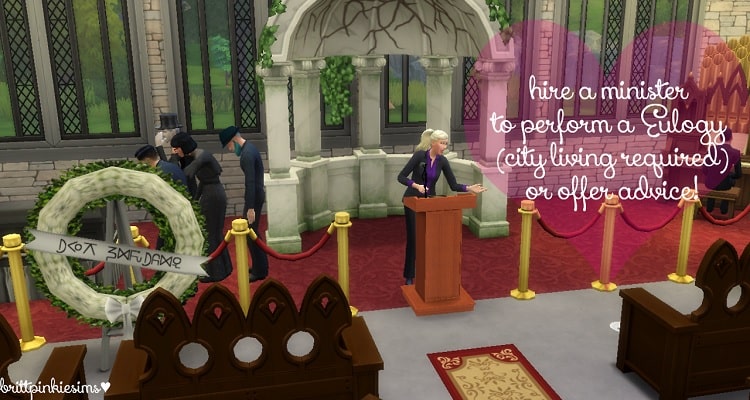 Other features of the funeral mod Sims 4
We have stated some of the basic features of the funeral mod Sims 4 above. However, those aren't the only features this mod has to offer. Listed below are some of the more unique and interesting cc's of this mod, and the best part is that all of these are free:
Funeral Parlour CC
This is a cc that you need to have. The funeral parlor is the best shop that you can find to buy funeral supplies. This shop has everything you may need during your funeral events, such as a selection of coffins, tombstones, floral arrangements, and other props.
These things make the game seem more realistic, fun, and completely worth purchasing. It's compatible with the base game, and while individual downloads are available, consider giving to ATS4 for all-in-one downloads.
Funeral Deco Sims
No event is complete without actual guests being present there. However, as much as gathering around a bunch of sims for your funeral may seem great; it also can cause your game to lag. The funeral deco sims mod was created to fix this problem while still maintaining the crowd of sims at your event.
This mod gives you a bunch of sims who will attend your event and help fill it up. These sims were made especially to attend events. By using this, you can avoid lags and still have an audience at your funeral to mourn the loss of your Sim.
Funeral Chapel Items Poses
It is great to have many people at an event that you organized. However, it can get a little difficult to handle all these people. Since this is a funeral, you need to make sure that all the guests are respectful and are mourning the death of your Sim in the right way.
The "funeral chapel items pose" cc was made for this purpose specifically. This cc will handle all your guests and make them pose and make gestures in a way that will be respectful for your funeral. This cc will give you a variety of poses that you can make your guests do at the funeral!
SimCity 4 Morgue Set
If you are a player that is very passionate about deaths and funerals and wants to include every aspect of it in your event, then this mod is perfect for you. This cc gives you a set of six unique funeral items, which include Stackable body bags, two types of body sheets, ornamental deceased Sims (scary! ), mortuary slabs, and refrigerators. This cc has been made with all kinds of settings that you can adjust to depending on the device on which you are playing.
Royal Funeral Pose Pack
This mod is made to be used when there has been a death in the royal family. As we all know, the funerals of the royal family are different from regular funerals. The funerals held by the royals have different customs and traditions and also different poses and gestures. This cc pack will give your guests and sims of the royal family a bunch of different poses that they can do during a funeral.
More specifically, this mod consists of eight different poses. A few of these poses include the royal guards carrying a royal casket and also the flag of the country to which the royal Sim belonged.
Mortician Career
If your Sim is one with a strong heart and is looking for a career, this cc can offer them one. Your Sim can take up a career as a mortician. Once your Sim becomes a mortician, it will be their job to help carry out the funeral of other sims in the city and take care of the dead sims. They'll be able to choose between the Funeral Director and Medical Examiner branches after reaching level four.
Dignity Funeral Parlour
This is a parlor that has been specifically designed for funerals. You can use this place to hold a funeral whenever you want. It is a 40×30 that is greatly designed with a New Orleans-inspired style that is ideal for Willow Creek. Not only that, but this parlor also provides you with various cremation and embalming services!
Funeral and Enchant Veiled Hat
The best thing that you can associate with funerals is creepy things like witches. If you like such things, then the funeral and enchant veiled hat cc is perfect for you. This cc will help you organize a witch-themed funeral. It will give you things like roses and black lace veils, which are a wonderful touch for a funeral hat; however, the sharp top makes it a little odd, and it does resemble a witch cap.
Mortem for The Sims 4
This cc totally changed the game when it comes to funerals in Sims 4. This is one of the most realistic mods in the game and will completely draw you into the game while using it. This mod was created and released by a group of modders called Powerhouse cc group Simrealist. Since the purpose of is mod is to make the funerals seem as realistic as possible, they made certain changes in the game; they are listed below:
No such thing as the Grim Reaper exists.
When your Sims pass away, they pass away. There will be no haggling, no funeral flowers, and so forth.
Because Grim does not exist, your deceased Sim will lie in a body bag on the ground.
A surviving Sim must summon a replacement NPC, the medical examiner, to fetch the Sim that died.
The Sim will only be removed after the ME has examined it, which will result in an in-game wait before a funeral can be scheduled.
This mod is not for people with a weak heart as it is very straightforward and blunt. But if you are someone who is tired of the basic game, then this mod is definitely a good one to switch things up a bit.
Event mods in Sims 4
All event mods and other modifications, including MC Command Centre, are compatible with the funeral mod for Sims 4. Because this is a script mod that requires the.ts4script file to access the custom interactions, make sure the script mods are activated in your game and that the.ts4script file is in the mods folder. It should only have one subfolder.
With this, we have come to the end of this article about the Sims 4 funeral mod. We hope that it was useful to you and could help make your gaming experience with The Sims 4 better.