Wonderful Whims are one of the most famous mods in Sims 4. These mods play a significant role in adding more realism to the game and making it more exciting and fun. Wonderful whims have bought a whole new aspect of interactions in Sims 4. This mod is also great for adult Sims and sims who want more spice in their regular game. With this mod, you can fulfil all your wicked fantasies and play Sims 4 to its fullest potential. Wonderful Whims Sims 4 comes with a plethora of outstanding features. If you wish to see these, keep reading the article. Here is a list of all features of the Sims 4 Wonderful Whims mod:
Relationships
Physical attractiveness
With this feature, your Sims will be able to get physically attracted to other characters. Everyone will have their preferences and choices. They will also have a type that they are attracted to. You can always customise these preferences according to your wish. There is also a feature of storytelling that will make your game feel more organised and keep you on your toes for the following situation. These storylines will make your game a lot more exciting and fun. You can also disable these attractive features if you do not want them.
Different personalities
Your Sims will get to have their personality and character. This feature will add more colour and fun to your game. It will seem more realistic as your Sims will not look like robots. You can also change your personality on how you interact with other characters as per your wish. If you do not want this feature, you can also disable it.
Boredom
Your Sims will get bored quickly. If you continue to make the game repetitive and make your Sims interact the same way, they will get bored. You can also disable this feature if you do not want it.
Additions
A few additions to this feature are that you can have multiple relationships. You can also have open relationships according to your character's preferences. This cc makes the game realistic. There's also a feature that will allow your Sims to get jealous. You can also sleep with multiple characters all at once. You can also choose your character's gender yourself. There are many gender preferences, and all of them are as inclusive as possible. Here is a list of a few of the gender preferences: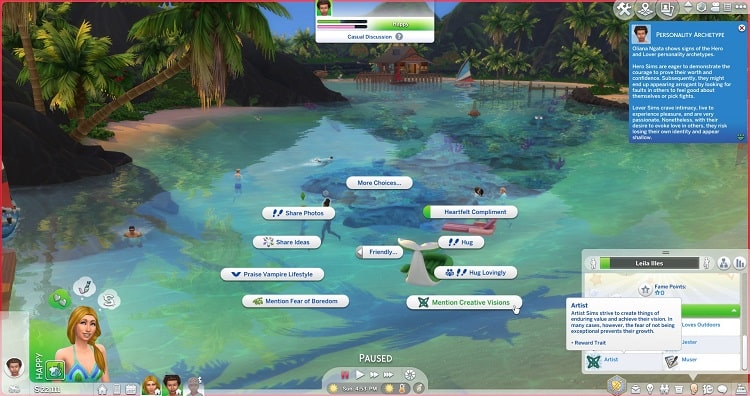 Menstrual cycle and pregnancy
A lot of gamers love this function. This cc is a feature that is missing in the original game and makes the game more realistic.
menstrual cycle
Your characters can experience a menstrual cycle along with other symptoms of periods, just like in real life. This cc will also affect your hormones and your fertility abilities. You can also buy tampons and pads according to your wish. You can take various fertility tests on your toilet to stay updated with your fertility chances.
pregnancy scientific donation
You can donate your infant during your first or second trimester with this feature. This donation will be to science so that they can experiment on the baby. You can do this action through your phone
miscarriage
You can have miscarriages through different means to make your game more realistic and unpredictable.
Additions
You can modify your pregnancy duration. This function means that you can either make the process faster or slower. Your mood can change depending on your traits. Your water can also break. When your water breaks, there will be a puddle of water.
Woohoo
This feature will allow you to woohoo either with or without pregnancy chances as per your wish.
Birth control
You can use various means of birth control to avoid getting pregnant. You can use either birth control pills or condoms. You will also have multiple different interactions when you try for a baby. You can disable or enable these interactions whenever you want.
crabs std
With this feature, your Sims will be able to catch an STD. Your Sims can get infected through crabs while sleeping or through Woohoo. To cure this, you can use lice killing shampoo in your shower. You will get an interaction where you will ask other characters about their health. There is also an award store for these crabs' STDs. You can disable this feature if you do not want it.
More
Wonderful attributes
You can either add or remove minor traits without using the reward store or CAS.
Sweat
Your Sims will sweat with this feature. Any time that they perform rigorous actions, their body will release sweat. This sweat will also be prominent compared to the default game. You can wash away the sweat by taking a shower. There is also a reward store trait for this feature. If you don't want it, you can permanently disable it in your settings.
bug fixes
There were a few bugs that players complained about with this mod. The creators, therefore, fixed these bugs, and we have listed them below:
Random Clothes on Bathing Outfit Fix
ASM States Error Suppression
Missing Proximity Buff Error Suppression
Missing Random Outfit Error Suppression
Incorrect Mixer Death Reactions Fix
If you're wondering how to download wicked whims on MacBook air, click on this link:
The process to download the mod is pretty similar for all devices.
This was all we had about the wonderful whims sims 4 mod. We hope that this article can help you gain more information about this mod.