Did you know that you can play the Sims 4 in first person mode? It'll offer a more realistic experience to the simmers as it'd feel like they are the ones living in the virtual reality as the sim, and that brings forth a whole new experience for the simmers. You'd be the one living in the Sims household, cooking, working, and so much more. This mode is truly a game changer, and nothing has ever come close to this.
Let's take a look at what all this Sims 4 first person mode offers the players and how to go about using it.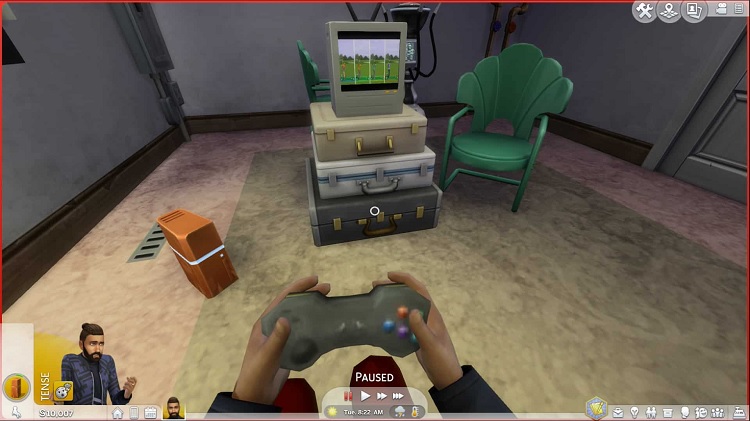 How to Go First Person in Sims 4?
If you wish to switch to the first person Sims 4 pov mode, then all you have to do is click Shift + Tab simultaneously, which would enable the first person camera. This works for the sim you've selected; however, if you wish to move to the next sim's point of view, then click Shift + Space instead.
You must also try the first person mode on your dogs because it offers a fun and unique experience of seeing the world from your dog's eyes.
Once you're done playing in the first person mode, you might wonder about "how to get out of first person in Sims 4?" Well, it's pretty easy because you only have to click Shift + Tab again, and the first person camera would exit.
Features of First Person Mode
Now let's focus on what all you can do using this mode and how to go about it.
If you wish to recenter your camera to the place where your sim's looking, then click left Ctrl on your keyboard.
Right-click to move around the house or the neighborhood, and the "move here" command will help you through obstacles, like getting through a door, etc.
By using the left click, you can interact with objects as well.
The creative gameplay of the game is enhanced because you can combine other mods, such as serial killer or zombie apocalypse mod, along with the first person pov, and it'd change the way you play entirely.
Issues with Sims 4 First Person
Despite being one of the most fun and exciting aspect of the game, this mode does come with its share of issues, and they are as follows –
One of the major issues is that, at times the simmers might feel motion sick while using the first person mode because it's a different experience to view the world through your sim's eyes. Sims shake their heads a lot of times and walk slowly, which might cause a simmer to feel sick. Therefore, we advise you to zoom out your field of view by scrolling down the mouse or in whatever way the zoom out function works on your gaming console to avoid motion sickness.
Some of the interactions might face issues and bugs, such as woohoo because it doesn't support viewing the game from that angle,
Thirdly, interaction with objects is also a task because if you wish to play the piano, for instance, and it's on another floor, then you'd have to reach that floor first, and then you'd get the option to play the piano. If you aren't in the first person pov, you can view everything at once, making the interactions easier.
The animations might also not work effectively and cause glitches in the game.
Faqs
Is there a first person mod for Sims 4?
Yes, there is a first person mod for Sims 4, which was launched on 13th November 2018 and allowed you to view the world through your sim's eyes.
How do you go first person in Sims 4 on a laptop?
You can change to the first person in the game by clicking Shift + Tab simultaneously.
Conclusion
The Sims 4 first person mode is quite an excellent development in the game that offers you a chance to view the Sims world from a different perspective and be a part of it, literally. Every simmer should try it at least once because you'd never wish to go back to playing the original way once you get the hang of it.