Sims 4 is an online social simulation game which allows you to make your own mods in order to make the game more fun and interesting to play. Sims 4 has mods for almost anything and everything that you might need to make gaming experience the best. The Sims 4 furry mod is a fun and quirky mod which is very unique to say the least.
What Is The Sims 4: Furry Mod?
The furry mod Sims 4 was a huge success starting right from its debut. It became very popular very fast and gained the interest of many users. This mod helps to change the appearance of your sim. It is a mod which gives your sim an animal-like appearance. This mod is not a script mod, it is simply just a cosmetic cc which does not affect or alter your gameplay in any manner.
This mod will change your Sims skin details and will make them look different. This mod won't change anything when it comes to Sims relationships, habits, behaviours, emotions or day-to-day lifestyle.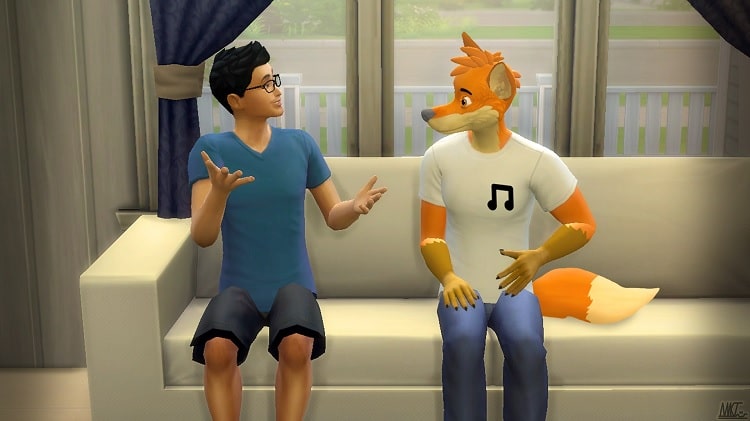 Sims 4 Furry Mod Skin
The very first and original release for the Sims 4 furry mod was the Sims 4 furry mod skin which changes the way the skin of your Sim looks, giving it a more animal-like appearance. The Sims 4 furry skin mod is a cosmetic cc with a maxis match style. This mod changes the skin of your sim from human skin to fur. This mod will give your Sim a tail, animal ears, and even a furry face.
However, this will not make any changes to your sim and everything your sim does will remain the same, it's just that it's appearance will change. The Furry Skin mod is a package file that needs to be placed in your Mods folder. After you've installed The Sims 4, here's how to use it.
How do you add a furry mod to Sims 4?
Make sure all mods are enabled in the Game Options section of the main menu.
Load your Sim or make a new one in the game. Make Your Own Sim
Choose your eye colour.
Use the new custom eye setting to complete the look. This should appear under eye colours and presets and must be applied in order for the custom eyes to function.
Go to the Skin Specifications section.
The majority of the CC may be found here, including full furry faces of various types.
The ordinary Sim head, as well as a skin detail covering the torso, will be replaced if you select your furry head.
Aside from skin characteristics, there will be a variety of colour swatch options, ranging from pink to tan and beyond. This gives you the option of adding colour to any black or white fur.
You have the option of keeping your human legs or applying them to new custom legs (designated as custom leg male/ female). Animal legs and feet will be used in place of standard footwear.
Choose a tail (still under skin details). There are a variety of sorts and swatches to choose from.
Choose from a variety of unique ears. There will be icons for both left and right ears, folded and erect, with a variety of styles. The ears can be mixed and matched.
Choose a customised tail.
Accessories and clothing:
The majority of shirts, as well as glasses, are functional.
Long pants have a tendency to clip, so stick to shorts, skirts, or short dresses.
The majority of the time, body sliders function normally.
Sims 4 Anthro Mod
Since there are many different kinds of mods available in Sims 4, the users sometimes mix some of these mods which look pretty similar but are quite different from each other. The Sims 4 anthro mod and the Sims 4 furry mod are such mods that have similar features but are pretty different from each other when it comes to downloading and using them.
Sims 4 Furry Skin Savestate
The Sims 4 furry skin savestate is an addition to the Sims 4 furry mod. Both of these mods are supposed to be used together. It adds a little amount of gameplay to the original Sims 4 Furry Mod and is meant to be used in conjunction with it.
The Save State feature gives you more options. You'll also have access to extra options, such as:
More animal ear presets, including rounded, bespoke, and folded.
Cheetahs, leopards, dogs, tigers, foxes, and wolves are among the hairy creatures.
Tails curled
Clothing options that are more adaptable
Sims 4 Furry Mods 2022
With up to 18 various skin colour variants and a cuddly little tail to keep you company, all sims 4 fursuitfur cc mod adjustments are spotlessly smooth and elegant!
The following are some of the furry cc transformations:
Fur snouts
Once you have transformed your sim into the way you wished for it to look. You can make it look even more adorable by adding a snout to it. To give it a more natural look you can click on the nose and drag according to your wish.
Feline eyes
Everyone loves cat-like eyes. If you are a fan of cat-eye like looks then this sub-mod is perfect for you as it adds feline eyes to your sim.You can also choose the colour of your eyes and change them to any colour of your wish.
Full skin overlay
If you ever get tired of having to manually customise all of your characters, you can now simply just get a bunch of ready made looks with the help of the full skin overlay. These look just as good as the customised ones. You can choose from a variety of pre-made costumes and skin modifications created specifically for the game. These help to add some texture to your furries!
Tails cc update
A furry is obviously incomplete without a tail. With the help of the tail cc update, you can add a tail to your sim's character and also adjust its size to make it taller or shorter according to your own wish. As your sim moves, the tail can perform numerous animations such as curling, straightening, and swaying with the body.
Faqs
How do I make my SIM furry?
You can make your sim furry by using the Sims 4 furry mod.