The Sims 4's Custom Content (CC) allows gamers to customize their gaming experience by incorporating original and imaginative components. Custom wallpapers are a well-liked feature of CC that can completely change how your Sims' living rooms appear and feel. This page offers detailed directions for inexperienced and seasoned producers on making your own CC wallpaper.
In this post, we'll provide the top 31 Sims 4 Wallpaper CC choices, each of which features unique designs to accommodate different tastes and aesthetic preferences. In addition, we'll examine many methods for creating CC wallpapers, including using ready-made templates and modifying your photos using programs like Photoshop.
Although creating CC wallpapers needs work, the finished product can give your Sims 4 game a unique and customized touch. So let's start making gorgeous wallpapers to improve the virtual homes of your Sims!
Top 31 Sims 4 Wallpaper CC
The best Sims 4 Wallpaper Custom Content (CC) alternatives are listed in-depth below:
1. Text-based Walls: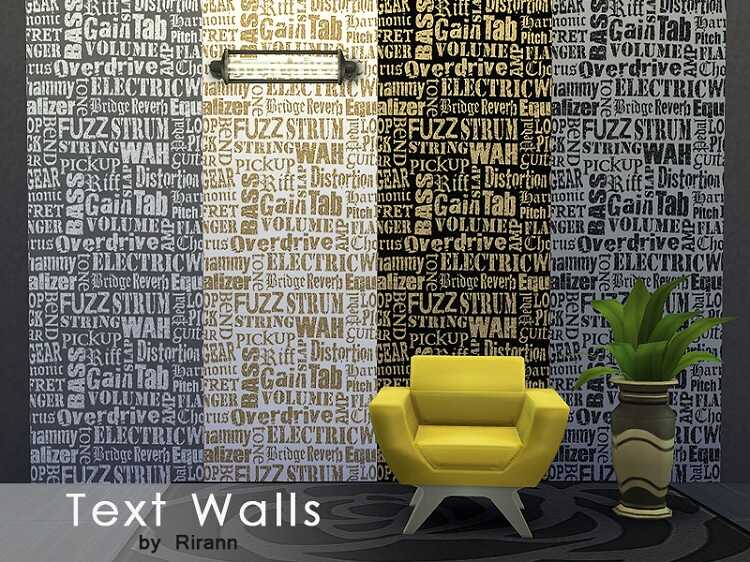 The Text Walls CC provides a sleek, contemporary wall pattern with multiple text designs. It's a fantastic addition to your Sims 4 world's cafe or your children's study space. The wallpaper is available in four hues, each with a distinctive pattern that harmoniously combines.
The wallpaper's lyrics, which are connected to musical instruments, particularly guitars, offer a creative touch to the living quarters of your Sims.
2. Falling Stars CC Background: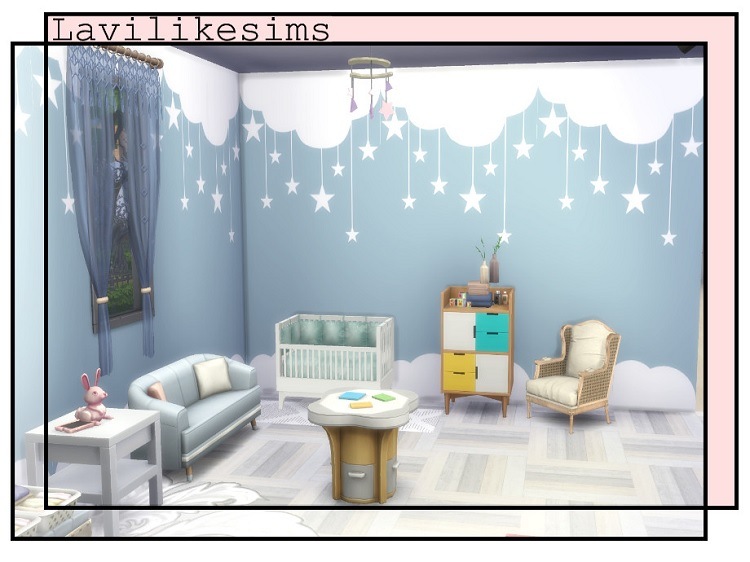 The Falling Stars CC Wallpaper is an excellent option to create a dreamy and magical atmosphere. The bottom portion of this lovely wallpaper is a soothing tint, and the top has exciting clouds and star patterns. The shadows give off a fluffy, puffy appearance that gives any space a whimsical feel.
It's ideal for designing a sweet nursery for your little Sims because it comes in five distinct color options that you can match to various bedroom layouts.
3. Walls in a Princess Bedroom: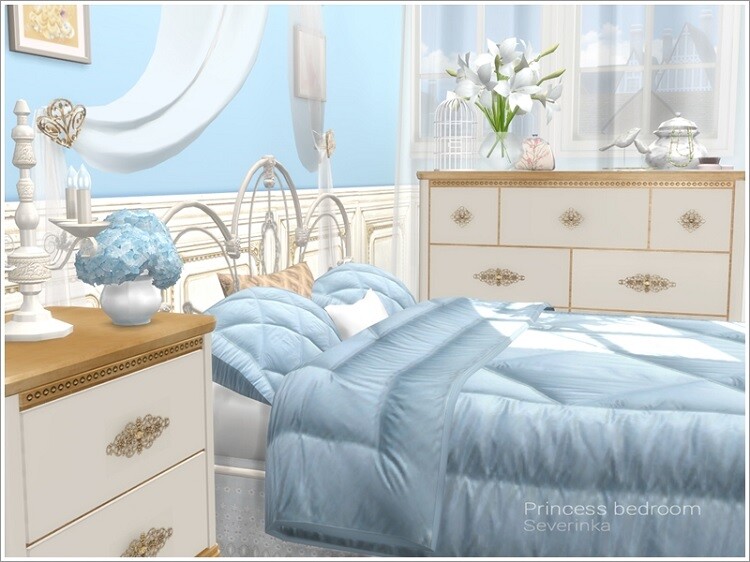 The Princess Bedroom Walls CC is a must-have if your Sims have welcomed a little bundle of joy lately. This set, made by the gifted Russian artist Severinka, features pastel-colored walls and tasteful white wooden paneling to create a traditional regal atmosphere.
These walls are ideal for a princess' room and will provide your Sims' young ruler with a warm and inviting setting.
4. Wall Decal of Venice: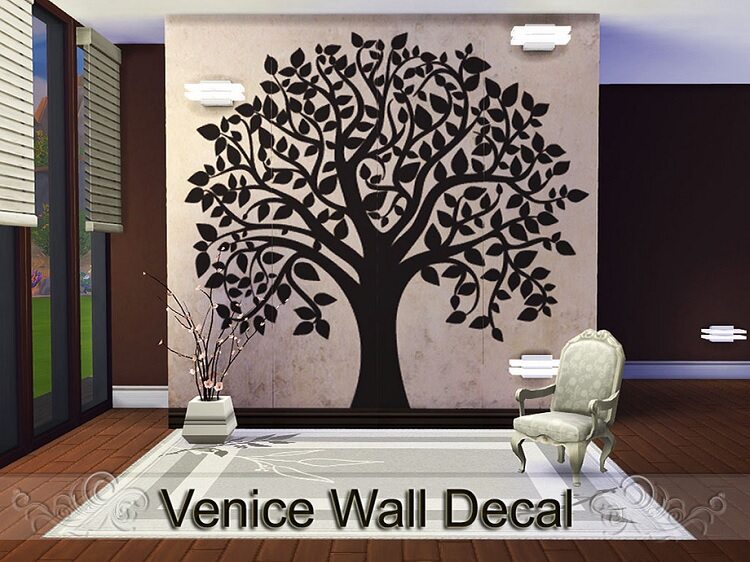 The Venice Wall Decal CC collection includes four distinctive decals, each with various hues, adding a touch of contemporary interior design to your Sims' homes. These decals are perfect for adding flair to any plain or vacant wall in your Sims homes.
You'll discover a lovely decal tree that lets your Sims hang images from its branches to make a unique and customized gallery wall.
5. Frosted Snow:
Use the Frosted Snow CC Wallpaper to get into the holiday spirit. This wallpaper gives the dwellings of your Sims the atmosphere of a winter wonderland with its bright white backdrop decorated with charming tiny snowflakes of various sizes.
The sparkling design of the snowflakes lends an air of wonder to any space, making it an excellent choice for giving your Sims 4 game a festive holiday feel.
6. Inside Wall: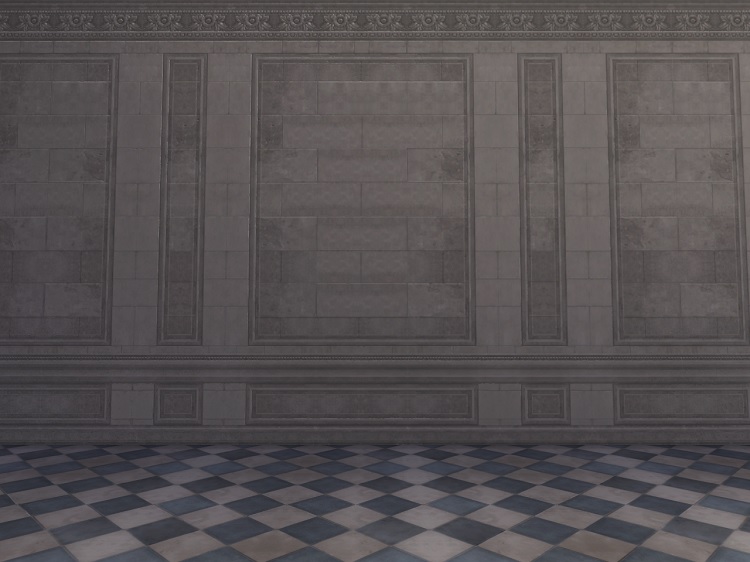 The Interior Wall CC offers a magnificent stone-themed wall for your Sims' dwellings, inspired by the opulent interiors of Cafe Theatre in Assassin's Creed. It's ideal for rich settings like Sim museums or vampire homes, thanks to its big 3x size.
Remember that the walls are a crucial component of interior design, and this CC gives any room in your Sims' environment an opulent feel.
7. Dual-Edged Walls And Dual Paneled Wainscoting: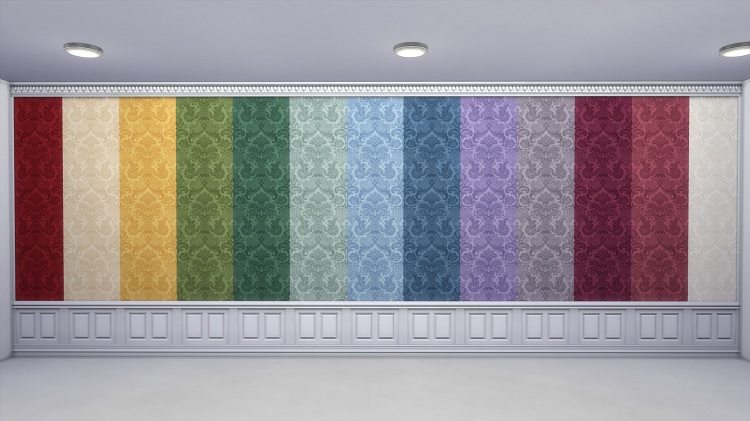 The Dual Paneled Wainscot With Dual Edged Wall CC is an excellent option for adding a beautiful and elegant touch to the walls of your Sims' mansion. This fashionable design features wallpaper with Mariinsky Damask Print inspired by opera, ballet, and past theater interiors.
The dark wood panels, which resemble lavish stages and concert halls, offer a sense of refinement. For a regal and opulent setting, add velvet chairs and Greek statues.
8. CC Wallpaper with Flo Stars: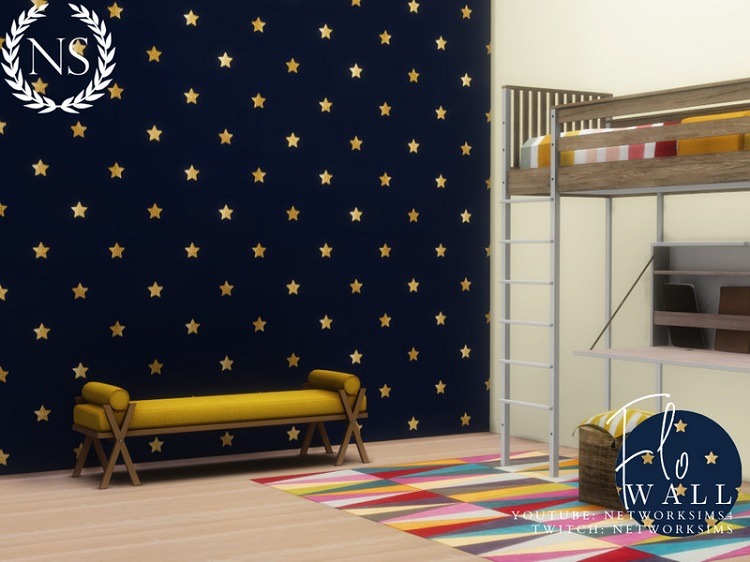 With the help of the Flo Stars CC Wallpaper, your Sims will feel like stars. This wallpaper has a dark backdrop with colorful stars arranged charmingly and cutely. It's the perfect accent wall for the residences of your Sims, bringing a touch of heavenly enchantment to their living spaces.
9. Set for Metal Walls: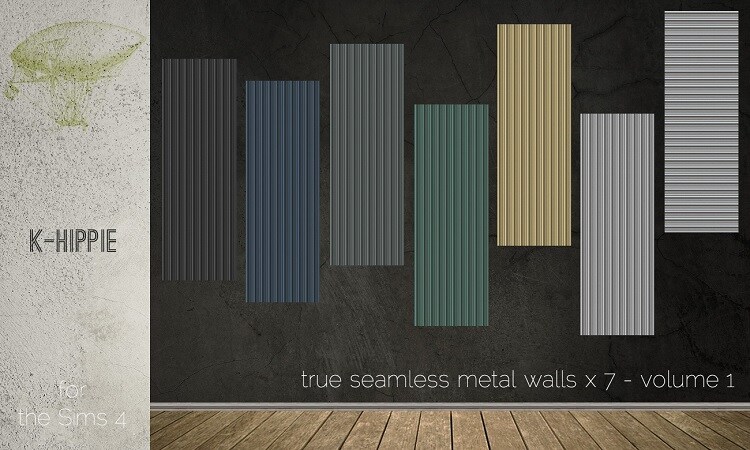 The Metal Walls Set CC is ideal if you want an avant-garde home design that is more stunning. It features a variety of patterns, such as steel paneling, metal dots, mesh, and chrome. These walls are ideal for giving your Sims' dwellings a modern, industrial air that will stick out uniquely.
10. BOE Tiles: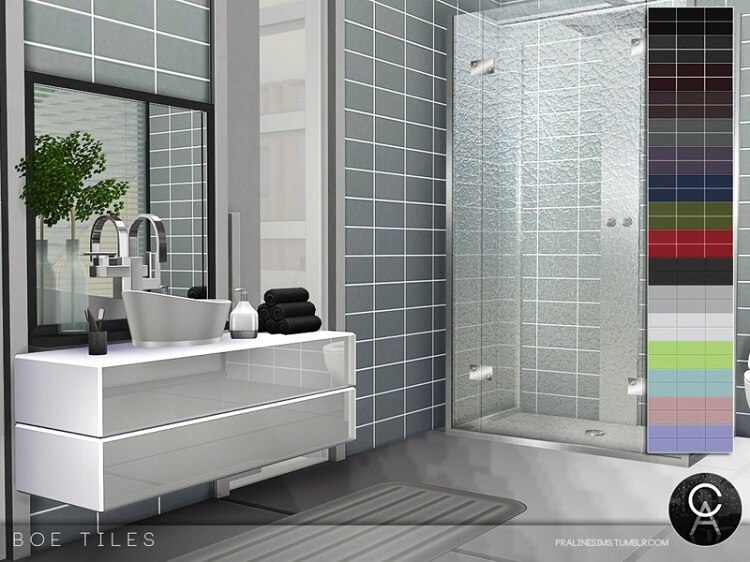 The BOE Tiles CC set, designed by acclaimed creator PralineSims, features ceramic-looking tiles appropriate for bathrooms. These tiles are ideal for creating fashionable and aesthetically pleasing bathrooms in your Sims' houses because they come in various colors, from pastels for children's baths to darker tones for adult settings.
11. Girly Child Wallpaper: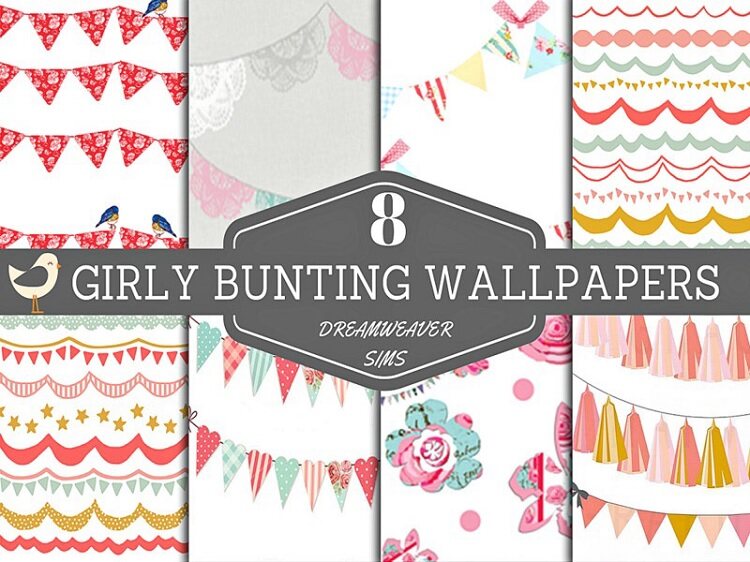 The Girly Kid's Wallpaper CC is intended to produce warm and cosy vibes in the bedrooms of your little ones. This CC gives a wide range of possibilities to satisfy your child's eyes with its eight different designs and selection of colors and patterns. These wallpapers are a delightful addition to any child's environment, whether for a baby's nursery or a little girl's room.
12. Castle Wall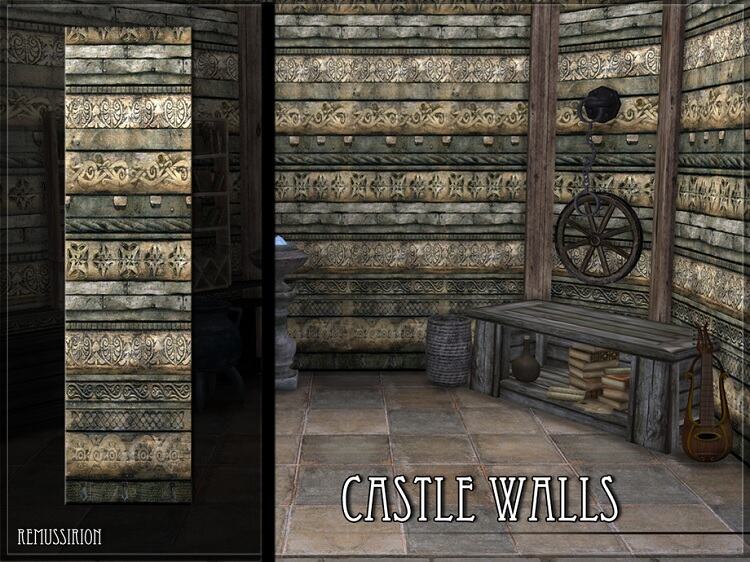 Parents enjoy painting gorgeous murals in their children's rooms, and the Castle Wall CC provides an ideal castle mural for such projects. The mural covers Four tiles, making it simple to arrange and personalize to your tastes. With gorgeous castles and mountains as a backdrop, this CC enables your Sims to design spaces that spark their creativity.
13. Wallpaper with Tufted Leather: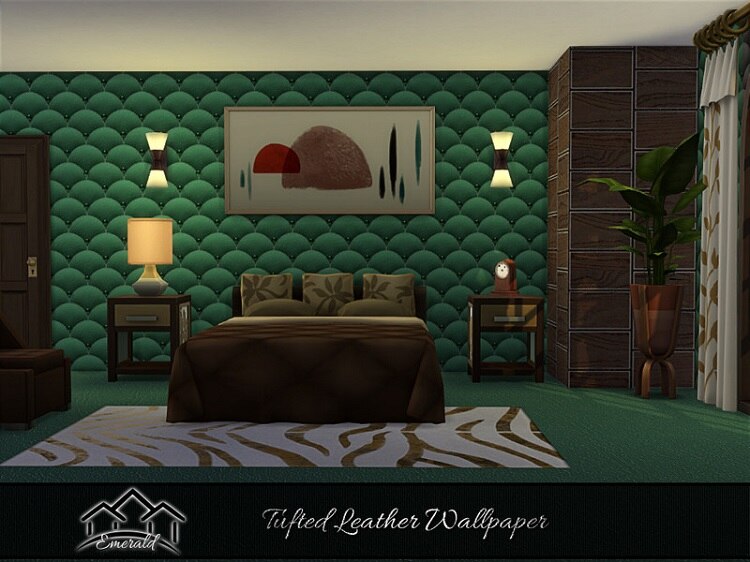 The Tufted Leather Wallpaper CC is a distinctive 3D textured wallpaper with the appearance of tufted and textured leather. Rounded tufts and tiny metal accents create a classy and fashionable appearance. In your Sims' houses, this wallpaper will create a beautiful accent wall that oozes luxury and sophistication.
14. Stone Walls:
The Stone Walls CC by PralineSims is an excellent choice for a more natural and rustic appearance. A variety of stone walls are included in the collection, from rustic designs appropriate for dungeons to elegant veneers perfect for both the exterior and interior of your Sims' homes.
These walls are ideal for generating various moods and increasing the general beauty of the living quarters of your Sims.
15. Set of Concrete Walls:
Different concrete walls are available in the Concrete Walls Set CC, ideal for giving your Sims' homes an avant-garde or industrial feel. You can add it to floors as well. These concrete walls are a great addition to your custom content collection, whether you want to create underground prisons for the enemies of your Sims or give your garage a compelling and contemporary feel.
16. Colorful Clusters Wallpaper:
The living quarters of your Sims will have a playful feel thanks to this colorful and amusing wallpaper. It has a stark white background with little, bright blobs overlapping to make an eye-catching and alluring pattern.
This wallpaper gives any area a happy, energetic vibe and is ideal for bedrooms, especially for younger Sims, or as an accent wall in a fun home office.
17. Terpsichore Background: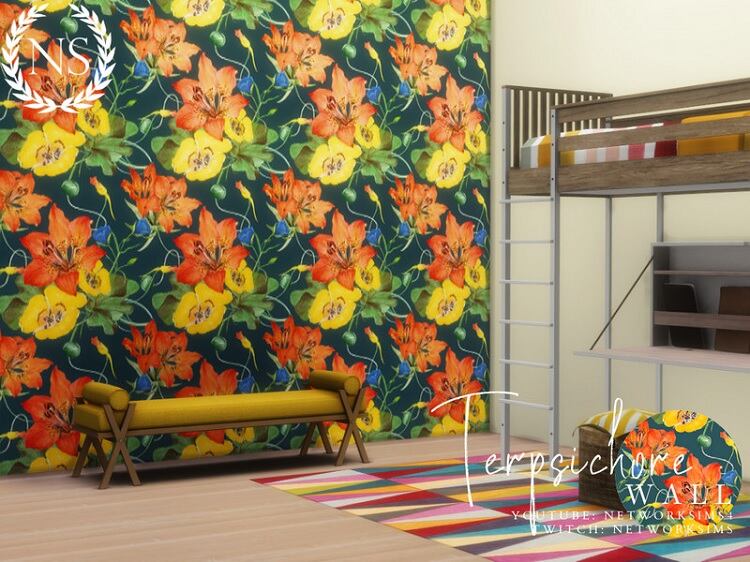 Terpsichore Wallpaper CC is a fantastic option for folks who enjoy big, stunning themes. This wallpaper features lovely flowers in vibrant colors that will cheer up your Sims' homes. It's an excellent choice for designing a spectacular feature wall in any area because of its vivid colors and intricate floral patterns.
18. Chasm Wall:
A stunning six-tile mural by designer NetworkSims called The Chasm Wall CC is perfect for inspiring artistic expression. It is ideal for Sims who are enthusiastic about their creative activities and desire an eye-catching setting for their imaginative works. This mural would bring dimension and personality to a bachelor pad or a studio for an artist, respectively.
19. Set of Modern Living Walls: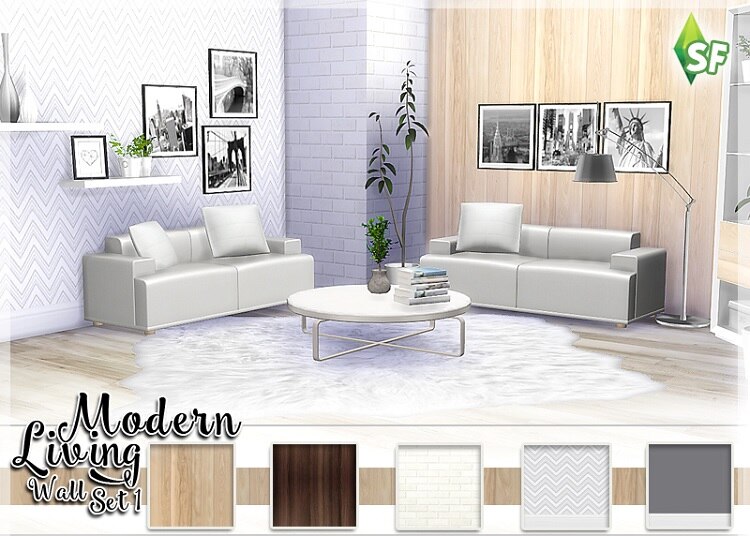 The Modern Living Wall Set CC features vivid hardwood paneling with well-detailed textures, matched by light gray walls and straightforward white baseboards, for young adult Sims seeking to forge their place in the world.
The set is perfect for Sims looking for a neutral yet fashionable living environment because it creates a friendly, sophisticated aesthetic that blends well with current stylized furniture designs.
20. High-Low Color Block:
The High-Low Colour Block CC Wallpaper is ideal if you enjoy squares and vibrant colors. Large, contrasted squares with bright white and vivid hues overlapping each other can be seen in this wallpaper. It's a terrific alternative for designing children's rooms because it lets you leave the white spaces unadorned and add colorful decorations.
21. Floral Greenery CC Background: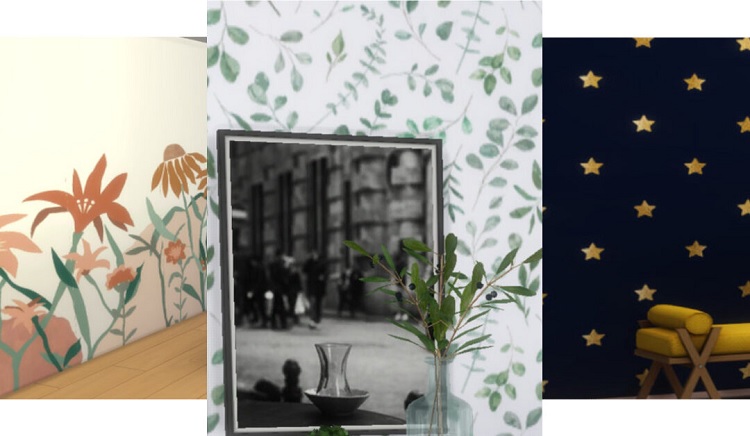 The Floral Vegetation Wallpaper CC is a standout on this list because it adds the relaxing effect of vegetation to your Sims' dwellings. Any room would benefit from the calming and quiet atmosphere the muted greenery design produces.
The neutral hues make decorating simple and mix well with light woods and textures to create a warm and inviting living area.
22. Scandinavian Basics Wall Set: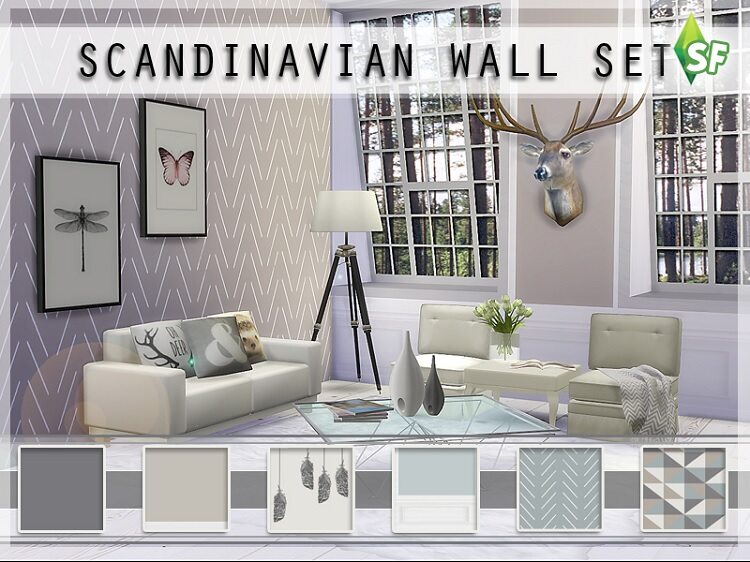 The Scandinavian Basic Wall Set CC gives your Sims' homes an airy, laid-back feel by embracing the famous Scandinavian design trend. Simple textures and bright, neutral colors are used in the set to create a pleasant, minimalist mood.
This CC complements contemporary and trendy decor with solid colors and a triangular mosaic shape suited for kitchen walls.
23. Come Cozy Honeycomb Walls: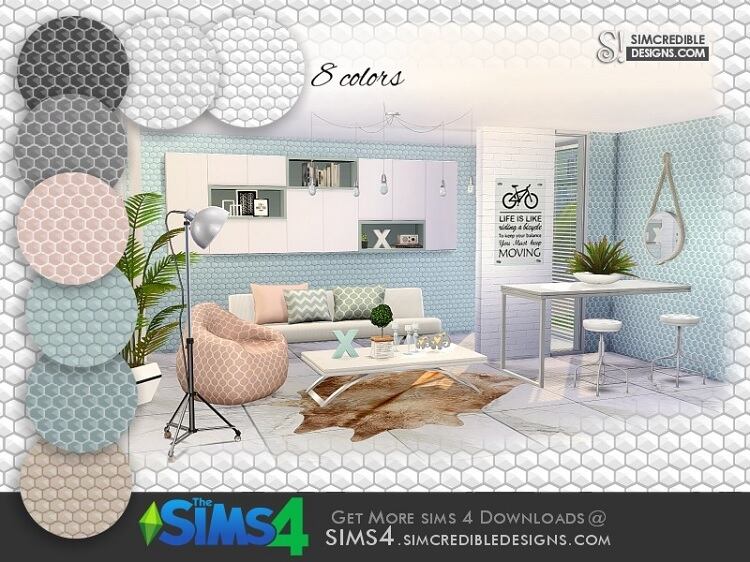 The Come Cozy Honeycomb Walls CC is a distinctive addition to a set that includes furniture and accents for a contemporary and inviting aesthetic. The retro style and elegant color schemes give the interiors a cozy yet distinctive appearance.
Despite the design's honeycomb-inspired inspiration, it works effectively to create a warm environment without overpowering the rest of the decor.
24. Grandma Flowers Background: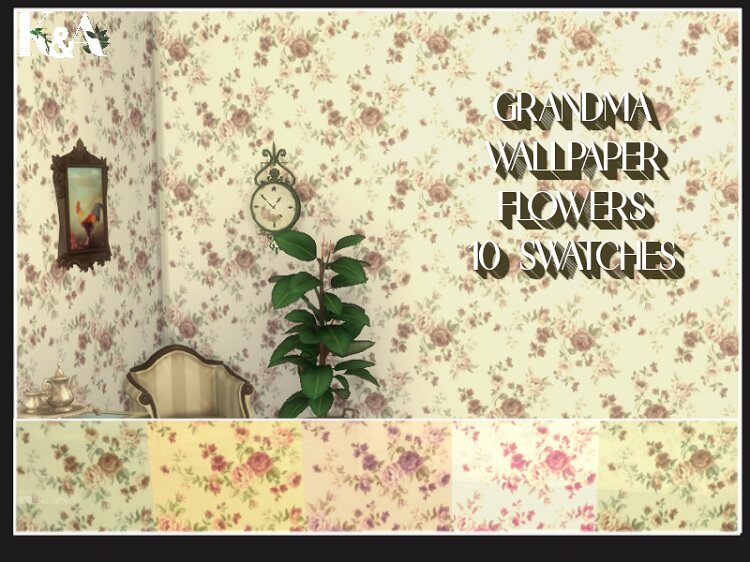 The Grandma Flowers Wallpaper CC adds a touch of nostalgia while radiating a classic and vintage appeal. The wallpaper, evocative of wallpapers popular decades ago, has off-white backgrounds with hues of green, yellow, or purple with lovely roses and greenery.
It's the ideal option for giving the dwellings of your Sims a retro feel.
25. Harlequin Background: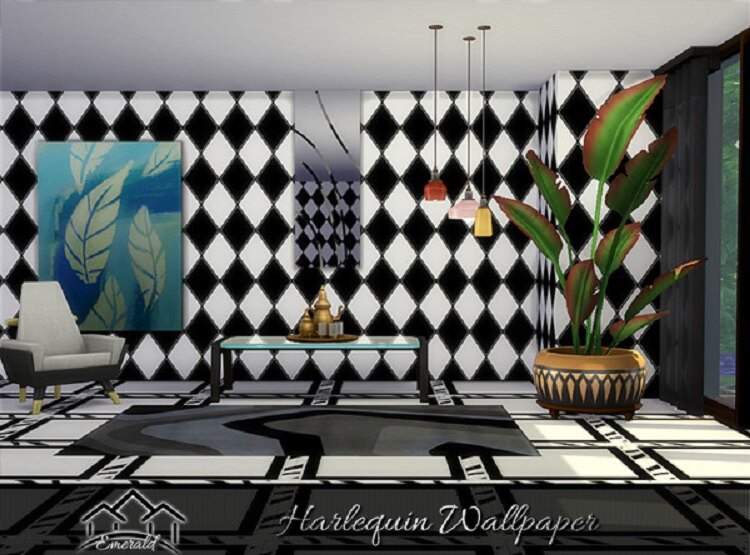 The Harlequin Wallpaper CC enhances the walls of your Sims with a timeless elegance thanks to its traditional black and white diamond checkered design. A must-have for your game, the stark contrast between black and white provides an asthetic and fantastic design.
This wallpaper adds a touch of class and sophistication to any wall, whether used as a feature wall or throughout the entire space.
26. Brick Wall: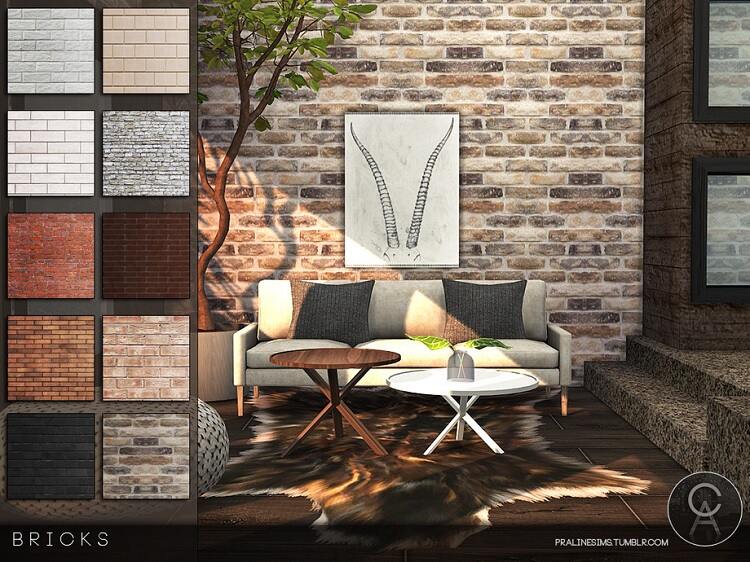 The Brick Wall CC provides a genuine brick texture with peeled-off plaster for further authenticity, giving off a raw and industrial vibe. This CC by PralineSims offers flexible design options for your Sims' living areas, making it ideal for producing a worn post-industrialist atmosphere or a renovated factory home.
27. Highschool Corridor Background Image: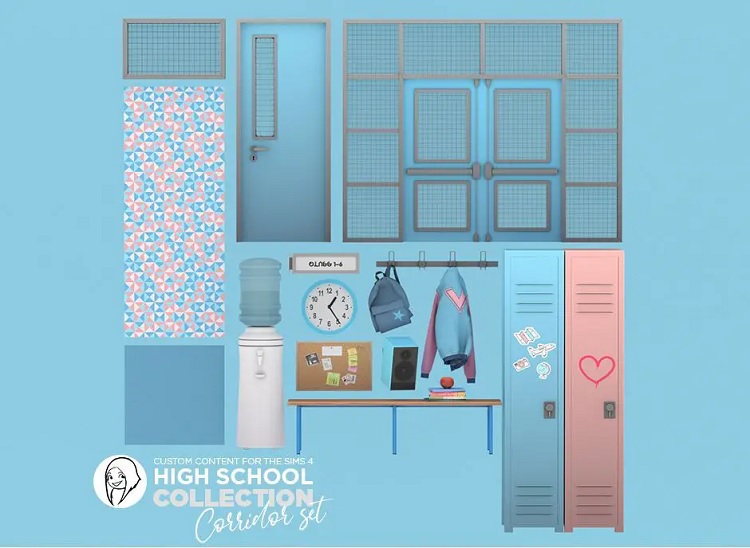 With a combination of tiny triangles creating squares, the Highschool Corridor Wallpaper CC offers a distinctive and surreal look. This CC is appropriate for backsplashes or as an alternative to bathroom tiles because it is available in various color swatches, including neutrals like white and grey.
It might not appeal to everyone, but it gives the rooms where your Sims live a vibrant and eye-catching touch.
28. Striped Background: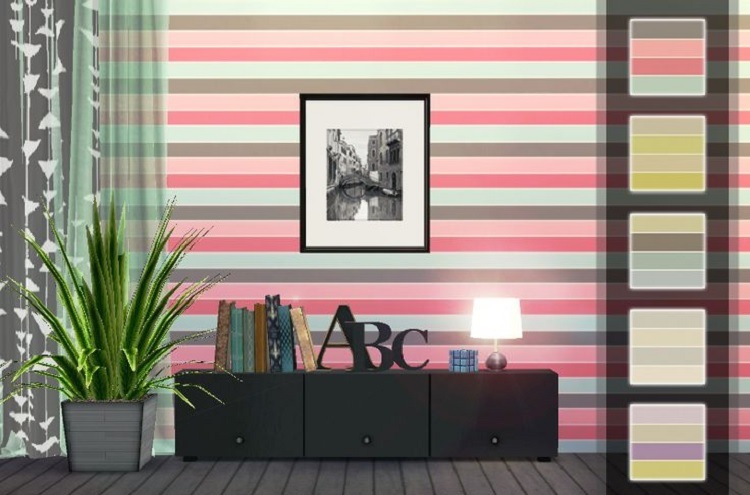 The Striped Wallpaper CC is great for a cheerful and exciting bathroom or accent wall. This wallpaper has rectangular parts with either horizontal or vertical stripes in white and various vivid colors. You can alternate the two styles or mix and match them to create distinctive and eye-catching wall designs.
29. Girly Bunting Wallpaper: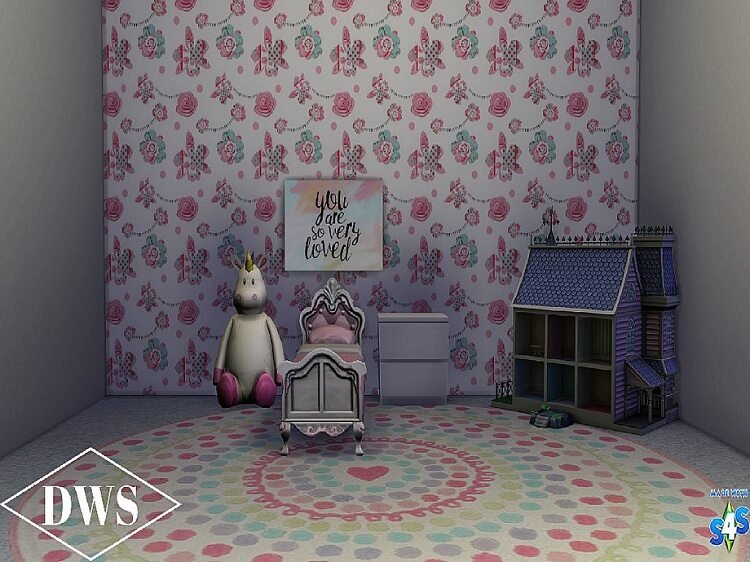 The Girly Bunting Wallpaper CC by DreamWeaver Sims is ideal for those looking for wallpaper with character and color. This CC adds personality to any space with its eight unique motifs, each featuring unusual patterns and hues. To prevent the area from becoming crowded, using it sparingly on a feature wall is preferable.
30. Black Diaries Background:
The Black Diaries Wallpaper CC features a distinct chevron design with a puffy appearance that nearly seems three-dimensional. It is available in shades like black and white and vibrant hues like bright pink. This wallpaper gives the dwellings of your Sims a fashionable and amusing appearance.
31. Lexa Background:
The Lexa Wallpaper CC is a lovely and intricate pattern with foliage and secret messages written in cursive. Beautiful trees and plants bring peace and nature into any space. It's a distinctive and engaging option for your Sims' walls, thanks to concealed messages hinting at mystery and elegance.
The interiors of your Sims' homes can be improved in various ways with the help of these top 31 Sims 4 Wallpaper Custom Content (CC) choices. Select the ones most closely matching your preferences to design distinctive and individualised living places for your Sims.
To get the most out of these gorgeous wallpapers in your game, always check compatibility and adhere to the installation guidelines.
How to Create a Sims 4 Custom Content (CC) Wallpaper
If you're interested in making a custom wallpaper for your Sims 4 game, follow these instructions:
1. Pick a Technique:
There are several ways to create a CC wallpaper. You may either use a pre-made template found on numerous websites or pick an image online that you like and change it with image editing software like Photoshop to fit the proportions of your desktop.
2. Image Editing (If Using Your Image):
If you choose to edit your image, be careful to scale it to fit the resolution of your computer screen. Try to discover or create an image that includes the aspect ratio of your screen to prevent stretching or distortion, as most desktops have conventional resolutions.
3. Using Pre-Made Templates:
If you choose templates, look online for websites that provide CC wallpaper templates for sale or download. Choose a template that fits your preferences and style and download it.
4. Installing the CC Wallpaper:
You must install the CC Wallpaper into your Sims 4 game after altering or downloading your image. You can use internet tutorials to help you through this procedure because it can change based on your game version and mods.
5. Using the Sims 4 CC Wallpaper:
Open the "Options" menu in your Sims 4 game. Next, select "Change Background." You should be able to choose your background from the available selections. To use the wallpaper, select "OK."
It's essential to remember that making a CC wallpaper needs work, but the end product can be a unique and customized touch to your Sims 4 game.
The Sims 4: Can You Make Your CC?
You can make your custom content (CC) for The Sims 4 if you want to. But producing high-quality CC necessitates specific abilities and expertise in 3D modeling, texture mapping, and game modification. Learn how to design and edit models, textures, and other assets using Blender, Photoshop, or Sims 4 Studio (S4S) programs to make your own CC.
Join online forums and groups where seasoned producers share their skills and help out newbies to get started. You can also find tutorials and guidelines to assist you in learning the essential methods and ideal practices for producing personalized content. Practice frequently and with patience to develop your abilities and create original material for your Sims 4 game.
In The Sims 4, Is Wallpaper Copyable?
You can replicate existing things, such as wallpapers, in The Sims 4 build mode by doing the actions listed below:
1. To Go to build mode: select the icon for build mode in the bottom right corner of the screen.
2. Select the Wallpaper Tool: Click the wallpaper tool in the build mode menu.
3. Copy the Wallpaper: Find the wallpaper you wish to copy in the middle of the upper toolbar. Place it where you want it to be by clicking on it.
4. Customize As Necessary: You can use the proper tools and choices in the construction mode to modify the duplicated wallpaper if necessary.
How Can Custom Photos Be Added to Sims 4?
The steps below can be used to add unique photos to The Sims 4:
1. Get the Image Ready:
Make sure you have the right size and format of a photo (often in JPEG or PNG format) to use in the game. Try to keep your image sizes around 100KB so that they will function properly.
2. Use Custom Content:
You must use mods or custom content to add personalized photos to The Sims 4. Install a mod that enables you to import custom photographs, such as "Custom Content – Cas View" or something comparable.
3. Import the Image:
Go to the texture tab in the custom content package you're using (like Sims 4 Studio). Please select the image you wish to add to the game and choose to import it.
4. Insert the Photo into the Game:
After importing the picture, load the game and save the package file. By putting the image on the land in construct mode, you can put it in your Sims' house.
To ensure compatibility and suitable operation in the game, following the instructions included with the custom content is essential. Adding custom photographs to the game may require extra mods or tools.
Conclusion
Making custom content (CC) wallpapers for The Sims 4 may be enjoyable and rewarding, giving your Sims' living areas a unique flair. The options are unlimited, regardless of whether you use ready-made templates or make your designs. To prevent distortion, remember to pay attention to aspect ratios and resolutions. For best results, utilize picture editing tools like Photoshop.
While creating high-quality CC necessitates specialized knowledge in 3D modeling and game modification, you may get started with various internet tools, forums, and tutorials. The gaming experience can be improved and made wholly your own by adding personalized photographs and using distinctive wallpapers in your Sims 4 game.
Additionally, the top 31 Sims 4 wallpaper CC selections provided above offer a variety of possibilities for diverse interests and fashions. There is a CC wallpaper to suit your preferences, whether you desire a contemporary and stylish appearance, a retro and nostalgic ambiance, or a playful and whimsical atmosphere.