As we all know, the Sims 4 tries its best to make the game as realistic as possible. The default function of Sims 4 does not allow you to buy from an actual grocery store. Usually, you can just get these from the interaction menu. Creators made the grocery mod Sims 4 to make the game more realistic. In these shopping mod stores, you will find almost everything you may need in your kitchen. You will also get various ingredients to cook and many fruits and vegetables.
More about the Sims 4 grocery mod
A modder named George initially created this Sims 4 grocery mod. He made a very functional and realistic grocery shopping Mod so that your game can become more active and busy. This mod was released in 2016 and has been updated a few times since then. It is a very famous mod and has been received very well by many players. Over 1,60,000 people have downloaded this mod and have left great reviews.

To download this groceries mod, you need to download additional expansion packs. These packs are the get to work and the outdoor retreat packs. You need these packs as it has a lot of the stuff you will require to build your grocery store ultimately. Therefore, if you don't have this expansion pack in your grocery store, it will be incomplete, or you may not even be able to make it at all.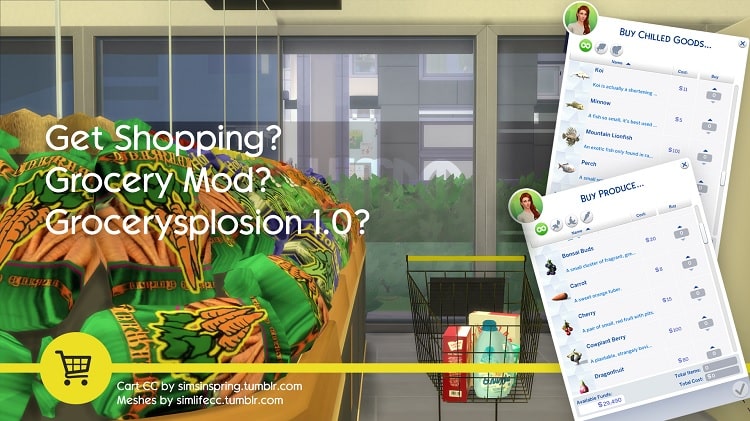 How to use the grocery store mod
Sims now use these grocery store mods as actual landmarks. They are also very similar to the stores we have in real life. Here are a few items that you can find in the grocery stores:
refrigerator and counters
Computers
Cash registers
Toilets
Flowers
Food
Meet
Chinese noodles
Korean soups
Fruits
Vegetables
drinks
Stoves
grills
packaged snacks
In brief, you can get everything you may need and expect from a grocery store in the stores. You can also add more things to your store by using different game packs. The more items you add to your store, the better and more colourful they look. There are also two versions of this grocery shopping mod, one is the traditional version, and one is the do-it-yourself version. You can make your grocery store however you want in the do-it-yourself version. You can completely customise it and also earn money through it.
How to buy cooking ingredients for groceries
The creator has provided 18 maxis match ingredients. These work as universal ingredients and you can use them for cooking almost any dish. Therefore, having just them would be more than enough. Moreover, if you still want some more unique ingredients you can always get them. While shaping for ingredients you can find them directly from the pie menus below:
Purchase Produce – Herbs, Fruits, and Vegetables
Purchase Flowers – Just Flowers
Purchase Fish – Just Fish
Purchase Condiments – Honey
Purchase Cooking Ingredients – New Ingredients
New Custom Ingredients
The existing ingredients were great, however, the creators still felt the need to add some more new fresh ingredients. These ingredients helped to update and add more variety to the grocery store. They also added some more realistic stuff asides from just groceries in the grocery store. They also tried to make the ingredients look more aesthetically pleasing. These new ingredients are:
Pork
Poultry
Red Meat
Tofu
Shrimp
Milk
Butter
Cheese
Eggs
Flour
Dough
Bread
Pasta
Sugar
Oil
Flavour Extract
Popcorn Kernels
Marshmallows
You can eat some of these new ingredients raw. These are also base compatible and a few are also packaged. You can also stack the packaged ingredients with the help of a slot. Before cooking, you need to open these packaged ingredients and they will come in 3-8 quantities.
Changes in the EA recipes
The creator added a few changes to the EA recipes. Now, you will need both packaged and harvestable ingredients to cook these recipes. This helps to make the process of cooking more realistic. We have listed these changes below:
Cooking
Gourmet Cooking
Baking
Grilled Food
Campfire (Outdoor Retreat)
Grand Meals (Seasons)
Ice Cream Machine (Cool Kitchen Stuff)
Popcorn Machine (Movie Hangout Stuff)
Desserts as Baking
The creator now added baking as a separate skill in the game. Earlier the baking ingredients that were included in the cooking menu are now shifted to a separate baking menu. Desserts are now counted as baking.
Additional Serving Sizes
The creator added some more variety in the serving sizes of the food to make it more realistic. We have listed these sizes below:
Small (1)
Medium (4)
Large (8) serving size.
Including Desserts, Experimental Food, Market Stall Taste First Foods and more.
Ice cream: default Large (8) carton size, and a Medium (4) pint size!
Cakes: Medium (4) servings sizes, Large (8) serving sizes.
Cost of serving sizes
Small (1) = §5
Medium (4) = §10
Large (8) = §15
If you already have the required ingredients then the cost will be lesser and if you don't then accordingly the costs will increase. You will also have to pay for the crafting cost.
Compatibility
This mod is compatible with the following:
all Icemunmun Harvestables
all KingZace Harvestables
Custom Recipes
The mod is not compatible with the following:
Srsly's Complete Cooking Overhaul.
Desserts as Baking mod or Groceries from Computers
Future Development of SCCO
A few features that the creator is planning to add in the future updates are as follows:
Order Groceries from Phone
Home Delivery Groceries
More Maxis Friendly Recipes
More Vegetarian Dishes
More Occult State Dishes (Aliens/Vamps/PlantSim)
Additional Appliances Support
Drink Recipe Changes
More in-depth Grocery Shopping
Ownable Grocery Store + Career
Calorie Changes
EA Recipes Require Custom Ingredients Version
How to download the grocery store mod
Follow the steps below to know how to download the grocery story mod:
Download the mod from the official website:
Download the model files and then save them into a folder.
Extract the files from your folder
After that, save your files into your official Sims 4 mods folder.
You can find this folder in the Sims 4 directory.
Make sure that you enable the mods option from your settings.
You should have successfully downloaded the mod by now. To use it, you will have to restart the game
Faqs
Can you have a grocery store in Sims 4?
Yes, you can have grocery stores in Sims 4.
How do you start a grocery store in Sims 4?
Follow the steps in the "how to download the grocery store mod" section of the article above to know how to start a grocery store in Sims 4.

This was all the information you needed to know about the Grocery mod Sims 4. We hope that this article helps you gain more information about the grocery stores and make your game more realistic.