The advent of a baby makes you do crazy things. Sims are no exception to this and you will have to help how important it is. You know it and your Sims need to feel the love as well. This is why we dedicate this post to sims 4 cc nursery collection. We have compiled a list of nursery CCs for you. We do not want you to rush your Sims through the process. Hence, we request you to give the time to understand parenthood. You can certainly help them to pick and choose what seems to be the appropriate furniture that will come out of your Sims' paycheck.
A Collection Of Sims 4 Cc Nursery
As promised here is an assortment of baby furniture cc that you can choose from. The coming of a baby is a huge responsibility. At the same time, it is a joyous time that parents need to enjoy with the right tools and settings at hand.
This range of nursery CCs will make it simple for you to find and select one for your Sims without a doubt. Here have a look:
Diego Nursery Furniture
You know what have a look at the nursery first, then we will discuss. Did you glance through it? It is like a real-life nursery, isn't it? This sims 4 nursery kit has a Boho look that parents can hardly resist. Boho means neutral and earthy colors, which lends the baby room a soft look. The designer, Severinka_ is a featured artist and this verily explains the reason for it.
The Boho rainbow, clouds, grey, and bottle green colors, all make it a big surprise. It is spacious and can house babies, toddlers, kids, and even teens for starters. It is up to you and your Sim to make the adjustments accordingly.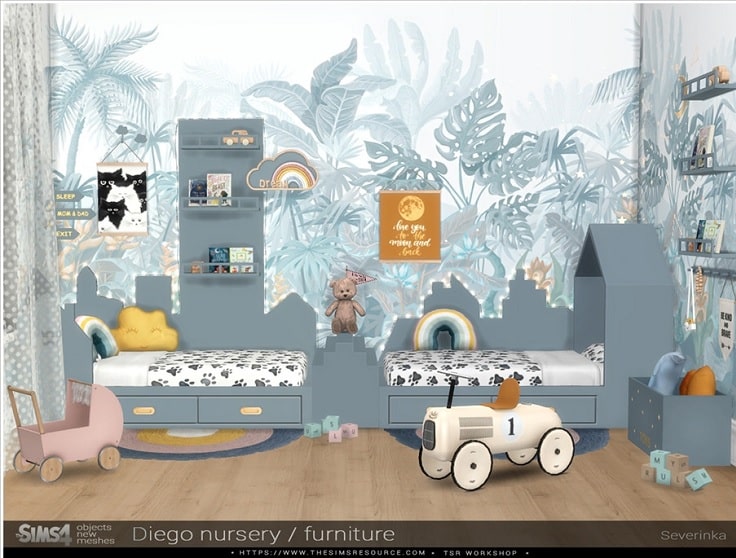 Kalehouse Baby Stuff Set
The creator, Novvvas seems to have taken an unusual take on nursery décor. The reason being you may have seen pink, blue, yellow, and green to be common colors for babies. However, the designer has given the nursery and its furnishings a twist by adding black to it.
The bouncer, crib, wall hangings, and play table all are painted in black. The wall stickers add a zing to the entire room. The fact is, the adornment may be in black, but does not make a room look dull or dingy. There is no dark aspect and much to the contrary, it looks bright and well-lit.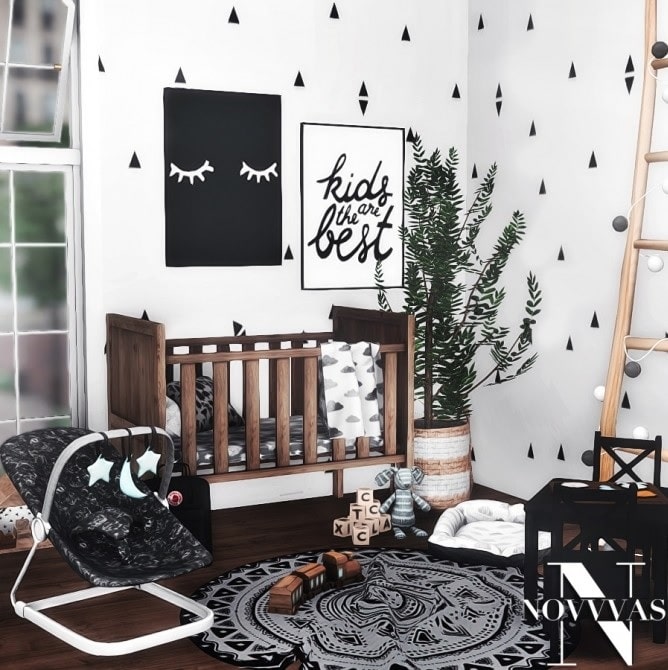 Sweet Dreams Nursery Furniture Set (PART-2)
Now, this nursery cc has been created by someone like us. She had been playing Sims since Sims 1 and has become a creator of Sims décor. Sanjana Tasnim Rahman is a name that has been doing rounds in this category. This nursery CC for example exudes years of Sims gaming for sure. She knows what colors and drawings go into a nursery. At the same time, you will find colors that are well-suited to Sims in general. The pony theme is excellent as it is a popular choice for parents in real life as well.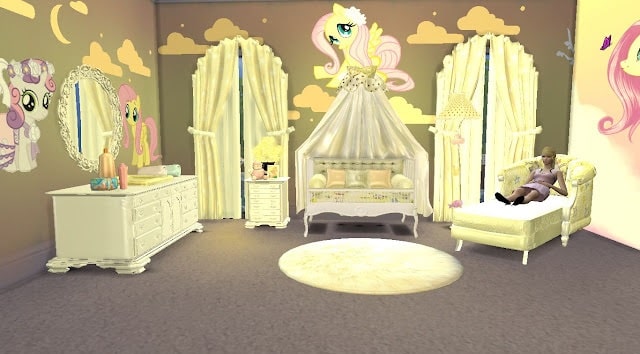 Aura Nursery
Created by NynaeveDesign, this nursery design is based on a good old safari theme. One thing that draws our attention is the use of bright and bold colors. The animal print rug, drawings on the wall, and tent-like crib make it worth a try.
What more? The plush toys strategically placed all over the place really steal your heart. It is available in different colors and that gives you a variety to choose from. This is a steal without a second thought.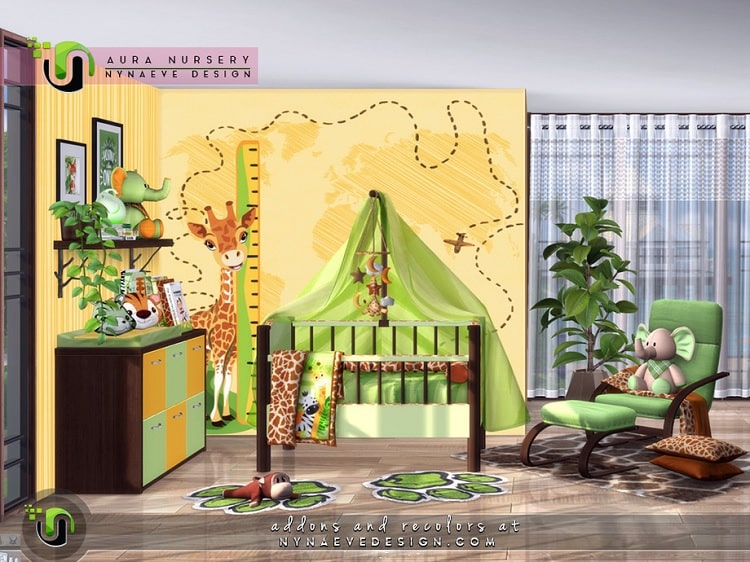 Nana Nursery
Maybe we like Severinka_ designs more than anything. To be honest, her work is much appreciated by most of us in the Sims community. Just have a look at this baby room, it's just so beautiful. That is correct, this is done in Scandinavian style and the detailing is out of this world.
The CC has a minimalist look, but the freshness cannot be ignored. The wall art is very much prevalent in modern nurseries, and you know that is typically found on Etsy. The pristine white color only adds to the oomph factor.
Royal Nursery
One more by Severinka_ on our and no we are not sorry about it. Look at the beauty of the design. How can we omit it? She has not even forgotten to bring out a pink and blue nursery set for this. The porcelain lamp and the net on the white crib make it regal. The paintings, ribbons, and veil make it a royal affair. Who wouldn't want their baby to be pampered and sleep in majestic surroundings?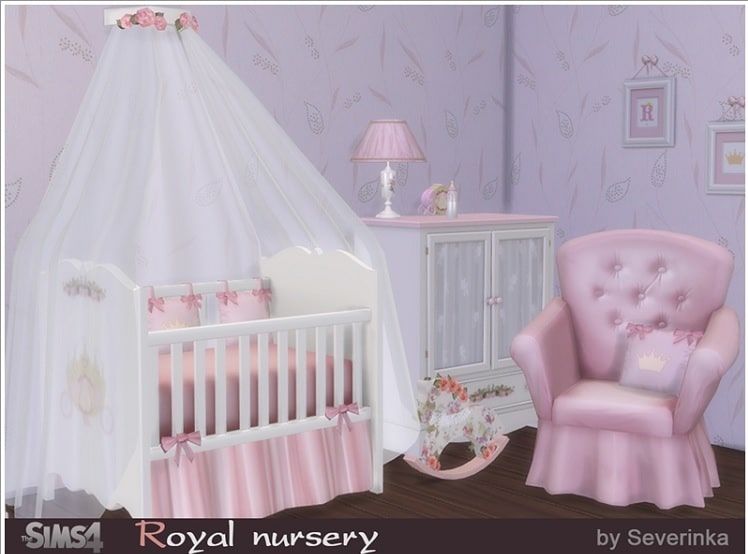 Antwerpen Toddler Bedroom
This is another featured artist, Onyxium that produces real good work. This artist is from Turkey, which is why they have a better understanding of color textures. Kind of remember the Turkish carpets and their intricate designs. Similar, wall art from Etsy lends it a real nursery look.
These artists have taken nursery ideas to another level and that is a fact. Why don't you take a look at it?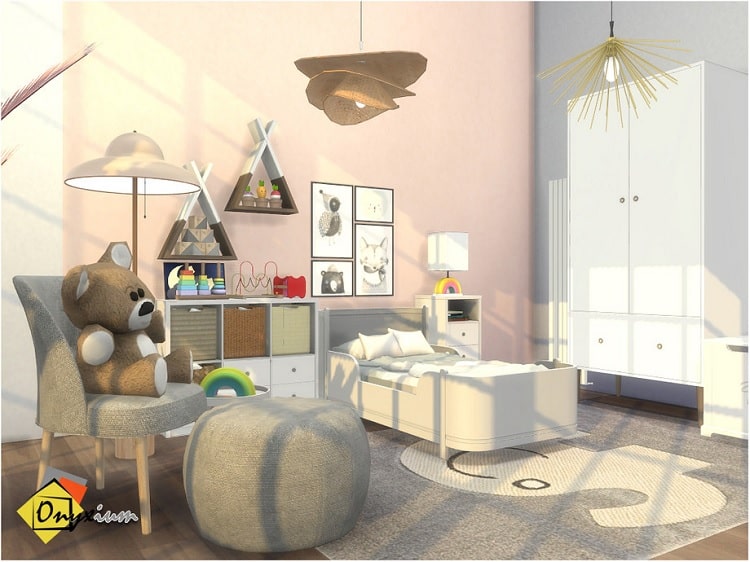 Victoria Nursery
Again, another one by Severinka_ and really cannot help it. The nursery rooms are so artistic, yet so realistic that we keep bringing their work to the world to see. The crib toy, floral patterns, toy horse, and changing station make it a real deal. The addition of polka dots and hearts adds texture to the nursery. This too is obtainable in both blue and pink. Did you find your color?
Tiny Twavellers
The creator is called Harrie, who has generated a CC that can house babies to kids. Yes, the canopy, toys, swings, and bassinet make it a perfect choice for a nursery CC. This is a piece containing 67 contents, custom-made for the young ones.
This is spacious, which helps your kids to run around and have fun all through their childhood. Care to look at it?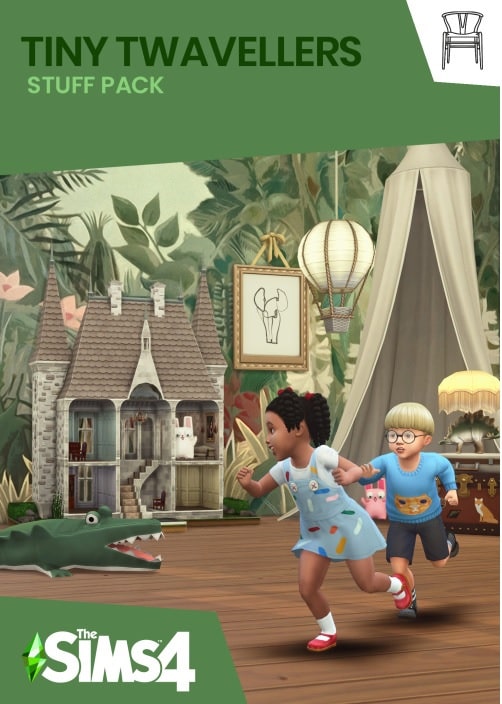 Evelina Nursery
Sims mods must be worth a show for some. If you are one of them then Severinka_ is the creator to go for. For example, this CC is so pretty that it will melt your heart away. The soft pastel colors certainly are one way of doing so.
You know the dreamy décor makes you think that a fussy baby will soon be overcome by its loveliness. This may be true to some extent, you will know if you get one today!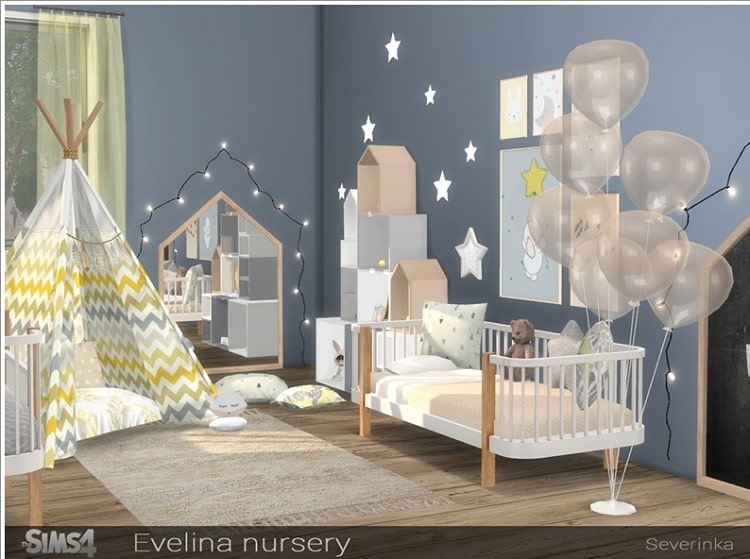 Awesims Broyhill Nursery
So, your bundle of joy arrives and finds itself in this awesome nursery. Technically, if you have a baby, they may not see it right away, but in the long run, when they start growing they will appreciate the bold colors and decoration.
The dragon wall photo, cribs, toys, and chairs make it a great collection. This is the creation of Loree, who is quite adept at designing.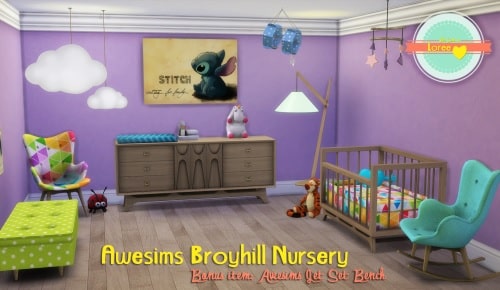 Nagoya Toddler Bedroom Extra
This one is also drawn by our favorite Turkish artist, Onyxium. This too has a Boho theme that complements it with depth. This could be due to the warm colors that are associated with Boho or the colors thus used exude warmth. The furnishings too have a tenderness that is hard to find. If you want you can download it now and make your Sim family happy with the surprise.
Heart Kids Room
Okay, this time guilty, as this is yet one more by Severinka_ and we cannot stop sharing their work. This sims 4 cc nursery is easy to download and has a lot more than meets the eye. The use of subtle hues and glow effects all make it a perfect nursery mod.
It also has a dining table that can help you bond with your family. Seems, as if the adornments and colors all cry out for you to install it.
Candy Covered
This artist has a unique name, SIMcredible! Yes, sounds incredible too, doesn't it? Well, the nursery CC is indeed quite a staggering sketch that has a bassinet, changing pad, toys, and different colors showing the creator has given it quite a thought to achieve this finesse.
You know what this can serve as a kid's room down the line. As for now, you can enjoy the mod as a baby room.
Susanna
Heck yeah, this is the name of CC! This has been done by Soloriya, a Russian artist. The vividness of the colors and the addition of bright green shows their sense of color. The Native American designs on the edges render it into a multi-ethnic pattern.
The play table, blackboard, colorful toys, and the all-wood surface adds a feel-good emotion to it. Art knows no boundaries, and so should your imagination!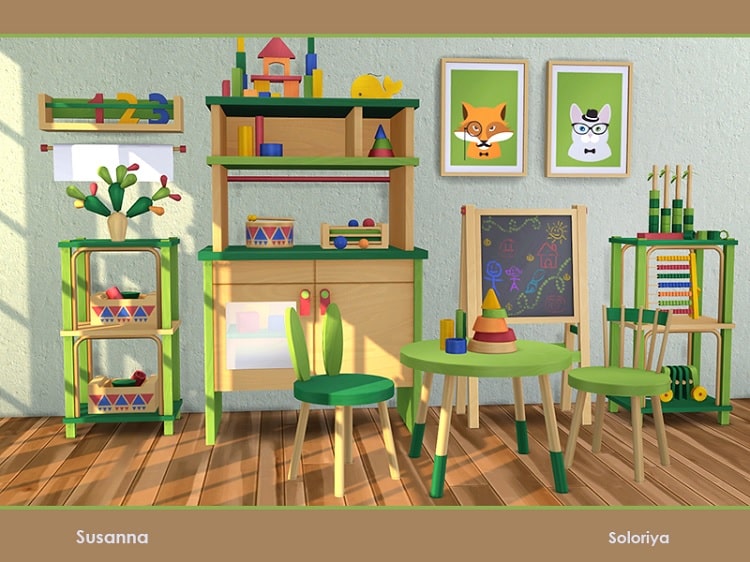 Kids Camping Toddlers
Another nursery CC by SIMcredible! This Brazilian artist has a different approach when it comes to nursery designing. The bed looks like a tent and looks very attractive. The variety of color ranges that it is available quite obviously gives it an edge.
The shelves, curtains, toys, tent cabin, and more make it a good investment. Why don't you give it go?
Complete Nursery
This CC is a complete set for your nursery and has been created by 13pumpkin. You can choose from different colors that can give your nursery an instant makeover. It has it all diaper changing table, crib, colorful or checkered mat to choose from, and wall hangings. It prepares new parents and the fully stocked diaper changing station takes away all their worries. Help your Sim family get through the most important time of life.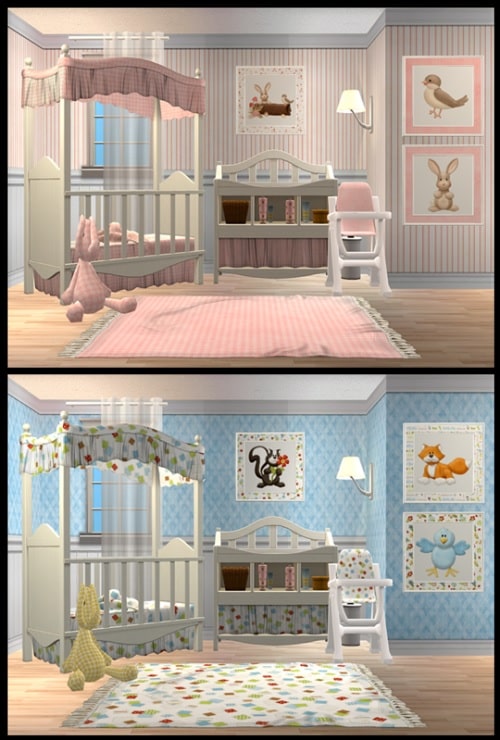 Sleepi Nursery
Please don't blame us, as this is one more by Onyxium. The toys, big plushies, and the wall décor all make this a stupendously stunning nursery. This CC has it all the lighting, chair, the stool for tired parents all make it a great package.
Help your Sim understand the importance of parenthood by providing them with the right guidance. You are in control and you need to help them during such a demanding time.
Baby Decor – Mini Outfitters + Bebé Orgánicos
This is a baby decoration pack that has been designed by Dreamteamsims. This pack includes baby bottles, racks, rattlers, baby gyms, xylophone, and mats. All this will aid your Sim to become a better parent. Teach them to be kind and patient with children.
This is a pack that will ensure that you never run out of ideas for having a good time. Just leave your Sim with their baby to see how they bond with their young ones.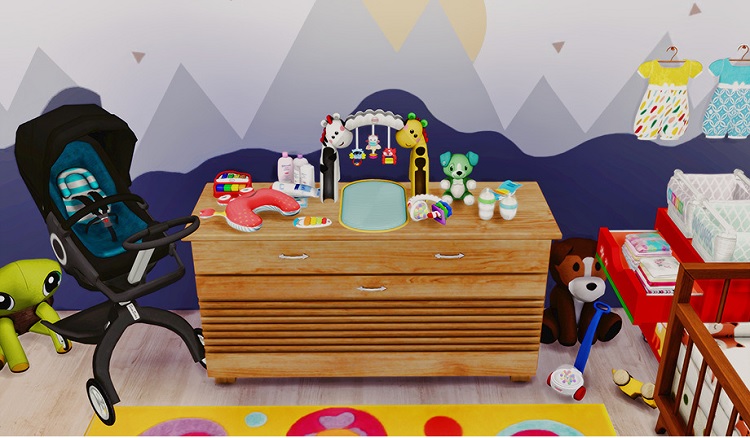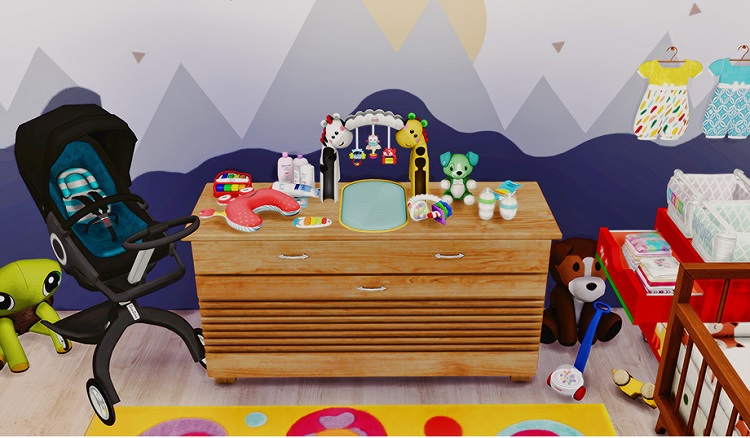 TS4 Kalehouse Nursery Recolor
The creator Riekus13 has listed a number of nursery furnishings that can be put to use. Pillows, soft toys, rugs, mats, changing tables, storage, and cribs can be installed in any room of any décor. If you are not a follower of a traditional nursery, then you can transform any room into one with these mods around.
You can take the time to select a good collection by mixing and matching as well. What say?
Diego Nursery Decor
This is a nursery decoration set made by our beloved artist – Severinka_ and this is quite a collection. It features a retro car, posters, wall cloud, cloud pillow, wall stencil stars, and more that add energy to your nursery. Let your Sims and the babies that will grow into toddlers be happy.
It has this soothing effect owing to the simple colors that can calm down a fuzzy child. Have a look at the array of products that accompany this compilation.
We have prepared a catalog in this post of the sims 4 cc nursery. We neither want you to panic with a newborn around nor want your Sims family to hit the rock bottom. So, what you do is just pick and choose whatever you think is right for your family. That is all!