Menstruation is part of being a woman, and an average American woman goes through 450 periods in a lifetime. So why not have your female sims also go through periods to make the game more realistic? Therefore, the Sims 4 Period Mod allows your female avatars to menstruate as well; and trust me, it adds a lot of new and fun elements to the game that no one could have imagined. I absolutely love the Sims for introducing such a mod because it changes your gameplay in a significant way. So here's more about this mod. 
Is There a Period Mod Sims 4?
Now, the Sims 4 has come up with more than one period mod for your sim because the more, the merrier. However, the Sims 4 base game or expansion packs don't consist of any feature related to periods, so you'd have to download these mods to get this feature. We'll discuss each modification in detail in this section.
Cycle – Menstruation and Fertility
If you download this modification, then it increases the risk of pregnancy whenever they woohoo without using birth control methods. Whenever they are on their periods, they'll face the usual emotions that a person does, such as staying locked up in their bedrooms and fussing over their skin. So, if you don't wish to go through this whole phase, then don't let them use birth control pills, and they'd eventually get pregnant. However, pregnancy has its own drawbacks as well. 
Wicked Whims
The wicked whims period mod offers a menstrual cycle option, which comes with pads and tampons for your sim. However, if you don't give these to your sim when they are menstruating, then they'll receive a negative moodlet. If the pads or tampons are in the inventory, your sim can use them automatically, but if it's not there, then it'd become quite messy since they'd stain their panties and clothes. This would not be a good feeling for them, and they'll get angry.
You can find this feature by clicking on your female character and then navigating to More Choices > Wicked > Settings and then going to Sex settings. As you scroll down, you'd find Pregnancy settings > Menstrual Cycle Duration. Here, you'd see 5 five options: Automatic, Very Long, Long, Normal, and Short. By default, the automatic option is chosen in the settings, but you should change it to normal.
To install this modification, follow these steps to a T.
Download the mod on your PC and then extract it.
Open the Sims 4 Mods folder.
Shift the files named "WickedWhimsMod" and "Resources.cfg" to the folder.
Start the game and enable the custom content mod settings.
Restart the game and start playing.
Slice of Life
In this mod, your sim would receive a buff whenever their periods are about to start, but there aren't any other features that it offers, such as pads or tampons for your sim. You just have to wait until they stop menstruating.
Features of Period Mod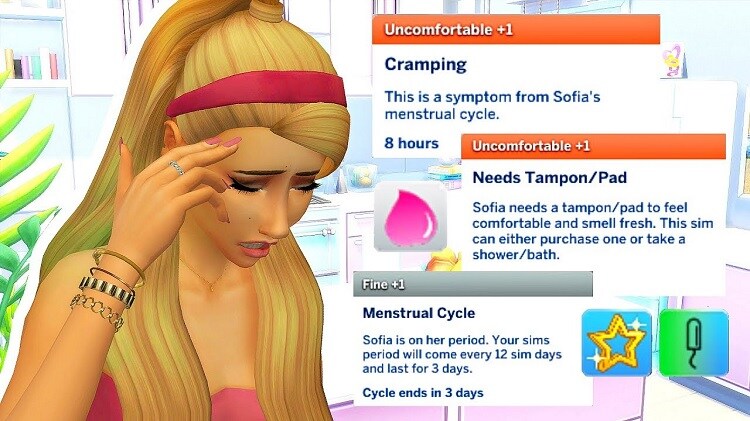 Apart from the attributes discussed above, here are some more features that this modification offers you after being updated frequently.
If teen sims choose the "mess around" interaction, then there are chances of them getting pregnant.
Woohooing regularly might pose a problem, especially if your sim's doing it without protection and when the female sim's fertile.
Sims can now use condoms, birth control pills, morning-after pills, or pregnancy tests in the game.
If your sims get pregnant, they can choose not to reveal the father to you.
Players can use the cycle tracker phone app to track their character's menstruation cycle.
New things would also be added along with this mod that would be functional and decorative as well.
Conclusion
Sims 4 Period mod is quite an essential part of the game because it makes the game more relatable and realistic for players. Also, this new feature makes the gameplay more exciting and unique. There are three mods to choose from, so you can take your pick based on the features it offers, but you should certainly download one of them to change things up a little.