Your Sims have the natural ability to get pregnant in The Sims 4. However, it can still get boring over time. Sometimes interesting events, interactions, or changes make pregnancy a fun thing. And the pregnancy mods Sims 4 are here just for that. These Sims 4 pregnancy mods create the perfect storylines, introduce new interactions and make the pregnancy journey more realistic.
These mods have unique features and make your gameplay exciting. However, some of these mods are too big in size. Therefore, some PCs may not be able to handle the changes.
Hence, for those whose PC's may not be able to handle the more extensive mods, this article also includes a few more minor mods. Find the best, realistic pregnancy mod that fits your preferences.
Best PREGNANCY MODS cc SIMS 4
1. Woohoo Wellness & Pregnancy Overhaul Mod by Lumpinou
This mod is very well known. It is considered to be essential for having a realistic pregnancy in The Sims 4. This Sims 4 realistic pregnancy mod will change your gameplay. This mod includes a lot of features. It further contains ten unique modules. It is like a large pregnancy mod set. The modules included in this pregnancy mod are :
Pregnancy Preferences
Woohoo Diseases
Paternity Tests
Teen Pregnancy
Unwanted Pregnancy Acceptance
Cheating and Being Faithful
Alternative Pregnancy options
Adoption Overhaul
Break-up, Make-up, and Co-parenting.
Pregnancy Risks and Protection and also Fertility.
This single mod contains so many modules. Apart from these, there are further add-ons as well. With a mod like this, your gameplay is bound to change significantly. It is recommended that players go through every module description on the download page to get a clearer picture. This mod is a must-have for your Sims. It will completely change your Sims pregnancy experience. You can create multiple storylines.
2. Sims 4 Pregnancy Belly Size Mod by LittleMsSam
A significant part of being pregnant is the change in the size of your Sim's belly. This mod allows you to change the size of your Sim's pregnant belly. However, there are many other features in this mod as well. Once you download this mod and it is functional, your Sims will be able to move around and do a lot of activities in their first and second trimester. Before, Sim's movement would be restricted because of the pregnancy. Your Sims will be able to do yoga, push-ups, and various other activities.
With respect to the change in your Sim's belly size, four versions are available for that. Each version allows you to choose the extent to which your Sim's belly will increase in size. And also how much it will change pre and post-labor.
Along with the sizes, the pregnancy walk style of Mothers-to-be will also be disabled in this mod because we all know that all pregnant women do not walk like that. Apart from this, this mod also gives you another exciting option. It will allow you to create a chance of dying while giving birth to your baby Sim. This is as real and dark as it gets.
3. Sims 4 Discover Pregnancy Mod by SimMixD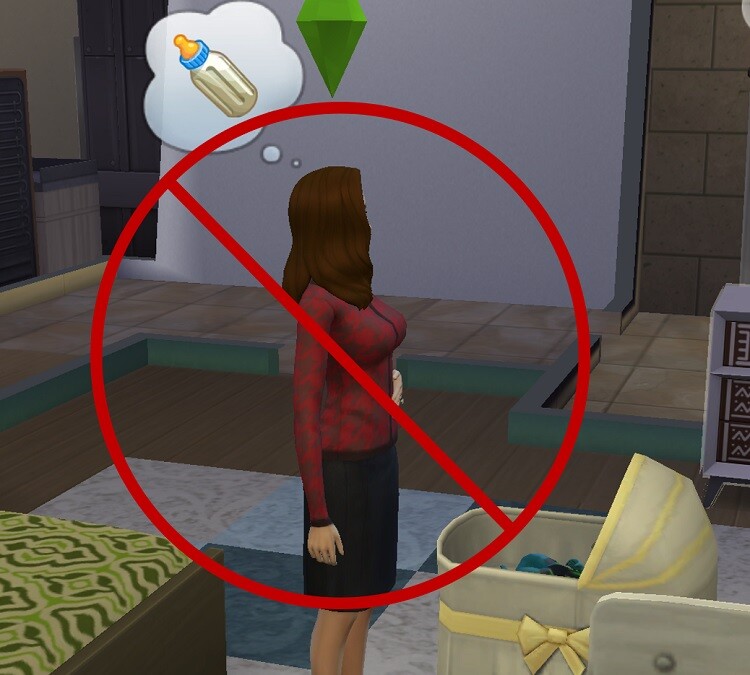 This mod will make things interesting and exciting for your Sim and you. When trying for a baby is successful, the game will give you indicators specifying that the game is pregnant. However, with this new mod, these indicators will be turned off. You will be able to know that your Sim is pregnant only when they start showing. That is an increase in size. This is highly realistic as sometimes this is what happens in real life. Hence the following things will change for your Sims with this mod:
There will be no autonomous throw-ups anymore.
There will be no idle pregnancy animations. Earlier, the Sims would hold their belly and have thoughts related to babies or show a nauseous moodlet. These will, however, stop and start only when your Sims pregnancy is evident when they start showing.
This change is optional – This mod will slightly improve your male Sim's pregnancy buffs. Your male Sims will no longer think of baby-related things. They will not be sure of what's growing inside them. They will look at other causes instead of it being a pregnancy.
4. Sims 4 Pregnancy Length Mod by Tanja1986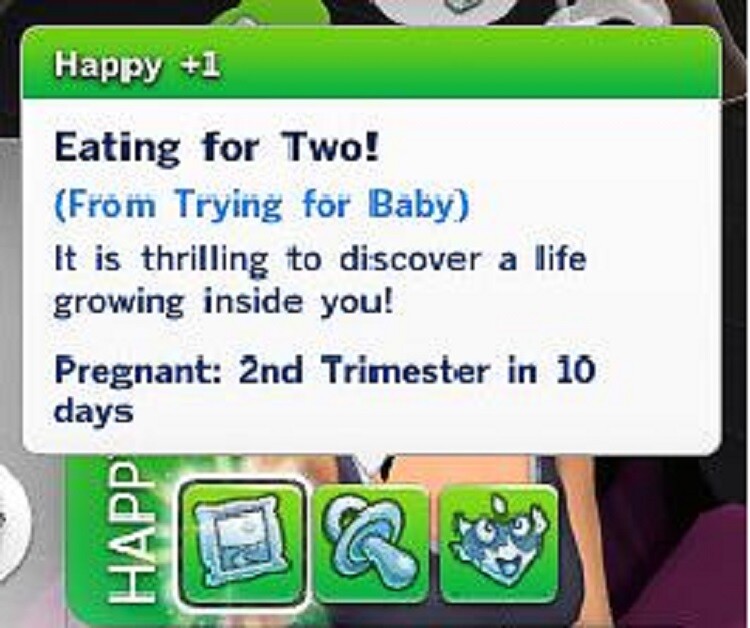 This Sims 4 pregnancy mod is very straightforward. The main feature of this mod is the ability to change the duration of pregnancy. You can make your pregnancy longer or reduce it by a few days. The default EA settings are for three days. However, with this mod, you can change the duration to the following periods :
Pregnancy of 1 day only.
Pregnancy duration of 9 days.
Pregnancy of 18 days.
A very long pregnancy duration of 30 days.
An extreme version of this mod, where each trimester lasts 28 days.
A lighter version of the extreme version is six days per trimester.
This pregnancy controller mod will give you the power to decide the fate of your pregnant Sims. Use this appropriately, and do not torture your Sims. If you want the experience to be very realistic, the extreme version with 28 day trimester would be your closest version to experience it.
5. MC Command Center by Deaderpool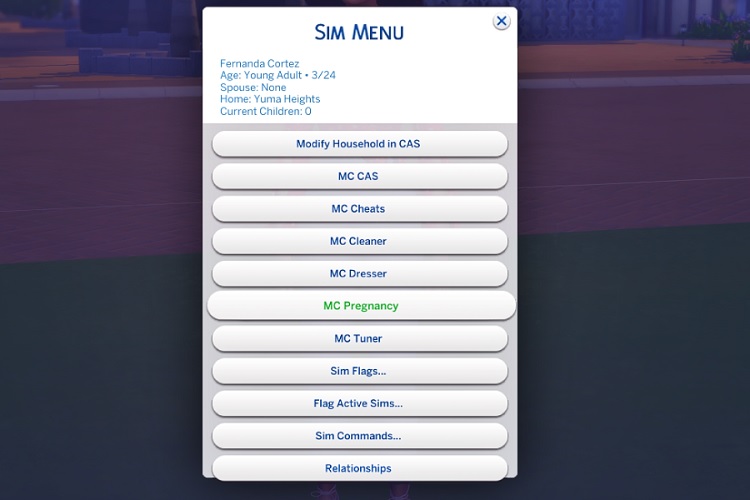 This Sims 4 mod is a must-have. Even if you are not using it as a pregnancy mod, it will help you in every aspect of the game. With this mod, you can get your Sims pregnant without having them woohoo or try for a baby specifically.
Download the MC Command Center, and then open it up. Once open, search for "MC Pregnancy" and select that option. Select the "pregnancy start" option.
Select the Sim you wish to make pregnant and go on to enter a numerical value that states the number of boys or girls you want to have.
If you want the gender to be a surprise, enter 0. This will randomize the gender of the body.
Then simply go ahead and enjoy your pregnancy. It is so easy to get pregnant without a partner.
The MC Command Center helps with story progression. It is much smoother with the MC Command Center. It makes the world exciting and very realistic.
6. Sims 4 Ultrasound Scan Mod by LittleMsSam
Be it a person in real life or a Sim, an ultrasound of your baby is very exciting. This Sims 4 ultrasound mod adds so much reality to the game. Your Sims will also have access to a gynecologist when they are pregnant. However, the process of ultrasound is quite long in the game. In the game, your Sim will disappear into the doctor's clinic for around 60-90 minutes.
But the results are worth the wait. When they come out of the office, they will be holding a cute ultrasound of the baby in the Sim's womb. The ultrasound will be found directly in the inventory section.
In this Sims 4 pregnancy mod, you will also have the option to hang the ultrasound on the walls of your home. This will make your Sims happy, giving them a happy buff. There will be nine frame swatches available for this.
If you feel very happy and wish to share this happiness with others, you can give your close friends a copy of the scan. However, one thing to remember is that each gift will cost around 25 Simoleons. Once you are done using the scans as decorations, you can save the scans as a memory in the Storage Chests. Go through the download instructions clearly to make your gameplay smooth.
7. Sims 4 Stretch Marks Mod by Average Mari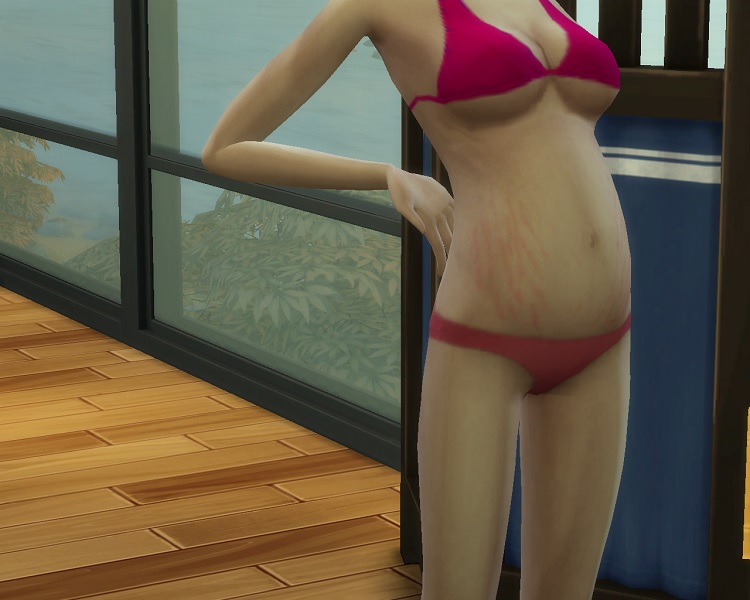 One of the most natural things after giving birth is stretch marks. They are like a sign of you being pregnant and having gone through labor. Stretch marks are a very important and natural thing when it comes to pregnancy, and EA fails to depict that in the game. This mod, however, makes things realistic for all players. You will be able to see significant changes in your Sim's body post-labor. This pregnancy mod Sims 4 is available in 2 different versions. One is for your body, whereas the other is for your Sim's chest and boobs.
The Skin stretch marks for your body are available in 11 swatches. This covers the thighs, back, arms, and of course, the belly.
The mod focusing on SIm's boobs is available in six other swatches. Both the versions of the mod are base game compatible.
8. Labor Puddles Mod by PolarBearSims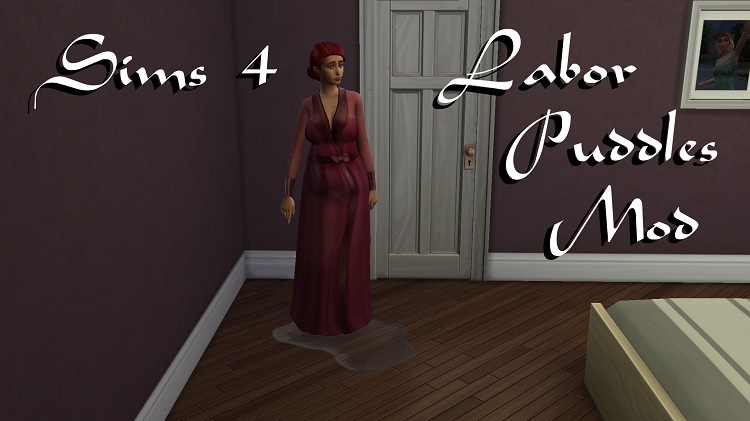 Another part of pregnancy that is missing in the EA game is breaking the Sim's water. Although this is a simple addition, it is essential and realistic. This mod makes the gameplay more immersive.
Now, their water will break whenever your Sim goes into labor, and a puddle will be formed below them. This mod offers you the following features:
Labor puddles will also be created for pregnant cats and dogs.
There will be one puddle at the start of labor.
Each contraction your Sim has will add one puddle.
Male Sims will also be subjected to the labor puddles.
This Sims 4 pregnancy mod is available to the players in three flavors. Check them out on the download page and choose the one that fits you the best.
9. Wonderful Whims by TurboDriver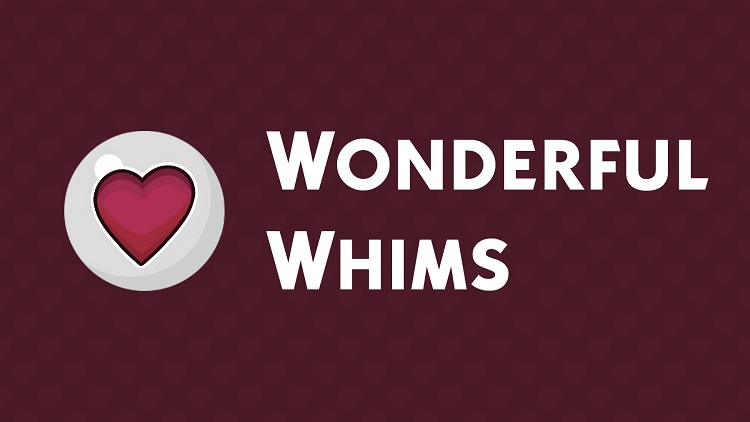 This popular mod is always in demand. This mod makes things very realistic in the game and will give you a very immersive gameplay experience. It affects every aspect of the game related to your Sims love life. It affects attraction, pregnancy, and even woohoo, amongst many others.
We will focus only on the pregnancy feature of this mod here. This mod sure does bring a lot to the table. Some of these features are:
Menstrual Cycles. This includes the usage of tampons and a proper fertility cycle of your female Sims.
Your Sims will be able to donate their unborn babies to science.
A miscarriage is highly possible if your Sims abuse substances such as alcohol.
Your Sims will be able to modify the duration of the pregnancy.
A puddle will be formed under your Sim when their labor starts.
No need to try for a baby anymore. Every kind of woohoo interaction can get your Sims pregnant. So be safe!
Your Sims will now also be able to control birth control pills if needed.
These are just some of the features included in this mod. Apart from these, there are many other features that can significantly change your gameplay.
10. Cherished Moments Sims 4 Pregnancy Mod by YourFalseHope
This Sims 4 pregnancy mod adds a level of depth to the pregnancy journey of the Sim by adding more realistic modules. It also adds various new kinds of interactions that seem very realistic. Each phase of the pregnancy will now have newer interactions. Some of the features included in this mode are:
For Sims, who hate kids, a special pregnancy moodlet will be depicted for them.
Your Sims will be subjected to a unique morning sickness that happens pre-pregnancy.
Many new types of pregnancy-related symptom moodlets and socials will show up.
If your Sims face miscarriage, they can join an online Miscarriage Support Forum on the computer.
Your Sims can also write blogs on pregnancy on the computer and post them online.
This mod will also introduce your Sims to Postpartum Depression. This will also have Symptom Moodlets and medication to treat the same.
A Psychotherapy Session can be booked for your Sim via the phone. This is to treat Postpartum Depression.
This mod will also subject your Sim to various kinds of food cravings.
There are many new interactions as well. The interactions keep on changing and make things more realistic. This Sims 4 pregnancy mod is unique. However, it cannot be used with Lumpinou's Pregnancy Overhaul. If your PC can handle huge mods, then this mod is an absolute must-have.
11. Sims 4 Baby Shower Event by KiaraSims4Mods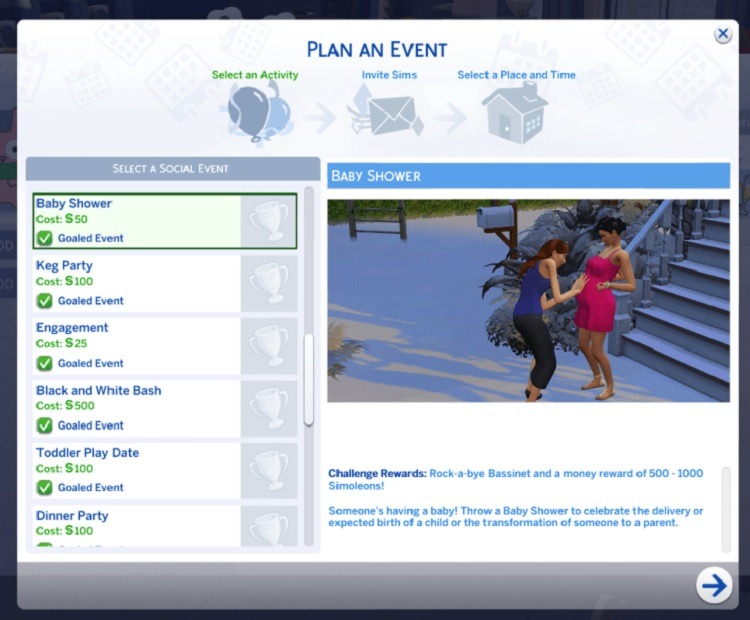 Another event that genuinely makes the Sim's pregnancy journey unique is a baby shower. No Sim should ever have missed such an important event just because EA did not feel the need to include it in the game. This mod plans the perfect baby shower event for your Sim. In the baby shower, your Sims also can win a cash price plus a free bassinet.
Find more details regarding this mod on the download page. This Sims 4 pregnancy mod is a must-have to make the final moments of pregnancy enjoyable for your Sim mother-to-be.
12. Sims 4 Pregnancy Pose Pack by Katverse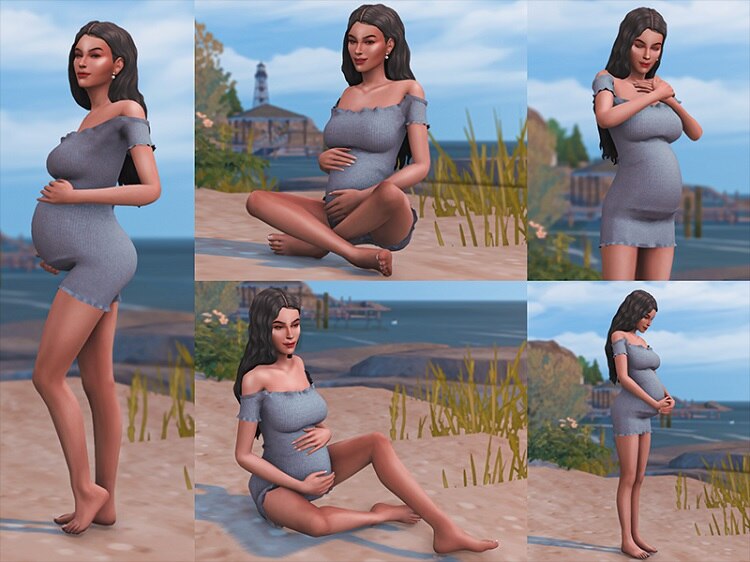 Getting your Sims a photo shoot during their pregnancy is just in trend. It covers the beautiful glow of the mother-to-be. This mod includes a set of different poses your Sims can use when getting their photoshoot done. These custom poses will make your Sim's journey highly memorable. Although these poses are simple, they are very adorable. There are five poses included in this Sims 4 pregnancy mod pose pack. These are base game compatible. Use these poses on the perfect sunny day to feature your baby bump and pregnancy glow.
13. Sims 4 Miscarriage Mod by LittleMsSam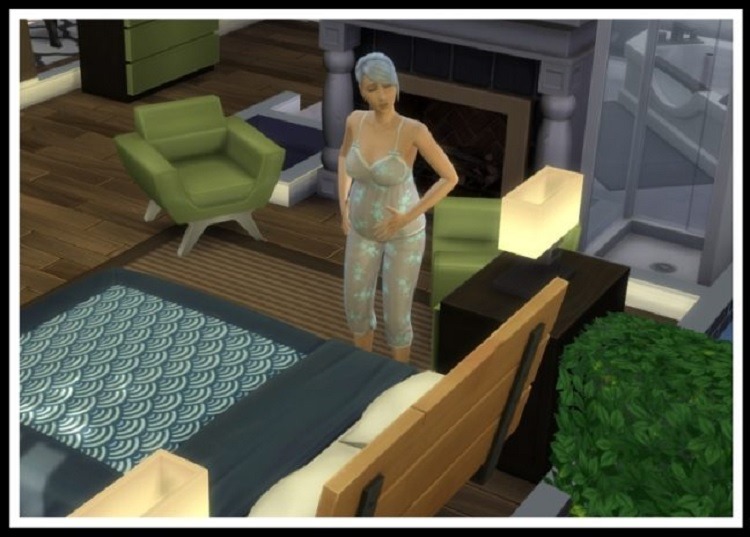 Some things in life are not always enjoyable. This mod introduces the Sims to a very dark part of being pregnant. Miscarriage is a sad yet important aspect of being pregnant. This is a huge mod. With this mod, you can customize how the miscarriage happens. You will also be able to control the chances of getting a miscarriage in every trimester. Customize the chances of death after miscarriage and also the chances of your Sim getting pregnant after a miscarriage.
Your Sims may possibly wake in the morning one day with cramps and Pain. If your Sims show these symptoms, they need to go to the hospital immediately. This is where things take a turn. Either your Sim comes back from the hospital feeling ok, or they come back with tragic news. Both results have a significant impact on your Sim's household.
There are other optional add-ons in this mod as well. There is an option to add your unborn child to the family tree. This will serve as a somber and tragic memory for your Sim.
Abortion will also be possible. You can send your Sims to get an abortion if needed. All they need to do is walk into a hospital and pay a fee of 1000 Simoleons. This option is available to your Sims only in their pregnancy's first and second trimesters.
14. Sims 4 Realistic Birth Mod Animation by Eux3 C. C. R
Realistic birth mods are pretty challenging to come across. However, this mod promises you and your Sims a very natural birth. The animations in this mod are exciting.
The animations in this mod can be pretty graphic, and the scene will have to be set up along with the help of other mods. The process is quite complex. It is not as simple as downloading it.
Since the labor animations are very original, it is not for the faint-hearted and only for players that are 18 years old and above.
15. Sims 4 Couple Pregnancy Poses by Katverse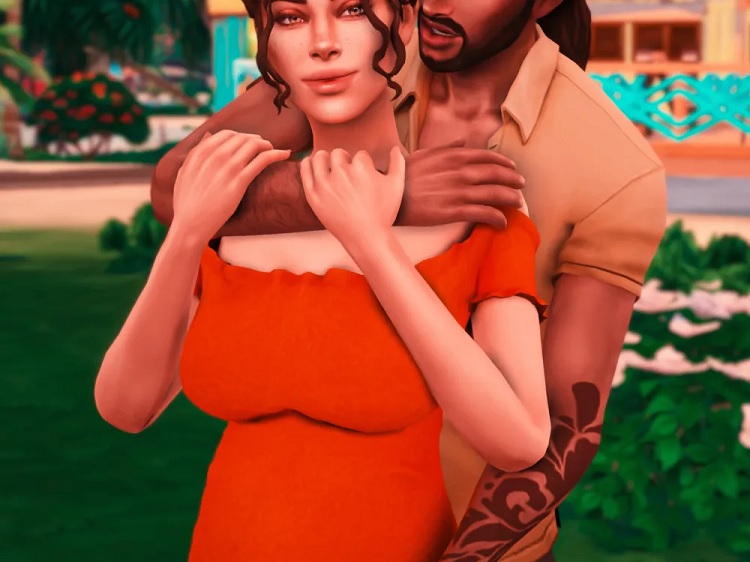 Couple pregnancy poses are the most adorable things ever. And this mod takes advantage of that fact. Click some fantastic couple photographs with these poses and frame them in your house. However, you must note that you will need teleport and pose mods for these poses to work perfectly.
In your third trimester, the poses and photographs will be more beautiful when your baby bump is showing. This mod contains a total of five poses. For this mod to work perfectly, you will have to place two teleporters in the same spot.
Frame these pictures and store them as a memory of your pregnancy journey with your partner.
16. Sims 4 Realistic Birth Mod by PandaSama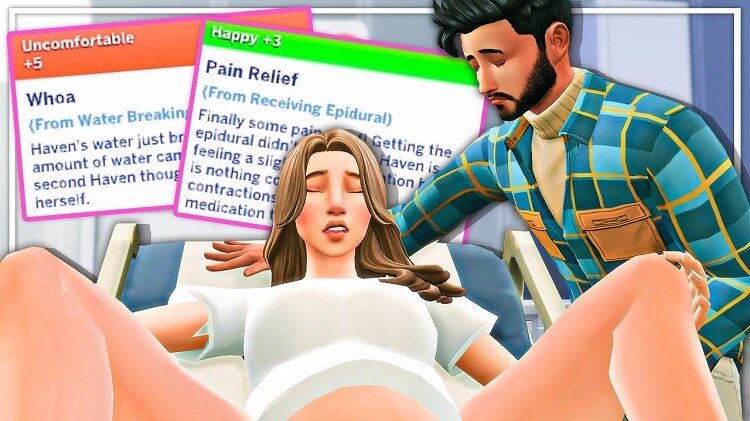 EA's idea of giving birth in the game is not realistic. Hence, players asked for more realistic birth mods. This realistic pregnancy mod is highly talked about in the Sims community.
When it comes to childbirth, this mod has everything your Sims will ever want. It even has the option of having a natural birth or having a c-section done. You can also ask your Sim doctor for an epidural and to check the dilation while giving birth.
This mod contains an exam bed, where you have the option to give birth there. The options are also available on the surgery machine. This pregnancy mod Sims 4 is a must-have for your Sims. It will make things exciting and give a realistic, immersive gameplay experience.
17. Babies For Everyone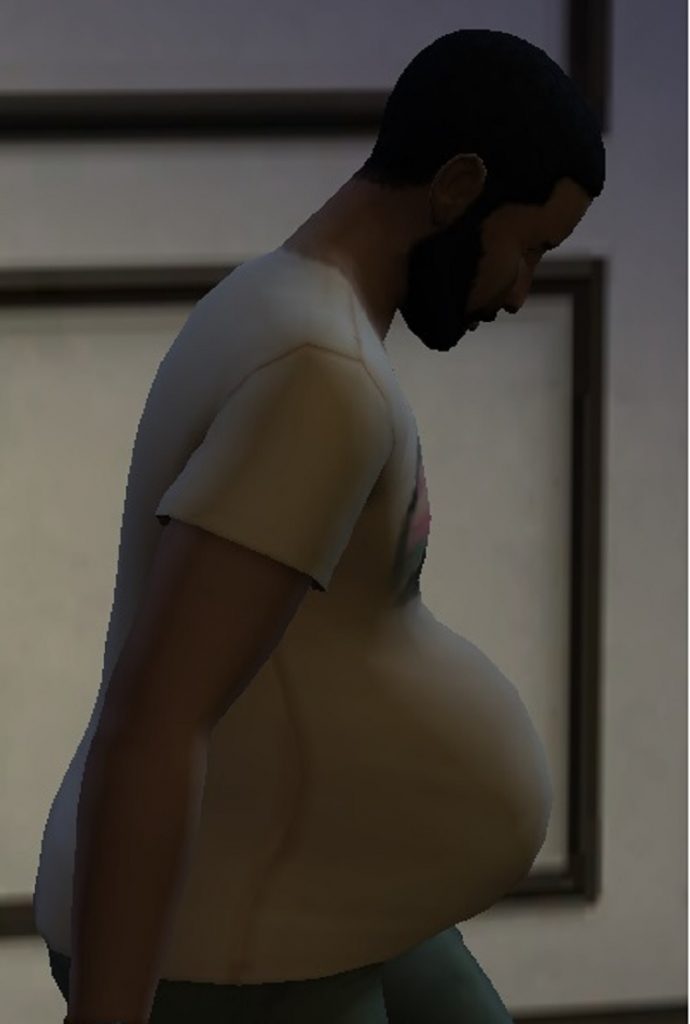 The Sims 4, being a simulation game, allows you to explore and go beyond any realistic boundary. This includes pregnancy. With this mod, you make your Sim's life in the game highly exciting and interesting. Now any Sim can get pregnant in the game. No limitations. Before, only old females had the ability to get pregnant. Now even male Sims can get pregnant. Along with them, teen Sims, more senior Sims, and various other Sims can get pregnant. This is one of the most interesting Sims 4 pregnancy mods.
This features various kinds of pregnancy. Some of them are:
Lesbian pregnancies
Elder Pregnancies
Male Pregnancies
Equal Opportunity Mischief. Here you will be able to ask for the Due Date of the Sim.
Reverse the Pregnancy.
Gay pregnancy.
These features make the mod more enjoyable to use in the same. Let your Male Sims understand what pregnancy feels like.
18. Same Sex Pregnancy
This mod tackles a similar problem. Couples of the same sex are not able to get pregnant. This is how it works in the real world. However, this isn't the case in The Sims 4. This mod defies those rules.
With this mod, your Sims in a same-sex marriage or relationship will be able to have a normal pregnancy. So all LGBTQ couples can enjoy their lives. Gay or Lesbian couples will not have to look for surrogacy or IVF option to have a baby. Like a straight couple, one partner in the relationship will carry the bay. Usually, this is always the Sim that initiates the Try for Baby. Now you can go through the same pregnancy journey as other couples and not feel left out. Such mods are essential to introduce inclusivity in the game, even if they aren't always realistic.
Straight couples will not be affected in this mod. Hence your female Sims will not be able to impregnate the male Sims.
19. Pregnancy Scan And Reseed – Determine Gender And Number Of Babies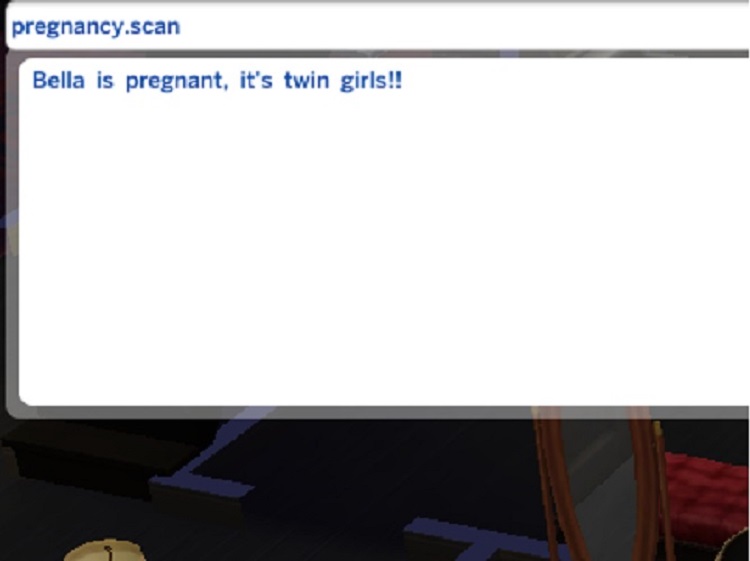 Sometimes controlling every aspect of your Sim's life is what makes the game more enjoyable for players. If that is the case for you, then you will love using this Sims 4 pregnancy controller mod.
With this mod, you can scan your Sims to find out whether they are pregnant or not. Next, with the help of cheats present in this mod, you will be able to change the number of babies your Sim has. You can have one, two, or even three babies. You can choose whether you wish to have twins or not. The baby's gender is also a choice for you to make. Or you can randomize it.
With this mod, you can create your ideal Sims 4 pregnancy. It will make the gameplay enjoyable as things go your way.
20. Quadruplets Quintuplets Sextuplets Babies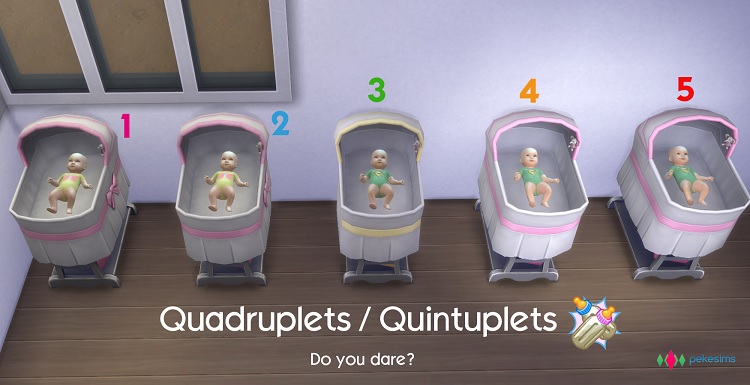 The Sims 4 does not allow your Sims to have more than two babies at the same time. However, some couples may want more. And in real life, some females give birth to more than two babies. There are quintuplets as well. So why not in The Sims 4, where anything can be simulated?
This Sims 4 pregnancy mod allows you to control the number of babies your Sim gives birth to in her pregnancy. The maximum number of babies your Sim can carry is six. And giving them birth simultaneously will be hard enough for the Sim.
This mod only lets you change the number of babies. The genders cannot be altered or determined. This mod certainly makes the gameplay highly interesting.
There are several flavors included in the mod. Hence, you can choose the possibility and chances of giving birth to sextuplets. You will be able to choose only one flavor, though.
21. Pregnancy Terminator Command Mod
This pregnancy mod Sims 4 is pretty simple. Sometimes your sims may not be ready for a pregnancy. Or you may not have enough funds to look after a kid. Or it is also possible that you wanted the kid before and now changed your mind.
Either way, the next step would be to terminate the pregnancy. This Sims 4 pregnancy mod lets you remove your pregnancy with the help of a simple cheat. The process is very straightforward.
You need to download the mod first. Next, open the cheats console and type in the following cheat: Pregnancy.terminate Your Sim (the name of your Sim here). Finally, your Sims will instantly lose the pregnancy.
This is a straightforward way of aborting the child. It is much easier than going to the hospitals and paying for abortion there.
22. Alien Abductions And No Abductions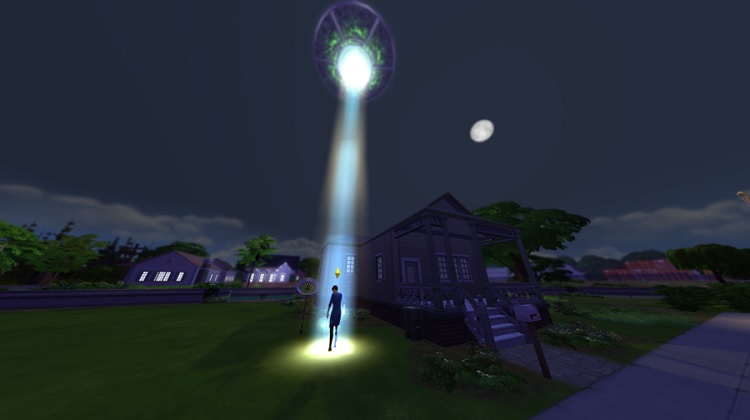 If you or your Sims have ever wanted something mysterious to take place in their life. This Sims 4 pregnancy mod is a must-have for the curious Sims. The main idea of this mod is that a UFO satellite will come over you, and some aliens from another planet will impregnate you.
In this mod, any Sim can get pregnant and abducted by them. The UFO can be called to Earth only when a scientist sends a call.
This mod is quite simple and impressive if you or your Sims love Sci-fi stuff!
23. Pregnancy Poses Option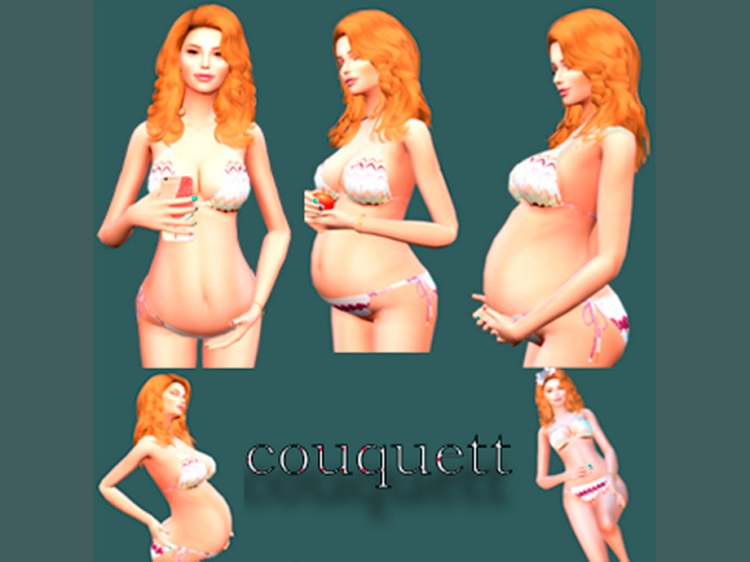 This pose pack by Couquett is adorable. This allows your pregnant Sims to have a fantastic photoshoot. Show off their baby bumps and store these memories for the future. There are various poses for your Sims to do. Hence, no photo will be similar. Each pose is unique and captures your Sim's aura. Try this pose pack when your Sims are in the second or third trimester to get the pregnancy glow on their face.
CONCLUSION
The pregnancy mods Sims 4 are unique and will make the pregnancy story fun for you and your Sims. Try out these Sims 4 pregnancy mods and find the one that you enjoy the most or that suits your needs.
You can do many things with these and make your gameplay more exciting. There are various other mods such as – pregnancy test mod, teenage pregnancy mod, and different pregnancy controllers. Explore them all and give your Sims a realistic pregnancy that they will cherish as a memory when the child Sim is born.