The Sims 4 cheating mod is quite popular within the Sims 4 community. This mod helps to make using cheat codes a lot easier. Many players struggled to remember all the different codes and use them within the game. Therefore, to eliminate this problem, we can use this mod. There are quite a few fantastic cheat mods that you could use in place of cheat codes. These mods also work a lot smoother compared to cheat codes. The Sims 4 cheating mod is also one of these mods. With this mod, your Sims will get to cheat on their partners during relationships. This cc makes the game more realistic and adds some spice to the storylines in the game.
Features of the Sims 4 cheating mod
s model will allow you to have complete autonomy. This function means that you can face your storyline according to your wish.
There are many interactions that I included in this mode.
If your partner flirts with another sim, you have the right to get angry and react. However, it will not be considered cheating.
If the parents of a child are cheating, there are interactions and reactions for the children.
You can autonomously confess to your partner about cheating. Your partner will also have some honest reactions to your confession.
If your Sims are married, they will have to Woohoo with another Sim to cheat.
You can also decide which character you want to cheat with.
The overall mod will have a lot of realistic and unique interactions and reactions.
There will be reactions to fights between family members. You will get a cheating overhaul as well.
Teenagers are allowed to get pregnant.
You can adjust the intensity of the moodlets and buffs. If you change these settings to extremely high, your character can even die.
You can propose to your girlfriend or boyfriend and also brag about it.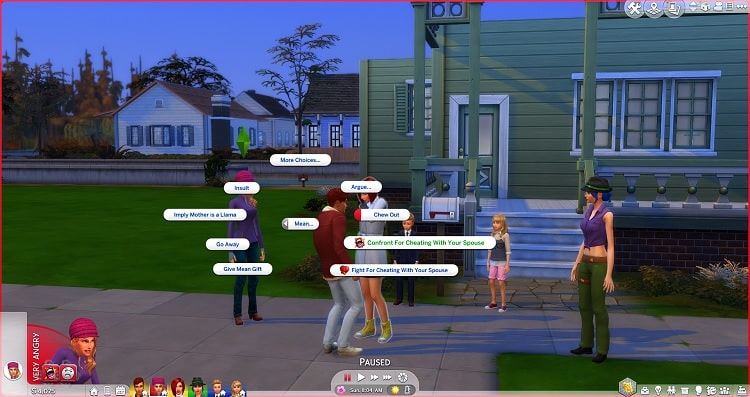 Sims 4 cheating mod updates
Updated to correct the LE and errors in the MC Command Centre log.
Updated the Origamika's Russian translation and the melqui1's Portuguese translation.
Patched again.
Chinese translations – Fixed an LE (Last Exception) that occurred when loading and saving the mod. The buffs for children who react to cheating were improved. Kids will not respond to disappearing.
The creator added Origamika's Russian translation.
Added the flirting feature not to be considered cheating in this update and fixed a few bugs causing problems in the game. Addition of different reactions to cheating. This update contains several bug fixes for all of the reactions in this mod. They updated the buff for the flirty spouse following the new features added. Children will react differently to their parents cheating—addition of the Melqui1's Portuguese Brazil translation.
Origamika provided a Russian translation, which the creator updated.
The creator updated the Eco Lifestyle Patch. This update is the update that enables the feature for children to react to their parent's cheating. Addition of "confess to cheating mod." Added more autonomy for confession of unfaithfulness to their partners. Added new interactions and reactions to the cheating confessions and fixed a few bugs.
The addition of Origamika's Russian translation and MMCCC's Chinese translation.
Fixed the issue for the monogamous "cheated with" testing code.
Added the rule for married partners to woohoo to cheat. Addition of the function of "Disable Flirty Spouse Cheating Reactions." This update helped make reactions more realistic—re-addition of the default flirty spouse buff.
You can now stop cheating with a particular Sim by simply clicking on them and choosing the "Remove Cheating Relationships With This Sim" option.
Update: Merged all modules into one. The creator also added toggles in the Realistic Reactions menu to disable reactions that you don't want and enable only the ones you wish to—fixed the LE bugs. The creator disables the function of cheating confessions in this update. However, you can still confess only by choice. Cheating moodlets will not appear unless and until you cheat for real.
Realistic reactions mod
The creator added a few unique reactions to make the situation more realistic. We have listed them below:
Overhaul for cheating.
Overhaul for reactions to family members fighting.
Overhaul for reactions to family members cheating.
Ability to adjust the intensity of moodlets and buffs, including deaths.
Currently under construction
The creator is working on a few new features to add to the cheator mod. We have listed them below:
Addition of the ability to enable and disable particular mod functions according to your wish.
Addition of new modules.
After-effects of reactions.
Addition of more autonomy.
That was all we had for the Sims 4 cheating mod. We hope this article gave you more information about this mod and made it easier to use.