The Sims 4 witch cc is a part of the supernatural mods of the game. Modders have created some fantastic witch mods that you can use for your Sims. If you have witches in your game and wish to make them look more different and unique, you should use some of these mods. With so many amazing witch cc's available, it may become hard to choose from all of them. Therefore, here is a list of some of the best Sims 4 with cc's to make your job easier:
Best Sims 4 witch cc
Sims 4 Cosmos Earrings & Necklace by blahberry-pancake
The Sims 4 cosmos earrings and necklace will give you some gorgeous necklaces and earrings. The jewellery is gold and is in the shape of a thin moon. It looks fantastic on your Sims and fits perfectly on everyone. It also comes in the form of stars and the moon and 20 different beautiful metallic colours.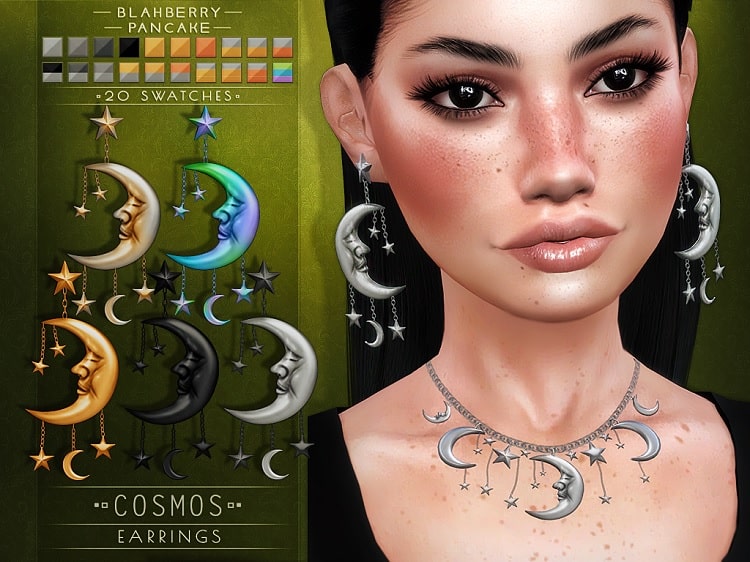 Sims 4 Elysian Necklace by blahberry-pancake
This cc is another fabulous necklace that you can make your Sims wear. It has a cute crystal locket attached to it, making it look more enchanting. This locket necklace comes in 35 different beautiful pastel colours. This mod is an excellent addition to the attires of your female witches.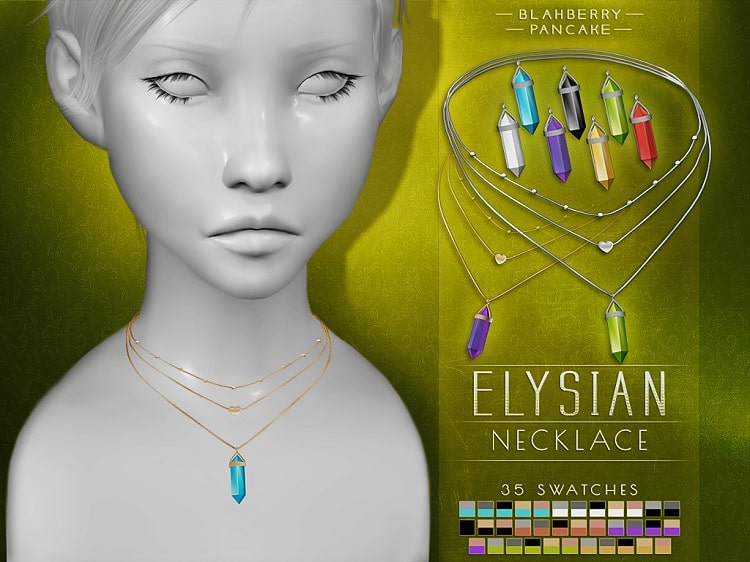 Sims 4 Fishnets by sondescent
Sims 4 fishnets are some great witch mods you can give to your Sims. These will look great and will be a great addition to your outfit. You can use these for any gender, and they also come in two different colours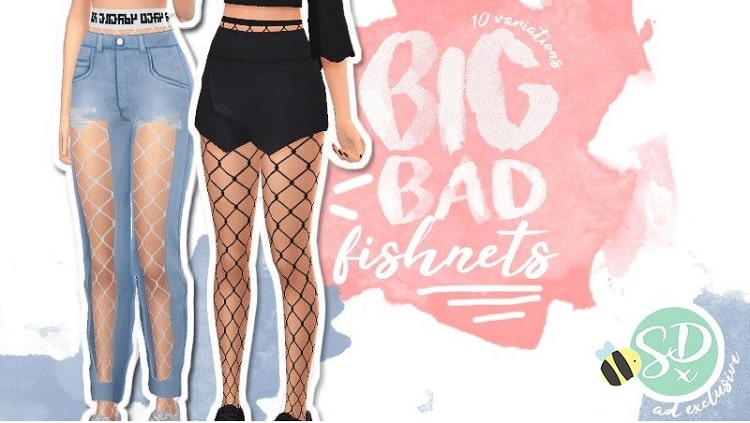 Morgana Witchy Hair (TS4 MM CC)
If you love bright and tacky hair colours, then this mod is perfect for you. You can get some fantastic colours that add a witchy look to your Sims. This mod has more than 60 colours to choose from, so you can find the best one for you. It is also compatible with hats.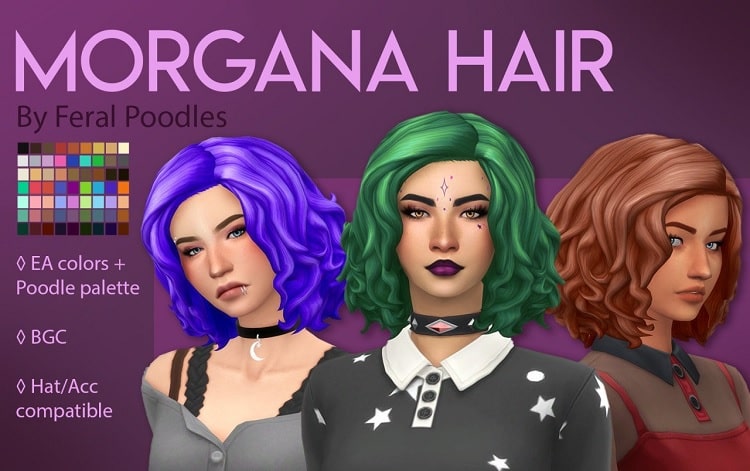 Lilith Eyeshadow & Face Tattoos
Face tattoos and make-up are excellent symbols of representation that many witches use. It will complete your whole witchy look and give your characters some more personality. You will get to choose between 4 fantastic eyeshadow shades and 4 face tattoo designs for your Sims.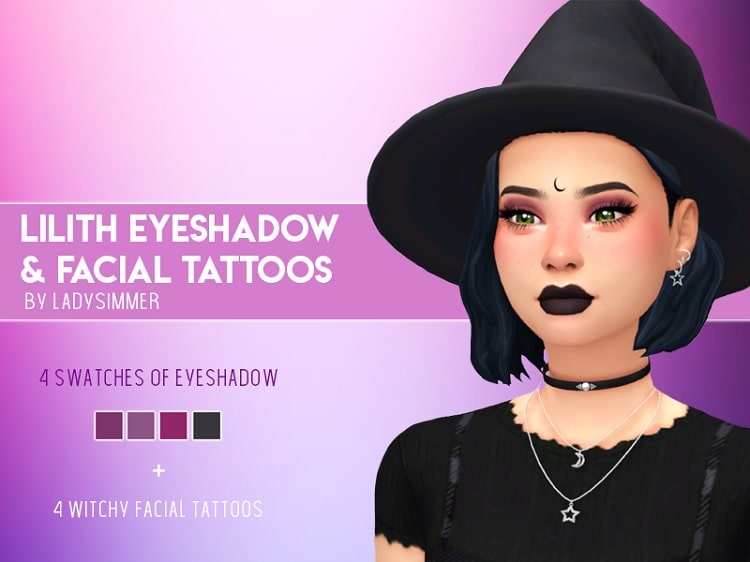 Sims 4 Witch Clutter CC
Witch clutter items are essential to give Sims some ornaments and props to use. This cc will give your witches some more personality and make great decor. It is designed in a significant way and also has some fantastic colours. This mod can also give you some excellent witch furniture.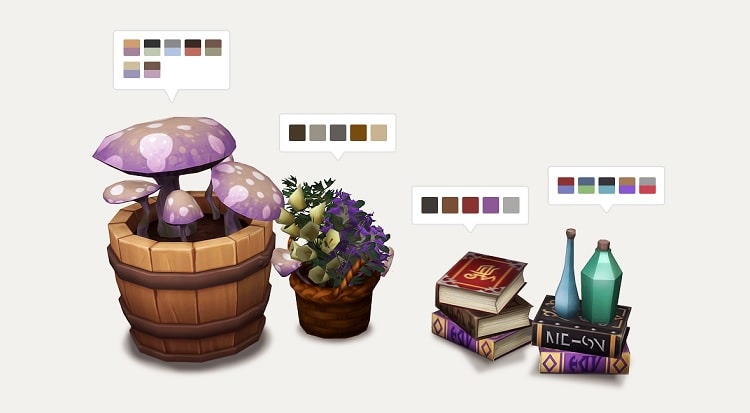 Sims 4 Cornelia Witch Hat by Joliebean
In brief, this cc is a witch hat. Any witch is incomplete without a cap. However, this isn't a spooky or creepy hat. This cc is a more pretty and light-weighted hat. It will give off a nice witch look to your Sims. It also has some beautiful flowers attached to it, which will make your Sims look very delicate and pretty.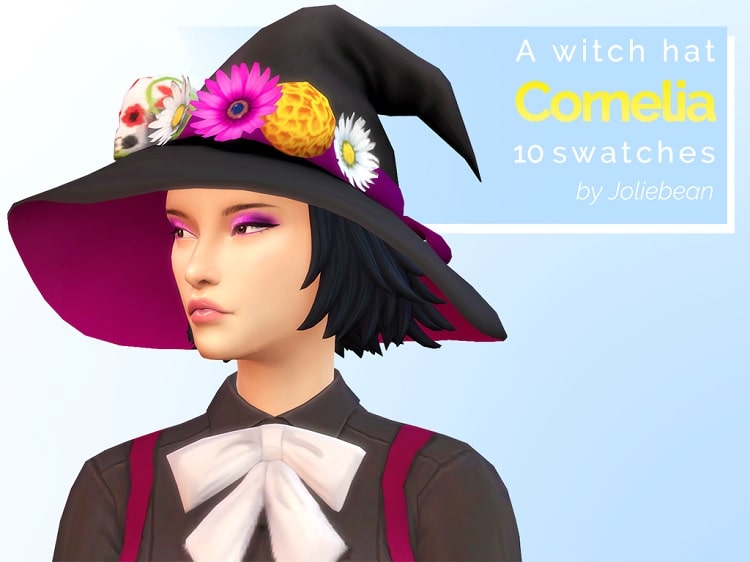 Sims 4 Witch Hat for Toddlers
Finding witch custom content hats for smaller Sims can be a task. However, this mod can make that job easier for you. This cc is a witch hat for your toddler witch Simsso that they can look magical and mystical as well. This hat has a fantastic design and comes in 7 different unique colours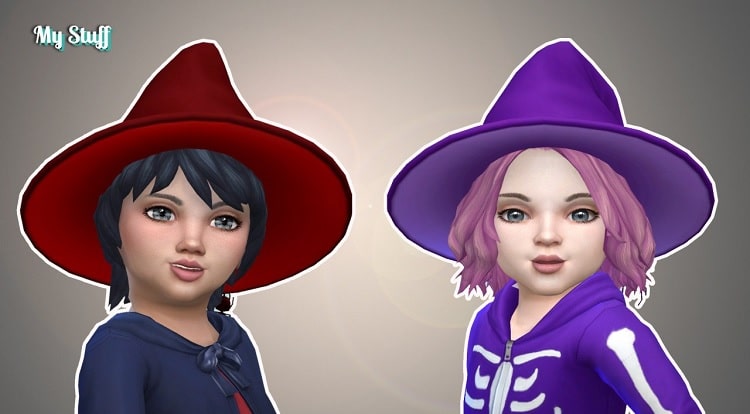 Sims 4 Modern Witch Hat
This hat is great if you have a female witch Sim. It has a more feminine and delicate look and looks very pretty. It comes in 5 beautiful pastel colours, which will look great on your Sims.
Sims 4 Witch Potions Clutter CC
Witches are known for their magical potions. This mod will give you a few mysterious potions that will complete the personalities of your witch Sims. These potions come in huge bottles and are labelled. It comes in 13 different amazing swatches. You can find these potions in the clutter category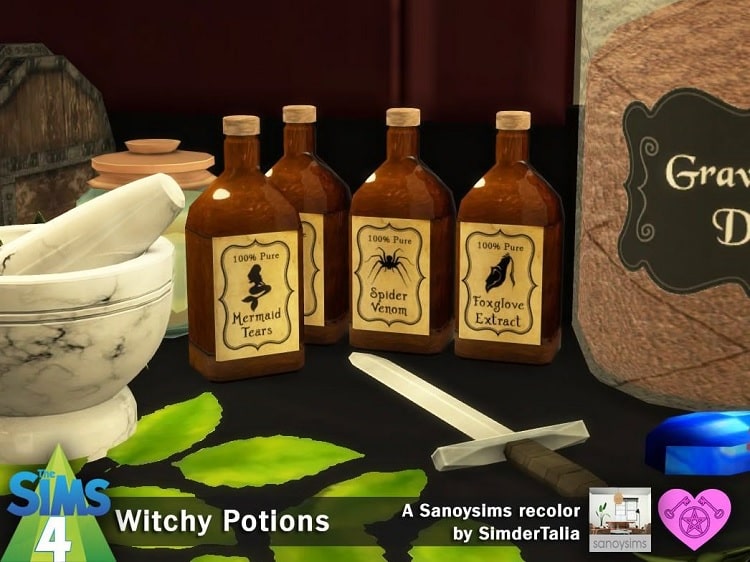 Trendy Sims 4 Witch CC
This witch cc Sims 4 is all about the jewellery of your witch Sims. It comes with a jewellery box, two jewellery trays in the shape of moons and stars, and jewellery moon planters. This mod will be a great addition to the decor of your Sims homes and will also help excellently display your jewellery.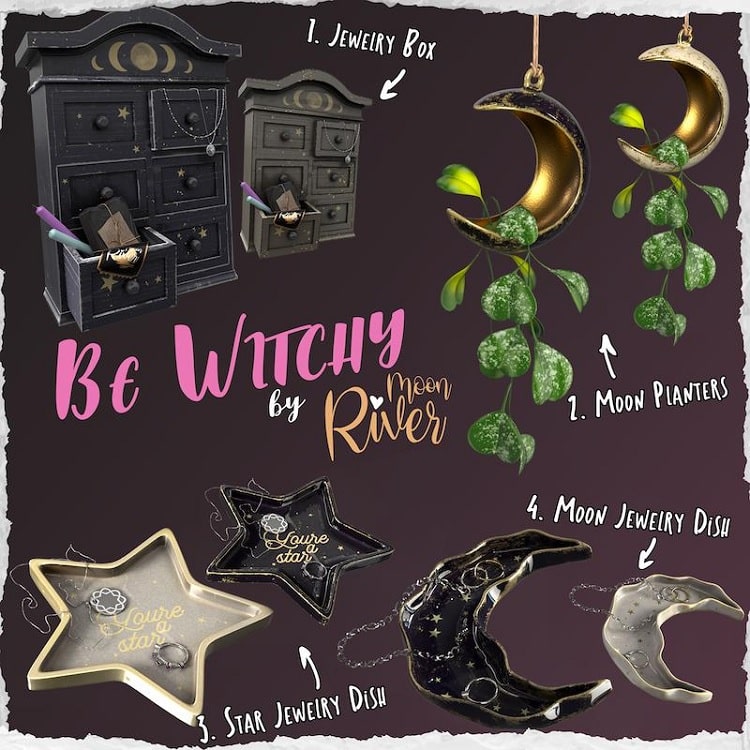 Sims 4 Sabrina Witch Decor CC
This cc is an excellent set of witch decor that you can put into the house of your Sims. It will make your home look more like a witch's house and give you some necessary items. This mod will provide you with 13 options of decorative clutters to choose from.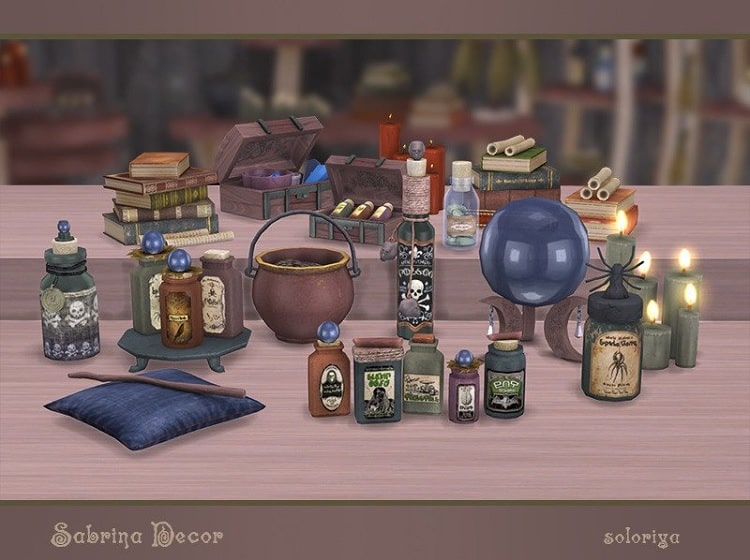 Sims 4 The Witch's Hat
This cc is another fabulous witch hat for your Sims. This hat has mushrooms on it as an accessory. This hat is adorable and unique. Sims of all ages and genders can use this hat. It comes in 20 amazing swatches to choose the best one for your Sim.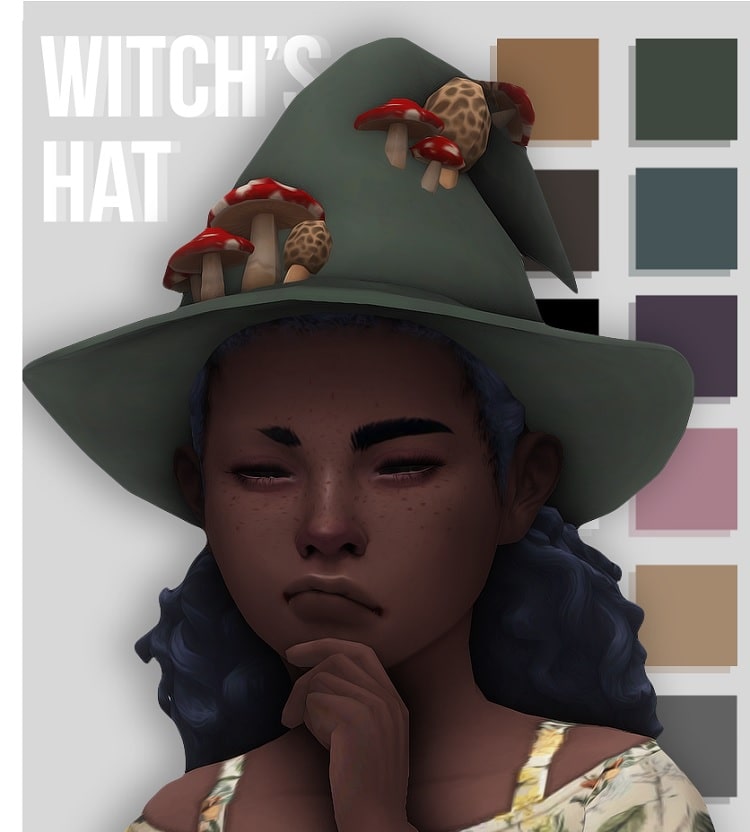 Sims 4 Witch CC Pack
This is a witch cc pack with everything you may need for your Sim's attires. It has outfits and witchy accessories for witches of all genders and ages. It is a huge pack that contains 11 different options of items. You will also get some magical looking hairs in this pack.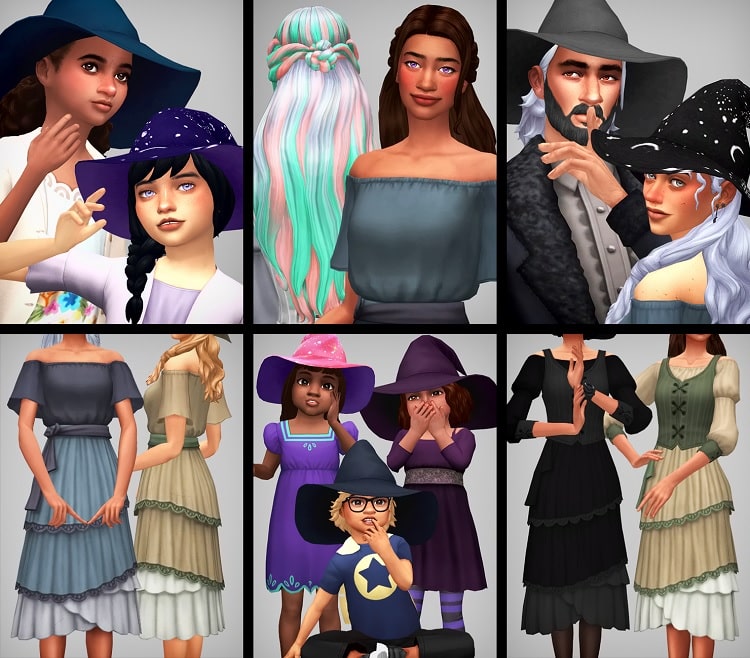 Sims 4 Elodie Dress
This cc is a uniform like a dress for your Sims. It comes in some dark colours, and it is great for female Sims. It also has a cute ribbon bow at the top with a plaid shirt inside.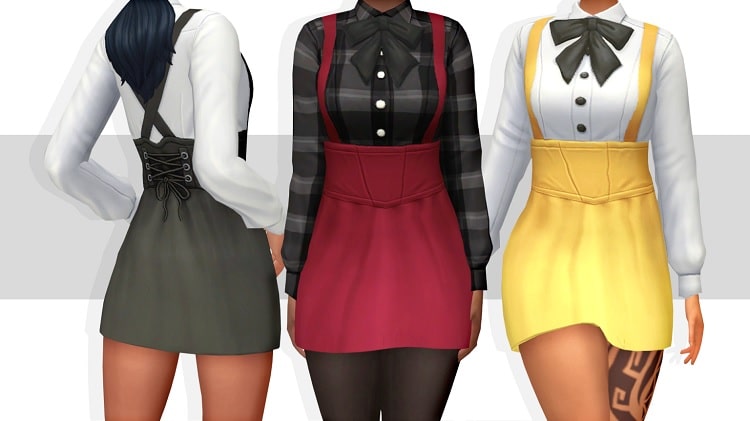 Sims 4 Witch Outfit
This mod is a great formal outfit for your female witch Sims. It comes with a blazer vest and a shirt inside, and some fitted pants that look very elegant. This mod comes in many different colours and will give your Sims a more professional look.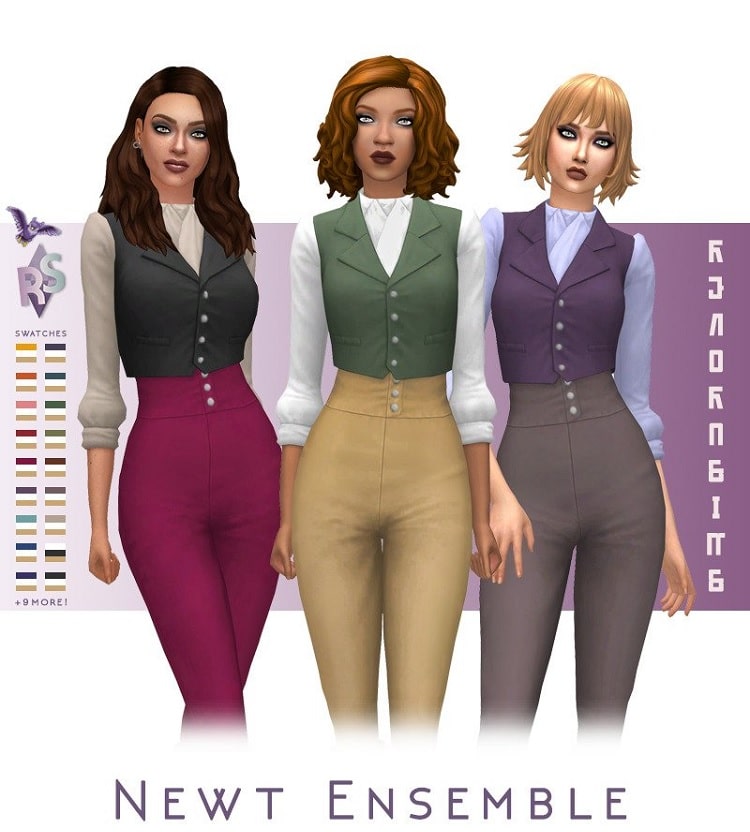 Sims 4 Witchy Dress
If you want your Sims to look like actual witches, then this outfit is perfect for you. This mod will give your Sims a gorgeous purple dress with stars on it. This cc is precisely what you would imagine your witch Sims to wear. It also comes in 9 different colour and pattern swatches.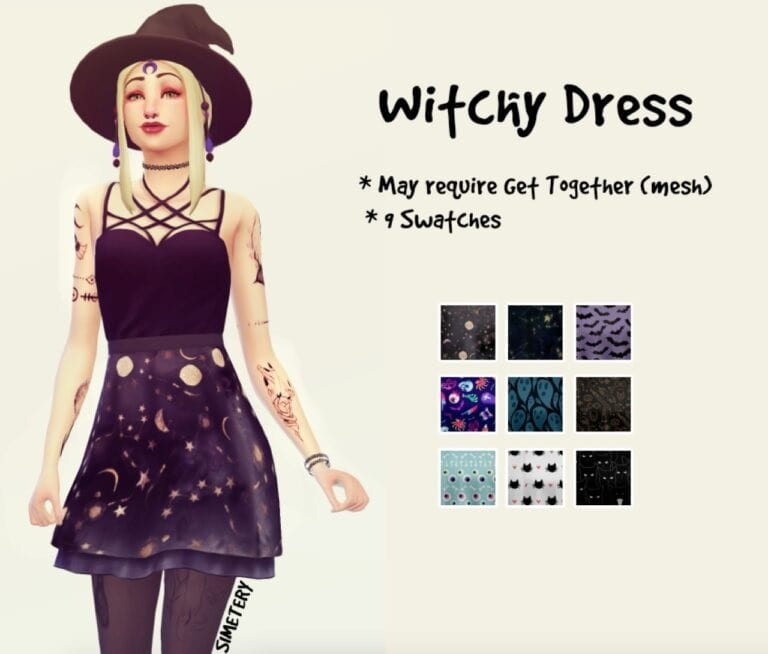 Sims 4 Evil Witch Dress
If your witch is more on the evil side and you wish to give her an outfit that matches that personality, then this gown is perfect for you. This gown comes in some divine colours and has some fantastic designs and styles.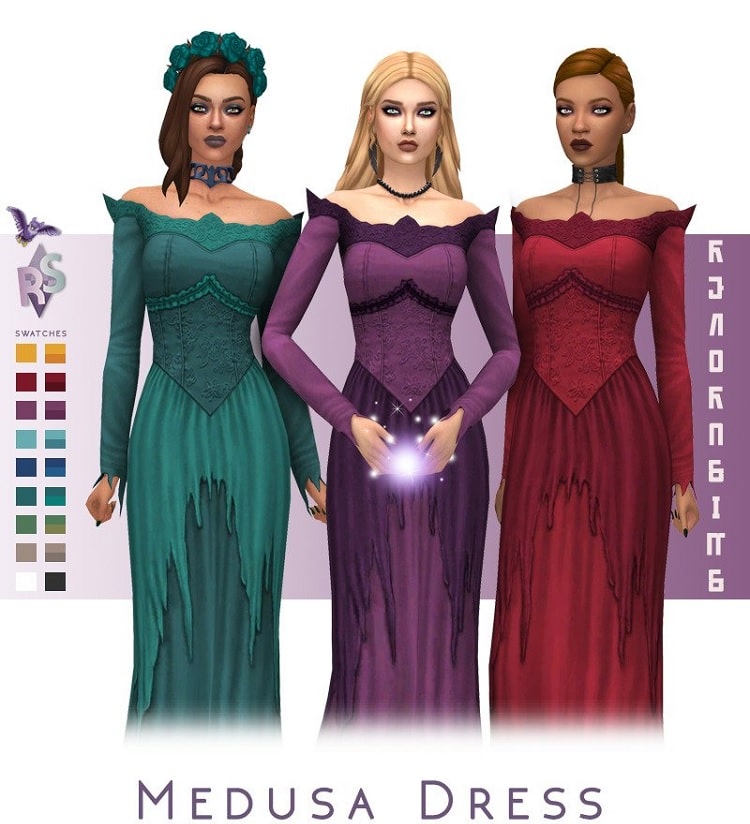 Sims 4 Witchy Mini Dress
This cc is another dress made for your evil witch Sims. Unlike the gown, this is a much shorter dress but still looks very elegant and royal. This dress will give your Sims a dark, powerful and bold look. It also comes in many more colours, styles and patterns so you can get the perfect dress for your Sim.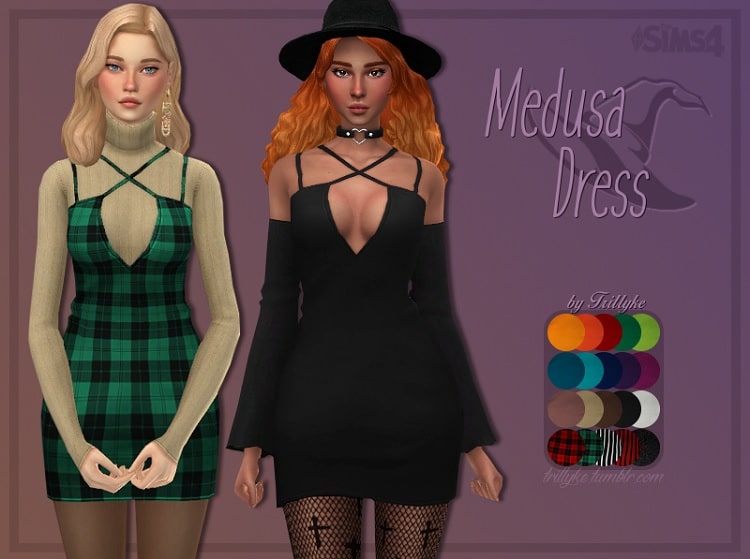 Sims 4 Jadis Dress
This mod is a unique dress. It looks exquisite and formal. It is made of silk and is also very long. This dress is perfect for any kind of fancy party and formal gathering. It comes in 22 unique colours and many different beautiful patterns.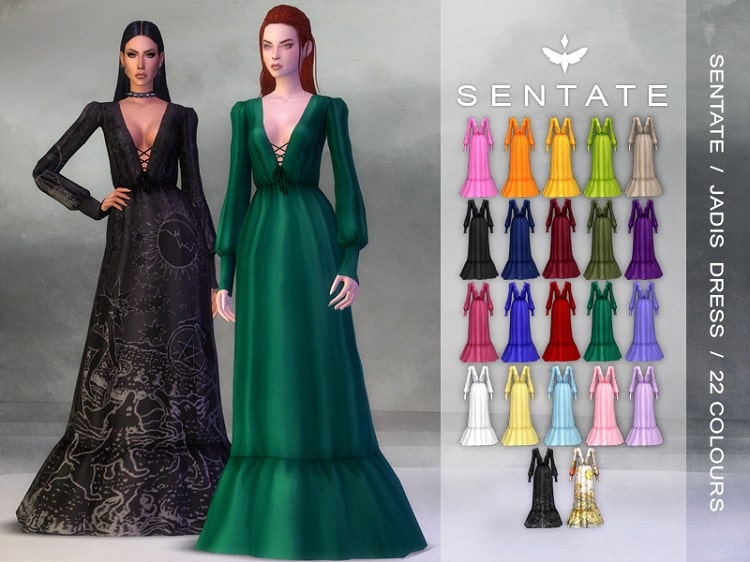 Sims 4 Witchy CC Bodysuit
Bodysuits are great if you want to give a bolder look to your Sims. It also gives you a more feminine look. This mod has a great style and comes in many patterns and colours. It is excellent if you want to make your Sims look sexier.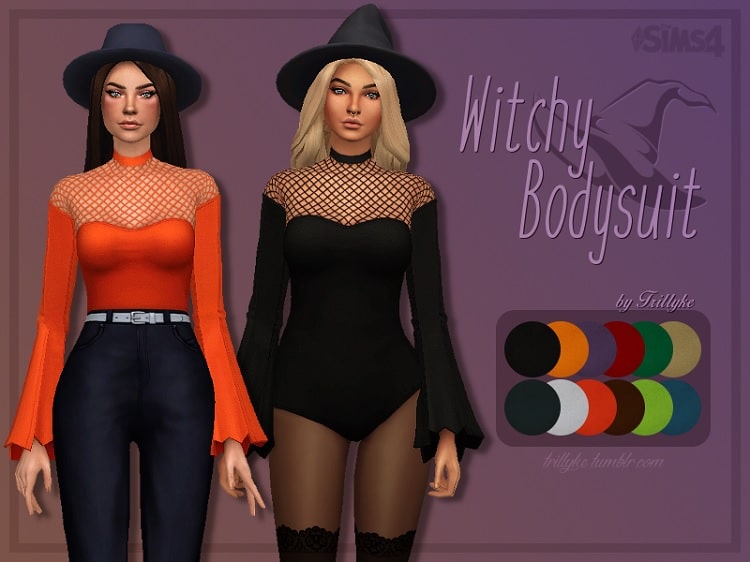 We have come to the end of this list about the Sims 4 witch cc. We hope that this helped you find some great mods for your witch Sims.