Parenthood is one of the most wonderful experiences in the world. Your Sim family is no different from it and likewise, you want it to be prepared beforehand. An invisible crib mod sims 4 brings them a similar experience.
If this interests you then we urge you to read this post till the end. It will only help you understand the mods better.
What Is An Invisible Crib Mod Sims 4?
So, let us start by saying that an invisible crib mod facilitates your baby to sleep in any room in the house, without taking up any space. Wait, what? Yes, for it allows you to hide the crib from view while your baby is sleeping! No way, but It is true. Guess what we have some excellent mods for you here. Not to forget that this is a great way to save space in your Sims 4 game.
Invisible Crib Default
We are back to our favorite artist Severinka_ from The Sims Resource or TSR. That is correct, this mod is designed by this talented artist who says you can put this mod anywhere in your Sims' house. It will not make any changes to your game but comes with visible anchors.
You can move the crib around if there is no baby inside it for convenience. It is beautiful and meets a basic necessity for your baby care.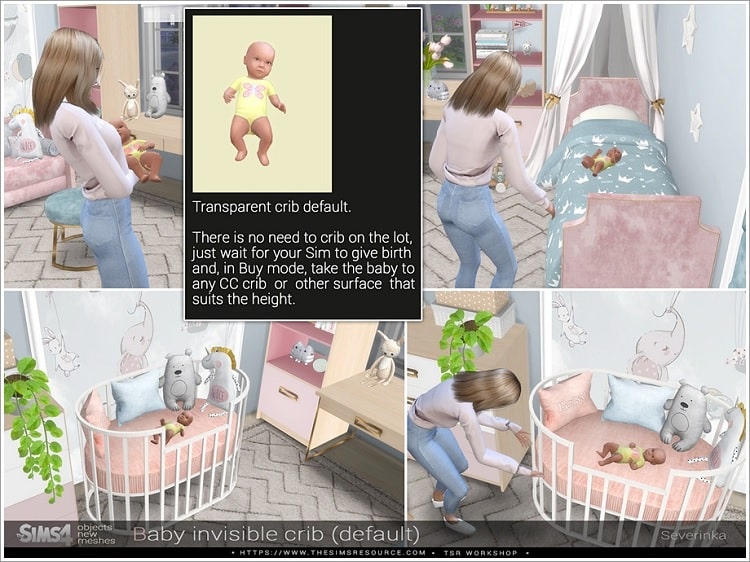 Invisible Crib Mod
The designer Martines Simblr has posted this on his Tumblr site and has updated it with the latest Sims 4 version of Snowy Escape. The anchors (like small teddy bears) are available in 3 swatches and it is quite to download as well.
The invisible crib makes it possible for you to keep an eye on the baby. This is both convenient and safe for the baby. What do you think?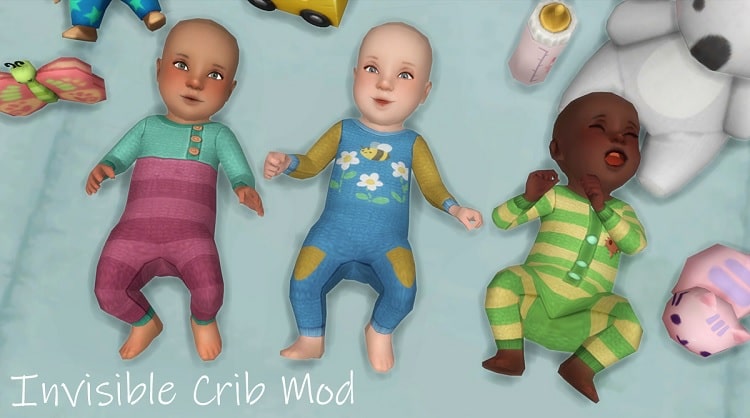 (Mostly) Invisible Crib
Oh my Gosh, look at the crib! This was our reaction when we saw it for the first time. It is simple, easy to handle, and the design is clean. The creator Silverhammersims from Tumblr has made it clear that there are no stones unturned while drawing this mod.
They have made a crib that is most ideal for babies. It is good and fits just right in your Sim home. It certainly adds to the charm of your nursery and makes your baby happy.
How do you use the invisible crib in Sims 4?
Invisible cribs are a great way to save space in your Sims 4 home. To use one, simply place it down and select the 'Use Invisible Crib' option. Your Sim will then be able to put their baby to sleep in it without taking up any valuable space in your home.
This is a great way to save space in your Sims 4 game, especially if you have a small house or lot. To install the invisible crib mod generally, follow these steps:
Download the invisible crib mod from your chosen website
Extract the zip file
Place the invisible crib mesh
Texture files in your mods folder
In the game, click on the modify button (in the lower left-hand corner)
Check the invisible crib mod in the list
Click on the triangle button to open the mod's settings
Then select the desired crib visibility
Close the mod's settings and enjoy your invisible crib!
How do you get rid of an invisible crib Sims 4?
Sims 4 is a game that allows you to get rid of invisible cribs by using a few simple steps. First, you need to find the invisible crib. Once you have found it, all you need is to select it and then press the delete key. This will remove the crib from your game all at once.
The point is, if you're a fan of the Sims 4, then you're going to love the invisible crib mod sims 4. We must add that this CC allows you to create an invisible crib that your Sims can use to store their baby items as well.
This most definitely is a great way to add a little bit of personality to your nursery and make it truly yours. Don't you agree with us?