Having a baby is always a happy occasion. After numerous tries and wooing sessions, your Sims can "Try for Baby." This virtually takes you through all the stages of being a parent. The entire pregnancy journey is very exciting as you get to be a part of it via your Sims. After some time, when the sex of the baby is to be revealed, there are various events you can organize for it. A perfect gender reveals party is in the craze nowadays. However, nothing can beat the classic baby shower event. There are so many exciting ways to do a baby shower. Apart from the event itself, another important aspect of the baby shower event is the present. And one of the most common presents is the Sims 4 cribs.
To make your dream come true with the journey, a Sims 4 baby shower mod will help you significantly. With the help of the baby shower mod Sims 4, your Sims will be able to host the best baby shower, which will be remarkable enough to be spread in the monthly event magazine.
Here are some of the Sims 4 baby shower mods you should check out:
Best SIMS 4 BABY SHOWER MOD cc
1. Baby Shower Event
A baby shower event requires extensive planning and attention to detail. This is one event you will never forget. This is one day your Sims can use to rest. Enjoy the rewards of carrying a baby in your womb for so many months. Use this Sims 4 baby shower mod to show and tell the world that you are expecting an offspring. With this Sims 4 baby shower cc, you get access to everything you will ever need to plan the perfect event. It includes all the party essentials such as invitation cards, decors, presents and various performances.
With this mod, your Sims will also receive rewards for various activities they do if the event is highly successful. The rewards expected will also be equivalently unique.
2. Baby Shower Bundle
The most prominent feature of any party is the decorations. A lot of planning is required to make a baby shower event unforgettable. Thanks to the Sims 4 custom content creation community, you need not spend much money. No need to hire a stylist, party planner, or manager. This Baby Shower Bundle gives you everything you will ever need to make your event the most memorable event of your Sim's life.
This Sims 4 baby shower cc includes all the items you will ever need. It includes various kinds of cakes, food choices, photo frames, and other gifts and furniture. The cake can choose between a gender-specific cake or a gender-neutral cake. Post your event photos on Simstagram and make everyone else jealous.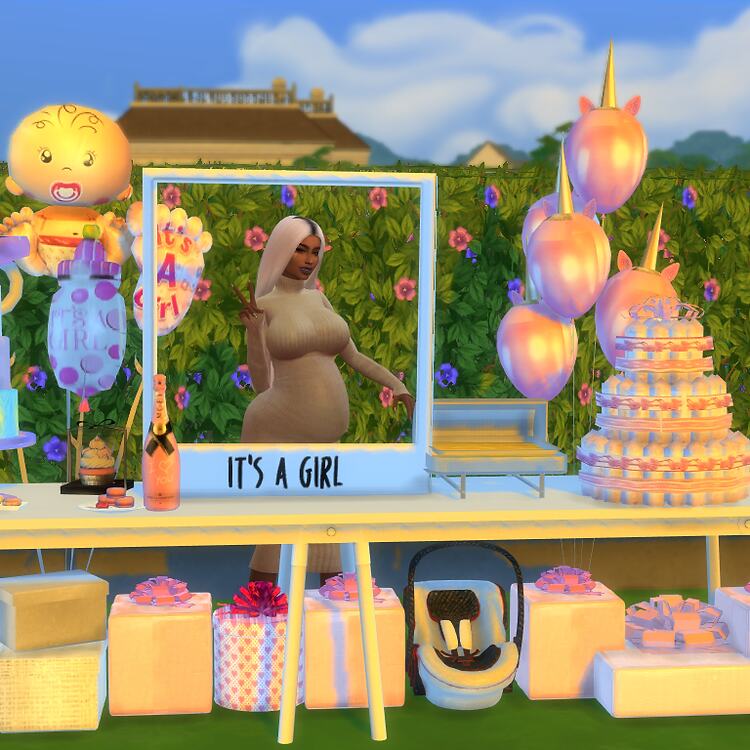 3. Pregnancy Animation Pack
A lot of baby shower events are used to showcase the entire pregnancy journey. It will show each month the changes in the pregnant sims and their body. It includes a lot of animation for various positive moments. It consists of every scenario, from the first reaction of your partner upon seeing the positive pregnancy test to other sweet and beautiful moments. It is the perfect mod to have if you wish to have a storytelling session at your Sims 4 baby shower event.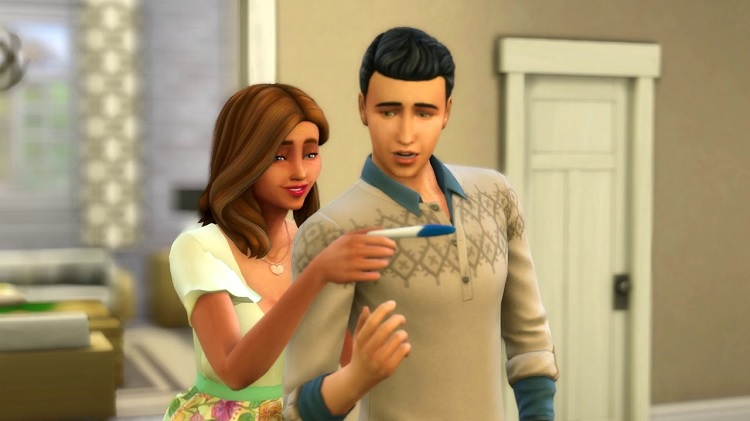 4. Baby Shower Fake Cake
It is necessary to have a cake at a baby shower event. Without a sweet cake, your event cannot be declared to be over. These delicacies are sweet and loved by all. However, some Sims may not be a fan of cakes. Hence, for those Sims and avoiding food waste, you can now have a fake cake. It is available in 4 different colors with two colors for each gender. Choose the gender of your baby, and a tag of "It's a Boy!" or "It's a Girl !" will be put on the cake. In this mod, you will also be able to choose the size of your cake required. So, depending on the number of people that will visit, select the required size.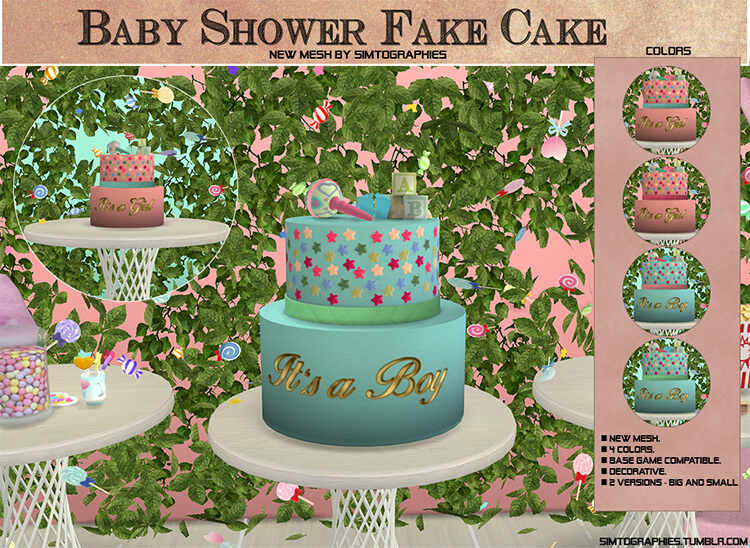 5. Baby Shower Cakes
Sometimes no one enjoys cake. Or you do not wish to buy a really expensive cake. There is now an option to buy a decorative cake created by a modder LittleQueenny. You can have these decorative cakes in two colors. A pink and a blue depending on the gender of your baby. So you can now also have two cakes if you wish to confuse your Sims about the gender of your baby. Or use these to reveal the genders of your Sims. It is always good to have two rather than one when it comes to celebrations.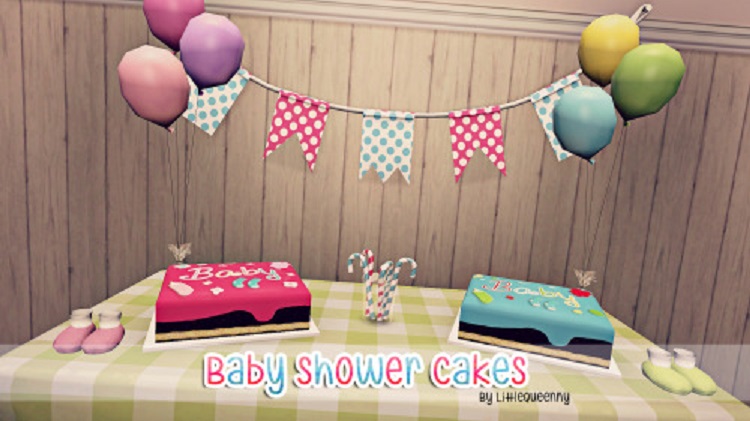 6. Little Adventurers Poses
Kids are the main attraction of a baby shower event. Be it those who are already born or those unborn. A lot of kids accompanied by their parents make up a significant part of the baby shower party. These kids and toddlers will be the life of the party. They are running around everywhere and playing various games. These memories need to be captured. Hence, this Little AAdventurers pose pack is here to help you. It will give you the best photos of kids playing at the party. These make the toddlers look very photogenic and produce eBay candid pictures. This mod includes eight poses, and each pose needs to have two toddlers. Some of the poses are playtime poses, walking while holding hands, and even sleeping poses. These cute pictures will make the baby shower event much more memorable.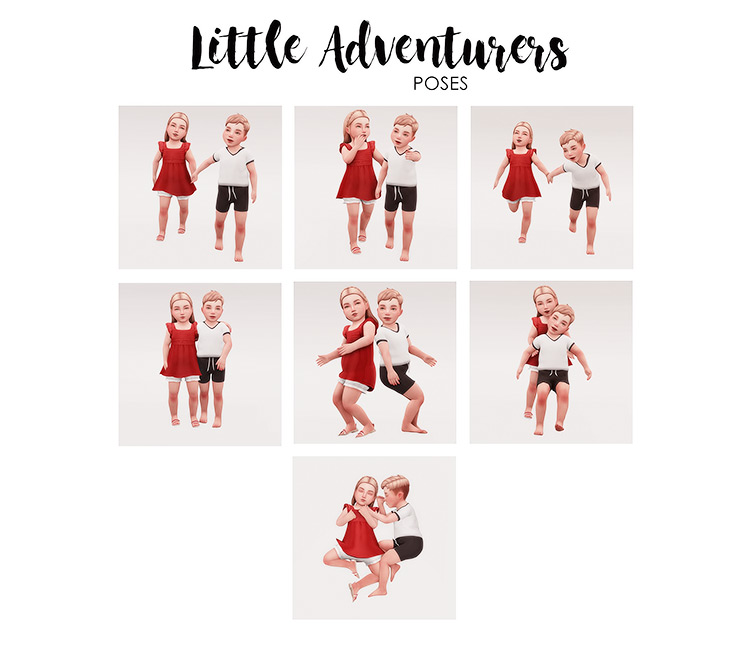 7. Little Man or Little Miss Set
A significant part of baby shower events is the gender reveal. Make your guests guess the gender of the baby. This will make the event more exciting and will also keep your guests from getting bored. So why not turn your baby shower into a gender reveal as well? It could be a game that all your guests play. This mod includes various items for the same such as cakes, utensils, banners, and multiple favors. The main focus of the party should be your unborn baby. What better way to do that than this? You can award the Sims who guessed right with something interesting or reveal the gender. The choice is yours.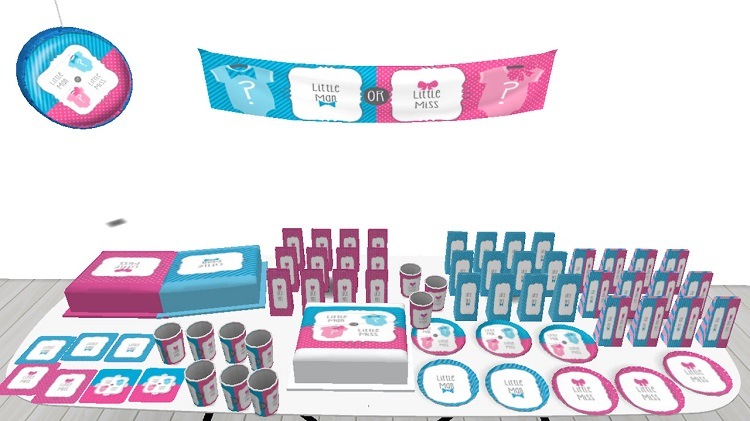 8. Bundle of Joy Baby Shower Party Items Set
Storks are a prominent part of the baby shower party culture. It is believed that storks deliver your baby when it is time. Although this is just a myth, storks continue to be a significant part of the pregnancy story. Hence, this Sims 4 baby shower cc honors the storks for bringing the baby. It features very prominent stork-related decor items. It contains around eleven decorative items that you can use to make your venue beautiful. It includes things such as wall decors, balloons, arches made of balloons, table settings, and even various kinds of lights.
The primary three colors included in this baby shower cc are classic pink, blue, and gender-neutral yellow. Hence, choose the theme that fits your taste and preferences and makes your party lively and exciting.
9. Gender Reveal Cotton Candy Table
Sometimes having a gender reveal party can get messy. Confetti, balloons, and flare sticks can be very difficult to clean up. So why not use something sweet and non-hazardous? This Sims 4 baby shower mod introduces an adorable way to reveal your baby's gender. A wooden table with cotton candy sticks stuck in it is the way to go. Two cotton candies represent the two genders, blue for boys and pink for girls. So let your guests choose the color they want and also be environmentally friendly at the same time.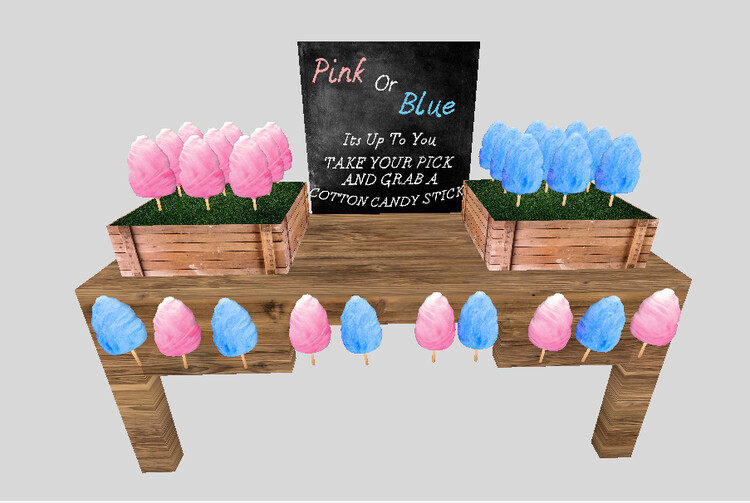 10. Gender Reveal Box
This is another non-hazardous way to have a gender reveal at your baby shower event. And there is nothing non-hazardous as sweet helium-filled balloons. This baby shower mod consists of gender reveal box with balloons that match the baby's gender. Typically blue or pink. These boxes are relatively very cheap, for 35 Simoleons only. You must ensure that all the balloons are kept securely in the box. Otherwise, there are chances of them flying away, which would ruin the surprise for your Sims.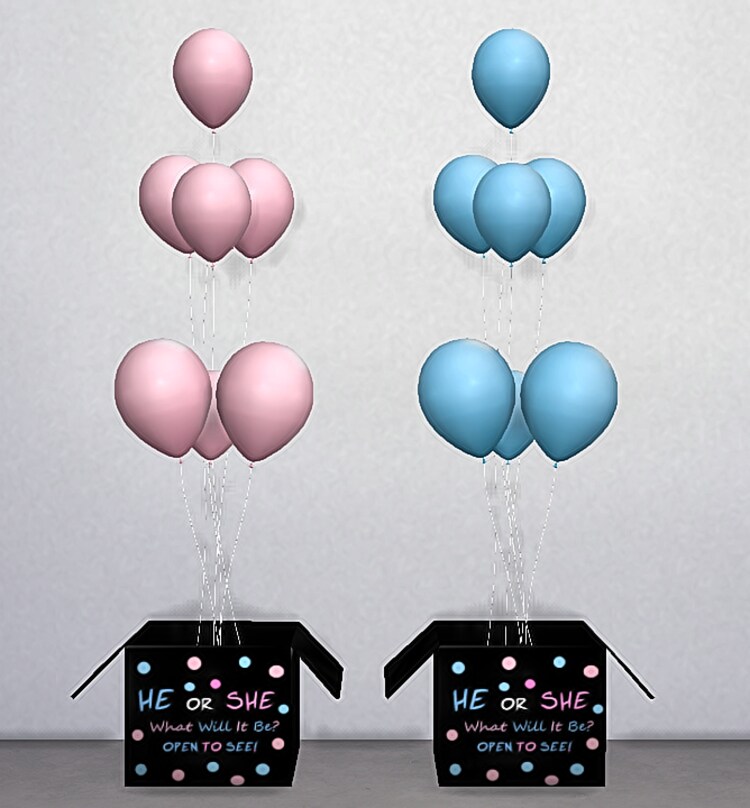 11. Sweets Décor
Sweets are an essential part of your baby shower event. What better way to have sweets at your party than presenting them in cute little forms? This Sweet Decor Sims 4 baby shower mod by Soloriya is unique. This baby shower cc includes 12 objects that can be a part of your event. It includes desserts such as ice creams, lollipops, marshmallows, and various pancakes. These sweets are edible. Hence your little Sims guests will enjoy devouring these sweets. However, it is essential to be careful. Too much of these sweets will force you to visit the local Sim doctor.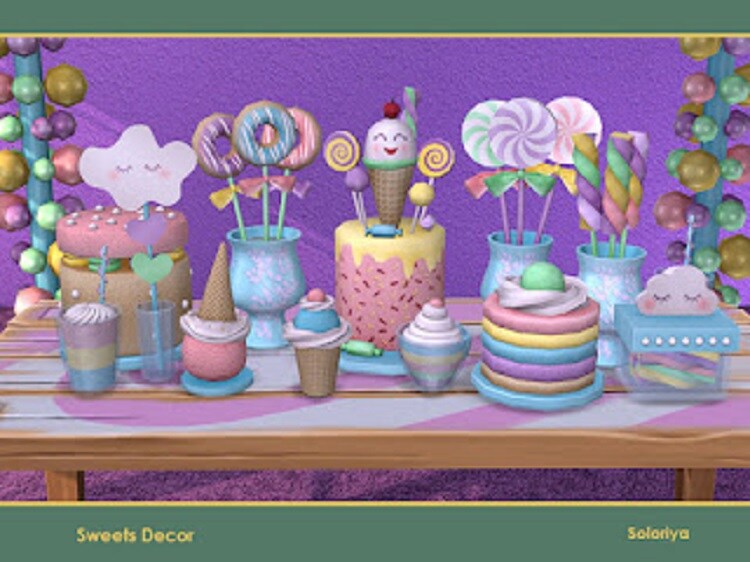 12. Twinkle Twinkle Little Star Baby Shower Décor
What better way to welcome your baby SIms to the world than by introducing them to the classic childhood rhyme, Twinkle Twinkle, Little Star? This song is practically hammered into everyone's head. This rhyme is perfect for a baby shower event theme. This cc will include decor items such as little stars, moon, and other planetary bodies. There are five swatches available in this baby shower cc. This theme and baby shower mod is perfect for a bit of childhood nostalgia and a mellow event.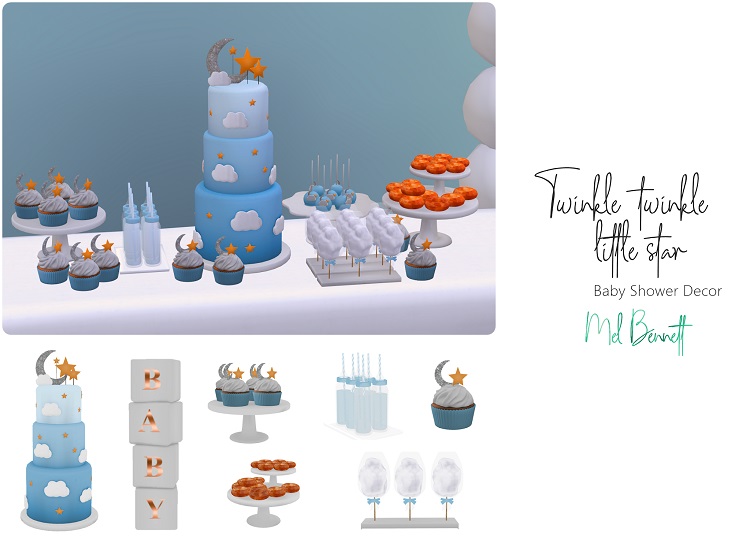 13. Baby Shower Poses Package
Baby showers can also act as a reunion at times. Since adulthood does not allow you time to meet, an event like the baby shower is perfect for getting together. This Baby Shower Poses Package by this awesome creator is exceptionally unique. These poses look very realistic and add to the game's immersive experience. You can see the efforts the content creator has put into creating this perfect SIms 4 baby shower mod. Why should only kids have fun always?
These poses include various positions. Some include the friends touching the pregnant Sim's belly. This is the most realistic pose. Apart from this, it also has posed for the after-drinking session of the baby shower party. These poses are a must-have to make your event fun and exciting.
14. Bee Baby Shower Set
The most prominent figure at a baby shower event should be the mother. In the end, the mother carries the baby for over nine months. So instead of using blue or pink that focuses on the baby, this mod uses yellow to focus more on the mother. It also includes a very sweet and unique banner, "Mother to Bee." Along with this banner, 15 other items will make your Sim's baby shower the most remarkable ever. This baby shower mod includes items such as cakes, water bottles, balloons, and various other things which are primarily yellow in color. Let your Sim mothers enjoy for some time, as after the baby Sim is here; your Sims will be busy with them. Check out this unique mother-centric baby shower mod.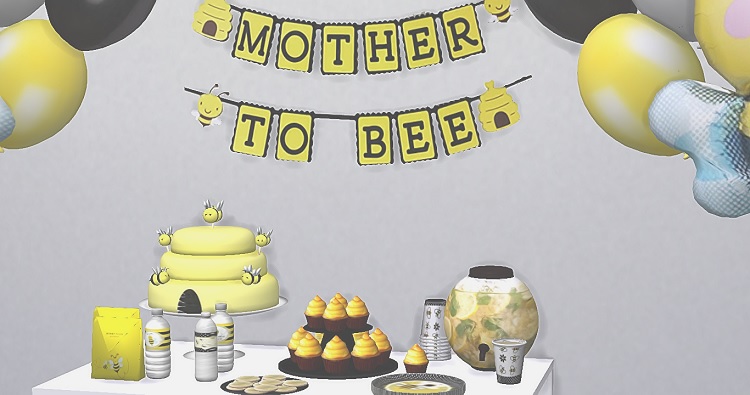 15. Baby Shower Pose Pack
The best mods usually come towards the end. This Sims 4 baby shower mod features amazing group poses that will make even the baby in the womb smile. Use this Sims 4 baby shower mod to mold your Sims into whatever image you have of them in your mind. Poses are perfect for capturing the true essence of your Sim. This group poses also features very realistic poses. These are perfect for best friends. One of the poses is a Sim having their hand on the pregnant belly. Apart from this, there are various other poses such as the cheese, duo poses, and a few poses with a group. These pictures will be Simstagram-worthy and a must-post. You will thoroughly enjoy this cc. This cc is way better than Sims 4 cc cribs that are often featured in baby shower mods.
16. Baby Shower Stuff
This Sims 4 baby shower mod by SimmerKate is one of a kind. It features very cute and simplistic stuff. These adorable decorations are needed for a baby shower event. It includes things such as baby blocks, cocktails, a guess board, and also gift bags. However, it does not contain cc cribs in this mod. You will have to get them very separately. Letter blocks are also present in this mod. It spells out the word "Baby." The colors included in this mod are very subtle. It provides baby pink, light blue, and light brown. Place these properly at the venue to have a beautiful event venue for your baby shower.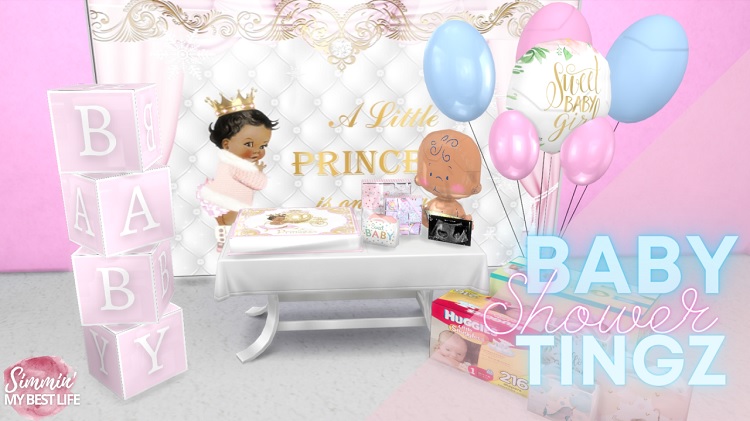 Conclusion
The Sims 4 baby shower mod just explored above is unique. Each mod offers something new and valuable. These baby showers are there to celebrate the arrival of a new life. Apart from this, it is also held to celebrate the mom-to-be. Use these baby shower cc mods to give your Sims an enjoyable memory. Apart from cc cribs, you can give your Sims a well-planned event they will remember for life.