The default Sims 4 game does not offer much variety when it comes to the nails of the Sims. We all love having unique and fun fingernails as it adds more character to our personalities, and therefore, adding that element to the game makes it great. If you want these for your Sims, too, there here is a list of some of the best Sims 4 nails cc.
Best Sims 4 Nails CC & Mod
Sims 4 French Manicure Collection
With the help of this nail cc, you can get a basic French manicure. These nails are the safest and great for a casual look. You will get this in five different colours along with a makeup look.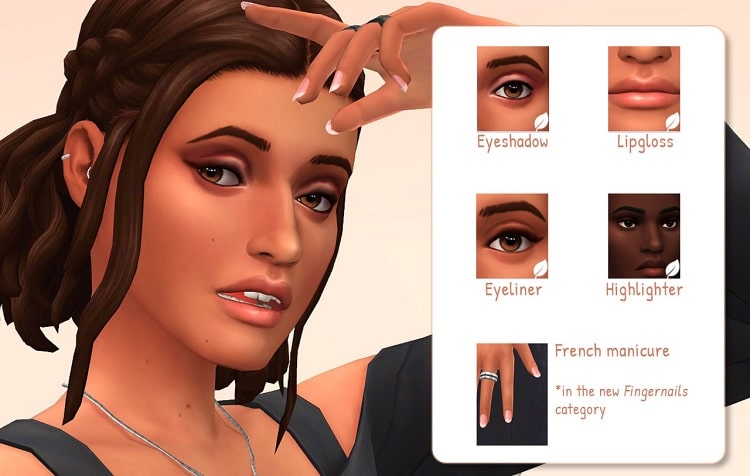 Sims 4 Halloween
These Halloween nails are great for festivals. If Halloween is around the corner and you want your nails to look perfect for the occasion, then this cc is ideal for you. They are adorable and have some great patterns to them.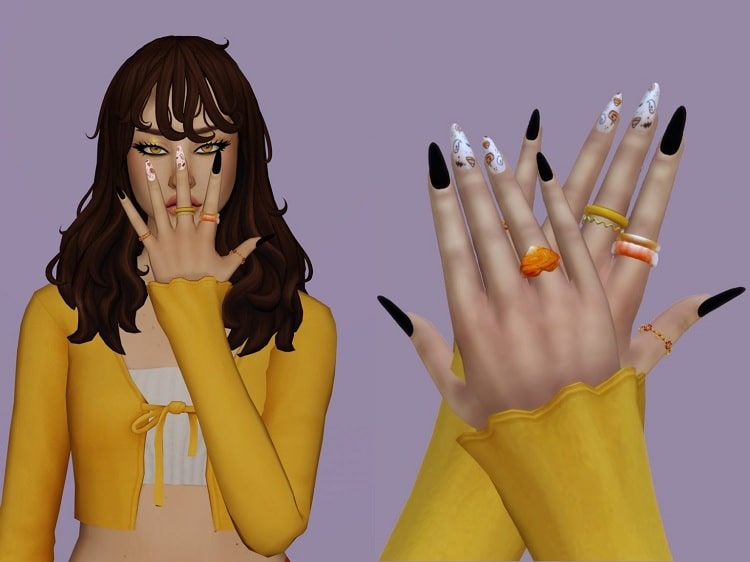 All Natural Spa Day Recolor
This cc is perfect if you want some natural-looking Sims 4 nail polish. This cc will also give you a French manicure, and in addition, they come in different shapes of nails.
You can get these in a stiletto or coffin style according to your choice. The French manicure in these nails also comes in black.
Sims 4 Academia Recolor
These nails will give you the perfect manicure to match your Academia -style look. These come in 56 swatches, and characters of all ages can use them. You can also use these for both male and female Sims.
Glossy Taco BG Retexture for Sims 4
This nail polish cc will give you beautiful nails in different textures. These are very realistic and come in 63 different colours. You will also get several different types of textures.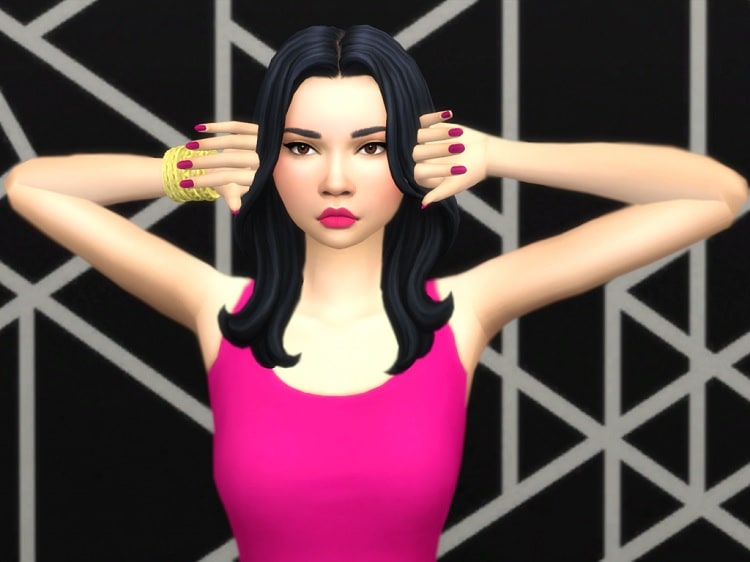 Vibrant Colors Spa Day Recolor
If you like bright and colorful nails, then this nails mod is perfect for you. With the help of this mod, you can give your fingers some long and colorful extensions. They also come in eight different colors.
Sims 4 Toenail Recolors in 7 Palettes
These nails come in some fantastic patterns. You can also add some toe nail polish to this. There are seven different pallets in this cc, all with different themes.
Sims 4 Manic Solid
These nails are pretty basic and extraordinary for a casual look. You can also get them in 55 different colours. These colours are in dark and dull shades.
Therefore, they are perfect for any outfit. You can also get them in an almond shape. The texture of these nails is matte, and they are rounded.
Sims 4 Pride
This nail polish cc will give you 14 different types of very bold and colourful nails. They are pride themed and are for the LGBTQ+ community. You can use this for all kinds of genders.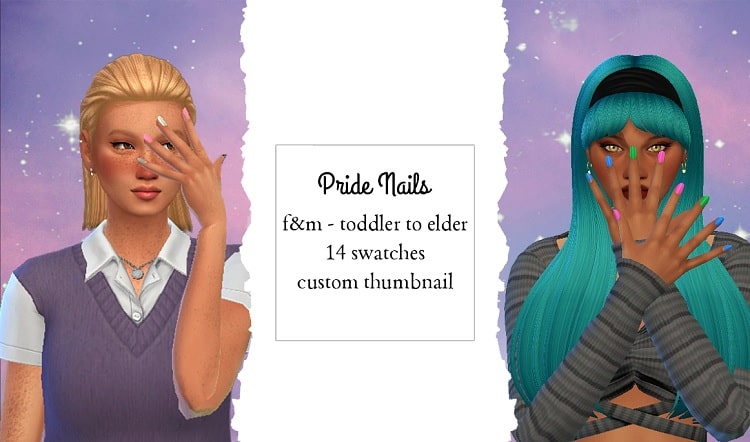 Sims 4 CC Square
These cc nails are very fancy and pretty. They also look very classy at the same time. They have a metallic and shiny look and have the word love written on top of it in a metal texture.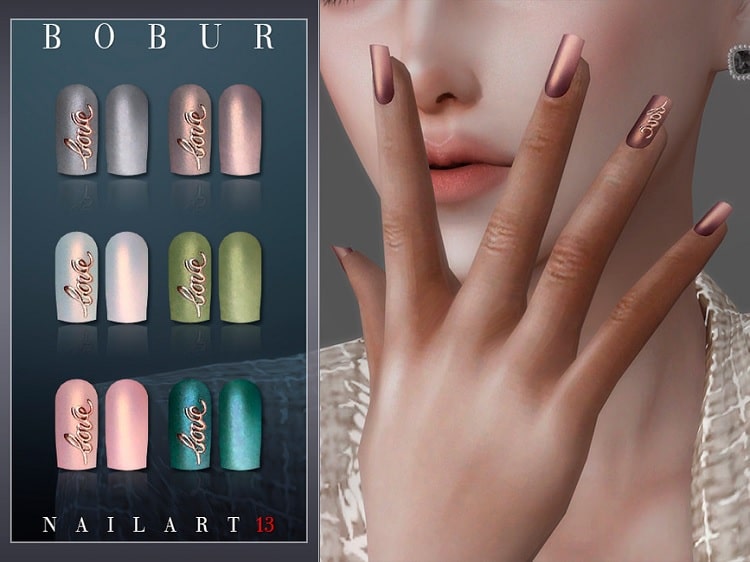 French Collection
These french nails are a little different from the regular French manicures you get. They not only have white tips, but they also have some metallic elements to them. These look incredibly classy and shiny with the silver and brown tones.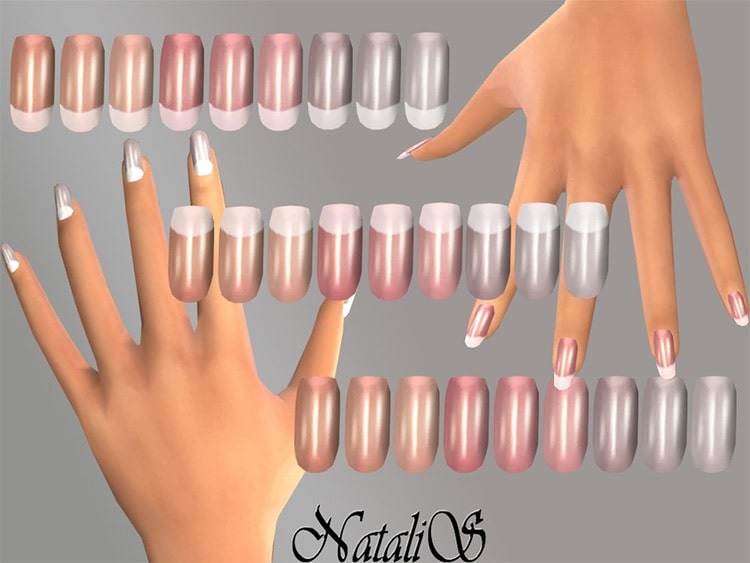 Rainbow Short Recolor
If you like to have colourful nails and play around with them, then this cc is perfect for you. You will get some shiny and bold, bright optiona in different colours with this mod.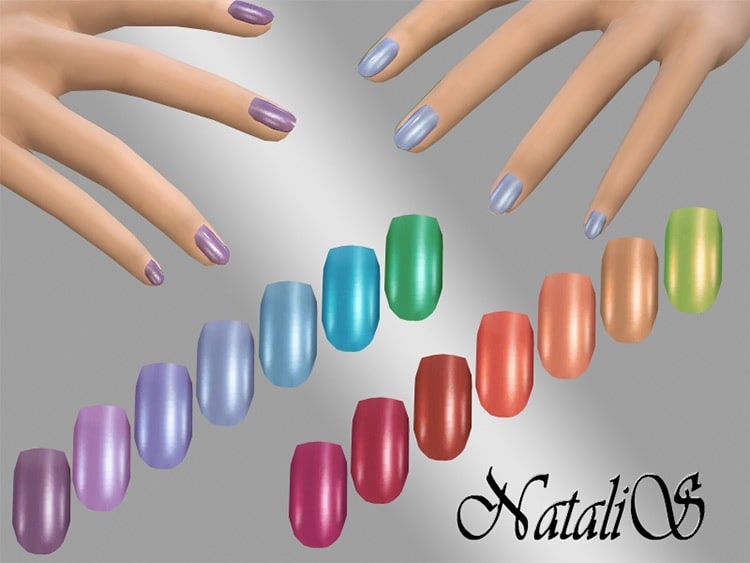 WM 201907
This option had an update, and the nails updates are more on the shorter side. They also come in many different colours and are great for some simple manicures. You can wear them anywhere from formal events to casual events. You will get them in seven different bright and cute colours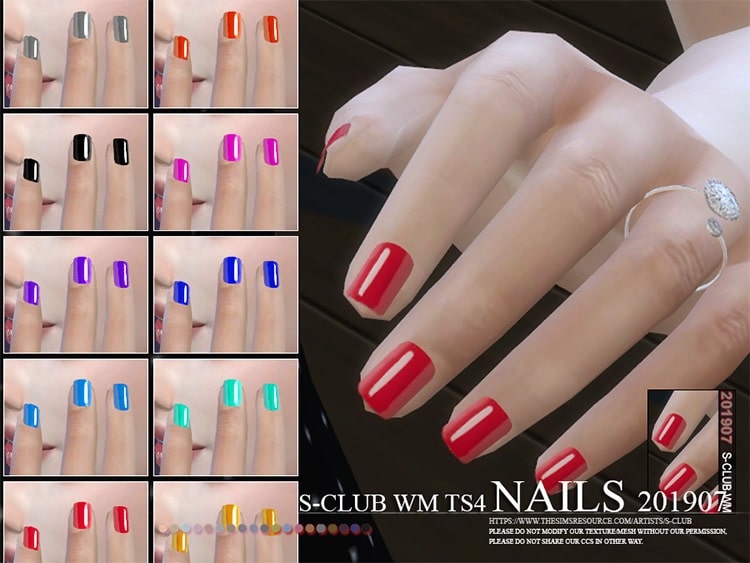 Jelly
These nails have a jelly-like texture to them. You will get them in 20 amazing swatches. They are perfect for a classy look.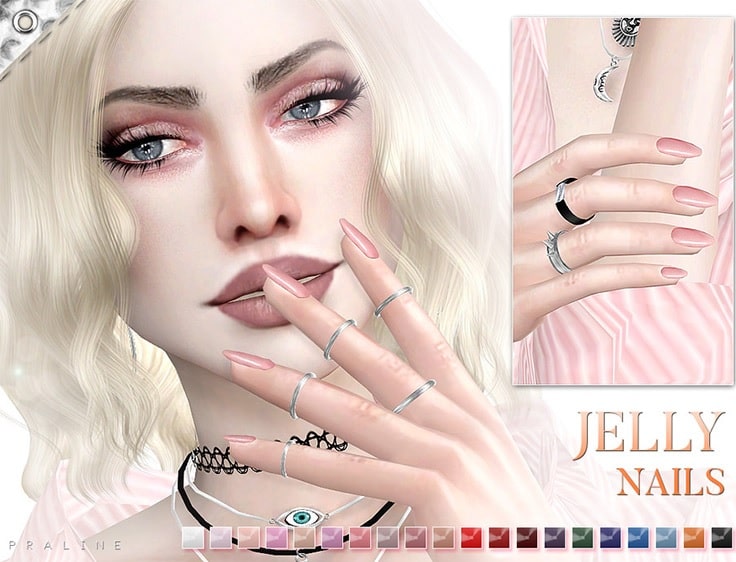 Dolce
These long nails will give you a bold and confident look. They also have 15 different colours to choose from and are HQ compatible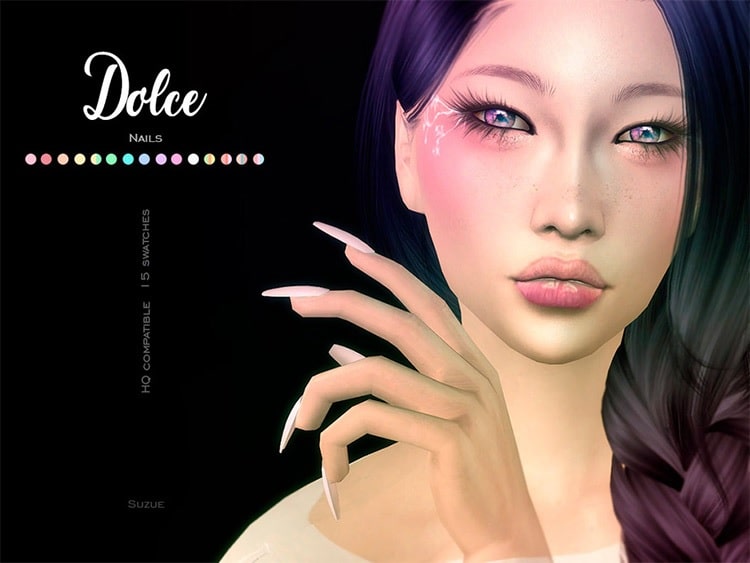 Natural French Manicure
This natural French manicure is perfect for formal looks. If you want more elegant manicures, you should go for the cc. These nails are gleaming and are topped with some sparkles in pretty patterns.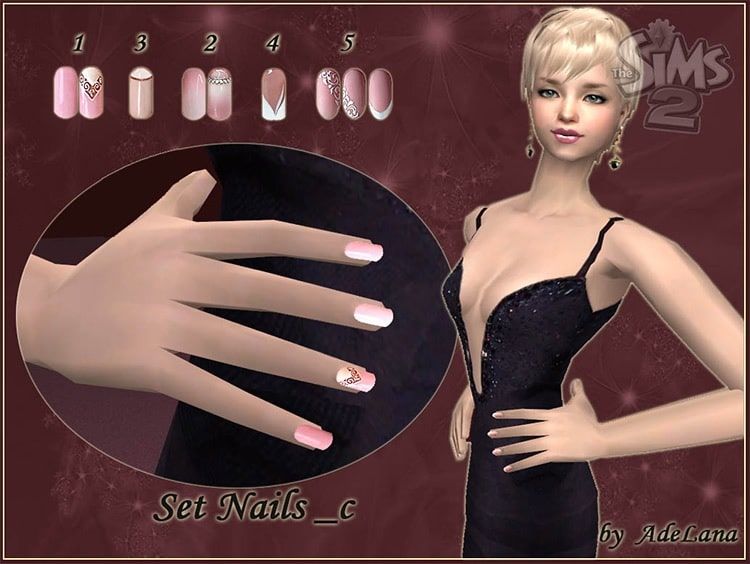 Romee N21
This cc is another set of simple manicures. They come in 50 different colours and have some matte textures to them. These are some very unique nails that are perfect for any look.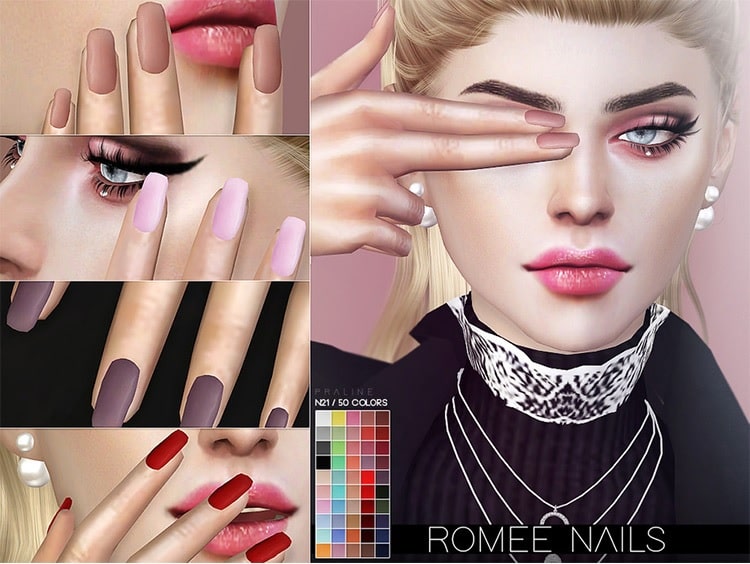 SS-Club WM 201910
These nails are great if you have a party or some formal event to attend. They are clear nails with a hint of colour to them. They also have some shiny elements which make them look beautiful.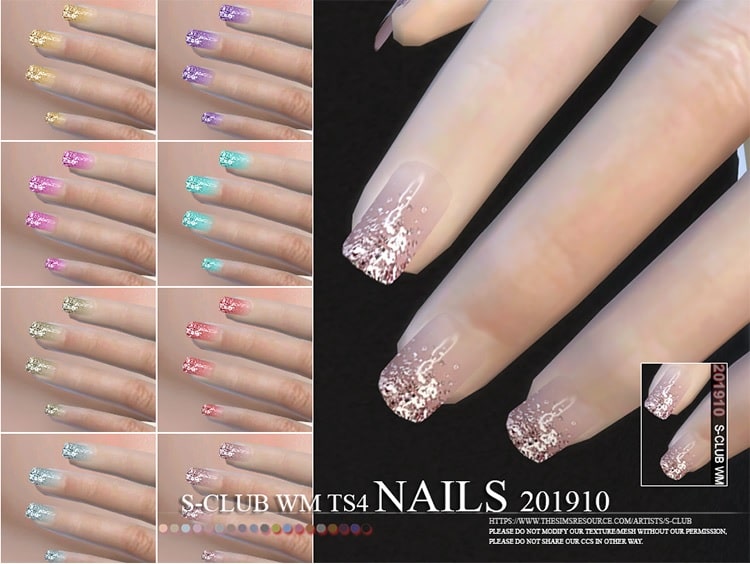 S-Club WM 201817 (Christmas)
These nails are perfect for Christmas. If you are at the end of the year and wish to have some nails that match the mood of Christmas, then you should get this cc. You will get these in many themes like elves, Christmas trees and even Santa Claus.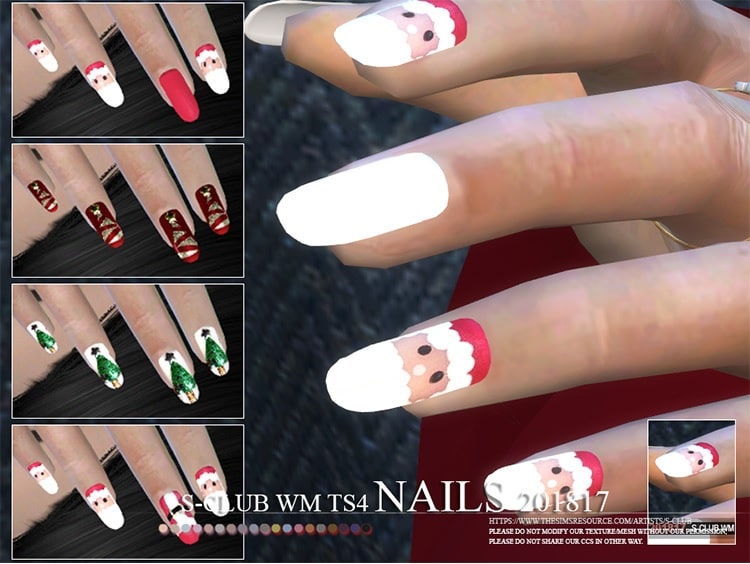 Zeta N20
These nails are great if you want something solid yet pretty. They come in different shapes and 30 different colours. You can use these for any kind of event.
Transparent
These are some very unique nails and look almost transparent. Even after being transparent, they still have some colour, making them look beautiful. You can also get these in rainbow colours in 15 different swatches.
Glass Heart
This new mesh of glass nails is a must have because they come along with a small sized heart at the tip of the nails, which looks absolutely gorgeous.
In addition, this custom content is available in 10 swatches, and along with the color of the nails, the heart's color changes as well. They'd compliment every outfit of your character's, so give them a try and download these beauties right away.
We have come to the end of this article about the Sims 4 nails CC. We hope this could help you find some fun nails for your Sims.