Sims 4 has always been known for updating the game and new additions in terms of mods and storylines that make the game more exciting and intriguing.
However, when it comes to aspirations, there are only so many creative options available for you to try out. There are the same standard aspirations that your character can choose between, but not anymore. Check out the Sims 4 aspirations mods and CCs that you can download and have your sim pursue a unique goal.
Sims 4 Aspiration Mods
Here's an aspirations list that has some of the best goals and career options for your character to pursue. Let's check these out.
1. Whimsical Aspiration
This is quite a fun aspiration for you because you'd have to fulfill 100 whims of your character. It'd feel like your sim's living their life impulsively, one urge to another. We already know how quirky these whims are, so get ready to complete some weird goals. You'd require the whim overhaul mod for this, though.
2. Twilight Years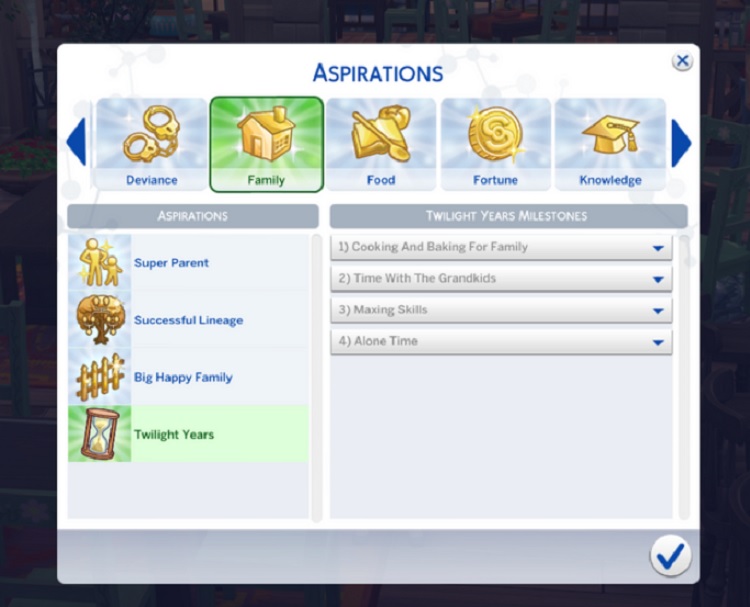 Now, this aspiration is specifically for elder avatars and is quite a sweet one. It allows your elder sims to plan different things in their last days, such as cooking and baking on the first day, spending time with the grandkids, achieving the highest level in all the skills, and finally relaxing by meditating and crafting. Isn't this so wholesome?
3. Family Aspiration
If you have tried this excellent family goal in Sims 2, then you can try this out in the 4th installment of the game as well. Have your sim marry someone, start a family, become parents, and so on. You can go on a complete journey with your characters, and it'd make your gaming experience even more perfect.
4. Culinary Librarian
This is one of my favorite goals because your avatar can now prepare exotic dishes by learning new recipes from all the worlds in the game, such as alien fruit tarts, cowplant essence meringue pie, and so on. You'd have to work hard to acquire these unique ingredients. This option was a part of the Sims 3 as well.
5. Gold Digger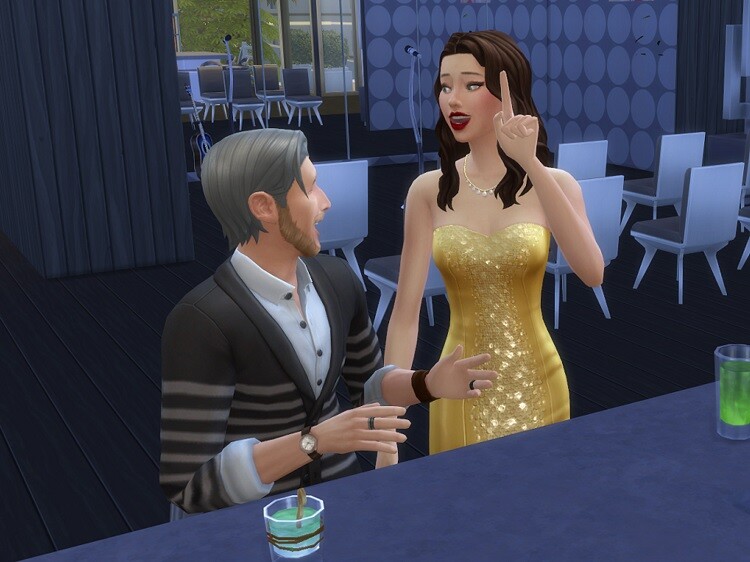 As the name suggests, your character would have to find a wealthy person to romance and mooch them off their money. This option comes along with the gold digger cc traits and aspirations. You'd also have to include a mansion with Schmapple Fridge, and Princess Cordelia Bed for the ideal set up and feels.
6. Applied Animal Behaviorist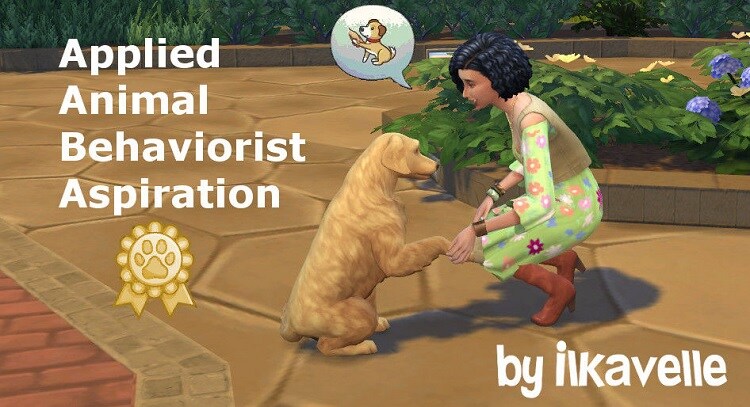 If you're planning on going ahead with this goal, then be prepared because it'd take up your character's entire lifetime to complete. The Cats and Dogs expansion becomes even more useful with this aspiration, and you'd need to reach level 5 in veterinary skill to 50 hours of training pets experience to complete some of the tasks.
7. Wellness
Your sim would aspire to conduct yoga classes, be a masseuse, become a master at meditating, and a lot more related to wellness. You can now make use of your spa day pack fully with this goal.
8. Lifetime Aspirations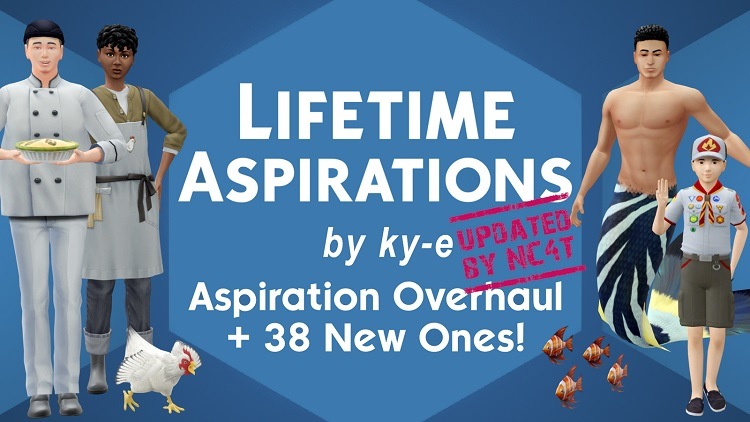 All the aspirations that the game offers are all included in this one option, and more. In most of these goals, you'd have to either reach level 10 of skills or woohoo with a lot of characters. You can also try some of the unique tasks that would make your gameplay more interesting and less monotonous.
9. Pleasure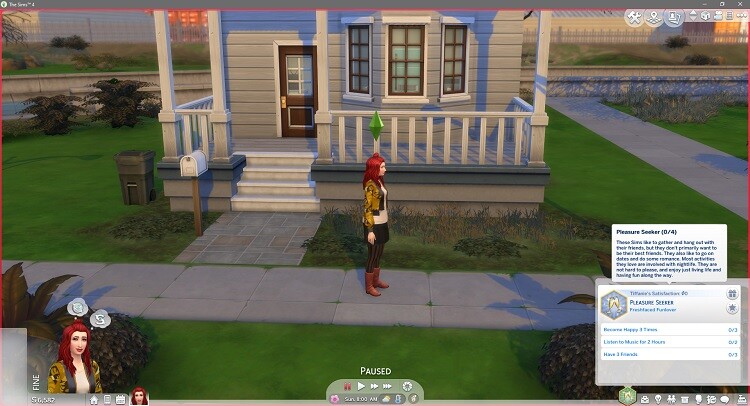 This option is rightly named because your avatar would have everything to lead a happy and satisfied life in every aspect, including romance, wealth, friendships, etc. Before this goal comes to an end, your character will have hosted 50 social events, three careers, and become charismatic. You'll have a lot of fun with this feature.
10. Self Sufficient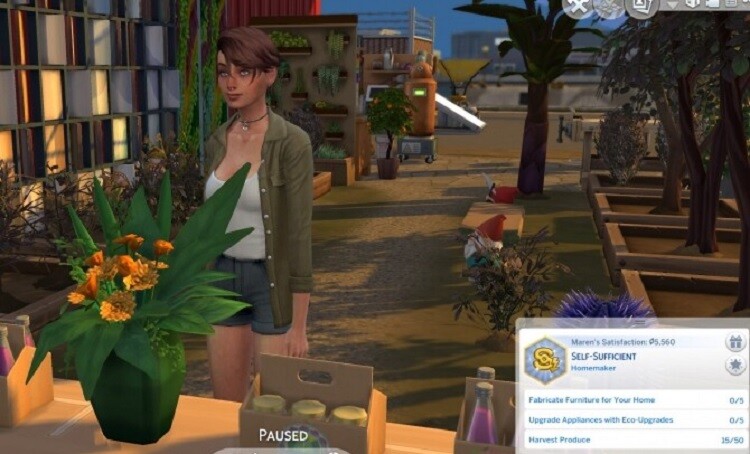 This is quite a difficult aspiration to take on because whatever your character needs would have to be grown, recycled, or created by them. You can pair this goal with the rags to riches challenge, as they'd complement each other pretty well. Your avatar would have to become self sufficient in every way.
11. Travel and Culture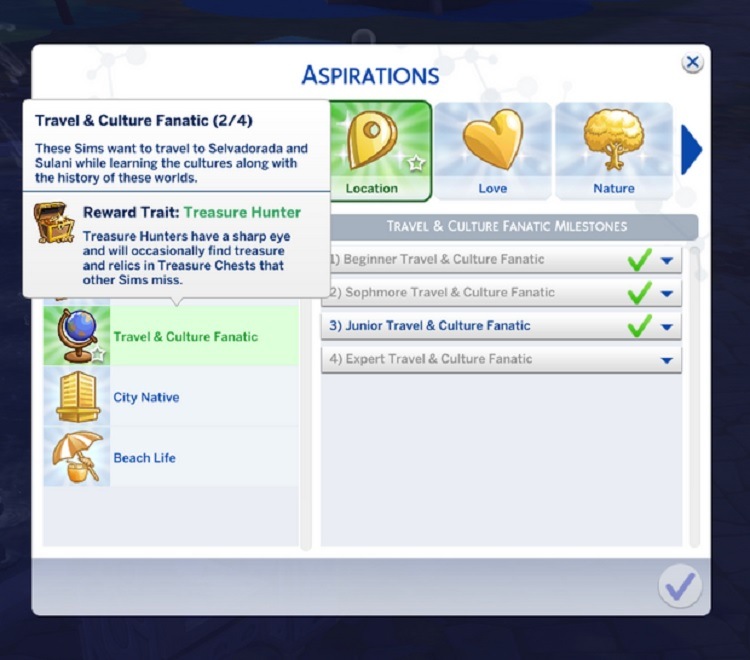 Now, this is a relaxing aim to have because it expects your sim to travel all the vacation worlds in the game and explore them. Eventually, they'd become an expert in Selvadoradian culture and a published author as well. Who wouldn't enjoy having such an aim in life, right? But if you can't pursue this dream, then live it vicariously through your gaming avatar.
12. UFO Investigator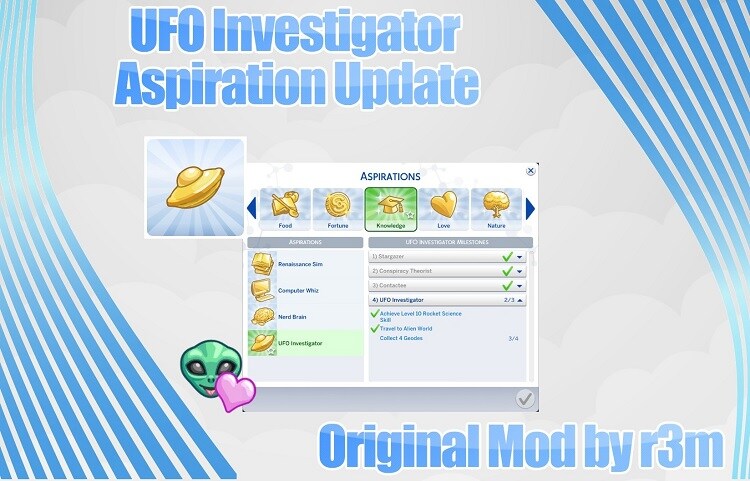 If you choose this aim for your avatar, then be ready for their obsessive love for space and extraterrestrial beings. Their goal would also revolve around the same thing, where they'd wish to become a rocket science expert and visit an alien land as well. It'll be an absolutely cool goal to pursue.
13. Grilled Cheese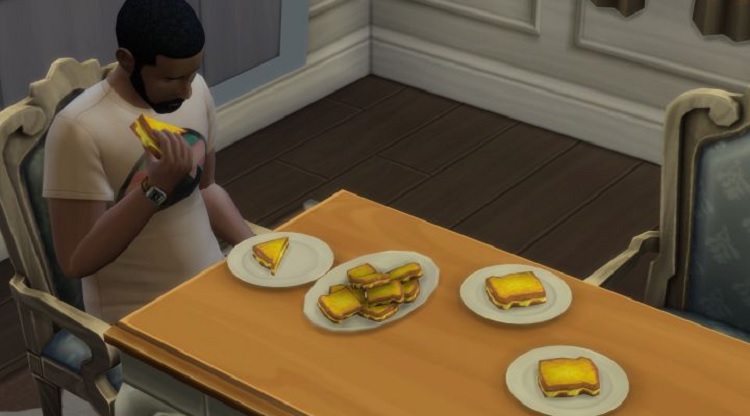 Honestly, this is quite an absurd goal for a character to have, but a fun one nonetheless. For this, your avatar would have to eat 3 single servings of grilled cheese at once, and then your goal would be unlocked. Now, your sim would only have cheese for breakfast, lunch, and dinner. As I said, it's absurd, but you'd have fun completing this one.
14. Photography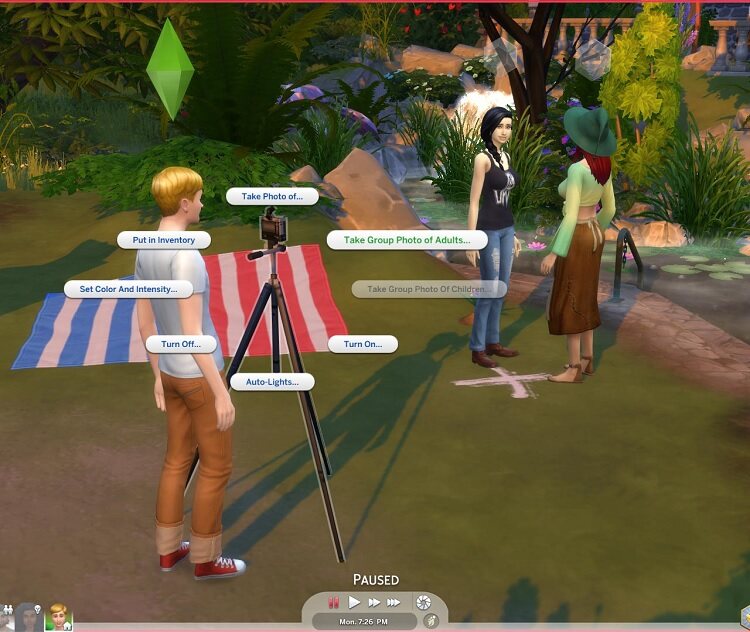 This aspirations cc is an excellent one because if your character has a passion for photography, then this is the right one. They'll click gorgeous and memorable pictures their entire life. In addition, it's the most updated goal out there, making it the best one to add to your game.
15. My Own Business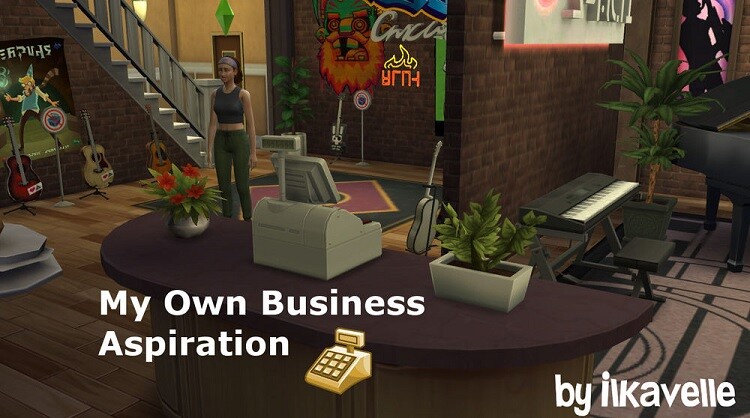 Your sim can now be an entrepreneur and start their own business. This would become their lifelong goal to run a successful business. There'd be several minor tasks to complete along the way, but it'd be worthwhile when you eventually have your own business empire built from scratch. This feature was available in Sims 2 as well, but this installment includes an improved version of it.
16. Three Mermaid

Have you ever dreamt of being a mermaid after being inspired by the story "little mermaid?" If yes, then this is the perfect option for you because it features 3 different goals with 4 levels each, and all three are related to living a mermaid lifestyle but offer unique rewards. You'd have to complete a separate task for each one of the aspirations, but it won't get boring.
17. Aspiration Traits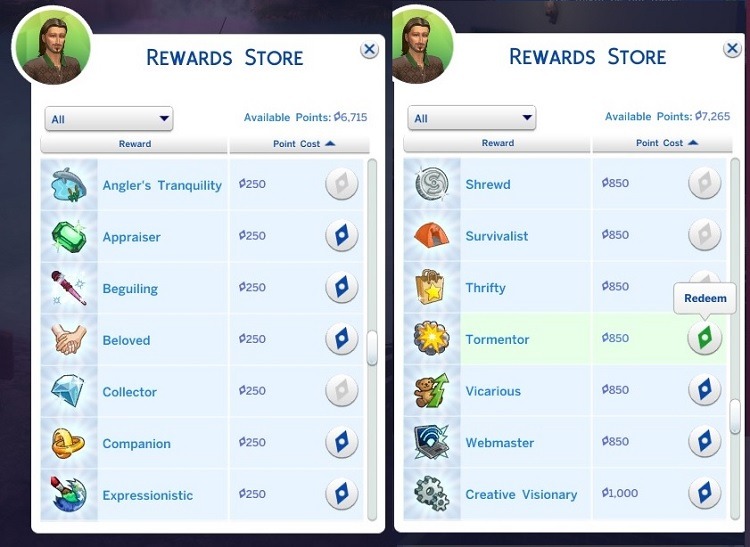 To get a reward trait, you must fulfill your character's goal, and only then are you eligible for a reward. However, you no longer have to wait for a goal to be accomplished because this custom aspiration mod allows you to get all the traits from the reward store. It's one of the most popular CCs and has been downloaded 115,000 times, and we can understand why.
18. Random Traits and Aspirations Mod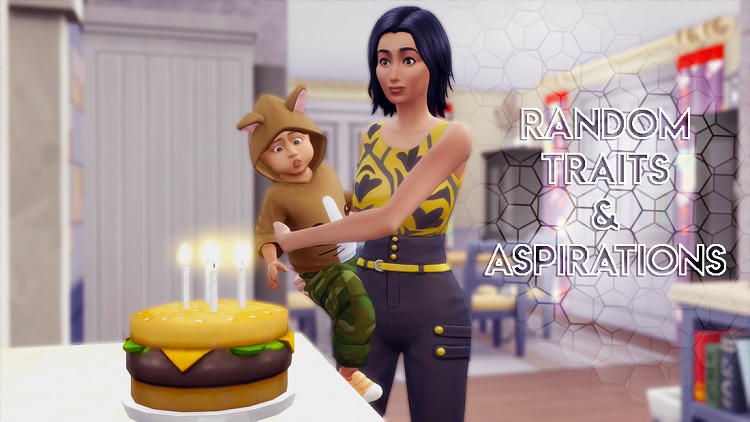 It might be pretty clear from the name of this cc itself that it assigns random traits and life goals to your characters as they reach different life stages. It keeps you on your toes because you won't be aware until the last minute of the characteristics and aims your character might possess. This brings forth something new because we eventually opt for the features that we're comfortable with.
19. Living Life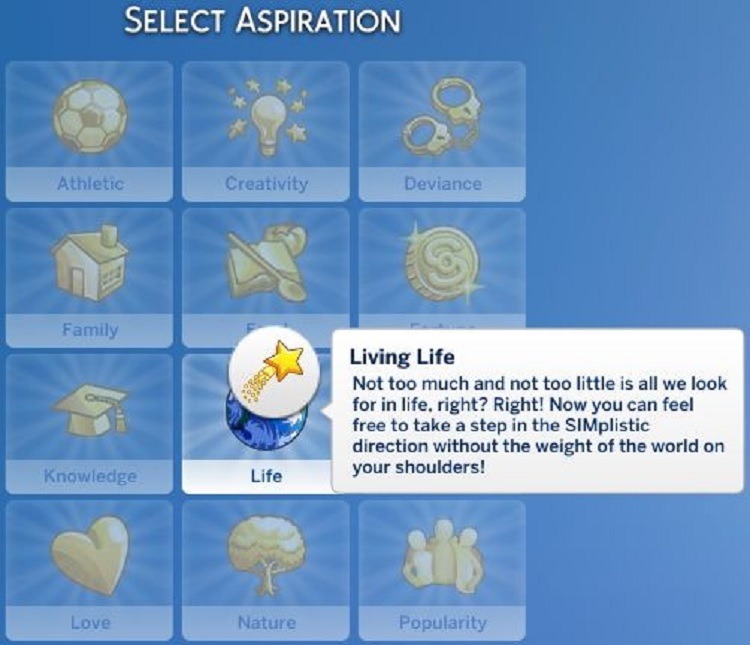 This one's quite a fun feature because it offers two options: Humble Life and Lived Life. Completing both of them would help you earn a reward trait: Life Liver. To know what's all this about, you'd have to download this custom content. Your avatar would also gain quirky whims like hugging someone, sending a happy text, etc.
20. Teacher's Pet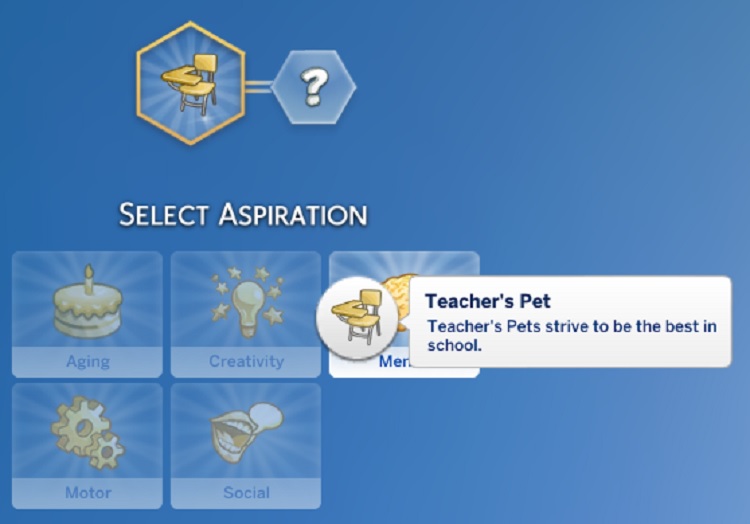 We've all come across a teacher's pet in class and always hated them, right? Well, now you can experience what it feels like by making your character take on this goal and let them please their teacher and become their favorite student. The reward for this starts with the Apple Giver and finishes at the Star Student Reward Trait. Schools would no longer feel bored in the game, trust me!
21. Romance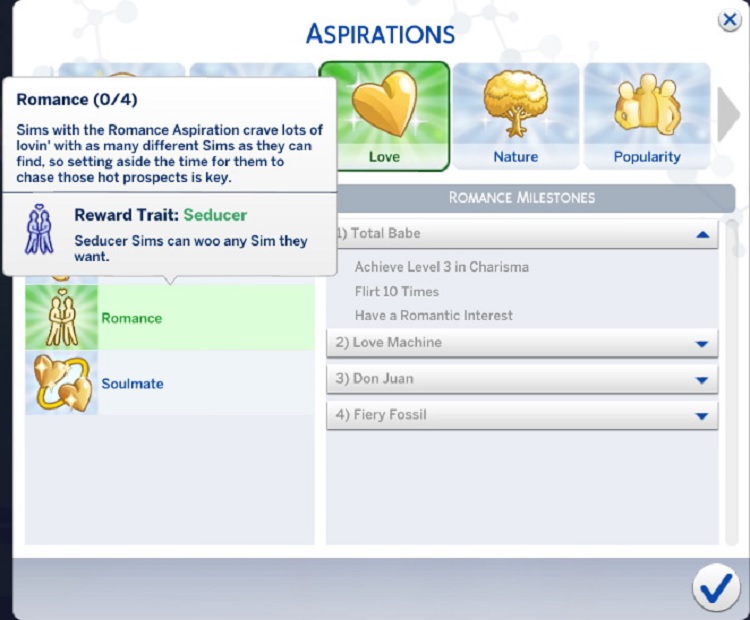 We'll end this list with one of the most excellent aspirations, which involves your character being romantic. There are 6 levels: Total Babe, Love Machine, Don Juan/Femme Fatale, Fiery Fossil, and Seducer, all of which include various tasks. But all of them are fun and whimsical tasks, such as kissing a character 25 times to gain level 3 in charisma, and so on. You won't regret downloading it.
Conclusion
These were some of the most excellent new aspirations that the modders and creators have come up with to make the game more exciting and worthwhile for you all.
However, these are not the only Sims 4 aspirations mods and CCs that are available; there are hundreds more. So once you're done checking these out, you could try to find other ones as well. But these are the best ones when it comes to this feature.