Sims 4 is the most immersive simulation game. Every aspect of the real world is covered in this game—even anime. In the real world, there are a lot of hardcore anime fans. And many Simmers are hardcore anime fans. Since EA doesn't have any anime features in the game, the custom content creators' community has to put in the effort. And the products are amazing. The Sims 4 anime mods by content creators are amazing and improve your gameplay significantly.
If you are an anime fan, these Sims 4 mods will excite you and will make your gameplay much more exciting. You can bring in your real-life posters and costumes and dress up your Sims like your favorite characters from the anime world. You can control your favorite Sims 4 anime characters.
Best Sims 4 Anime mods & cc
1. Saimi Anime Eyes Series v2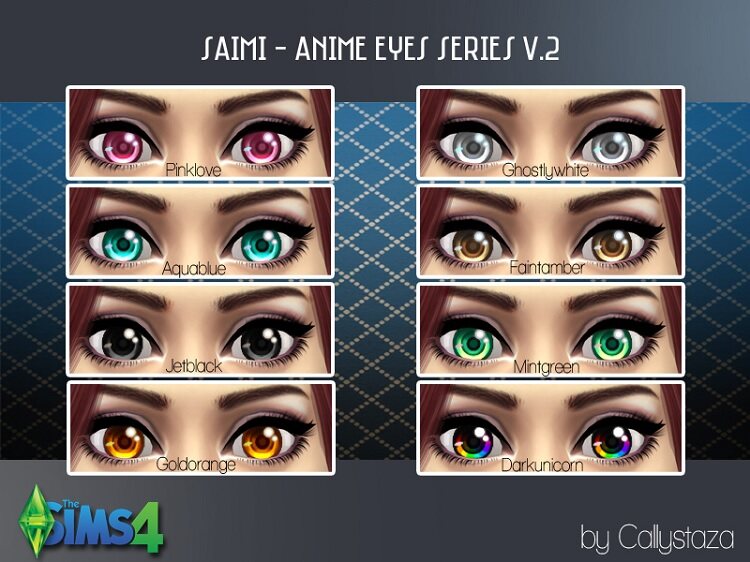 A significant look of anime characters is their big beautiful eyes. These bubbly eyes are what give anime characters their unique look. This Saimi Anime EYes Series contains around eight anime-inspired eyes for your Sims. Choose the best one that suits your Sims. The colors offered to combine all seven colors of the rainbow but with a dark twist. Make your Sims look pretty with this anime cc.
2. Little Ebisu Short Hair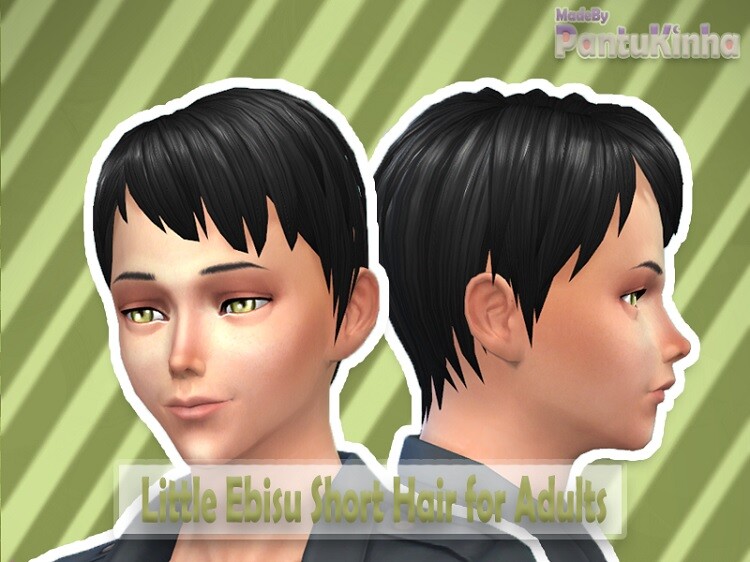 Fantastic hair is also a necessity when it comes to an anime character. Anime-style hair is very different from the regular hair mods in Sims 4. This hairstyle is usually for male Sims and, more specifically, for teenage Sims. The bangs with sharp drops are excellent. They bring out your Sim's eyes and do not cover their beautiful faces. With the perfect eyes, this Sims 4 anime cc is perfect.
3. My Hero Academia Gym Uniform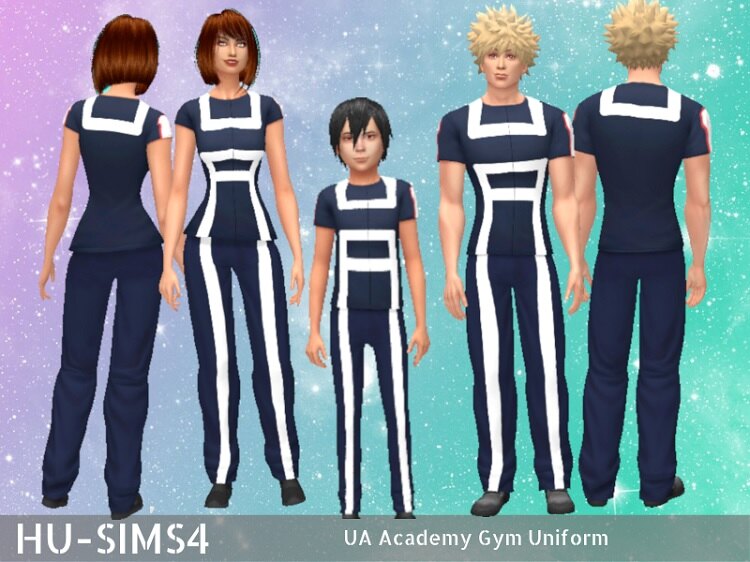 My Hero Academia is a popular Japanese anime that follows high school students' path to becoming heroes. The uniform in this anime has become quite popular and is loved by all anime fans. These cosplay outfits will look amazing on your Sims, and it is fit for all adult Sims, irrespective of gender. Kids can also wear these uniforms. There are no swatches, and only one standard design is available.
4. Fullmetal Alchemist Outfit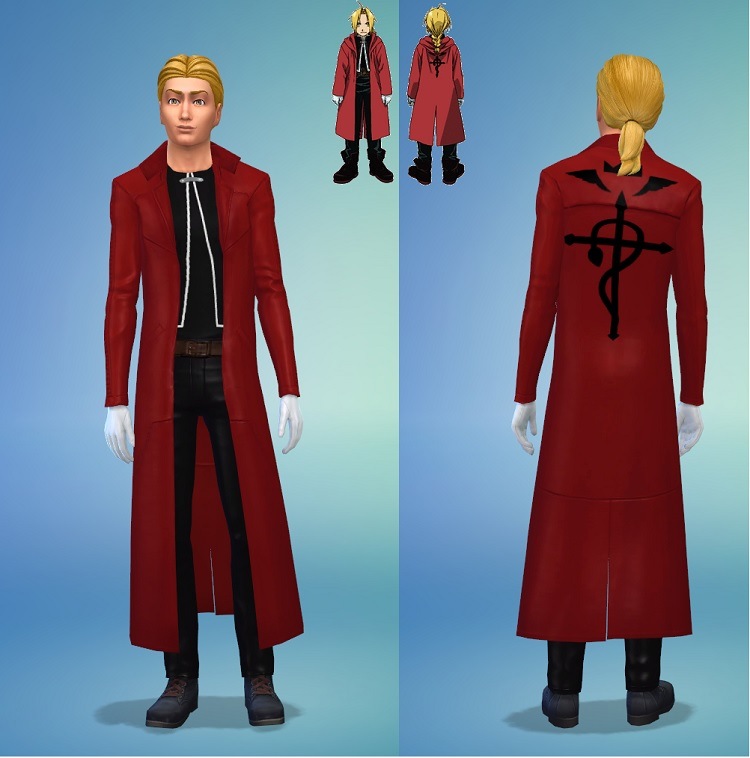 This Sims 4 anime cc is a recolor of the usually hidden oracle outfit within the game. However, the edits are amazing and will give your Sims the alchemist vibe. It includes a long red robe and two packages of white gloves that are a part of this costume. You will require the "Get to Work" expansion if you intend to use swatches.
5. Yaiba Costume Set
The infamous Japanese anime Demon Slayer inspires this Sims 4 anime mod. The items in this cc are standalone items and have their own swatches. These are not recolors of already existing items in the game. The creator has made these from scratch. The costume colors are vibrant and amazing to look at. It gives your Sims a cool vibe and makes them feel relaxed. Four kinds of costumes are available within this mod: Tanjiro, Zenitsu, Kanae, and Hashira Giyu.
6. Dragon Ball Z Shirts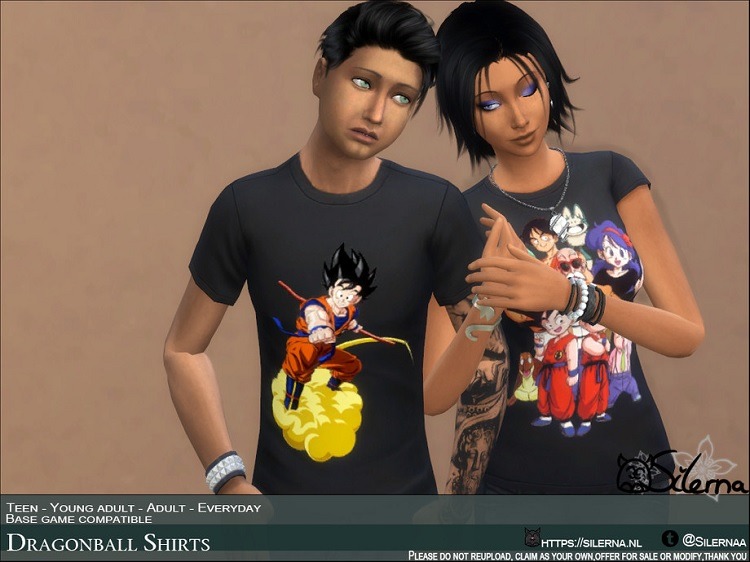 If you do not like cosplay costumes but just normal fan merch, then there are Sims 4 anime mods for you. Thai Sims 4 anime cc features regular t-shirts with prints of the all-time favorite anime– Dragon Ball Z. This set has two creations. And there are seven designs for you to choose from. This fan merch is available for all adult Sims and also teenage Sims. Show your love for your favorite anime character by wearing this fantastic t-shirt.
7. Death Note T-Shirts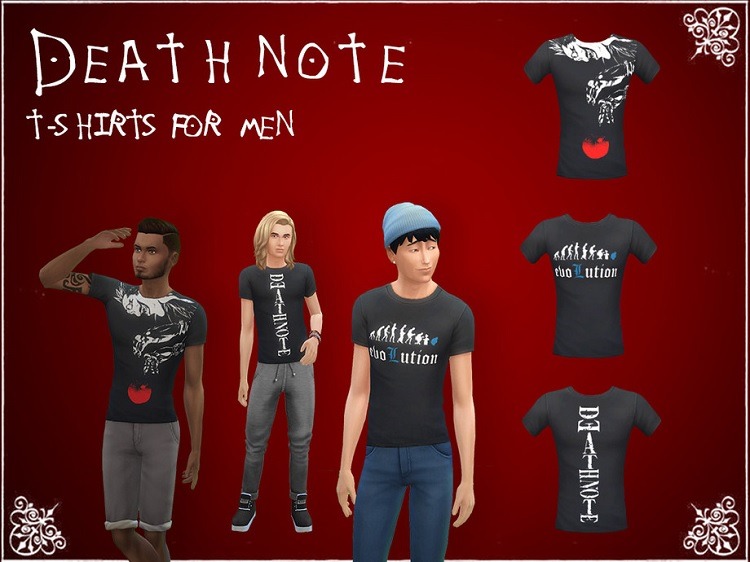 Another infamous anime is the Death Note Series. This anime mod feature three shirts based on this series. The theme is dark and horror. The designs on the shirts are pretty intricate and exciting. They bring out the death vibe perfectly. Unfortunately, this mod is currently compatible only with male Sims. Make this a part of your Sims wardrobe and look like someone who owns death.
9. Totoro Onesie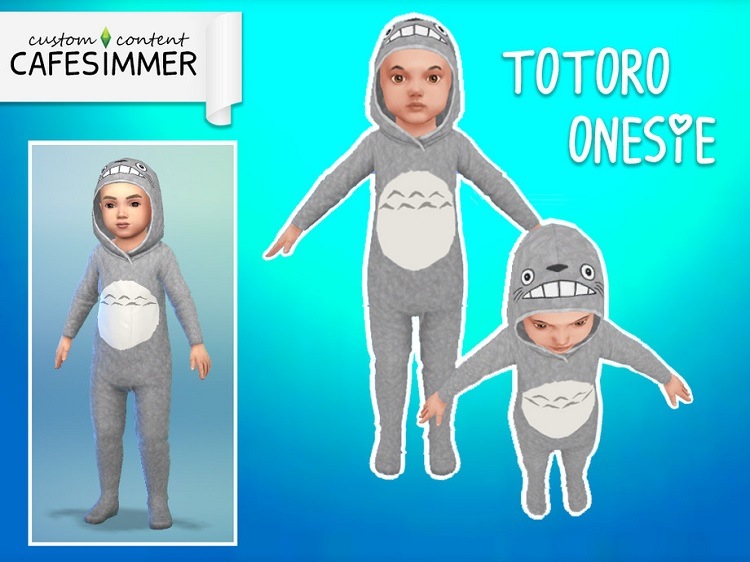 This Totoro Onesie Sims 4 anime mod is extremely cute. This is suitable for toddlers only. It features a gray printed hoodie made out of fluffy fabric to keep the little Sims warm and comfortable. Although your toddler Sims may not understand the reference, your Sims parents' love for anime characters must not stop. This is one occasion where you can allow your Sims to amuse themselves at the expense of a Sims toddler in a cute onesie outfit. This Sims 4 mod is also base game compatible.
10. Pokémon Rugs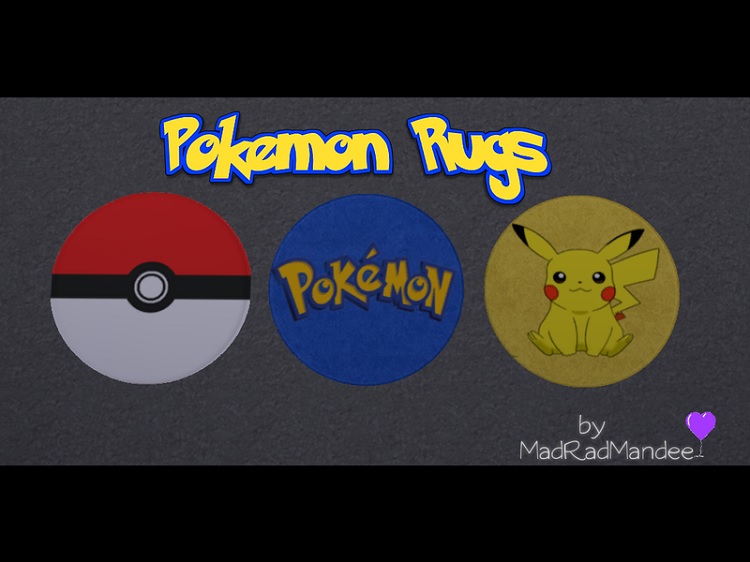 The most loved anime of millions worldwide is Pokemon. It is full of mythical creatures and the journey of a young boy, which makes it a must-have in the game. Content creators have created this cute mod for those who love Pokemon. These rugs can be placed anywhere. It features the infamous Pokemon logo, Pikachu, Squirtle, and many other creatures that you can put in each room of your Sim's house. The colors are neutral and match the vibe of each anime character.
11. Sailor Moon Posters Set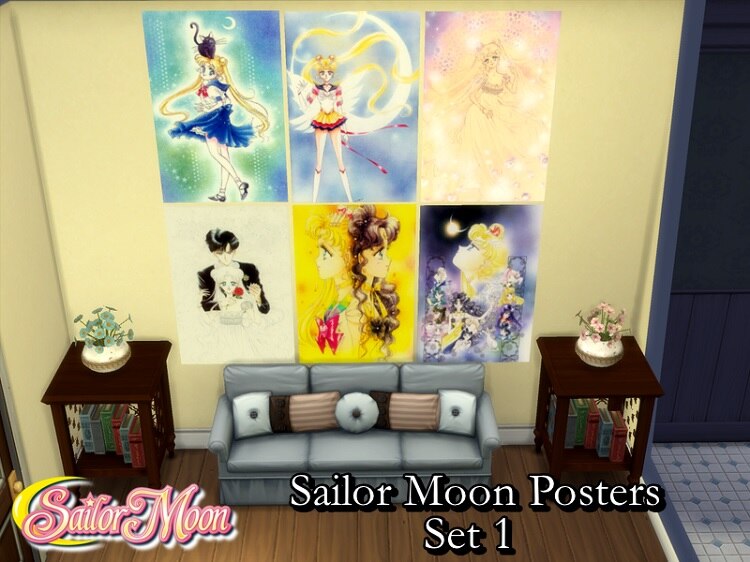 This Sims 4 mod features items from the classic anime Sailor Moon. It includes a large set of posters that your Sims can put up in their rooms. These posters will liven up your Sims rooms. This anime cc is available in 16 different swatches. This means you have a plethora of choices you can choose from. Don't let your love for anime characters vanish in The Sims 4.
12. Kawaii Kafe
Why settle for one thing when you can have an entire anime-themed cafe for your Sims? This place is full of anime cc and perfect for your Sims to relax in. Full of various anime posters and figurines, it also consists of other stuff that is not inspired by an anime series but is anime themed. It also features multiple Japanese-themed items that are cute and have a modern style. This colorful coffee shop is a piece of art where your Sims can host anime parties to gather Sims with similar interests.
13. Otaku Hideaway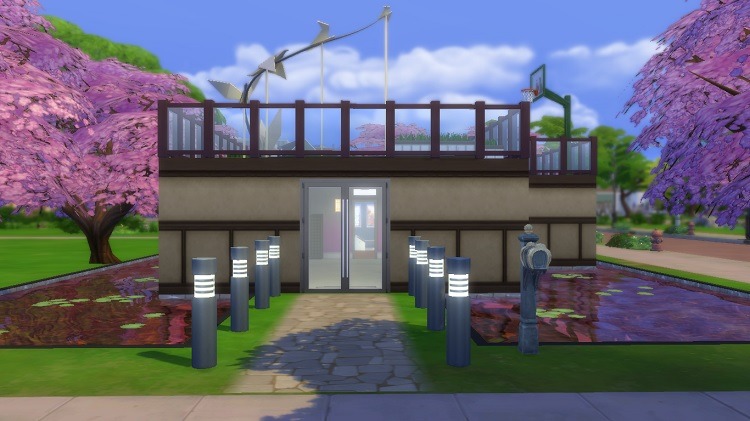 When you are a die-hard anime fan, it makes a lot of sense if you live in an anime-themed home. It features some of the most luxurious treasures your Sim can ever imagine. It is influenced by a lot of anime series. Cherry blossoms surround the lot. The house also extends underground into a hidden lair that is underwater as well. The home also consists of emotion crystals. These crystals sit at the bottom of the pool that surrounds the house. This Sims 4 anime mod is one of a kind and a must-have for anime fanatics.
14. Diabolik Manor
This Sims 4 anime mod is based on the popular anime Diabolik Lovers. This huge manor is almost the exact replica of what is shown in the anime series. It consists of two floors with various different types of rooms. Each floor has specific rooms. For example, the first floor consists mainly of the kitchen, library, living room, music room, gym, and pool, among others. The second floor is the residential area. It comprises six rooms for young Sims and one room for the parent Sims. The exteriors of the manor are mesmerizing. It consists of a fountain, playground, campfire, and also an observatory. This anime-themed manor is one of a kind, and if you love the Diabolik lovers series, then what better way to make your dream come true than make your Sims live in a manor inspired by the series?
15. Totoro in the Rain Tattoo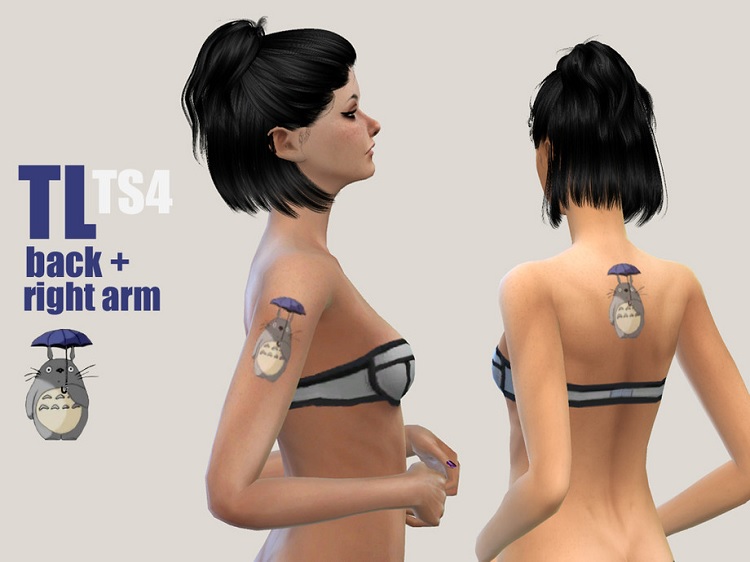 This sweet creature has won a lot of hearts. There are a lot of followers for this cute anime character. This Sims 4 anime mod features a cute Totoro tattoo that your Sims can have on them. This permanent tattoo shows your Sim's commitment to their favorite anime. Your Sims can get this inked on their upper arm or on their back. This is a fantastic way to immortalize your favorite anime characters. This anime CC will win a lot of hearts in the Sim world.
16. Fullmetal Alchemist – Ouroboros Tattoo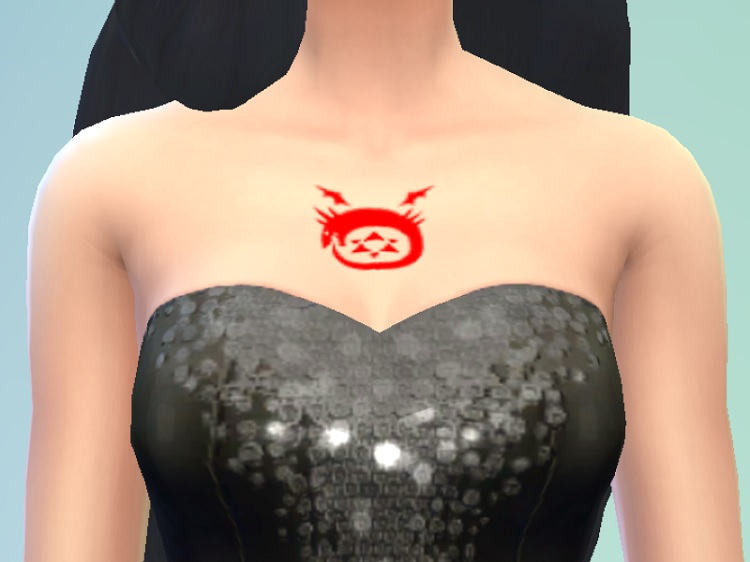 Sims 4 anime mods featuring tattoos are some of the most downloaded. This Sims 4 anime cc features the Ouroboros tattoos, which are featured in the anime Fullmetal Alchemist. However, this mod does not feature all the variants available within the anime. Only three variants are available as of now. A chest tattoo is worn by Lust, a thigh tattoo is worn by Envy, and a green tattoo is worn on the hand.
These simple yet rebellious tattoos are perfect for your Sims. What better way to show your dedication to the infamous anime characters?
17. Fullmetal Alchemist – Riza Hawkeye's Tattoo
Another cool Sims 4 anime mod that is a must-have is this Anime cc tattoo. This is especially for the fans of Fullmetal Alchemist. It features the infamous tattoo worn by Riza Hawkeye. This tattoo is worn only on the back and mostly in red ink. This would look amazing on your Sims. It gives them a goth and rebellious look.
18. Naruto Ninja Career
This Sims 4 anime mod is a game-changer. You can now live the Naruto life. This mod features an entire career track where you can be a ninja and enact Naruto and various other anime characters. It has a six-stage main career track. This goes on to be split into four branches which are based on the paths of the anime series Naruto. Each career you choose will require different kinds of skills. Each career track will have specific features and characteristics. So choose them all wisely. The various career levels are also highly interesting. The pay also increases at every level. Check out the download link and find out about each level in detail.
19. Totoro and Team Kiki Posters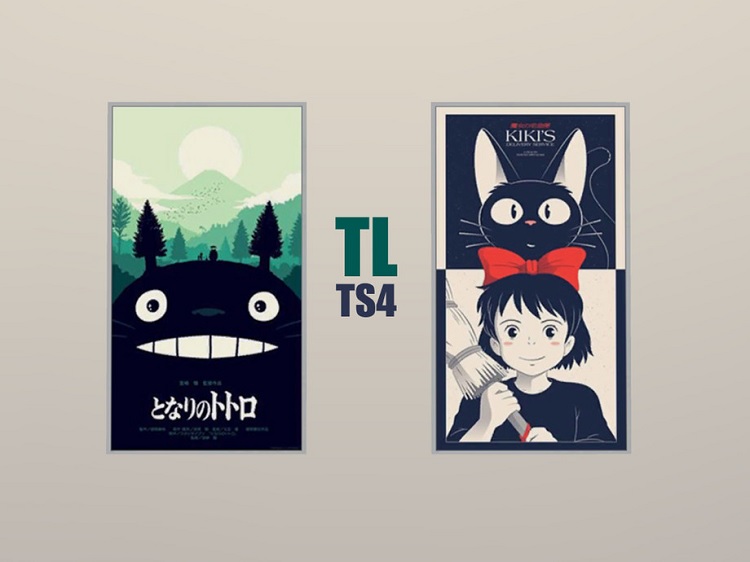 Totoro and Team Kiki are some of the cutest anime characters. This Sims 3 anime mod features these two adorable characters in the form of posters. So you can look at them when you fall asleep or simply chill in the living room. This is a great addition to your lovely home. Your Sims moods will get elevated. These anime characters are well-known by anime fans, so it would be sad if you host an anime party and do not have these posters.
20. Three Anime Tattoos From Bleach
This famous anime series is based on the popular manga Bleach. It features stunning body and face tattoos. These tattoos are available in six colors and include versions that are suited for both male and female Sims. This also includes a set of four holes that are put on your Sim's chest and one hole on your Sim's back. This is perfect for your Sims who love a goth look and something emo.
21. Shitennou Costumes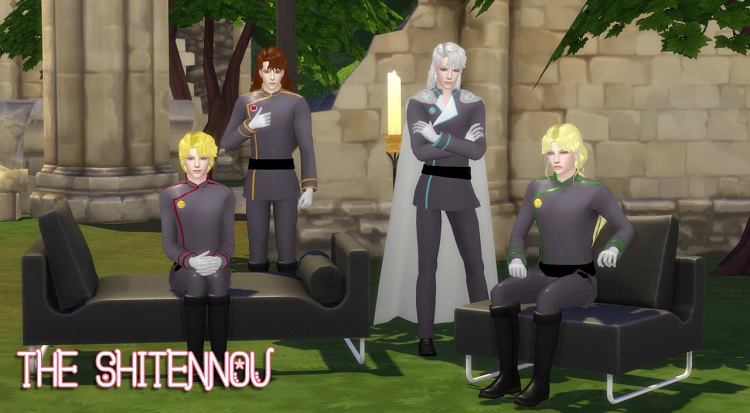 Sailor moon fans will love to see these costumes on their Sims. This Sims 4 mod features the amazing costumes of Kunzite, Zoisite, Nephrite, and Jadeite. This mod also includes hairstyles by Jadeite. A cape is also available on this mod with the costumes. However, it is possible to add and remove the cape. This will make your Sims 4 gameplay highly interesting.
22. Naruto Hairs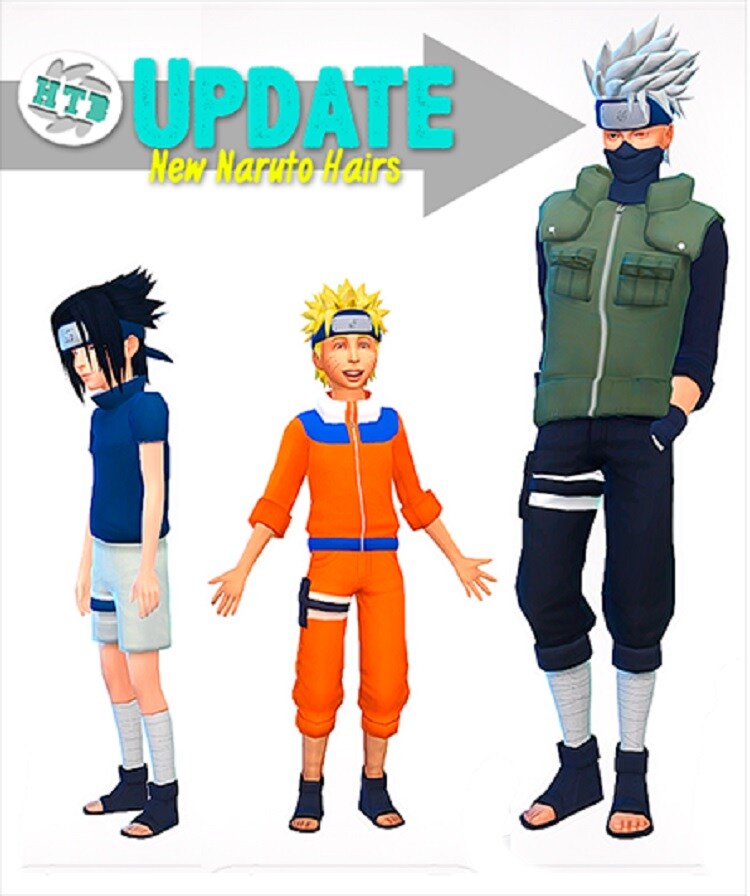 Naruto is one of the most loved characters among anime fans. So why not make your Sims look like Naruto as well? This Sims 4 anime mod features some of the best Naruto hairstyles. These hairstyles are a mix of cartoonish and Maxis's style pieces. However, there are a lot of other options available to players. In this mode, your Sims will also get access to Sasuke and Kakashi hairstyles. Bandanas are also available to download and complete the look. With this mod, you can recreate an entire Sims 4 Naruto-inspired city. It is available for all adults and child Sims.
23. Set of Yaiba Costumes
This Sims 4 anime mod consists of the amazing costumes from Demon Slayer. This anime has been named the best anime of the year 2021 and has a massive fan following. This mod allows your Sims to transform into their favorite character from the show Demon Slayer. It includes four costumes, including those by Tanjiro, Zenitsu, Kanae, and Hashira Giyu. These are colorful and must-have costumes for your Sims. Apart from wearing it at a comic-con or an anime-themed party, your Sims can also wear this costume at various other parties, as these costumes can be worn in multiple scenarios.
24. Eclipse FFXIV Eastern Buns] Hair Set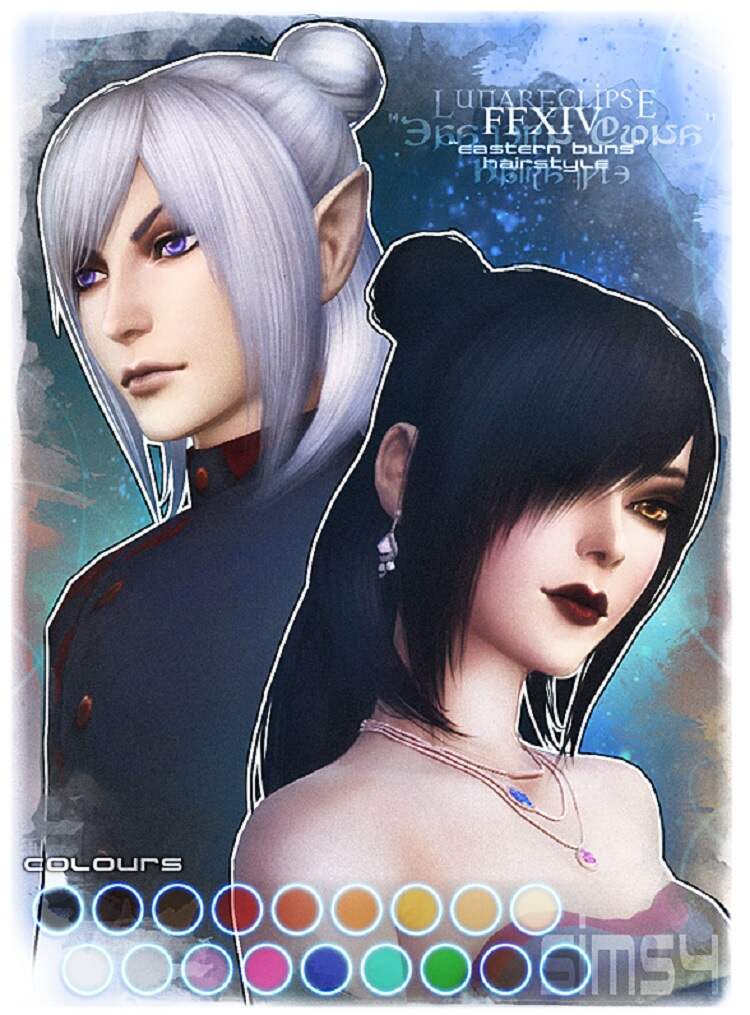 This Sims 4 anime mod is for the fans of Final Fantasy XIV. It includes classic hairstyles featuring mostly Eastern Bun hairstyles. It is available in 18 primary colors and is also compatible with all male and female Sims. All ages can wear this hairstyle. This anime hair cc will also look very adorable on your child and teenage Sims.
25. Anime-inspired plasma eyes
This anime cc includes 20 custom-drawn eyes that are anime-inspired. These eyes are big and available in various colors and versions. In CAS, your Sims can find it in the facemask section. This looks very different from other mods that offer anime eyes. These eyes look amazing and can be worn for various scenarios. Wear them at Halloween or a costume party in your college. Make use of these eyes.
26. Chii From Chobits Hair Mod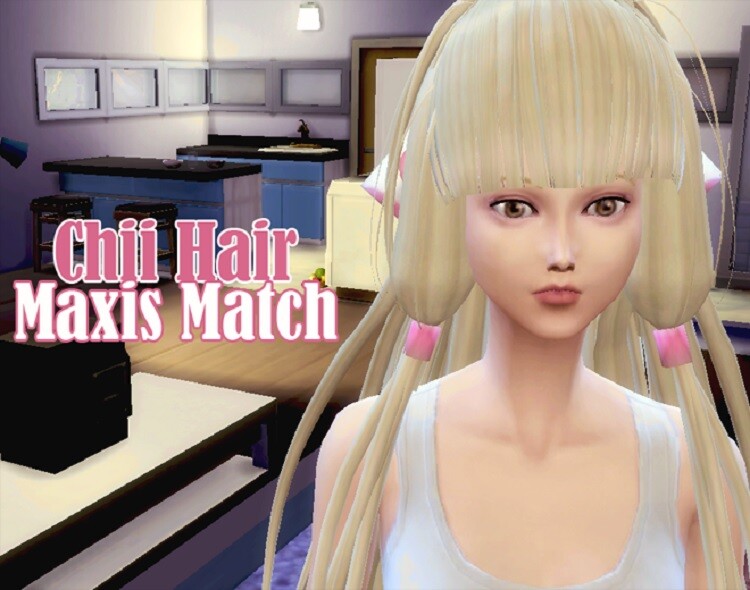 This Sims 4 mod is a simple recolor. These colors and styles are based on famous manga and anime series. You can choose the color to suit whichever anime character you wish to portray in your Sim. There are two versions available in this Sims 4 mod, a more extended version, and a regular version. The swatches are first and third and look amazing on your Sims. This hairstyle is absolutely adorable and will have your Sims enjoy their time in the spotlight. To use this Sims 4 anime mod, it is necessary for you to download the mesh.
27. Anime Hair Set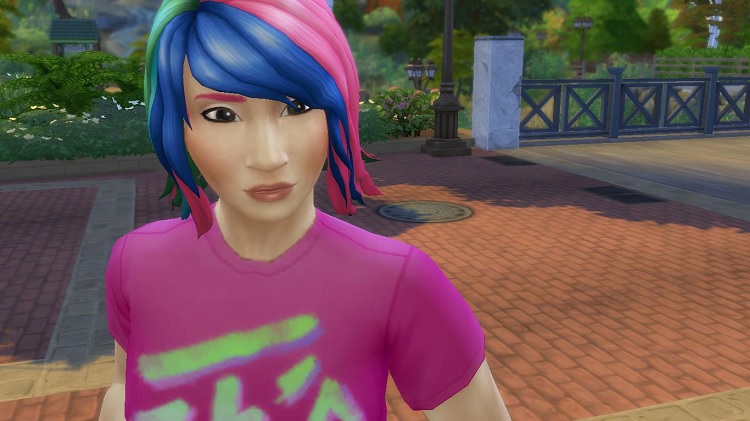 This Sims 4 anime cc is designed by EmilitaRabbit, and this mod was inspired by the famous WWE star Asuka. This anime hairstyle consists of a multicolored hairstyle with a split-dyed bob cut. It is the perfect fit for your bright and extroverted cheery Sims. This hairstyle is best suited for teenage Sims. and young adults. It can also be used for adults and elders. This multicolored hairstyle truly gives off the youthful Japanese modern vibe that is quite prominent.
28. Rizumu Amamiya Eye Set
This Sims 4 anime mod is inspired by the famous character Rizuma Amamiya. These anime eyes are truly mesmerizing and bring out the spirit of anime. This mod works for both male and female Sims of all ages. However, this mod is not functional for toddlers. It is available in four swatches. These colors are bright and bring out your Sims eyes.
29. Sailor Moon Crystal Clothes Pack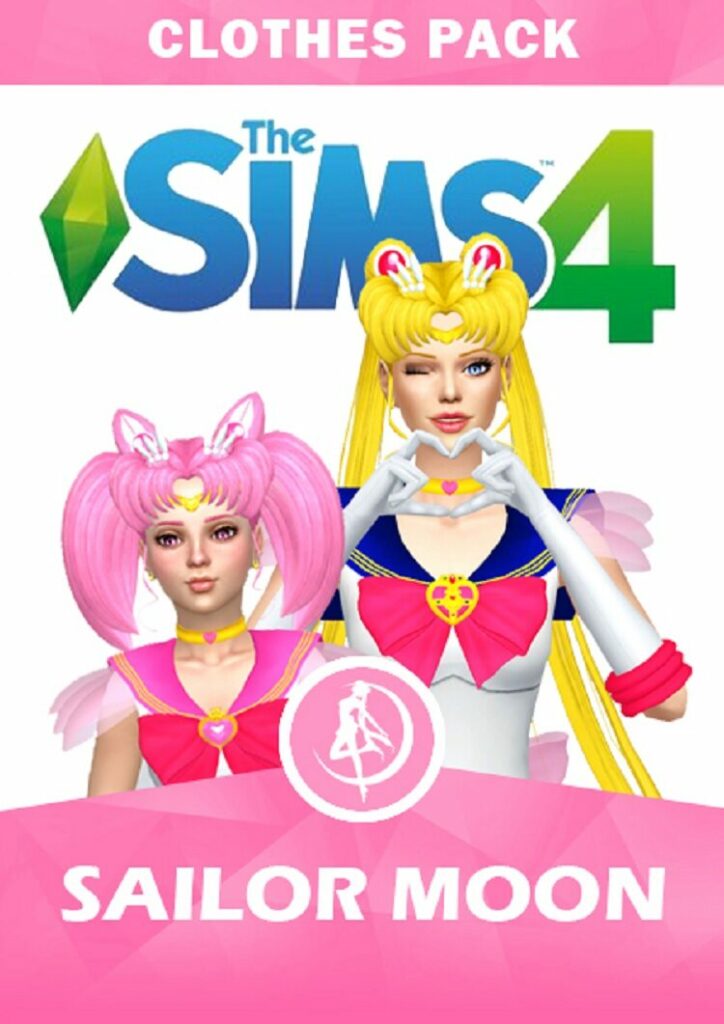 This Sims 4 mod features impressive costumes inspired by the Sailor Moon anime series. These include thirteen beautiful tan tops which your Sims can wear in any scenario. Any style, color, and character can be chosen from this mod that your Sims will depict and, in fact, wear their costumes. The colors are pretty eye-catching and will make your Sims stand out from the crowd. With the perfect anime hairstyle, your Sims will look beautiful and mesmerizing.
30. Pokemodby leljas
Sometimes Sims 4 mods can get quite repetitive and boring. However, this anime mod is somewhat unique. This Sims 4 anime mod will allow you to create a full skin overlay for your Sims, and they can look like a pokemon from the anime series. These overlays are functional for both male and female Sims. Your child Sims can also wear these pokemon costumes. You will essentially be controlling a Sim that looks a lot like your favorite pokemon character.
31. Pokémon Wallpaper
This anime Sims 4 mod is quite simple yet unique. You can make your love for Pokemon permanent within the game by putting this Pokemon-inspired wallpaper in your Sim's homes. Put this in your kids' rooms, or show off your love for this anime series by putting it up in your living room. There are 15 variations and designs your Sims can choose from. Each design has different Pokemon characters and various color palettes. Make your entire house Pokemon-themed and enjoy the Pokemon life.
Conclusion
Sims 4 anime mods are truly amazing and quite attractive for anime lovers. These cc anime mods are quite different, since no mod is the same. Each anime Sims 4 mod has something unique to offer and specific to a few favorite anime series. Live your Sim life by embodying your favorite anime characters. Explore all these Sims 4 anime mods and choose the one that best fits you and your Sims. Do not let your love for anime characters die in the game.