Sims 4 is an online social simulation game that helps you make your modifications to make the game more fun and interesting. One of the best mods ever created in this game is the Sims 4 dating app mod. Dating is essential in real life and also in fictional worlds. It helps to spice things up in the game a little.
The Sims 4 dating app mod introduces you to a dating app. With the help of this app, you can find partners for yourself and have fun with them. The name of the app is "SimDa" dating app. Read the following article to learn more about this mod!
An introduction to the Sims 4 "SimDa" dating app
Playing the game normally can get boring after a while. The SimDa dating app helps to make it a little more interesting. You can start to look for a partner, when your life feels boring and monotonous. This is when the sims 4 online dating mod can be useful to you. You can gain access to this app through the phone of your sim. Just click on your sims phone and select the "SimDa" app tab to use it.
Once you are on this app, you can find many other people who can be potential spouses for you. If you see someone cute who catches your interest, you can chat with them through a virtual chat room. Not only just your sims phone, but you can also access the app through any other device. This mod comes with major benefits and advantages. This mod offers you 4 different kinds of dates; they are all listed below:
Specific date: This type of date is perfect for you if you only get involved in serious relationships . It will introduce you to specific partners based on your likings that you will love deeply and may also be your soulmate. These types of dates can potentially turn into long-term relationships.
Blind date: If you don't know the kind of partner you are looking for and want just to wander around and experiment, then a blind date is the best option for you. This option will introduce you to a bunch of random strangers with who you can hang out and then decide which one you want to date.
One Night Stand: If you are not looking for a relationship at all, have no time for any kind of commitment, or just want to have some fun, you should opt for this option. This option allows you to just spend a night with any sim that you find attractive with no deep emotions attached to it.
Hook Up Calls From NPCs: If your sim does not want to go out and find themselves a date physically. They can use this option to get calls from npc's who they can just contact through phone.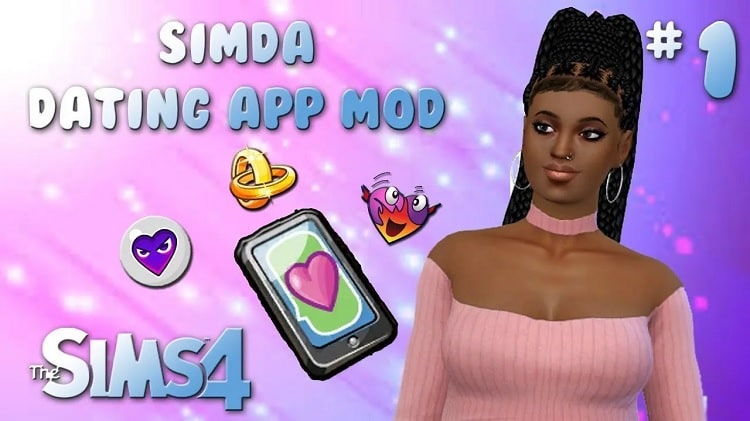 How to install the "SimDa" dating app mod
If you are interested in the SimDa dating app Sims 4 mod,, follow the steps given below to install it:
Click on the link below to get to the site of the mod
Once you are on this site, click on the "download" button and select from google drive or dropbox.
Right-click the "Direct Download" option (Exit if it asks you to sign in and click the button again). Then, in the download folder, open it.
Mod should be successfully downloaded after completing the above steps. To use it, you need to restart your game. Make sure that you keep updated the mod every time you get a patch note for ts4.
Features of this dating app
Specific date/ Blind date mod
Once you have decided and chosen any of the two options that are either the specific date option or the blind date mod, you can proceed to meet your partner. You will have to decide a place of your choice where you would like to meet your partner. You can use this first date to judge your partner and decide if they are the one for you or not. If your date went amazing, then you can add this new relationship to your game. However, if the date didn't go as well as expected, you can just forget that sim and find another one for yourself.
One-night stand
This option helps to spice up your game a little by adding a sexual aspect to it. After browsing a bit, you need to decide on your partner and then call them over to your house. However, this condition is that you can only meet them in your home lot. After this, you can spend a night with the partner of your choice. From the bed, closet, tent, hot tub, bush, rocket ship, lighthouse, telescope, and coffin (vampire) steam room, you'll gain access to all the woohoo options now available in the game. A mod that could be helpful to you is the WickedWhims woohoo after downloading a WickedWhims add-on.
These one night stands will not mean anything emotionally to your sims. Once the night is over, you both will move on with your normal lives and will become strangers once again. During the one night stand, the romance or friendship preventer buff will be activated. This will prevent the sims from developing any emotional feelings.
Hook up calls from NPCs
Hookup calls from NPC's are great if you just want to have a little fun via phone calls. You will need to turn on the hookup calls option from the menu in the dating app to receive hookup calls.
Tinder mod in Sims 4
The types of people you will meet through the app will depend on the kind of date that you choose. If it is a blind date, you can meet sims who may be single or not single. For NPC calls, too, you can select whether the sim you call is single or not. You can also choose the age of your character. If you wish to do these things, you need to do it with the help of the "add-on" options.
Pregnancy chance add-ons
0% chance – With the help of this add-on, you will be able to get rid of all chances of getting pregnant. No matter what age your sim, maybe they will not get pregnant. This add-on works under all conditions, such as if your sim is menstruating or they are already pregnant.
15% chances – This add-on will increase the possibility of your sim getting pregnant from about 5% to 15%.
25% chances – The possibility of pregnancy will increase from 5% to 25% with the help of this add-on.
50% chances – This add-on will increase the chances of your sim getting pregnant from 5% to 50%.
100% chances – This add-on will 100% get your sim pregnant. By using this option, your sim will get pregnant without a doubt.
No teen pregnancy – Pregnancy is not allowed for teenagers.
When you choose more than one, it will eliminate the 15 percent – 100 percent possibilities. If you choose 0% as a substitute, the odds of getting pregnant are at their highest, and no pregnancies will occur. Sims who utilize protection (wicked whims or MCC) has a 0.5 percent probability of becoming pregnant.
SimDa dating app update
The creators of this app have made sure to update from time to time. We have listed some of the extensions which we included in this update below:
Singles only: This update will only affect the single NPC's.
Blind date only people of the same age: Only people of the same age can indulge in blind dates.
Aspirational Objectives: The "Serial Romantic" now also include the "SimDa" dating app. Goals include going on two dates, earning gold on three dates, and having a "Soulmates" connection.
Goals for Holiday Traditions: Use the SimDa Dates options (Specific, Blind, and One Night Stand) to meet the Holiday Tradition Goals.
No F* Word: This modifies the one String Table to remove the F* word from the Hook Up Call. (Don't delete them! at the start, and put the additions in the same folder as the Main Modification.)
Compatible add-ons
Wicked Whims Addon: This add-on will make it inevitable to say no to any one-night stands. With the help of this add-on, if your sim texts another sim in the chat box asking for a one-night stand, the chances of your sim getting rejected will become very low. This works on almost every sim. If you want your Wickedwhims add-on to work, make sure to download the Wicked impulses.
Follow the steps below if you wish to download this add-on:
Simple one version mod: In your S4 mods folder (Documents > Electronic Arts > The Sims 4 > Mods), copy the *. package file.
More than one version: Follow the same steps as option one, but don't employ several interpretations.
Script mod: In the ZIP package you will find the (*.ts4script) buried. In your S4 mods folder, copy the *.a package file and *.ts4script file, but don't make more than one subdirectory.
What to do if the SimDa dating app stops working
If your modification stops working abruptly, follow the steps below to fix it:
First, you need to make sure that the modification downloaded was installed correctly . Make sure that you didn't miss any steps while installing it. If your script mod is not enabled, that too could cause a problem so please check on that.
Try and update your mod if you haven't already.
There could also be glitches if there are conflicts in your mod. If this is the case, copy all other modules and CC from the mods folder to a backup folder. After that, delete the localthumbcache folder. Place the file in your S4 folder. Check to see whether it's working. However, do not select Save. Otherwise, you will lose all of the CC's. Finally, close it without saving it.
If a change causes an issue (lastException.txt in your Sims folder), follow these steps:
Make sure that you follow the steps given above correctly and avoid mod conflicts.
Also, make sure to update your mod.
With this, we have come to the end of this article about the Sims 4 dating app mod. We hope that this article could be of use to you and you have fun playing Sims 4 with this great mod.