With the help of the last exception reader, you can find out and detect files that have been causing conflicts in your game. You can find this last exception reader from \Documents\Electronic Arts\The Sims.
Error Notifications: MCCC Command Center
With the help of this MCCC command centre reader, you will get a notification when there is a problem with your mods or cc's. This will help you easily catch errors or any issues with your reader. You can respawn it as an exception read file wherever the gaming code happens.
Sims 4 how to read the last exception
When you get notifications about broken files or mods, you can easily locate them and fix all the problems occurring. When you try to locate your files, you will find three versions of the Sims 4 last exception reader, and all of them will start with the word "last". They are also all text files.
Last Exception
If there are any other types of files that the reader has not caught yet, the last exception will make sure to see all those files.
Last Crash
If any old mods have expired, they are most likely to cause a conflict. This crash is usually that type of conflict.
Last UI Exception
If any mods need to be updated, this exception will catch those.
MCCC Troubleshooting
Many problems and conflicts happen due to errors in the core game. In such a situation, you may need to reboot your game. This is when the MCCC troubleshooting can help you. That will also help you locate the errors and change their location to fix the conflicts manually. You can also delete your localthumbcache—Package file to remove any mistakes.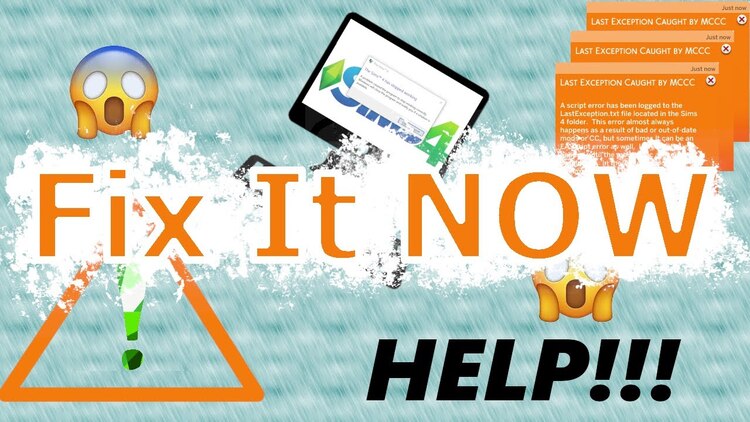 Sims 4 Last Exception Reader
The last exception reader is in the form of an orange coloured notification. You can also find it in a folder. There will be a file named the last exception in one of the folders. After this, you can fix your problems by opening the folder and removing your errors. You can do many things like locate the location of the error and fix it. You can also change the location of your item to fix your problem. You can delete a file named localthumbcache.package file or by using mc_settings.cfg. You can find these files in your Sims 4 folder.
As we already know, most of the conflicts in your game are due to old or expired mods. To fix this, you can use any EA patch. This patch will break all of your script mods, package, and text mods and solve your conflicts. Also, make sure to keep updating your mods after you get an EA patch.
The EA patch will also keep giving you updates about any errors with text files. This helps you to decode and solve all the problems.
Some Tips to Avoid Last Exceptions Issues
Make sure that you save your files if you play with WW or MCCC.
It is ok if you don't save your resource. cfg and your MCCC files.
If there are too many problems, delete your localthumbcache. Package file.
Last Exception Caught by MCCC
If you want a really good last exception that will catch all the conflicts, you should use the one by MCCC. The MCCC final exception can detect issues that most exception readers cannot and help to make your game very smooth. It will ensure to locate exactly where there has been a problem and help you fix it.
Sims 4 how to read the last exception
To read the last exceptions in Sims 4, you need to open the error causing conflicts in your gameplay. This error will be in the form of a rectangular message notification. You will get a square or rectangle box on your computer to show your answer. Then you need to look for your log files and save them in your classic text document. These conflicts usually occur due to expired mods. They sometimes also happen due to EA script files. All you need to do is remove the model causing the dispute or update it.
Wicked whims last exception
There is also a version of the last exception reader created by wicked whims. The last UI exception will locate models that have been expired or broken. With the help of this, you will be able to remove these broken mods so that your game can function smoothly again. If you want to avoid these problems, you can keep updating the database in your mod files.
How do I fix script errors on Sims 4?
You may fix script issues in Sims 4 by doing the following:
Launch the Origin client.
Choose "My game library" from the drop-down menu.
Select "Repair" from the pop-up menu when clicking on the Sims 4 icon.
Restart the game.
The Sims 4 last exception reader is very important, as it can help you with any problems or conflicts in your game. It is one of the best ways to ensure that your game functions smoothly and does not lag.
Faqs
How do you read the last exception, Sims 4?
To read the most recent exception, Navigate to your most recent last exception file in Sims 4 and utilise the "Upload last exception file" option to upload or paste its content into the text space supplied. These files can be found in DocumentsElectronic Arts. Sims 4
Can I delete the last exception, Sims 4?
Yes, it is possible to eliminate the most recent exceptions in Sims 4. They're simply reports of game faults; therefore, they're useful for troubleshooting.