Imagine you are a creator and have created your Sims. How do you feel? Like a God. Isn't it? Everyone likes it because this is our innermost hidden feeling. To act like God and to be in control. You can make them work and have fun while doing so. This is what Sims gaming is all about.
Yes, building them beautiful houses is an integral part of the game too. Agreed, you may have run out of ideas for building houses for Sims. This is why we bring you some sims 4 house ideas to make it easy.
Care to know more, then keep reading till the end. We promise you that this will be quite a stimulating post. Just hop on.
Greatest Of All Time Sims 4 House Ideas (Really A GOAT Collection)
Sims 4 keeps on bringing you new house ideas that make the game worth it. We find it to be on fleek. Right? Look Sims is a community game and it encourages us also to revel in others' creative work. If you can create your own house, then you are good to go. Nevertheless, you can seek house ideas from others and bask in them. It is that simple!
We have found some of the best sims4 house designs that you can take concepts from. We assure you that you will not be disappointed. Have a look.
Stacked Containers
The creator, Pyrénéa must have been racking their brains to have come up with something this exclusive. This is a sustainable house, which is the need of the hour. We need to save the Earth and that message is very clear with this MOD at least. More or less, it has been planned in a smart way. How so? Well, the dwellings are completely separate from each other. Oh, don't miss the vegetable garden, solar panel on the rooftop, and the play area for little children alongside.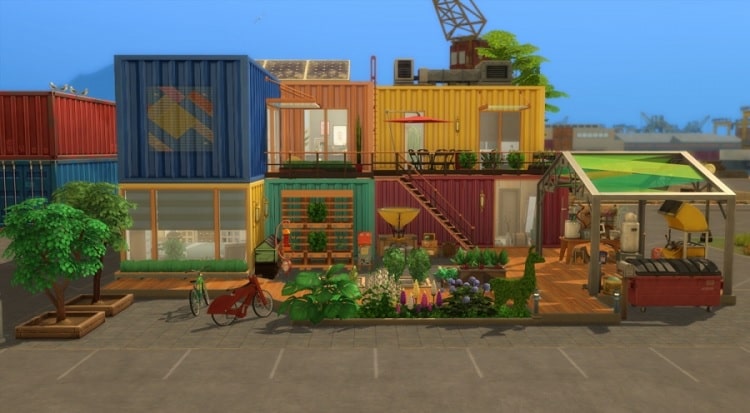 River Cabin
The River Cabin is an intricate and beautiful design that is inspired by the natural environment. The waterfall design was inspired by the beautiful waterfalls in real life. Of course, it was instrumental in creating one of the most functional and visually appealing sim 4 houses. This certainly tells, us that there are a lot of scopes of landscaping in Sims 4. There are high chances that you will find video tutorials for the same. This cabin has an elaborate design that lends this stimulated environment an idyllic look as created by MychQQQ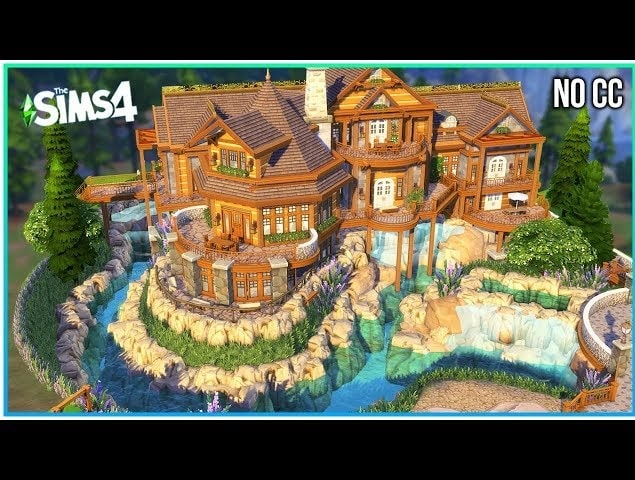 Mountain Cabin
We are listing this right away, as this is from the same designer that has made the River Cabin. That is correct, Kate Emerald is one of the most talented Sims designers. This cabin has those orange-colored woods that look breathtaking amidst the white snow.
These houses often have a rustic and primitive look with minimalist wood-centric cabins. Not to mention that a mountain cabin is a unique type of house that is designed for people who want to live in a natural and peaceful environment. These homes have open kitchens and the colors are what make them to be one of the best sims 4 houses.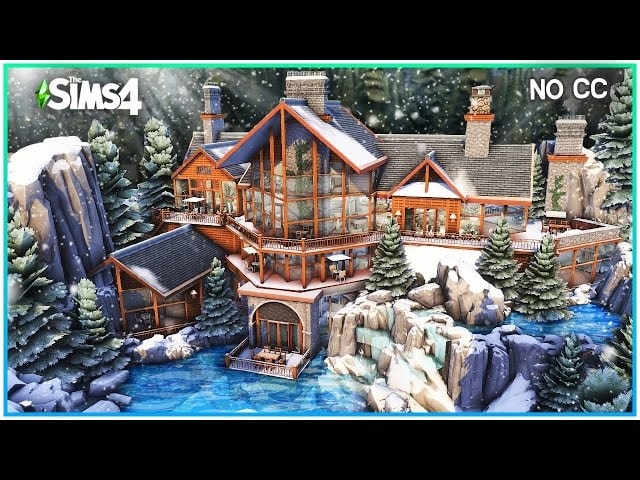 Gunnel
The creator, Rirann seems to be very clear with their idea of building sims 4 house cc. The house does not look flashy for any neighborhood. It has been built in a way that it can assimilate into any environment. It looks spotless as the design is kept discreet. The vines add a touch of luxury as they are like security against the elements, or privacy if one wants complete privacy. Additionally, the use of animal print is quite impressive as it takes the CC to another level.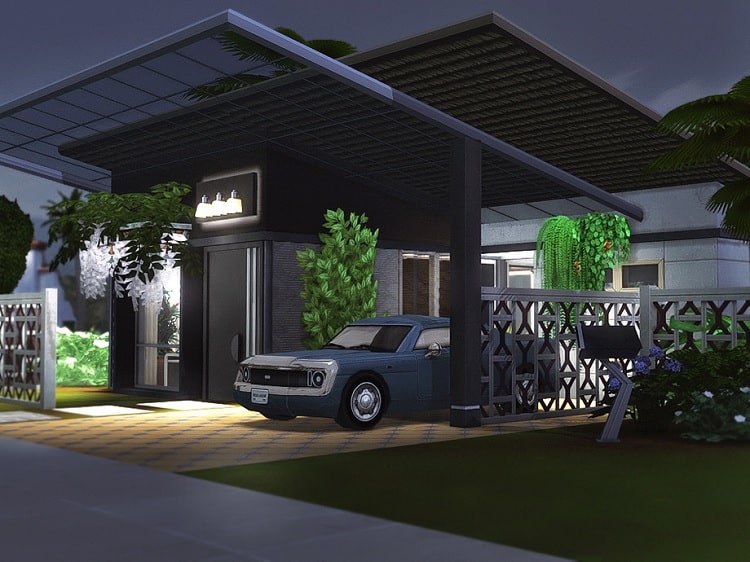 Blue Lagoon
The owner is Danuta720 and the value of this CC is 168,000 Simoleons as of now. That is a lot, isn't it? Well, may not be for someone that has wanted to live on the coast. The point is, if you need some inspiration for your house ideas sims 4, there are plenty of resources available including real life.
To be honest, building a modern seaside dwelling in the Sims 4 is a great way to get away from the hustle and bustle of everyday life. With a little planning and creativity, you can create a home that's both stylish and functional.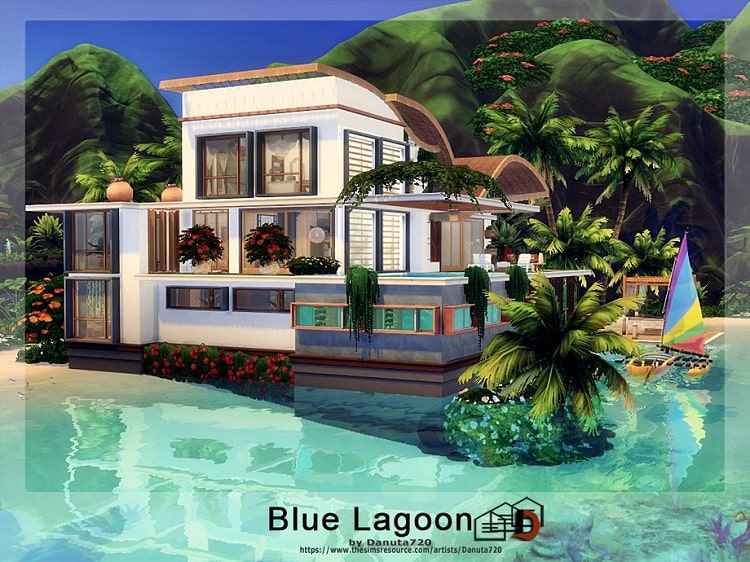 Beach Paradise
Once again, right after Blue Lagoon, we bring the Beach Paradise by none other than PralineSims. This is a very popular German artist that has created many CCs. This one stands out owing to its bright colors. That is right, the warm colors make it look natural and welcoming.
If you like the tropical sun and want your Sim to live in a location like this, then we suggest you go for it. It has enough space and that magnificent tropical setting makes it a perfect fit for you and your Sim.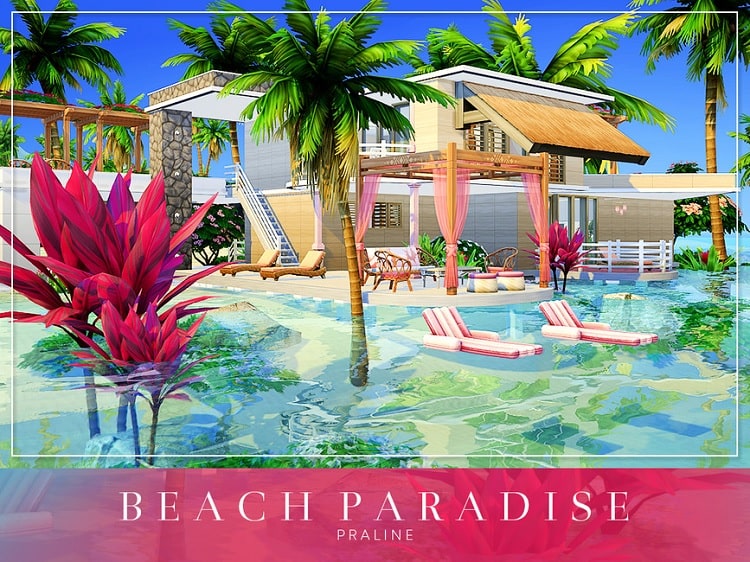 Riverways
Found one more design by our beloved MychQQQ. What makes their design unique is the use of specifics. For example, the wood veneer on the floor in this house takes sims 4 house ideas to another level.
As usual hanging plants are used to camouflage certain areas for privacy. Moreover, the greenery is much appreciated. Alright, this is a compact house but it definitely makes it a cozy one. Furthermore, the interior is to be cherished for what the artist has done within such a small space.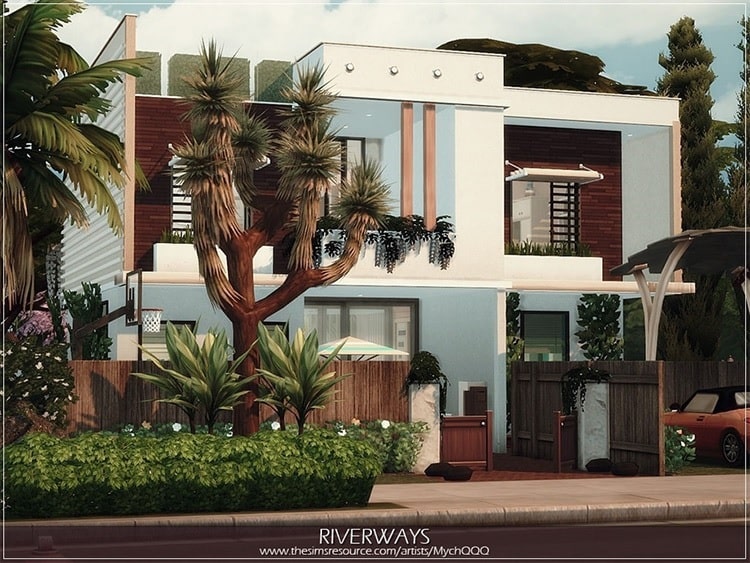 Cynthia – Small Home
Speaking of small homes brings us to this CC. Melapples is the creator, who shows a clear influence of Asian architecture in this model. The heavy usage of wooden texture along with stone and bricks simply proves this point. This is undoubtedly, one of the most coveted eco-friendly houses in the Sims 4 collection.
You know what this teeny-weeny house also has a small 20×20 sized pool. With lavenders growing all around it render it stunning. The house seems very snug and apt for a small to medium-sized family.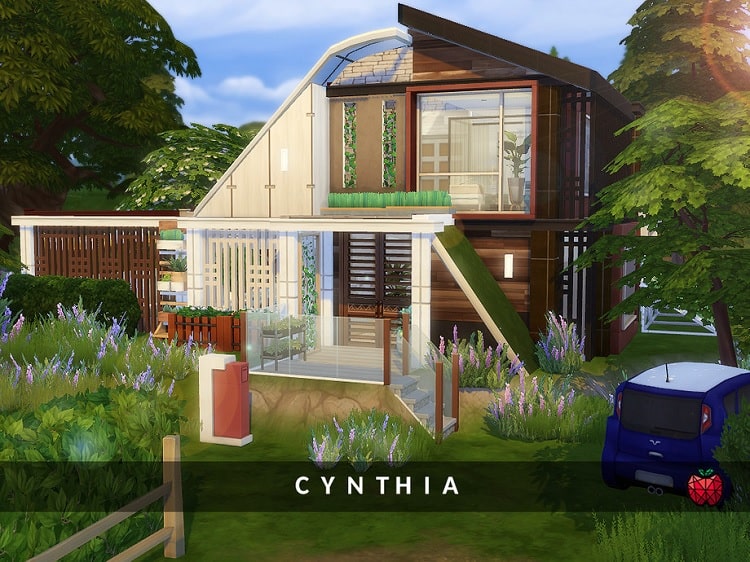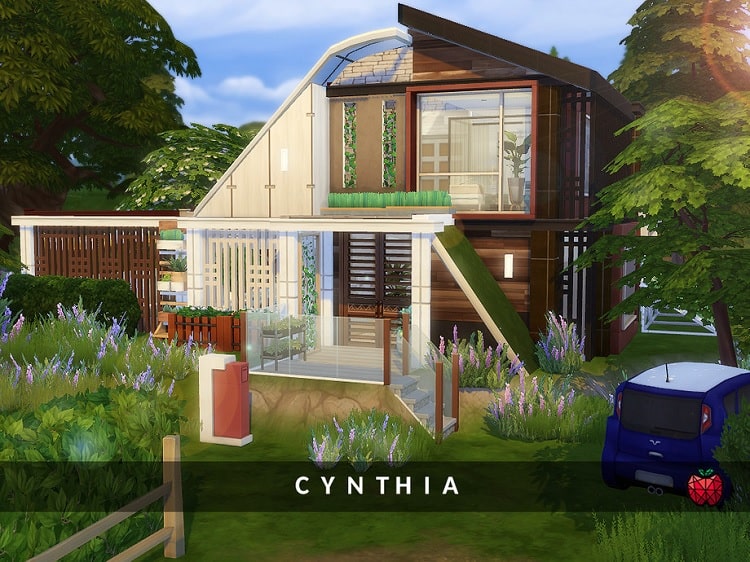 Vampire Mansion
Okay, seems we are in love with Kate Emerald because this is one more by her. Who will not be? Look at the gorgeous mansion and its detailing. All her build ideas seem to have one common thing and that is the use of appropriate colors. This has that red and black Gothic color palette that is hard to ignore. The walkway has gorgeous details that make it stand out from other houses in the game. Strategically placed gargoyles, candles, bookshelves, and more dark details make this our favorite CC for sure.
Modern Mansion
The creator of this well-lit mansion is Doctor Ashley. This builder has supposedly taken inspiration from real Bel Air houses to create this. In fact, it is believed that she has taken an $18 million mansion for her mansion ideas. Now, who says that real life cannot influence the Sims community?
Mega mansions have always been a popular topic of discussion. Millions of people around the world see them as ideal houses. Why should the Sims be deprived of this? So, you have a few up for grabs.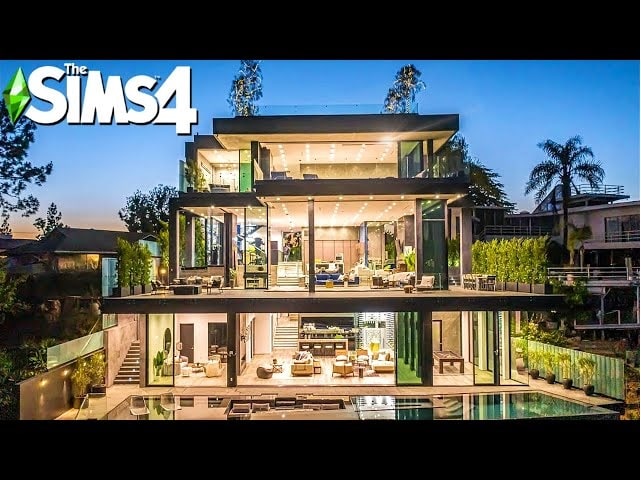 Texas Mansion (Unfurnished)
Yee-haw, the Texan is here. How can we miss out on Texan architecture? Designed by Hakuar, this mansion remains unfurnished. The creator gives you the opportunity to be creative and make your own house by choosing furniture according to your taste.
What attracted us to this mansion is the subtle color usage and simplicity of the house. The small garden and swimming pool add to its charm. Oh, don't forget about the wooden fireplace that spins an aura of warmth around the house.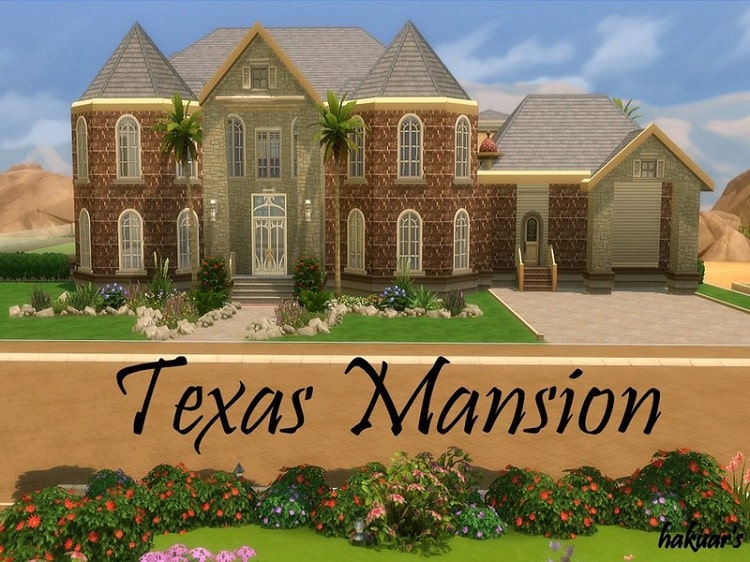 Villa Satayina
The creator is a featured artist from Thailand. The fluidity of the artist's concept is reflected in the crystal-clear pool located in the backyard. The parking lot is quite spacious, which means a pool party will never have problems of valet parking. The interior design is more commendable owing to the use of white and grey colors. It is properly lit and comes with elegant furniture that is quite a deal. You know those young entrepreneurs may find this to be irresistible for sure.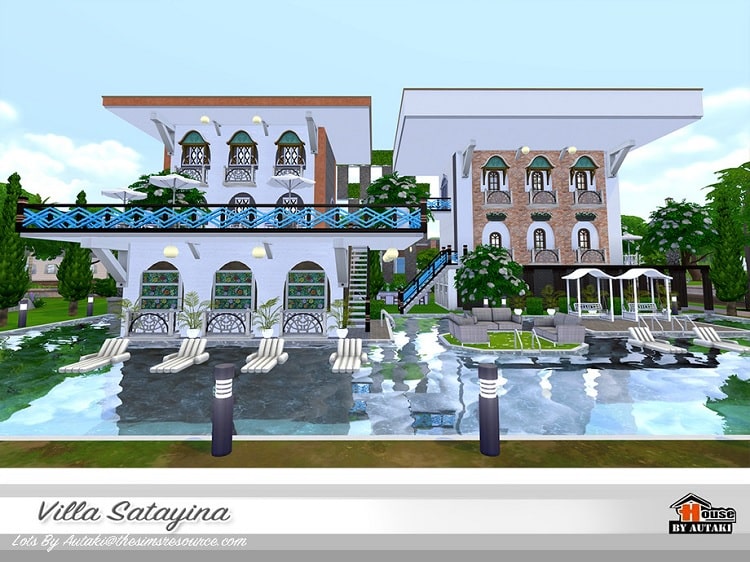 Luxury Family Home
Another project by PralineSims and this one is equally magnificent. The aqua blue-colored water looks like those retina-ready movies. The design of the house is truly pleasing to the eyes. You can use it as an outdoor retreat, a spa, or throw a lavish pool party as soon as you procure it.
This is a trendy home that a lot of people are using. The number of downloads will give you an assumption of that. We like it because of the color scheme, matching furniture, and spacious kitchen. Have a look and you will know it.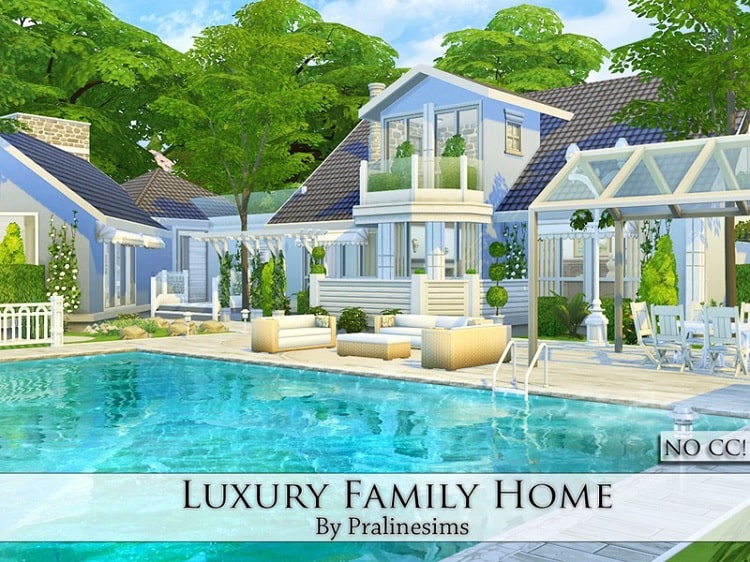 French Townhome
We had to bring you this one for its beauty. To tell you the truth, this is also designed by our favorite creator PralineSims! Just look at the color combination, it certainly brings out the best of French architecture. Doesn't it?
You feel like you are walking down the suburbs of Paris. Don't you? The furnishings inside the house remind you of typical European-styled homes with a touch of modernity. The detailing that has gone into this house shows how meticulous the artist is.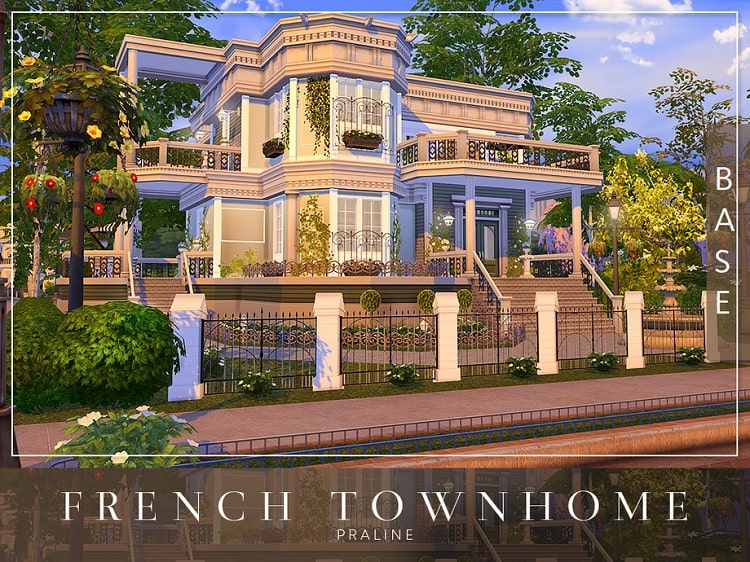 Helena
One more by Rirann and this one is called Helena. Yes, much like the shining light that Helena is all about. This house is fenced with plants, lavender, and trees that make it more glamorous. The roof tiles with use of orange and the greenery outside make it astounding. The carpet and furniture most definitely will appeal to you. The addition of warm colors to the house makes it snug. If you have introvert Sims that like to spend time inside, then this has to be it.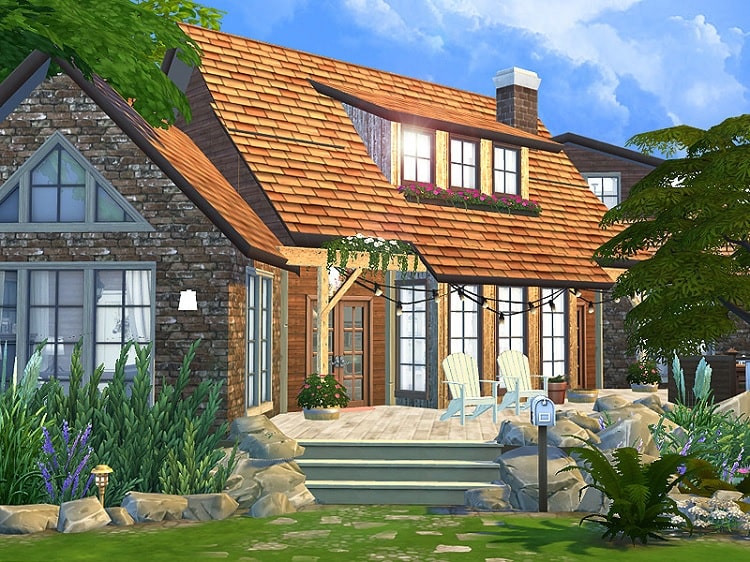 Tropico Moderno
Another one by the very talented creator PralineSims. This time the designer has given a modern twist to the tropical house setting. The house has a modern design but the tropical trees and a floating pool lend it a different meaning.
The cane furniture and Aztec patterns on the stilts make it look authentic. Yes, you heard it right, there are stilts that give you that Eastern Indonesian houses. This makes it exotic and chic at the same time. Try it and you will never regret it.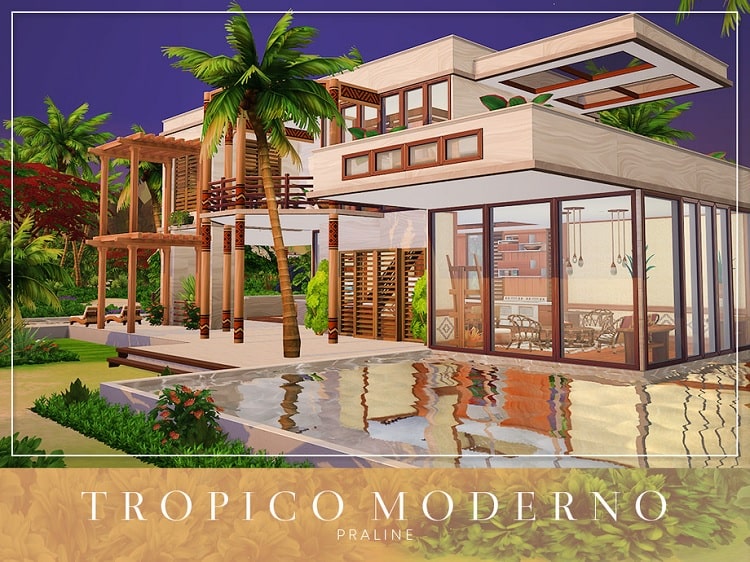 Modern Zen
We are ashamed no more as we presenting you yet again with another house by PralineSims. We can't help it as these houses by this artist are totally out of the world. A reflecting pool, a carefully designed wooden deck, and minimalist furniture make it special. Even the workstation has a thorough design that fascinates people. The addition of the kids' room renders it to be a home for families with kids and teens.
Waterpark
Waterpark by Sumerr Plays is reminiscent of the hot summer days. Everyone wants to be out, swimming or enjoying in a waterpark. This waterpark has been supplemented with cayenne flowers which makes it one of its kind.
So, you can take your Sims to sunbathe and let the younger ones enjoy the water slides. It also has hot tubs, a bar, and a lounge that you can add to an existing house as well. Help your Sims to relax during the summers.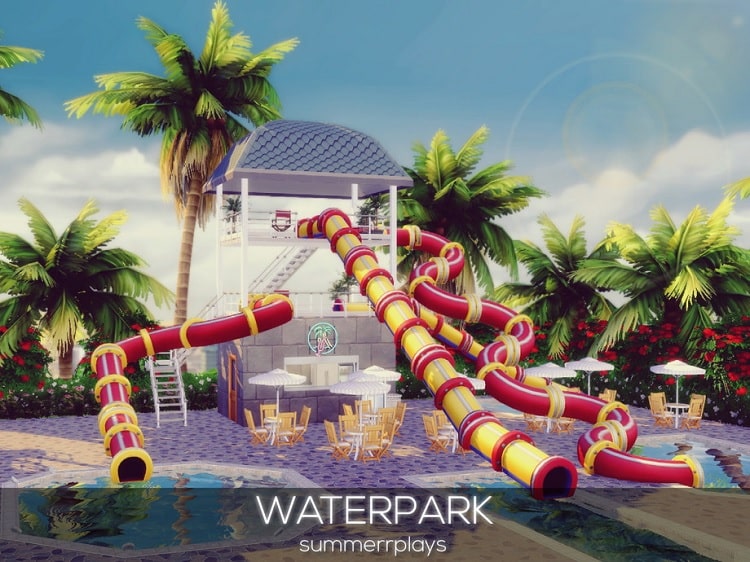 Summerfeelings
This is one of the most expensive houses in the Sims universe. It costs 530,000 Simoleons, which is like half a million! Actually, if you have wealthy Sims, then make them invest in real estate as that is a sensible way of capitalizing money. The Sims world is not an exception to this.
The creator, SarinaSims has built a humungous swimming pool and a multi-tiered waterfall. The aqua green, mint (linen), and beige shades that have been used to decorate the interior of the house equally make it awe-inspiring. Give it a go.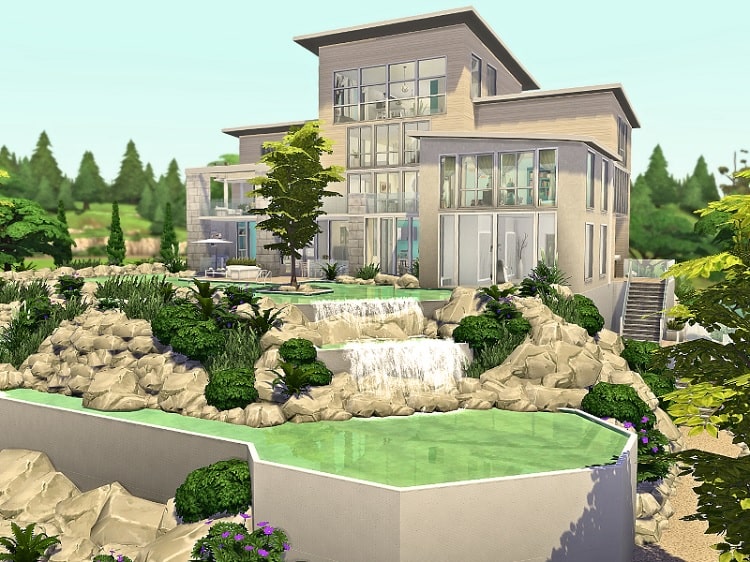 Autumn Breeze
Once again, a brilliant house by PralineSims. This creator constantly produces great designer houses and we can't stop but procure them. This house has the feel of autumn, which is the time for warm drinks and staying put in your house.
The Autumn Breeze has a touch of warm air and light that made it a hit as sims 4 house ideas. The bedrooms have different décor, but the texture remains to be the same throughout the house. It has this nostalgic air around it that makes it worth an investment for your Sims.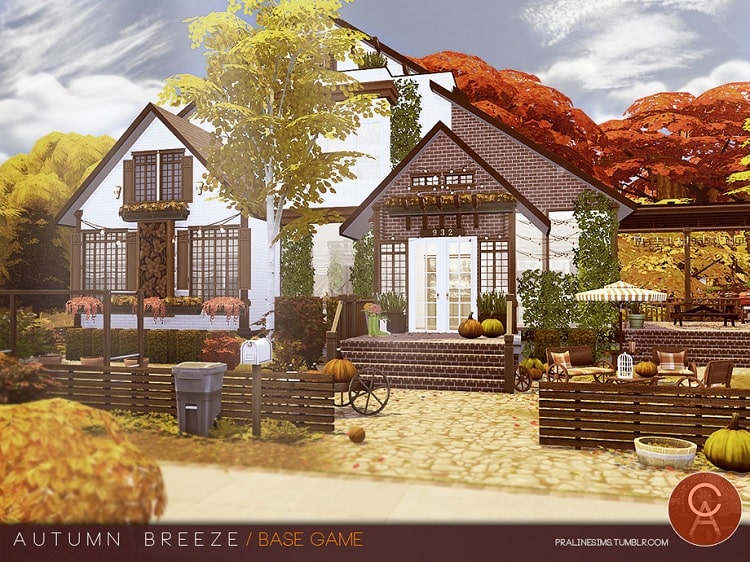 Mondrian I
QubeDesign dedicates this house to the famous Dutch painter Piet Mondrian. He is one of the forerunners of 20th-century abstract art and the house strikes a similar chord. With bright imagery, aqua blue colors, and distinctive shape, this house is a steal.
The décor is rather subdued and plentiful flora around balances Art Deco with modernity. The ecological architecture is so vivid that it grabs your attention at once. What more? You can use a jacuzzi after a hard day's work which makes it a good deal.
Japanese Style Summer Home
So, what if it is number 22, it does not need to be boring. That is why, we bring you this house from the far east with an oriental feel. Oh, we couldn't resist the cherry blossoms! Want to know more? This is created by Alice Hawke, who calls herself the "Chinese Girl" on Tumblr. The aesthetics of this house seem just fine for a vacation. Be it the elderly Sims or a couple, the Koi fish in the pond, serene beauty all around, and the porch make it splendid. Don't you want to live in a similar place? Your Sims will love it too!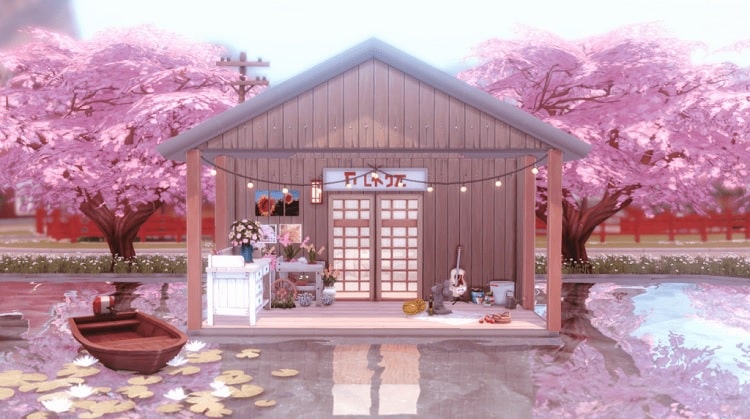 Stylish Sophistication
The creator is none other than PralineSims, who seems to have mastered the art of house building for Sims. This artist's house ideas sims 4 are very unique. Yes, we have mentioned quite a few from their collection and that makes it evident.
The wooden furnishings add a texture to the interior. The use of hues of brown exudes a warmth that is hard to find. Hence, if you have well-to-do Sims under your care, you can make them move into this beauty and let them enjoy it.
Martha
What you don't believe this to be the name of a Sims 4 house? Well, check out the links, it exists! Designed by GenkaiHaretsu and has a whopping value of 204,000 Simoleons. The insides are so colorful that it makes your day.
The skylights at the top look like chimneys and that are quite unusual architecture. Not to mention that this makes this house all the more attractive.
Small House
This is indeed a small house that has been designed by Xsavannahx987 on Patreon. It has everything you need and teaches how to use space. That is right, the house is an apt example of how to use space-saving techniques. It certainly has an inimitable style that sells itself. More or less, it has space in spite of being so small and the green rooftop is one illustration of that. Incredible, isn't it?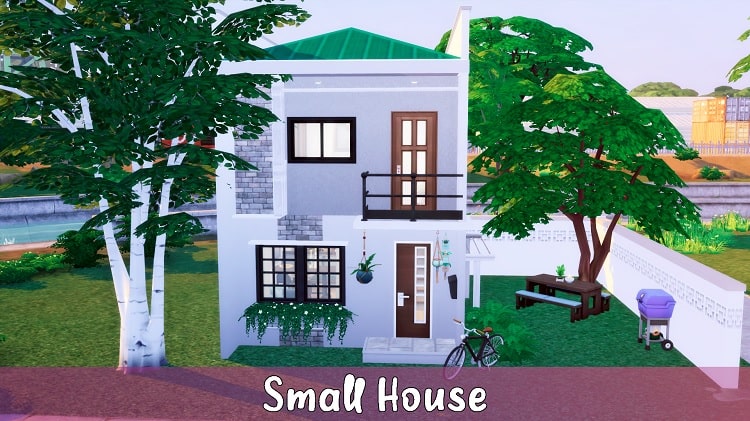 Villa Satayina
Yet another one by Autaki and this one is even bigger. This creator has a distinct style that catches up with you pretty fast. The clean design, color scheme, and better furnishings all make it a real deal. The massive pool only adds to its grandeur. It is a three-storied house that has a dash of colors in the right places. It is really an amazing house to invest in.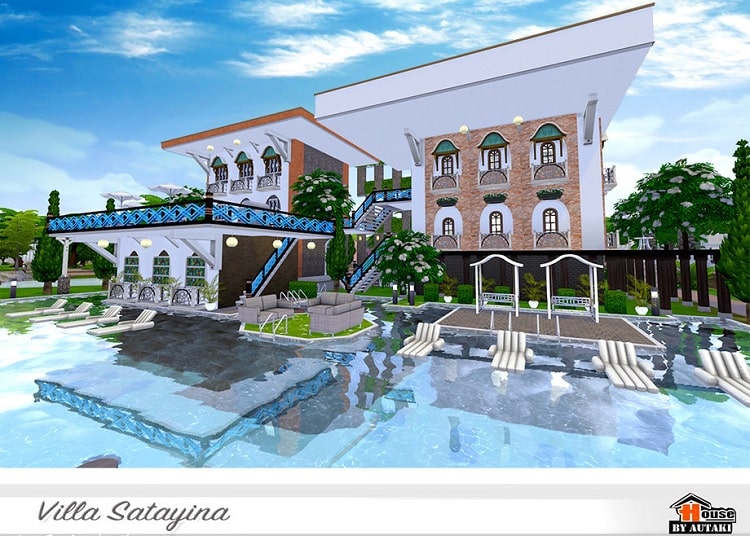 Villa Sutida
Yes, another of those Autaki specials, but we couldn't help from discussing this. The brightly colored house along with the greenery all around makes it an awe-inspiring house. The garden is the center of attraction in this house.
The wallpapers and interior décor are worth mentioning. The interior has warm lighting and modern furniture with apt color hues.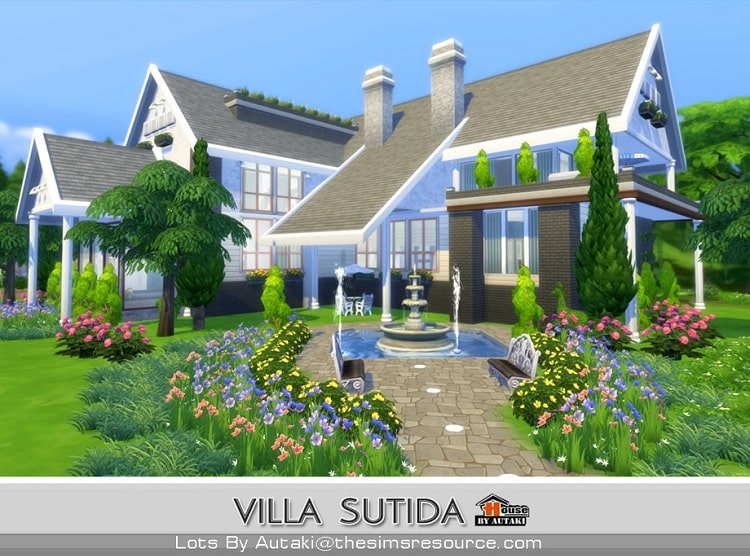 Luxurious Abode
As the name suggests, this house occupies a 40×30 plot area. The white fence adds a countryside flavor to this otherwise modern house. This CC has been created by Nobody1392.
You know if you look closely, then you may find a striking resemblance of the cascade with that of the fountain of Versailles. The blueprint gives a clear idea as of how it has been structured. Overall, a neat job.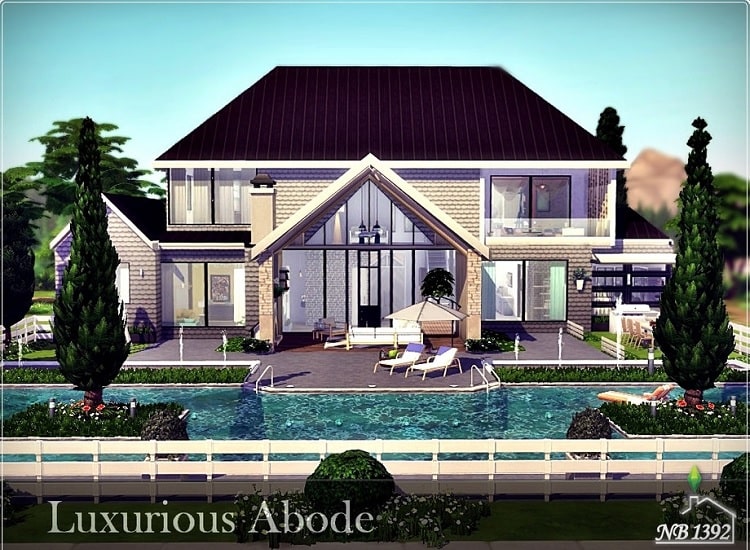 Wooden Corner (No CC!)
Also, the work of Nobody1392, someone that knows how to design wooden houses. The interior is so cozy that you can't stop playing with it. This could easily bring you the memory of dollhouses that you must have seen or played with during childhood.
This is ideal for Sims that love nature and want to retreat into it. The lighting matches the wooden décor and thus produces a hospitable environment. Seems perfect!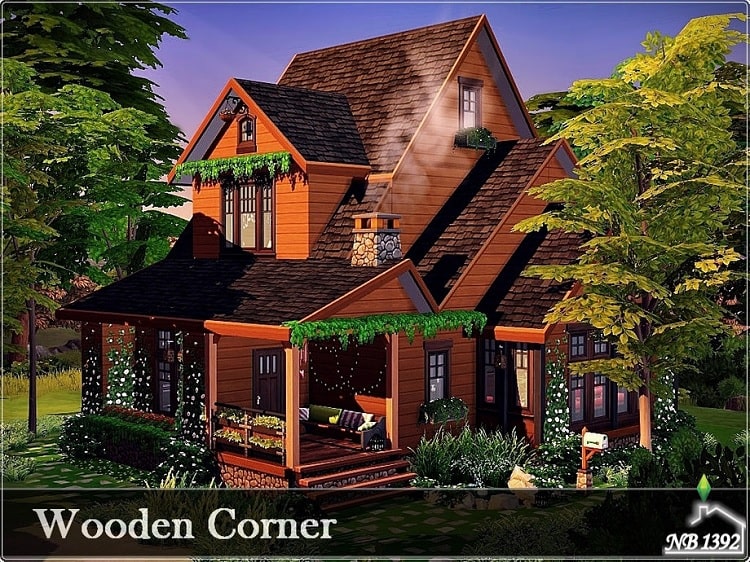 Small English Cottage
Created by GenkaiHaretsu, this cottage surely has that English countryside touch. The rose wallpaper, footrest, and the fireplace convince you to believe that it is placed somewhere in a restful British county.
It makes use of a 30×20 lot and that makes it super comfy. Doesn't it? The stone build appeals to you and if you like stonework, then this CC is made for you.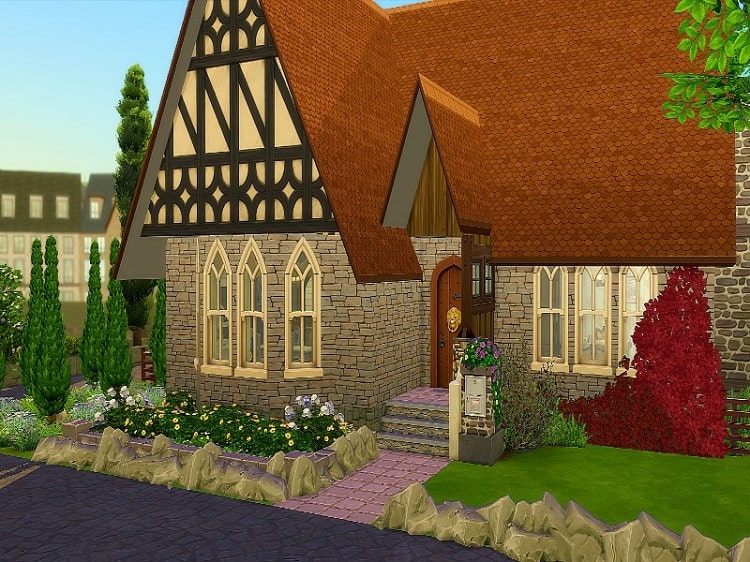 Mid-Century Family Small Home
The artist is known as Puferfish on Tumblr. They have an accurate sense of understanding of what is a small home. In the same way, they have a very understanding of mid-century colors. The house radiates shades of orange, red, and white. This gives the house a neat look.
We also have to agree that the kind of décor used in this has blown our minds away. The kid's room is the cutest we have ever come across and the kitchen is small, yet roomy. Now that is a deadly combo and the artist has achieved position this without any difficulty.
Feeling excited? We said that this post about sims 4 house ideas is going to be dope. Guess what, it has been one. What say? Go on and tell us more about your experiences via the comments section.