Sims 4 is an online social simulation game that allows users to make their own mods to make the game more fun and interesting to play. The sims 4 werewolf mod is also one of those mods. With the help of this mod, you can get a werewolf pack and now turn your sim into a werewolf.
How can you become a werewolf in Sims 4?
To become a werewolf in Sims 4, you will need to purchase the werewolf trait and a werewolf transformation mod. Listed below are three different ways to do this:
Buy a 2,415 simoleon' Special Treasure Map' and hang it on the wall. After you click on the map, make sure to click on the 'Inspect the map.' After a few minutes of observation, your sim will get the moodlet 'A treasure, huh?' This Focused moodlet will continue to function for 4 hours, and it will also include the choice to 'Explore the deep dark woods.' On selecting this option, your sim will disappear for 3 hours in the forest. The first stage of the werewolf transition will begin as soon as they return.
On command, a Level 5 werewolf can attack another person. After a few hours, the attacked person will transform into a werewolf.
Reach the 'Create a Sim' feature, then make a werewolf out of a kid. It is recommended by the creators of the Sims 4 werewolf mod for teenagers not to choose a beast's qualities.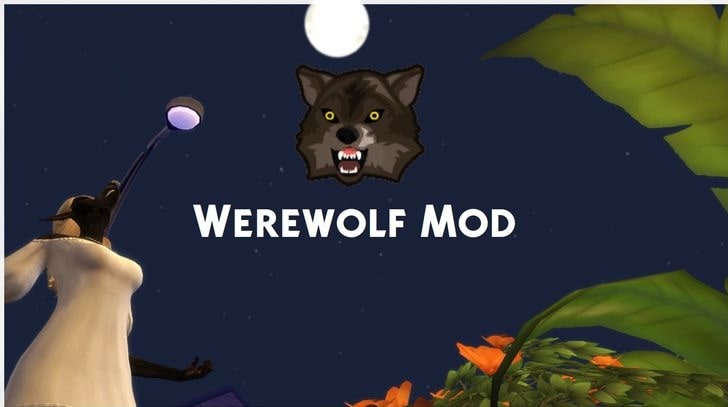 Sims 4 werewolf cc – moodlet stages
This is like a transition mod that your sim will have to go through before it transforms itself into an actual beast. This mod takes place in stages; they are given below:
Recent bites: When your character returns from the forest, you'll notice scars and blood stains on their body, signifying that a wolf has bitten them. As a result, their head and hands would begin to throb, which would continue for 6 hours.
So much anguish – Their scars wouldn't be as gruesome as before, but their palms would begin to ache. It would go on for another four hours.
Temporary amnesia – They would lose the memory of what they had done a few hours before, but the scars would continue to heal. The wolves will feel nauseous and be in a bewildered state for three hours.
Ferocious behavior – This is the ultimate stage of conversion, which lasts three hours and includes an Ashamed moodlet. Except for the wolf bite mark, all the injuries on their bodies would vanish.
A werewolf- Your character's mutation will come to an end once you accomplish the final step, but you'll have to wait until 8 p.m. to witness the outcomes.
Sims 4 werewolves & Supernatural Mod 2022
The following are some of the moods, skills, and needs to remember in the ts4 werewolf mod:
Feral change' mood – After the transformation, the wolf will have a "Tense +50" mood termed "Feral change" every time they turn. Every night from 8 p.m. to 7 a.m., it would happen. When this time period is over, they will revert to their previous state.
Enhanced energy requirements – Because they'd be expending their energy every night, they'd have to maintain a high level of stamina because they can't function on little energy.
Lycanthropy talents – This is the skill that will get unlocked when your sim has it's first transformation into a werewolf—the werewolf mod Nyx in the Sims 4 supernatural mod-added five new stages. As you progress, you'll gain access to various beast abilities. To take advantage of this function, switch your players to an aggressive mode.
We have given the five levels stated above, as well as the benefits they provide below
Level 1
Growl: To threaten human characters, a wolf can always growl at them. However, if a wolf growls at another wolf, they will sniff him. If a wolf growls at a vampire, the vampire is likely to start yawning.
Hunting: If you choose this at level 1, your wolf will wander for 3-4 hours. You'll have to wait for them to return if you send them on a hunt.
Howling: When your werewolf is in a vulnerable and wild condition, you can also make them howl at the moon. All of the monsters would howl at the same time.
Raw lamb: The wolves go hunting and return from hunting with raw lamb, which they would eat to satisfy their hunger.
Level 2
Obtain more raw meat: Level 2 of Lycanthropy mod is a little different from the first. At this level, you can get other types of meat rather than just the simple raw meat too. The different types of meat offered by this level are raw meat such as raw steak, raw lamb, and raw chicken.
Random collectibles: Random collectibles include gems like Simtanium.
Maul: Monsters maul the ordinary characters, which the ordinary people are prone to. The victim would pass out at the end of the combat.
Level 3
Practice sparring: In this level, your werewolf sim can practice sparring and other skills with other wolves.
They might contact others: A single cry from one of the beasts might summon a wolf pack from nowhere.
Level 4
Transform anytime: At level 4, there won't be any fixed time for the transformation of your character. They can transform into a werewolf or a human whenever they wish to.
Feral power mood: During turning, your sim will no longer receive a "tense +50" moodlet. Instead, you'd get a "Confidence +50," which allows you to regulate your extreme form.
Wildness requirement: The ferocious state of your character will only show once they have totally transformed into a werewolf. The wildness feature is more important in the feral type. However, once they become human, this urge will fade.
Uncontrollably feral: If their wildness needs fall below a specific threshold, they will experience an "Uncomfortable +60" mood and will transform into a wolf for 6 hours.
Level 5
Control ferocious instincts: In this final level, you may completely control your terrible instincts. As a result, their wildness would not diminish.
Cursed bite: By biting a regular Sim, you can now convert them into a beast.
Sims 4 wolf cc
The following are the most incredible TS4 wolf ccs:
You're a Wolfskin by @pyxiidis
Unnatural Selections by @pyxiidis
Howl Teeth by @pyxiidis
Cat Ears and Tail by @notegain
Sims 4 werewolf mod download
Before installing the module via Deaderpool's MCC Center, here are a few rules that you need to know:
Get the most recent version of the game.
Click on the 'Others' option on the left side of the Game Options screen.
Examine the checkboxes next to "Enable Custom Content and Mods" and "Script Mods Allowed."
Select 'Apply Changes' from the drop-down menu.
Faqs
Can you make werewolves in Sims 4?
Yes, you can create werewolves in The Sims 4 because people who have this attribute have the ability to transform at will. You can turn into a werewolf by clicking the "transform werewolf" interaction, which will also scare adjacent Sims. You'll get a +40 mood boost as well as a positive "lunacy" moodlet.
Will Sims 4 have supernaturals?
Yes, supernaturals will appear in The Sims 4, and it will be the game's first expansion pack. Aliens, Genies, Wizards, Angels, and Devils are among the characters.
Is there a werewolf mod in Sims 4?
Yes, they do include the werewolves mod with the Sims 4 supernatural mod. This mod will turn your characters into werewolves in the way you planned.