Many users in Sims 4 have experienced a problem when it comes to the outfits of their Sims. Often, Sims get stuck in outfits that are not suitable for a particular situation. When Sims bathe, they obviously cannot take a bath in their regular outfits. However, changing from these everyday outfits into their bathing outfits can be tricky. Bathing in their regular outfits can make the game very unrealistic and take away the fun from the game. It also looks very glitchy and out of place. If you want to know how to reset bathing outfit Sims 4, keep reading the article.
How Do I Reset My Sims 4 Bathing Outfit?
To reset your Sims 4 bathing outfit, you need to download the MC command centre in your game. Once you download this, follow the steps below to reset your outfit:
Firstly, Enter into the MCCC in your game.
After that, go to your MC dresser.
Click on the option that says "blacklist items".
Over here, you will have to blacklist all of the outfits that appear on your Sim when they are showering.
After you blacklist these items, they will get cut out from your game and, therefore, will not appear on your Sims.
Your Sims will now not have any outfits on them while showering and will be completely naked.
Make sure that before you start blacklisting, you equip your current outfit as the game will only blacklist outfits that you use at that time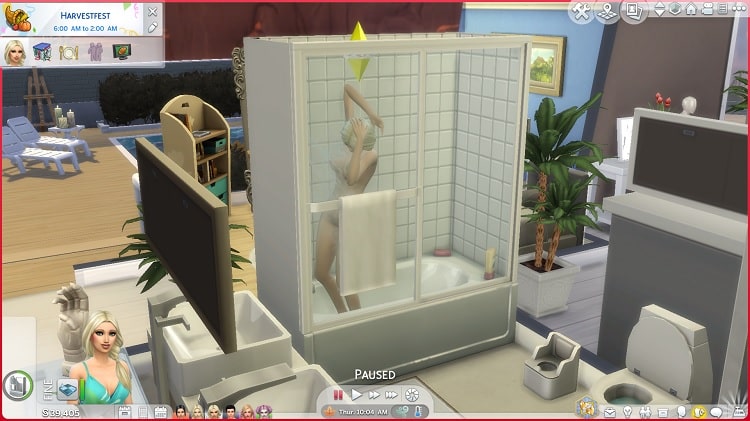 Cheat codes to reset your bathing outfits
You can use the following cheat codes to edit bathing outfit of your Sims:
To reset the current bathing outfit: reset_bathing_outfit [SimFirstName SimLastName | current | all]
To reset a summer holiday bathing outfit: reset_bathing_outfit current
To reset all Sims bathing outfits: reset_bathing_outfit all
To get text help without resetting any outfit: reset_bathing_outfit
These were how you could reset bathing outfit Sims 4. We hope this fixed your problems with the Sims 4 bathing outfits and made your game more fun, smooth and realistic.