Sims 4 school mod is not something that is widely known. However, it is necessary to know about them. Other age groups do not get as much attention, and love as Young Adult Sims do in The Sims 4. Young Adults in The Sims 4 game get to experience all the custom contents and have the highest number of interactions.
One major part of the life of young adults in The Sims 4 world is school. Every child and Teen must go to school in Sims 4. So, there are a lot of Sims 4 school mods that affect the way your Sims will go to school. These school mod Sims 4 make things interesting for players and also the young adult Sims. It makes life interesting, challenging, and exciting for the Sims.
The best Sims 4 school mod has been compiled in this article for easier access. Check them all out and find the best Sims 4 school mod that suits your requirements and will make things interesting for your Sims.
Best Sims 4 School Mods & CC
Dropout of High School and Get a Real Job Mod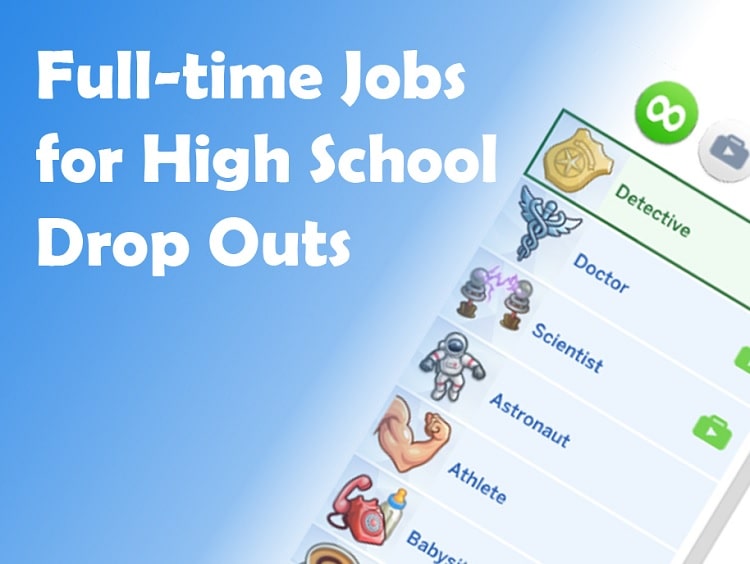 This Sims 4 school mod is simple to understand. It allows your teen Sims to drop out of high school and get themselves a job. If you think studies are a waste of time and wish to make a living immediately, this is the best Sims 4 school mod.
With this mod, your Sims will not come home with any compulsory homework they must submit. This will also not require them to raise their skills to a certain level. And best of all, your Sims do not need to maintain grades when they give exams every year.
This school mod makes gameplay much more realistic when compared to actual life events.
Just like any mod, there are certain negative aspects to this mod. If you use this mod, specific interactions will close for your Sims. However, in terms of career, a lot of interactions will open up.
This is an excellent idea by the creator. However, this is a multi-part download, and you will have to follow the three significant aspects of this Sims 4 school mod:
Let your Teen dropout of school without facing the consequences. This suggests that there is a possibility that the Child Protection Services could apprehend your Sims. This part will avoid that issue.
Make Adult jobs and Careers available for Teen Sims.
Make Adult Jobs and career Outfits available to the Teen Sims.
This is definitely a demanding Sims 4 school mod. However, the final results are worth it when it comes to earning money.
The Sims 4 Go to School Mod Pack V4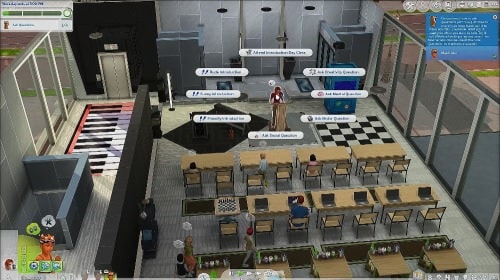 Players with the new TS4 Get to Work expansion Pack get three unique career options.
So, instead of sending your Sims through the same age-old routine of following the same thing as everyone else, the Sims can now take control of their workday. Sims will be given a taskbar. This will contain a list of all the possible tasks that Sims have to complete. A few recurring NPCs also are there to chat up with when things get too repetitive for your Sims.
This new mod follows a similar theme.
Hence, now instead of your young Sims disappearing for a while somewhere and coming back after a certain time from god-knows-where, you can now follow them wherever your Sims go, which is their school. This simple idea of seeing what your Sims do at school is now a fully functional Sims 4 school mod. It has impressive features that you should explore.
Some of these cool features are:
Your Sims can now attend five custom subjects depending on your preferences. The subjects are Problem Solving, Personal Development, Health and fitness, Science and Technology, and Creative Arts.
Your Sims can attend a different subject every day.
You can redeem Reward Traits by earning emblems. Your Sims can earn Emblems by applying for Special Opportunities from the Principal Sim.
Your Sims will also surprise Guest Speakers from various fields. Some examples are Doctor, Detective, or Scientist Careers.
Before you download this mod, it is necessary that you have the Sims 4 Get to Work Expansion Pack.
Elementary School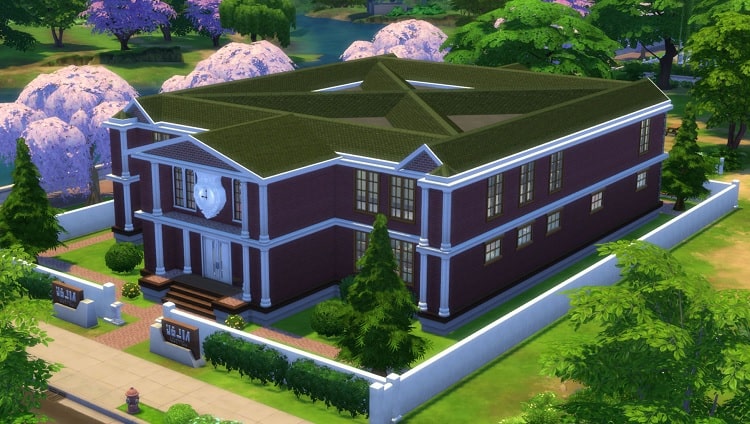 This Sims 4 school mod was explicitly created for the "Go To School" mod by Zerbu. This school mod, however, adds a fully built, furnished, and functional Elementary School for your little Sims.
This Community Lot in the Sims 4 map would have two beautifully designed floors with all types of rooms an elementary school should have. It tries to be as close to the real world as possible.
It has rooms such as the Arts and Crafts room, computer room, Restrooms, and even a napping room for the toddlers after a tiring recess.
All the items included in the lot are interactive and are made of vanilla base game items. There is no need for you to download new CCs to make the school look like something else.
This Sims 4 school mod is perfect as you will now get a look into the lives of your Young Kids. You will be able to control what they do in school and also enjoy while they play.
No Grade or Highschool From the Start Mod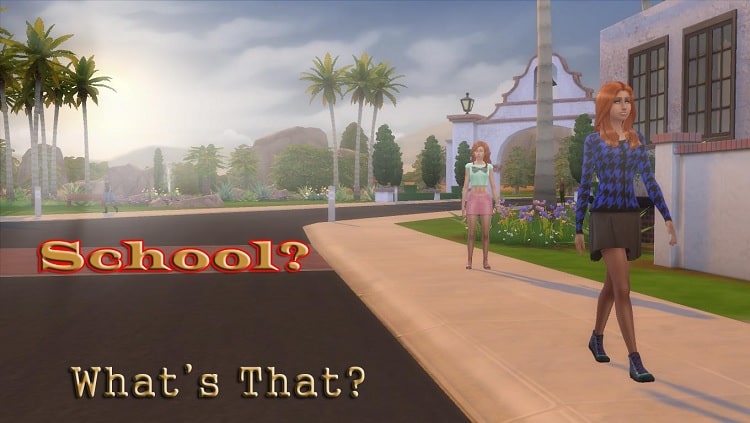 This Sims 4 school mod is similar to the "Dropout of High School" created by Telford. The "Dropout of High school" gives students the option of whether they wish to stay in school or stay out of it,
However, on the other hand, this school mod leaves children and Teenage Sims alone from the first day. You never need to attend school. They do not need to be enrolled in a school once they reach the age—there is no pressure to decide whether they wish to continue or drop out later on in their school journey. Your Sims will also not be pressured to start a job or choose a specific career for themselves.
Sims can basically do whatever they wish to do. They can hang around the house. Go out to party. All this without the fear of being penalized for it.
However, if you wish that your Sims go back to education, it is possible.
All you need to do is open up the cheats console. You can do so by pressing Ctrl + Shift + C.
Once the console is open, type in the cheat: careers.promote gradeschool or careers.promote highschool . This will put your Sims back in school, and they can go on to have specific careers and jobs.
This Sims 4 school mod is relatively easy to use and is also light on the Mods folder.
Child and Teen Can Quit or Rejoin School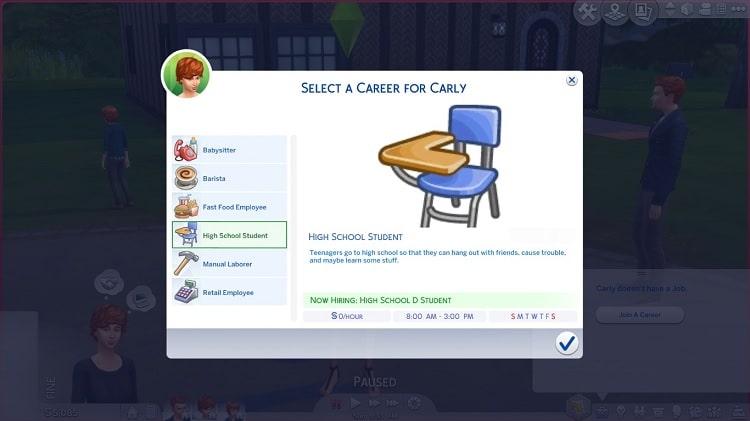 This mod is quite similar to the previous school mods. This mod allows Sims to choose the middle ground. This mod created by Triplis basically disables the auto-enroll feature by default.
What does this mean? This means that your Sims will not be enrolled in a school automatically once they reach the appropriate age. You will have to manually register your Sims whenever you feel it is a perfect time.
You do not even need to use cheats. All you need is your Sim's phone. Via the phone, you can easily enroll your Sims whenever you wish to do so.
This Sims 4 school mod has built-in fail safes. It also features two variations of the same. However, the mod isn't as simple as that created by Telford. It is also not as easy as that created by azoresman.
Whichever Sims 4 school mod you decide to download, your Sims will be able to take charge of their life. No compulsory school for them. All the mods mentioned are great. Hence the final choice shall depend upon your personal preferences.
Early Exit From School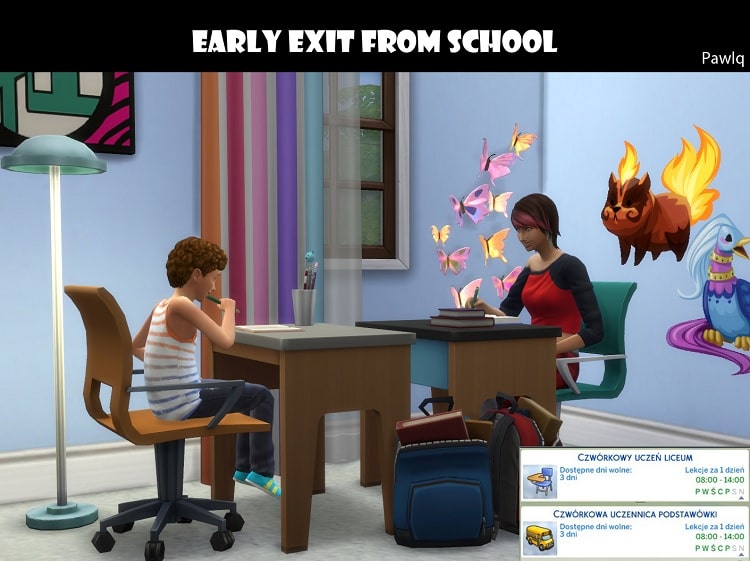 The creator has made a lot of efforts in making this Sims 4 school mod perfect. The premise of this school mod is that it is the grades that decide the time when your Sims leave school.
The default time set in the game for when they get to come home is 3 PM in the game. However, with this mod, your Sims can go home early. Students with grades from B to D can be allowed to home at 2 PM. In comparison, students with an A grade can come home at 1 PM. This Is due to their exemplary performance in class. However, students with an F grade cannot come home until 4 PM. This is due to their poor performance and could be due to them getting detention or having to sit through extra classes.
Via this mod, the point is to give your Sims a positive narrative about school. Your Sims will take more effort to score well to come home early. This school mod will also allow your Sims to spend more time outside the School Rabbit Hole.
Cheat Teen HighSchool Performance and Homework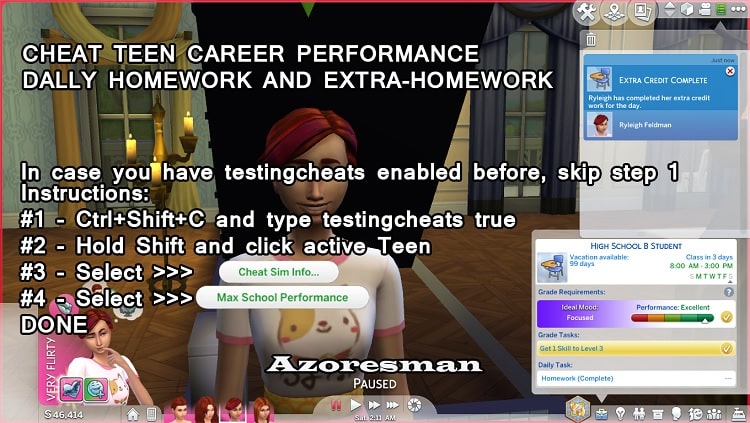 This Sims 4 school mod was created to give teens more time. Teens do not have enough time for themselves. Sims are busy between school and looking after their own needs. Teen Sims need time for their homework, skill enhancements, and work on Extra Credit Projects.
This mod introduces a new cheat to you. This school cheat will allow you to max a teen Sim's performance. And all this will be done without having to do any homework or level up skills.
This can be done very simply. You can simply enable cheats. For this, open the cheats console and type in testingcheats true into the command box. Next, hold down the Shift key and click on the Teen you wish to select.
This will then open up the cheats menu. Once this has opened up, you will be able to see an extra interaction menu which should be titled Cheat Sims Info. Under this menu, you will find an option for Max School Performance.
Once you click on that option, all your requirements will be complete. You will see your Performance meter be maxed out.
No need to put in any extra effort anymore. Simply increase your performance and get an easy A grade.
Playable School Events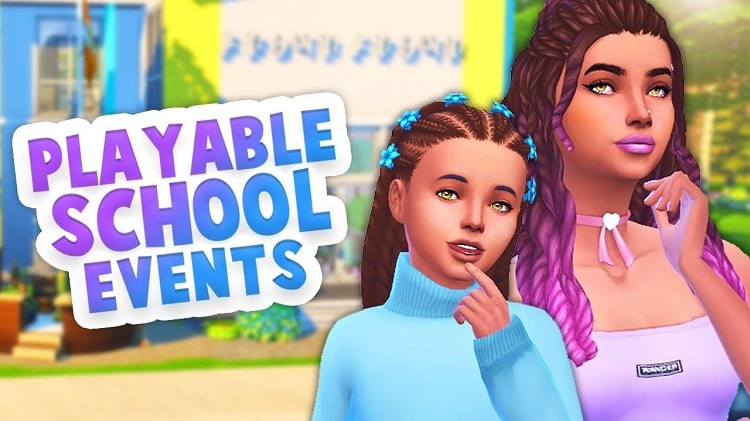 This Sims 4 school mod allows you to be a part of your Child and Teen Sims' lives as they navigate their way through Elementary and High school. This is similar to the previous 'Go to School' mod.
The Playable School events school mod is very exciting and fascinating. This Sims 4 school mode introduces a new Event to you. An event planned by the parents of Sims.
It is very straightforward to arrange one. All your Sim parent needs to do is put down a school lot in the library, Chalet Gardens, park, or a Generic Lot. Once there, all they have to do is start the event via their phones. As simple as that. However, you must ensure that all this is done before 8 AM.
Via the phone, they can select which students they wish to invite and start the event.
In this mod, your Sim Schools can also have a school cafeteria in which your students can grab some lunch. It is necessary that your schools have a kitchen if you wish that your staff cooks.
There are a lot of exciting additions that this Sims 4 school mod brings to your game. Some of these interesting additions are:
Build Skills. Your Sims can now build skills quickly while they are attending school.
Your Sims will have a chance of promotion to a higher Grade.
Your Sims shall also get rewards for all the Goaled events.
The best part about getting this Sims 4 school mod is that you do not require any expansion packs or any game packs for this. This mod works very well with the Sims 4 Base Game.
Education System Bundle
This school mod Sims 4 adds a lot of benefits to your gameplay. It will help you enjoy the current education system in The Sims 4.
There is no need to use this school mod with any other school mod, such as with Playable School Events. This can be downloaded on its own and be used by itself in the game.
So this mod is a collection of other mods which are education-related. This one school mod will allow your Sims to build skills while at school. At the same time, it will also allow your Sims to build their skills while they are doing their homework. Another kind of mod included in this is one that opens up preschools for overachieving toddlers. This is for Sims who just want to learn every time.
Another mod included gives your Sims the option to explore online schooling. You just need to put your Sim in front of the laptop or computer. After this, a new interaction included in this mod will pop up, giving you the option to Attend School Online. Like this, you should be able to attend the online school.
There are quite a few other mods too. All you will have to do is read through the download description given by the creator. Make sure you read this to avoid any problems after downloading. If you follow everything perfectly and understand the features of this Sims 4 school mod, your experience will be highly optimized.
Simston Private School Mod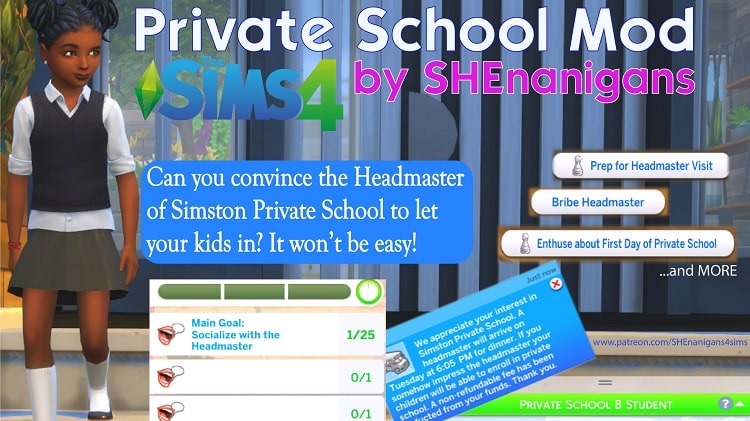 This Sims 4 school mod brings a new education system to your game and also adds a new social event. This is said to be somewhat similar to The Sims 2. Hence, it will be slightly nostalgic for Sims 2 players. With this school mod, you can impress your Simston Private school headmaster and finally get your kids enrolled in the private school. Sims 4 players must know how exclusive the enrollment process in the private school is.
To start, you will need access to a phone. Open the phone and select the Schedule Headmaster Visit. This cost around Five hundred Simoleons. After this has been done, your Sims will get a message that the Simston Private School Headmaster is scheduling a visit to your Sim's place to chat over dinner.
The entire event and process start as soon as the headmaster steps inside your Sim's home. Now onwards, your Sims will have to impress them via various interactions. You will have to boast a lot about your kid, and you could also play a game of chess.
If your Sims succeed and the headmaster is impressed, your Sims will get admission to the private school immediately. Your Sim children can start going to school as soon as you pay a fee of 1000 Simoleons.
However, it is necessary to know that if you cancel the headmaster's visit, then the 500 simoleons paid earlier will not be refunded to your account. You will have to be sure that this is what you want. However, the experience is highly entertaining and fun. It is definitely worth it.
Read the download instructions and descriptions clearly before you download the mod to have a smooth gaming experience.
Teens Jump to University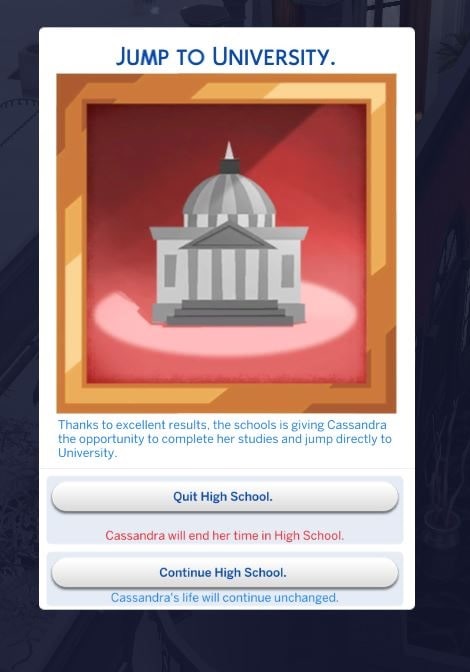 Have you ever thought that your Sims may be too bright for school? With this Sims 4 school mod, your Teen Sims get the opportunity to skip High School and go straight to study at a University. This mod also tries its best to stay true to real-world scenarios. So realistically, the chances of your Sims skipping High school and directly going to University aren't too high. If your Sims have the genius trait, then the chances of your skipping college are obviously much higher. If you Sims have a poor performance in school, then your chances will obviously be adversely affected when trying for this process.
The creator has kept the process true to life. Your Sims will get a random prompt which shall inform you that your Sims can quit going to high school. They can enroll in the University due to your Teen Sim's exceptional results.
Once your Sims have the option to Quit High School, they will receive an Application Letter that is immediately sent to your Sims. However, your Sims will also have an option to allow your Sims to Continue High School.
Once your Sim has accepted the option, they will be enrolled. This will be done after the entire Discover University enrollment process that every Young Adult Sim must undergo.
Genius Teens Can Apply & Enroll To University Anytime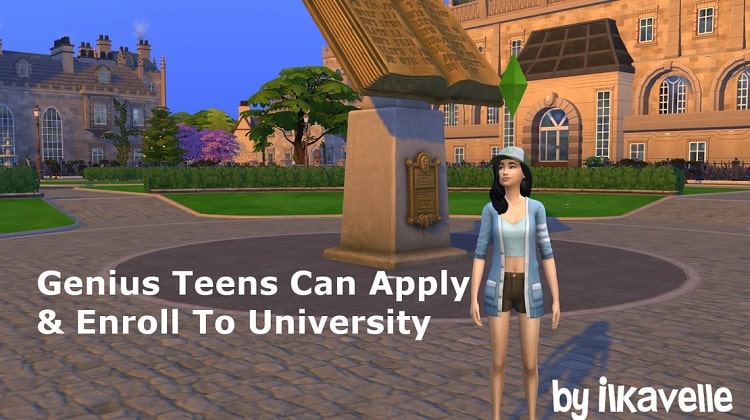 This mod is the same as the one we previously looked at. This mod also allows your Sims to skip High School and start their University life sooner.
There are two differences between this mod and the previous mod by Zero. The two differences are:
Teen Sims that have Genius traits are the only Sims that can enroll in University by skipping High School.
Teenage Sims that have the genius trait can apply to a University whenever they want. Your Sims do not need to wait for an auto-generated response from the University.
So, now instead of your Teen Sim getting a promotion via unfair means, it is much better if they go through the official process if they ever wish to quit High School and go to University for further studies.
Although the original version only allows Teens with a Genius trait to enroll in a university, there is an alternate version. In the alternate version, Teens with a Genius Trait and Teen Sims who have gotten an A in High School can enroll in a university.
The second version is the one where your Sims will still have to put in hard work to be selected as an A-grade student. The first version of this Sims 4 high school mod is quite selective
University – The Sheldon L Cooper Program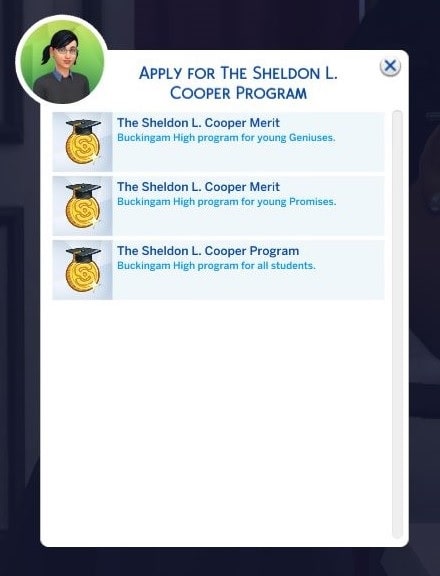 If you wish to have a much more realistic Sims 4 experience, you should combine this current mod with the previous 'Teens Jump to University.' This school mod adds an option for Sims to be able to avail of a scholarship. This is for teenagers only. There are three kinds of scholarships that this Sims 4 school mod offers. They are:
The Sheldon L Cooper Merit for Young Geniuses– This scholarship has a value of $15,000. This will help your Sims to cover the entire cost of University. This is available to Teens, but only those Sims that have the Genius Trait.
Sheldon L Cooper Merit for Young Promises– This scholarship is valued at over $6000. This scholarship is given to students to have gotten an A grade in their High School.
Sheldon L Cooper Program for All Students – This is a unique scholarship by the University that adds an extra set of "Special Classes."
In the scenario that your Teen Sims do not qualify as an A grade student, nor as a Sims with a Genius Trait, they can still apply for the scholarship. Your Sims may get the scholarship that hosts special classes which are held at night. Your Sims must attend these classes to ensure that they get the scholarship without fail. Your Sims will also be given extra homework. They need to ensure that this Homework is complete along with the usual assignment. Apart from these, a few other additional requirements are also necessary. However, those requirements are quite tricky.
This mod is for those Sims that are very ambitious and will not res unless they get into their Dream University. An overachieving teen will definitely want this to happen.
If you can combine two mods created by this creator, for example, this mod and the other 'Teens Jump' mod, then the school shall take care of all scholarship formalities for you. They will take care of both the Merit Scholarships. This is the best Sims 4 school mod. You can learn for free at your Sim's dream University
No University Housing Restrictions
The funniest experience of living in a University dorm is cooking your own food. However, Sims are not given this option. Your Sims will not be allowed to cook any items in their Housing premises. However, the content-creating community of Sims has come up with a solution to that as well. This Sims 4 school mod created by Zebru will get rid of all your frustrations, and there will be no University Housing Restrictions.
Your Sims will be able to use any electrical cooking appliances within the University Housing.
So all late-night snacks, early dinner, and brunch will be sorted henceforth. Your Sims will not have to spend a lot of money just to eat delicious food.
Required Degree for Careers
The goal of Sims 4 is to make the game as close to real life as possible. This is the best Sims 4 school mod that you will ever get. The idea behind this mod is simple, and you will not be able to pursue any career unless your Sims have the appropriate University Degree for the same. Hence, your Sims cannot become a Doctor, Detective, or Astronaut without the appropriate degree that is required in the respective fields. This mod does not allow your Sims to become a style influencer unless you get a degree.
This is as realistic as a mod can get. This will make your gameplay lengthy. This mod forces your Sims to go through the entire Discover University pack step-by-step.
The narratives and the realism is amazing. This mod is definitely a must-have.
The download notes by the creator at the end of the download page specify the list of jobs and if they require a degree or not. The list also specifies which degree is needed to pursue the career further.
Meet Sims Faster And Gain Work Or School Performance Mod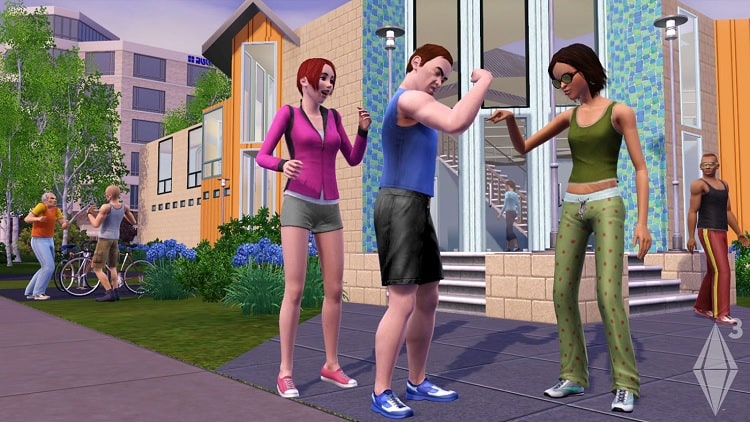 This Sims 4 high school mod will definitely be a fantastic addition to your Sims 4 gameplay experience. This amazing mod will speed up your socialization, allowing your Sims to make friends quicker and much more straightforwardly. Apart from this, the SIms 4 school mod also enhances your Sims' performance in school, allowing them to advance faster than other Sims in their batch.
Over 20,000 downloads have taken place since the launch of this mod. This is a highly popular mod in the Sims 4 community.
Willow Creek High School – Go To School Mod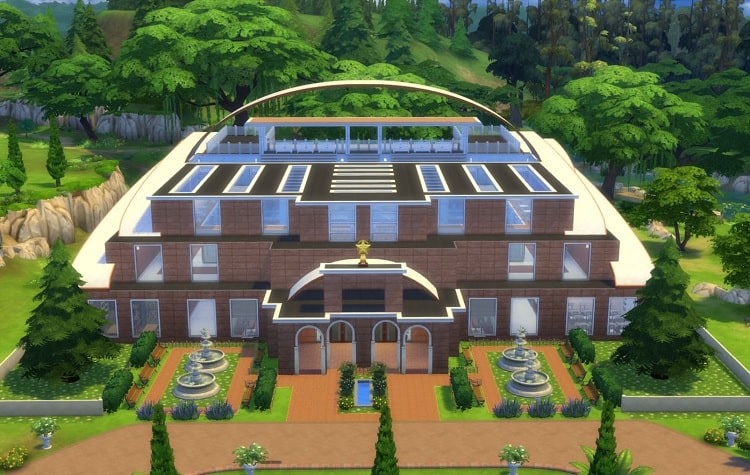 To complete your Sims 4 world, this Sims 4 school mod gets you a brand new High School. This High School has it all. It is packed with a dozen rooms. It will host various kinds of activities. Your Sims will love to join in these activities. It will help them enhance their skills and also socialize with other Sims. It features three floors and has an amazing exterior design. Your Sims will love going to this school. Not only will they not want to go to school, but they will also wish to stay there longer.
Conclusion
Sims 4 school mod will definitely improve your gameplay experience. These school mods Sims 4 allow you better to follow your Teen Sims through their everyday lives and also help them experience fascinating things. Depending on their features, various experiences can be provided to your young Sims via these mods. The best Sims 4 school mods introduce quality life changes and allow a bunch of multiple new interactions for your Sims to be able to experience life.