The creators of Sims 4 are constantly adding more and more features to the game to make it as realistic as possible. The Sims 4 ultrasound mod is also one such mod. In real life, when we get pregnant, going for ultrasound checks is very important and is also an essential part of your pregnancy. We need these checks to ensure that the baby is good. If you wish to know more about this ultrasound mod, keep reading the article!
Working of the Sims 4 ultrasound mod
The working of this ultrasound mod Sims 4 is quite simple. You can start using it once your female Sim is in their second trimester. They can book an appointment with the gynaecologist by using the phone. In this ultrasound, you will find out the gender of your baby and how many babies you have. Your Sims will be in the doctor's clinic for about 90 minutes. Once these 90 minutes are over, their ultrasound will finish. Keep in mind that these are all the in-game hours.
Consequently, you will get their ultrasound scan pictures. You can find these pictures in your inventory. You will get all the information about your baby through this ultrasound cc. You will get to know their names and the ultrasound pregnancy scan results. Your Sim will have various interactions like excited, happy etc. You can also take these scans home and store them safely. Or you can use them as decoration. You will get nine different frames that you can put your ultrasound pictures in to display. 
Features of the ultrasound mod Sims 4
We have listed a few of the features of this gynaecologist mod below:
You can go to a gynaecologist to check the number of babies and the gender of your baby. This examination will cost you $75.
You can easily book your appointment through your phone.
The examination will take about 60 to 90 minutes.
The ultrasound scan will be available in your inventory once you finish the examination.
You can copy these images of the ultrasound scan for $25.
Your friends and family can also give you a few gifts to congratulate you on your pregnancy.
You can save these scanned images and then name them after you decide your child's name.
You can also store them.
Ultrasound mod Sims 4
Many gamers faced issues with this mod. These issues usually occur when you add and connect more mods with this mod. This action could cause conflicts. If you wish to solve these problems, then follow the steps below:
Firstly, tap on your Sim that is pregnant.
After that, enter into your command console and then type strg + shift + c.
Lastly, enable your testing cheats. Once you have enabled your cheats, type in the following: offspring. scan
After that, they will probably solve your problem. In order to check if they have fixed your situation, you can narrow your message inboxes. If you have a message titled "added buff with ID 16852025926204541681 to the active sim", then your issue is most likely fixed.
ch a case, you can get another mod or fix the problem once more.
How to install the Sims 4 ultrasound mod
If you want to download the simple version of this mod, all you need to do is copy the Mod files from the official website. After this, you need to save it in a zip folder and extract all your files. Once you have extracted your files, save them in your Sims 4 mod folder. And then follow this pathway: Documents > Electronic Arts > The Sims 4 > Mods.
If you want to download the second version of this mod which is two versions, you need to copy the mod files into your Sims 4 mods folder. Make sure that you don't use more than one version simultaneously.
If you want to download the script mod version of this mod, then you need to copy the mod files into a zip folder. You then need to extract these files from your zip folder and save them into your mods folder. Ensure that your files are not too deep or don't contain too many levels.
Do not try to rename your mods or your files. Make sure that you install only one version of the model and not multiple versions. Follow this pathway: Enable Script Mods/CC via Game Options > Other Ingame.
Ultrasound Cheats
The following are the cheats for this mod:
Click on the sim that you want to scan.
To open your chest console, press ctrl + shift + c.
In the space given, type "pregnancy".
Press enter after scanning.
Through this cheat, you can determine how many babies you will have and their genders. Before using this, ensure that you enable script mods within the game.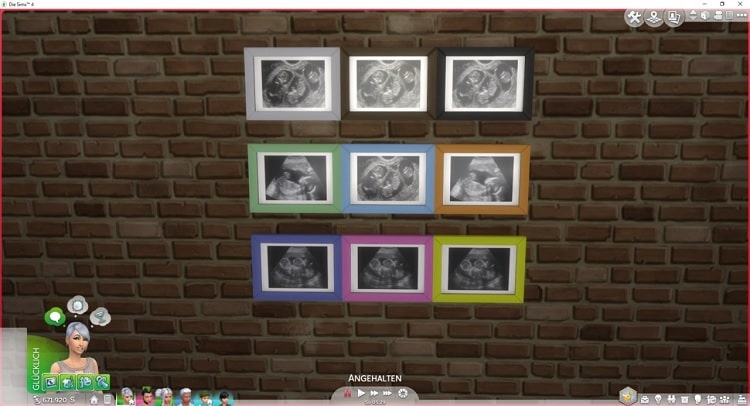 Commands
The following are the commands for this mod:
Pregnancy. Scan for knowing the number and gender of the babies.
Pregnancy. scan no gender to see the number of babies but not their gender. (v2.0 only)
Languages
This mod is available in various languages, we have listed them below:
German by littlemssam ultrasound
Italian (Ilaria),
French (Yuu),
Spanish (Edespino),
Russian (Alexander),
Japanese (Simtelma),
Chinese (hi007097),
Swedish (hellogreeny),
Polish Translation Ahinana,
Portuguese by Ana Carolina,
Czech (Marky),
Dutch (Lacuna/ britoetje1984),
Simplified Chinese by Licer.
The Sims 4 ultrasound mod is necessary if your Sim is pregnant as it helps make your pregnancy a lot more realistic and exciting. This mod is also very smooth and will work effortlessly with your game.