Do you want your Sim to get a nose piercing? There is a lot of noise regarding piercing, but you will hardly find information about sims 4 nose piercing. This made us come up with a unique post that has all the details. It may seem weird if you are looking for this, but the right kind of piercing will add aesthetic beauty to your Sim. So, we say that you read this post till the end as that will give you a fair idea about nose piercing in the Sim community.
Best Sims 4 Nose Piercing Ideas
We keep adding layers to our Sims, be it by making them successful or by gearing them up with bright new accessories. Adding a nose ring to their cute little faces can only bring out some punk in them. Here is a small list of nose rings for your beloved Sims.
Astue Nostril Piercing Studs
We are starting our discussion with a design from our all-time favorite designer – PralineSims. That is right, this small and cute stud can be paired with all types of clothing. Be it streetwear, classic gown, or smart casual, your Sims can always wear one.
This makes them look appealing in a whole different way. Of course, you can also be used it as an earring. It is your choice and wishes that defines it all.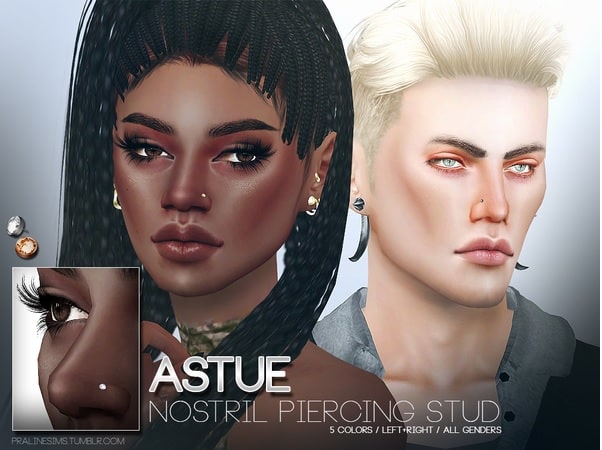 Sims 4 Nose Ring
This is designed by a featured artist PlayersWonderland on The Sims Resource (TSR). It may look like a septum ring, but is a traditional nose ring. That makes it more tempting and adds to the animation.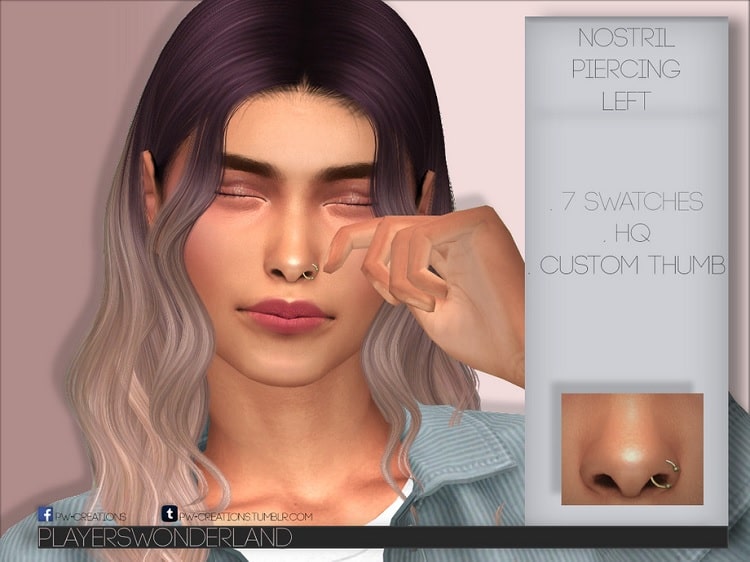 Dinora septum
This has been created by Sugar Owl from The Sims Resource as well. It is a gorgeous septum ring with diamonds. It shines and makes your Sim stand out without a doubt. This is available in silver, gold, and copper. Are you still waiting?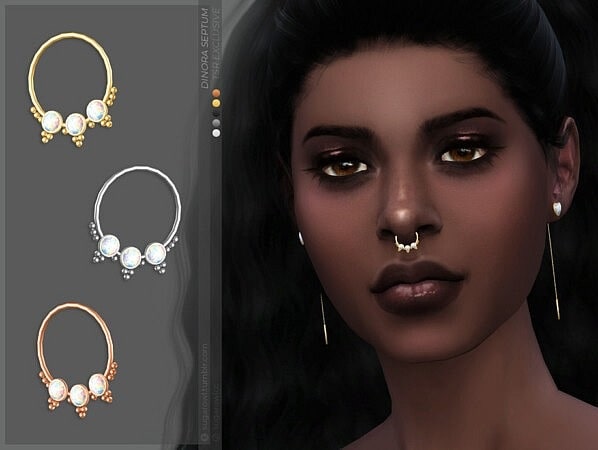 Unisex Nose Piercings
This is a simple piece of accessory that has been designed by Weepingsimmer. It is available in 20 different colors and sizes. This can be easily paired with other piercings of your choice. This is a unisex ornament that can be used by all.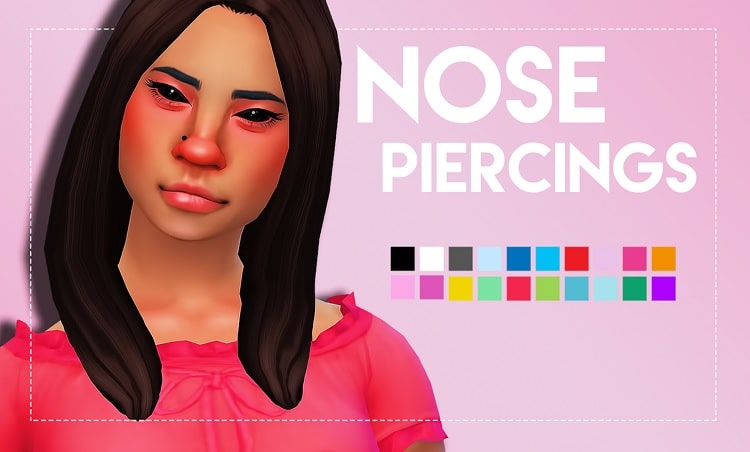 Sims 4 Septum Ring
A black septum ring can totally change the look of your Sim. This nose ring cc is pretty and can be paired with any kind of clothing. This has been created by Leah Lilith from TSR and is available in 5 colors.
At the time of writing this post, it has a whopping 103,401,160 downloads! You can only guess its popularity from this.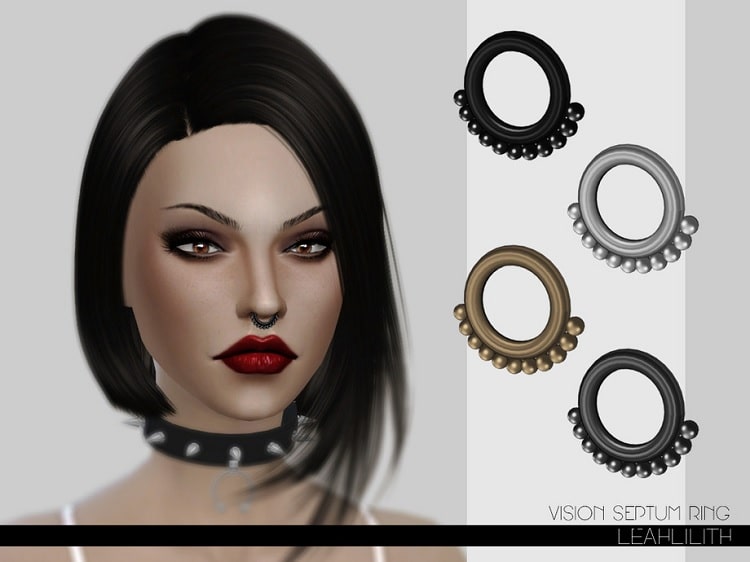 Glory Nostril Ring
This is another of Leah Lilith's creations and is equally as attractive as the one above. This is a nostril ring that brings out a zestful quality in your Sim. It is available in 7 different colors. The adorable stud in the ring makes it more lovable. Why don't give it a try?
Sims 4 Nose Ring Piercing Set
This is the creation of PralineSims, which is why you can find it easily on this list. We believe in this artist because we find their work to be impeccable. As for this set, it is self-explaining that it contains a pack of quite endearing ornaments.
You get these in 5 swatches that are made for both females and males. Doesn't that sound exciting?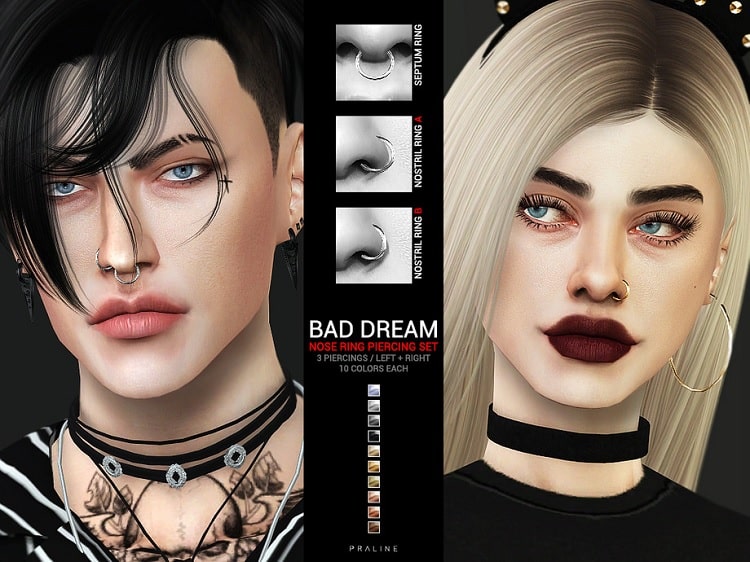 Pear Piercing Set
This is a rare find that will make your day. It made ours and the Sims were quite happy with it. The truth is, it is neither flashy nor basic, it is the right nose ring. This is also available in three colors and that makes it a must-have. Think about it.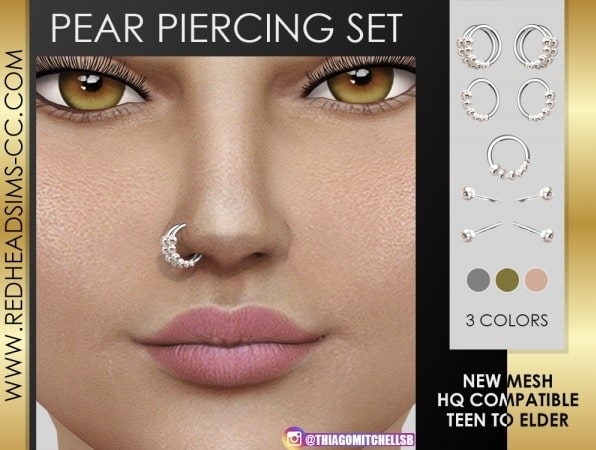 Trouble Piercing Set
Use it as a septum ring, nose ring, earring, or even a lip ring. It is totally up to you and your creativity. This has been designed by Wingssims although they are accessible on PralineSims' Patreon profile.
You know the braided style makes it quite universal. That is why people of all ages can sport this ring.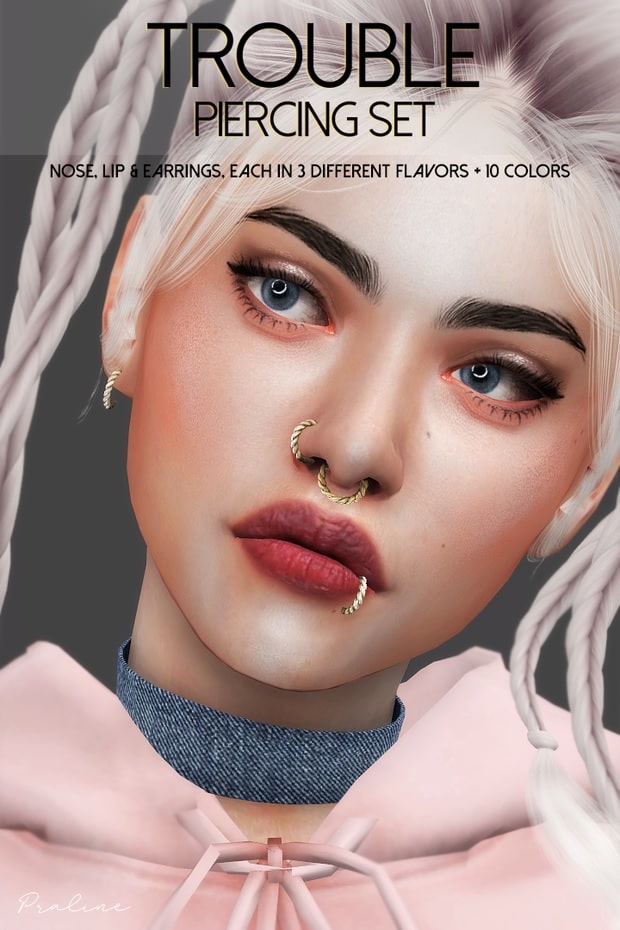 Jupiter Piercing Set
You know this one comes with gemstones and that certainly brands it as a stunning piece of jewelry. It has been created by 4w25 on Simsdom and is suitable for all genders. It is obtainable in 5 different metals.
This Sims 4 nose ring CC is a delightful piece for sure. Wear it as a nose ring, lip ring, or earring. The choice is yours and your Sims are going to love them too!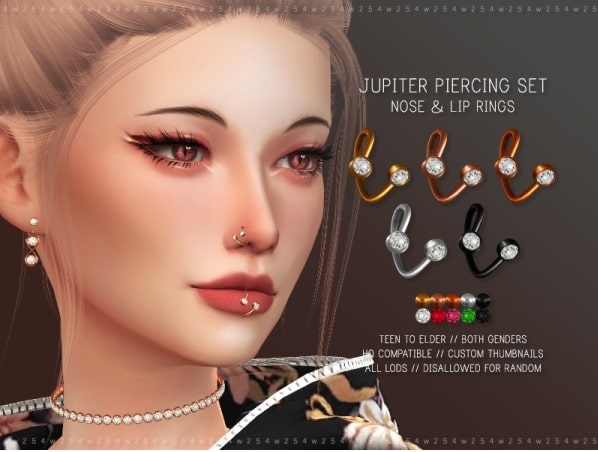 Sims 4 Septum Piercing
This is a product of Simkoos that has made a beautiful and delicate septum ring. You get this in 8 swatches and that makes this mod too good. Make your Sim glamourous or mysterious, it is completely your choice.
Yes, you get those color options that you can make the most out of. Time to get creative.
Triple Nose Piercing
This is done by PlayersWonderland again and this time this dainty little thing is quite impressive. The adorable little studs that make a triangle are quite subtle. It adds to your Sims' style and keeps them happy. This is offered in 3 different colors gives you a variety. Select one according to your Sims' outfit and mentality. Then watch them enjoy!
Playboy Nose Ring
The designer goes by the name bknysimz on Tumblr. There is no need to explain that this pattern derives its inspiration from The Playboy merchandise. However, it is super cute and is worth an investment.
Sims of all ages can wear this and its availability in pink, black, gold, and silver gives your Sim an edge. Why don't you try one?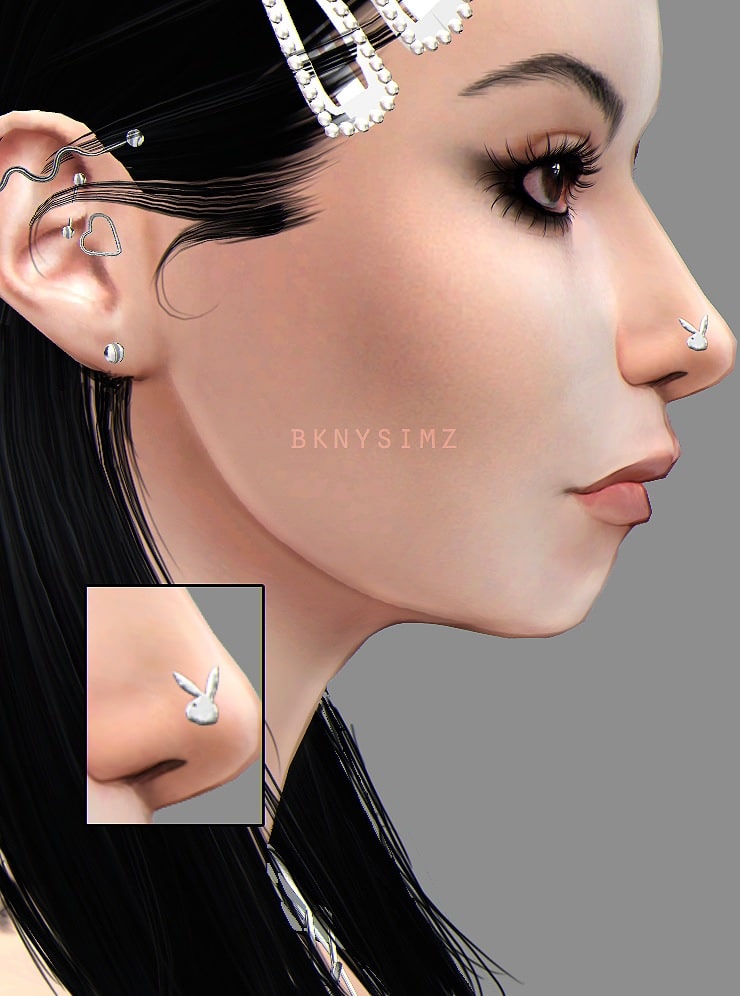 You know getting your Sim pierced and helping them look beautiful is what we all like. We keep decorating them from time to time to bring a change in them. Hence, sims 4 nose piercing is one more way of making them exquisite.
So, why don't start by choosing one from the list and enjoy it? Happy gaming!