When it comes to the Sims 4 game, cheats are popular and sometimes needed to make your gameplay exciting and immersive. And when it comes to The Sims 4, the UI cheats Sims 4 mod takes the spotlight. This UI extension handles all problems and makes it very easy to use cheats within the game. It has been the most helpful tool for Simmers by far. This UI mod allows you to use various cheats in the game by directly clicking on the User Interface rather than opening the cheats common box where you need to type the cheats individually.
Why do you need Cheats in Sims 4?
It can be complicated to use cheats in The Sims 4 game. However, it is only after using the cheats that you will understand how useful, fun, and necessary they are. It optimizes your gameplay for a better Simmin experience. Cheats allow you to solve various problems and do them quickly. For example, cheats will fulfill your Sim's needs rapidly. They will enable pregnancy in the game and allow multiple other fun things or solve problems. This brings an element of excitement to the game, which can sometimes get boring. Exciting gameplay motivates you to play more. TS4 UI cheat extension is here just for that. It makes your gameplay much more exciting. 
What is the UI cheat Sims 4 extension mod?
The UI mod removes the need to type in Sims 4 cheats manually into the cheats common box. The UI cheats mod replaces the need for remembering basic cheats and typing them all out. With this mod, you can click on a thing and get the thing you need. This in-game interface makes your Sims 4 life much easier.
It can be used in various different ways. The main goal of the Sims 4 UI cheats extension mod is to make your gameplay exciting and faster. You can do whatever you wish to with this mod. You can change careers, needs, time, and even your love life. You can get rid of a lot of things in the game that you find annoying.
Here are a few reasons why the UI cheats mod is a must-have for your game:
The UI extension Sims 4 features an extensive collection of cheats that can be used anytime.
You do not need to type any cheat manually.
There is more freedom to make a personal choice and adjust each cheat.
It can be used on the spot quickly without having to think much.
Everything is put into place with a few simple clicks and click-and-drag techniques. The UI mod is quick and easy to use.
How to download the UI cheats extension Sims 4?
The process of downloading the UI cheats extension mod is quite simple and easy to follow. It can be downloaded in no time.
The creator of The Sims 4 UI cheats mod extension is Weerbesu. They have been the creator of various other mods that have proved to be highly interesting. You do not have to pay any fees and become a part of his Patreon page to be able to download this cheats extension.
Players can scroll down to the "Compatibility" section of the Patreon page and find the download link. The download link should be prominent and easily distinguishable.
To install this UI cheats mod, follow the steps mentioned below for a smooth installation process:
Download the files on your PC by clicking on the link on the download website page.
Unzip the files from the download file.
On your PC, open the Mods folder for your Sims 4 game in your directory destination.
Create a new folder called Ui Cheat Extension Mod in this Mods folder.
Now, copy all the unzipped files and paste them into this newly created Sims 4 Ui Cheats Extension folder.
Now start your game and explore the mod.
If you face any difficulties while downloading this mod, then do not worry. Refer to this Youtube video; you should understand the entire process straightforwardly.
How to use UI Cheats Sims 4 on Mac?
There is a common misconception within the Sims 4 simming community that there are problems with the UI cheats extension on a Mac.
The final outcome of this question is that you can safely use the Sims 4 UI cheats extension mod on a Mac. You can download the zip files from the download link and follow the exact instructions that were mentioned above. The instructions are easy to follow and understand.
The Sims 4 UI cheats extension mod works on PS4 as well. However, the functioning of the mod on PS4 is slightly different on this platform.
How does the UI Cheats Sims 4 extension work?
Once the file is installed, and you have completed all installation steps for your platform, launch the Sims 4 game and click on things that you see around your Sim. Thanks to this UI extension mod, you can do so many things now in the game. The entire mod can be used and understood by the mouse's simple left and right clicks. Each click is significant and is usually opposite of one another.
For example, the right click is usually for removing, and the left is for adding. Right-clicking on a moodlet will remove it, whereas left-clicking on money will add more money to your Sim's account.
So the best way to understand this cheat mod is by clicking on everything you see around you. Still, here are a few things you can do with your Sims 4 UI Cheats Extension. These items can be altered and played around within the game.
1. Needs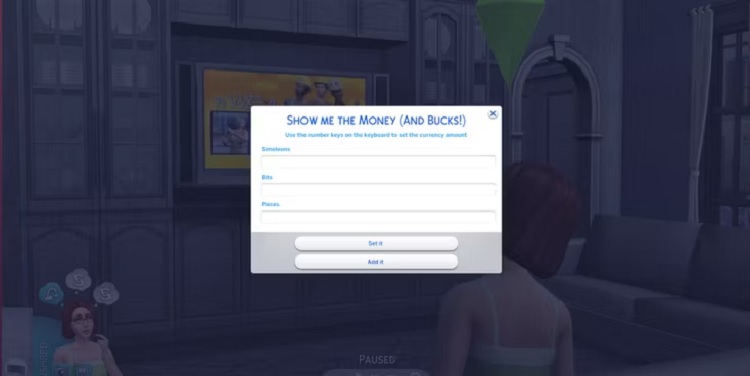 Your Sim's needs can easily be altered with the help of this UI cheats mod. All you need to do is left-click on the needs bar and set the value to the position you clicked. Hence clicking on the extreme right end of the hunger bar will make your Sims full, and on the left end, it will make your Sims starve for food. You also have the option to set the value of the needs manually. The number needs to be between -100 and +100. However, be careful, as a -100 value may probably kill your Sims by starvation. 
The best part is you don't have to enable cheats or press shift before clicking on anything in the needs bar.
2. Money Matters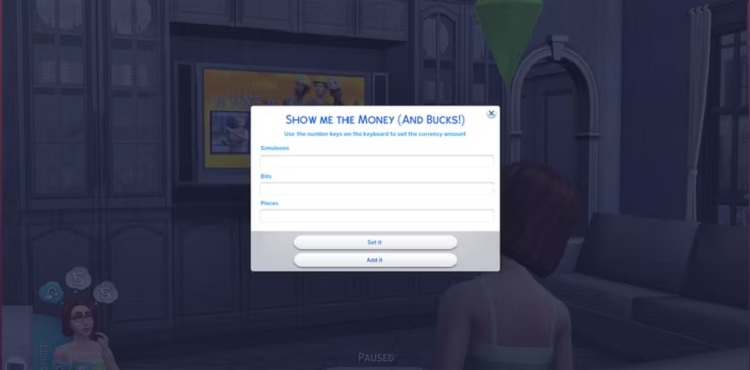 Your Sims can now be as rich as they wish to be. The UI cheats extension mod allows you to add money to your Sim's account. Right-click on the money bar, and you can immediately add a specific number of funds to your house funds. This extension makes your money management within the game much simpler.
3. Simology Stats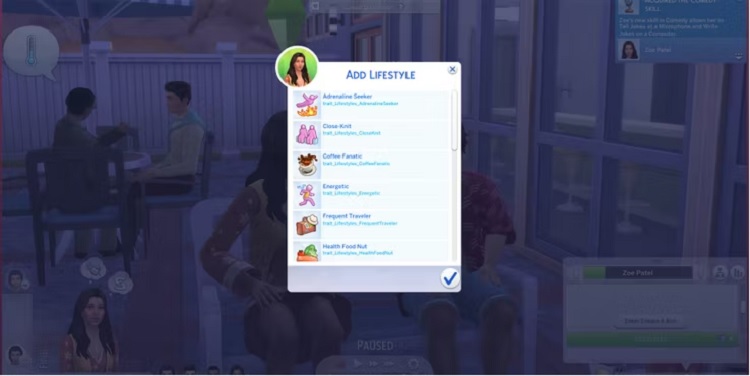 With the Sims 4 UI cheats extension, you can also change your Sim's traits, lifestyle, and other factors. For example, from the Simology panel, you can adjust each aspect of your Sim. Change their age, gender, fame level, influence points, and much more. You will also have the power to add attributes to your Sims that they may be lacking. You can add traits by clicking on the green title bars.
4. Discover University Cheats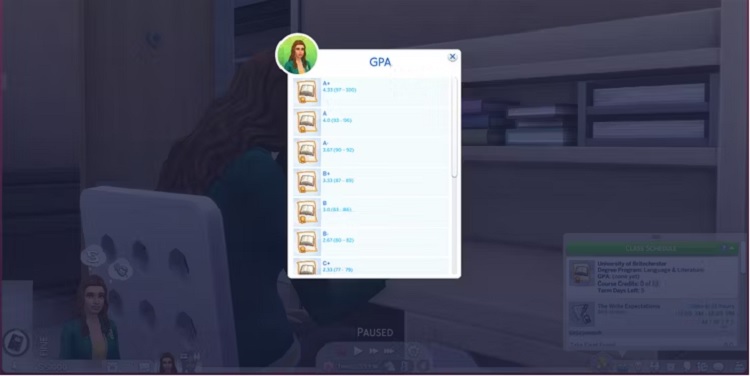 Since university really brings out all of your Sim's stress, you can better manage university life thanks to the UI cheat extension. Thanks to the UI cheats extension, you can now manipulate all the elements in your Sim's university life. You can right-click on tasks and complete them on the spot. If you Sims has received suspension or probation. You can right-click on it and get rid of that order. You can change various other elements by simply right-clicking on them. Some of these include ranks, GPAs, and also course grades.
5. Career Cheats
Cheats can also be applied to your careers. Now you no longer need to enable cheats true or open the cheats console and type in the cheats. Now right-click on any career task, and it will automatically be completed on the spot. Your reputation and level bar can also be changed. It can be increased or decreased by putting in a specific number.
If you right-click on your Sim's job icon, your Sims can be promoted or demoted according to whatever you wish to do. You will also have the power to change the career pathway of your Sims and the career branches as well. Everything can be manipulated by a simple right-click.
6. Environmental Control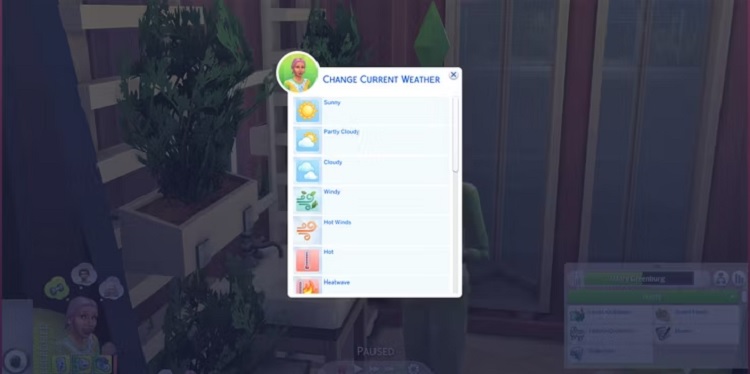 'Thanks to the UI cheats extension, the weather in your Sims world can also be changed. You can change the current weather, the season, or even the ecological footprints. You can also change the in-game time. However, these timings are based on military timings. Hence, make sure you understand them before you change them.
7. Aspirations And Goals
In the Sims 4 game, the aspirations are pretty flexible. Your Sims have to complete a few small goals to accomplish the aspiration. Thanks to the UI cheats extension Sims 4, and these can be completed quickly. By right-clicking on the achievements, your Sims can unlock various achievements and complete them within no time. Your Sims will have reached the higher levels as if it was as easy as climbing a baby ladder.
The UI Cheats Sims 4 allows you to skip any tasks you don't feel like doing. However, apart from that, it also helps you to solve various glitches that may occur within the game.
You can right-click on any goals, even if they are not related to aspirations. They will be compelled in no time.
8. Relationship Adjustments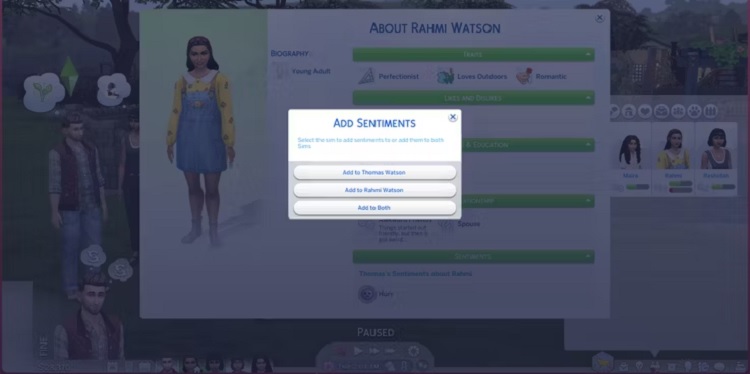 With the help of the UI cheats mod, you can also change a few of your Sim's relationship levels. So far, three things can be changed: Friendship levels, Romance levels, and various sentiments of Sims. You can right-click on a Sim's photo and then adjust the level between -100 and +100 on the scale. The sentiments of your Sims can also be manipulated very easily. All you need to do is right-click on the green sentiments title bar. This will allow you to remove or add a few sentiments according to your wishes and preferences.
9. Supernatural Settings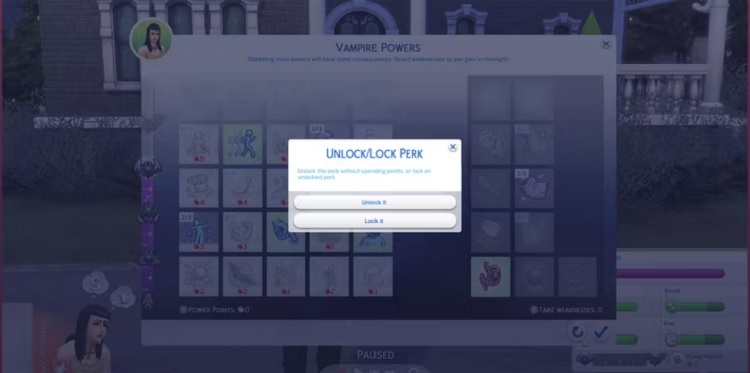 Sometimes it is immensely fun to get away from reality and do some supernatural things that you can only dream of doing in real life. You can do much with the UI cheats mod when using them on Vampires and Spellcasters. You can right-click on the vampires or spellcasters and unlock so many new features which would take you a long time to unlock.
You can add in a lot of perks and increase the levels of the Spellcasters and vampires. You also get an option to reverse the perks which you have allowed in the game. However, you need to keep in mind that your Sims will not get back their reward points if they reverse the perks.
10. Miscellaneous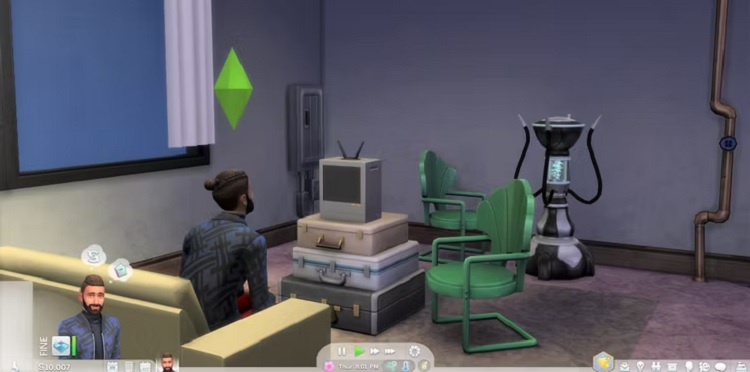 Besides the things mentioned above, there is much more you can do with the UI cheats Sims 4 mod. The UI mod also works outside of Live Mode. You can use it to randomize the Sims' names, traits, and various other characteristics. This will save you a lot of time from creating a Sims of your own if you do not wish to make one. Right-click on the moodlets to change various aspects of your Sims.
Why Your Sims 4 UI Cheats Extension Mod May Not Be Working?
Usually, the UI mod works perfectly on every platform if you have followed the download instructions properly. However, there are instances where the UI cheats mod does not work for a few users. In this case, check the author's page for the UI cheats Sims 4 mod and ensure that you have the latest version.
It is quite possible you may have downloaded the wrong version. A minor update can also cause significant changes and lead to the UI cheats extension mod not working on your PC. Hence, ensure that you consistently check the Patreon page and ensure that you have the latest version downloaded.
Nevertheless, there are times when you have the latest version installed, and it does not function on your PC. In this case, it would be wise to check your PC as well. Ensure that your system is up to date and that no other apps or programs interfere with The Sims 4 game. Sometimes, the simplest way to solve the problem could be by trying to reinstall the mod again.
Conclusion
This UI cheats Sims 4 adds excellent value to your game. You can do many things with the help of this single Ui mod. It provides the necessary tools to make your gameplay highly interesting and, at times, more immersive. You no longer have to wait for tasks to get over. You can right-click on the task, and it will be done immediately.
The Sims 4 UI cheats extension removes the need for using the cheats console box and typing out cheats that were required before. The Ui cheats extension Sims 4 is like a package deal where you do not need to remember any written cheat at all.
It is highly recommended that you use this mod in your game. It will make life-changing changes in your Sim's life and game-changing additions to your gameplay.